November 4 - 10, 2012: Issue 83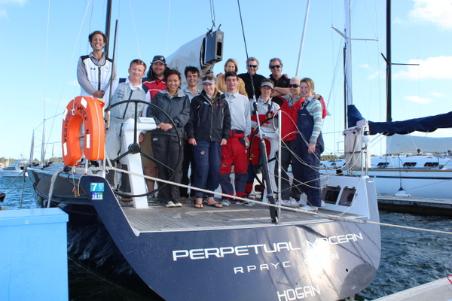 The crew on board Perpetual Mocean dockside after the Bird Island race. - photo by Damian Devine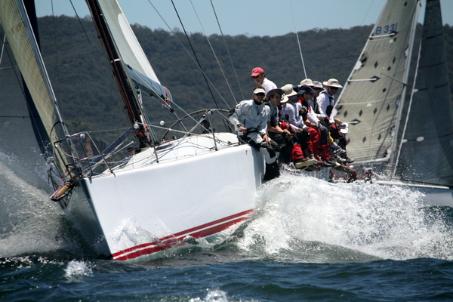 The Hudson/Lockley/Murphy Pretty Woman winner of IRC Division in Race One of the series - pic by Damian Devine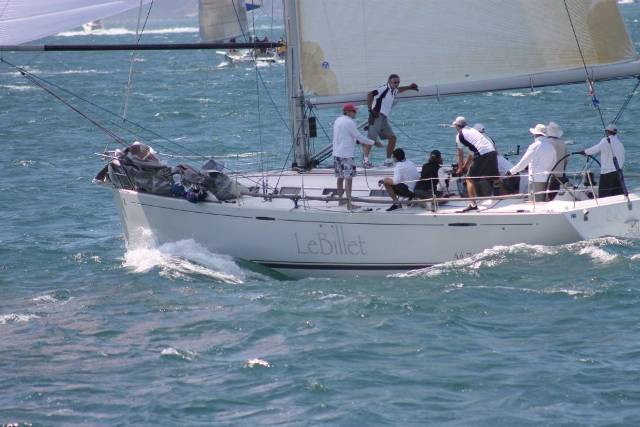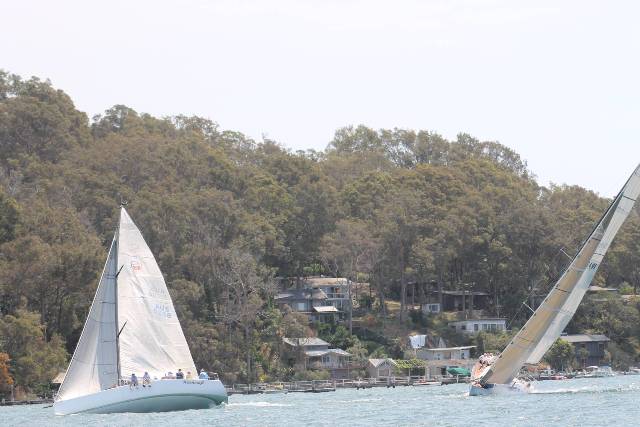 Club Marine Bird Island race line honours win to Perpetual Mocean
By Damian Devine
A mix of youth and experience took line honours in the first race of the Club Marine Blue Water Point score, the 52nm Barrenjoey to Bird Island hosted by The Royal Prince Alfred Yacht Club.
Bruce Hogan's Marten 49 Perpetual Mocean took line honours in a time 5hrs 46mins 30secs a mere one boat length ahead of the Hudson/Lockley/Murphy Farr 45 Pretty Woman with Bruce Staples Farr 40 Witchcraft, third.
Hogan's was a special win as he had on board a crew of RPAYC Youth Development graduates, all in their first ocean race under the tutelage of Club coach Tom Spithill, who shared the helm. This was a warm up for this crew who will have a crack at the Club Marine Pittwater to Coffs race in January.
A fleet of 14 boats lined up to compete in the first race of the Club Marine Blue Water Series.
Conditions were favourable for the start off Barrenjoey with a 12-15 knot South Easterly. With an outgoing tide and the breeze behind them, it was always going to be a tricky start. Three boats received individual recalls for being OCS whilst the rest of the fleet got away cleanly under cracked sheets. By the time the fleet hit Cape Three Points spinnakers were hoisted for the downhill joyride to Bird Island.
Perpetual Mocean got caught on the wrong side of a shift as they tried to come back inshore coming to the Island mark and rounded third behind Pretty Woman and Witchcraft.
For the bash back to windward in the early afternoon, the breeze was gusting up to 20 knots. Perpetual Mocean fought on bravely upwind to catch Witchcraft and then Pretty Woman on the line.
Skipper Bruce Hogan, line honours winner of the 2009 Pittwater to Coffs race said, "It was a great race and we got lucky in the end to win by a boat length but I don't know how many more miles we sailed downwind than our competitors. We just can't sail the angles like some of the others with the asymmetrical set up. Anyway, we just got them in the end so it was pleasing.
"The young crew worked well and with the experience of Tom (Spithill), Peter (Gregg – navigator), Muzza (Murray Gordon) and Mitch (Watkins) acting as role models, they learnt a lot out there today. They're a great bunch of kids, a credit to themselves and the club."
A clearly emotional Tom Spithill said dockside after the race, "It was a good hit out, we got some good breeze and we sailed the boat reasonably well. We had gusts up to 22 knots on the way back and we hit a top speed of 13.6 knots as we surfed our way to the Island. The team of youth development squad mixed in well to gain some valuable ocean racing experience."
Youth graduate 18 year old Milly Bennett on her first ocean race commented dockside, "It was fun, I learnt a lot out there today and didn't get sea sick, so I am happy."
Taking handicap honours IRC was the Hudson, Lockley, Murphy Farr 45 Pretty Woman in a time of 7 hrs 30 secs, two and half minutes ahead of Bruce Staples Witchcraft with last season's Blue Water point score winner Mark Griffith's Sydney 38 Old School finishing third.
Skipper Richard Hudson said, "The crew sailed well today and it was great to get out there and stretch our legs in the first Blue Water race of the season. The breeze was consistent over the course and it was a great ride downhill to Bird Island and a tough beat back to the finish line."
The PHS division was won by Garry Holder's iD35 The Real Thing ahead of David Boekemann's Bombolo and Le Billet. ORCi went to Pretty Woman from Old School and Bruce Staples Witchcraft third.
The race is part of the five race Club Marine Blue Water Series conducted by the RPAYC with races to Bird Island, Cabbage Tree Islet, Coffs Harbour, Botany Bay and Newcastle.
The next race in the Club Marine Blue Water Pointscore Series is the Cabbage Tree Island race on 7 December, followed by the Club Marine Pittwater to Coffs race on 2 January.
All boats from other YA Affiliated clubs are welcome to enter the Category 3 Blue Water races. Contact the RPAYC sailing office on (02) 9998 3700 for more details.