September 20 - 26, 2015: Issue 232
Royal Prince Alfred Yacht Club Sailors at 2015 New York YC Invitational Cup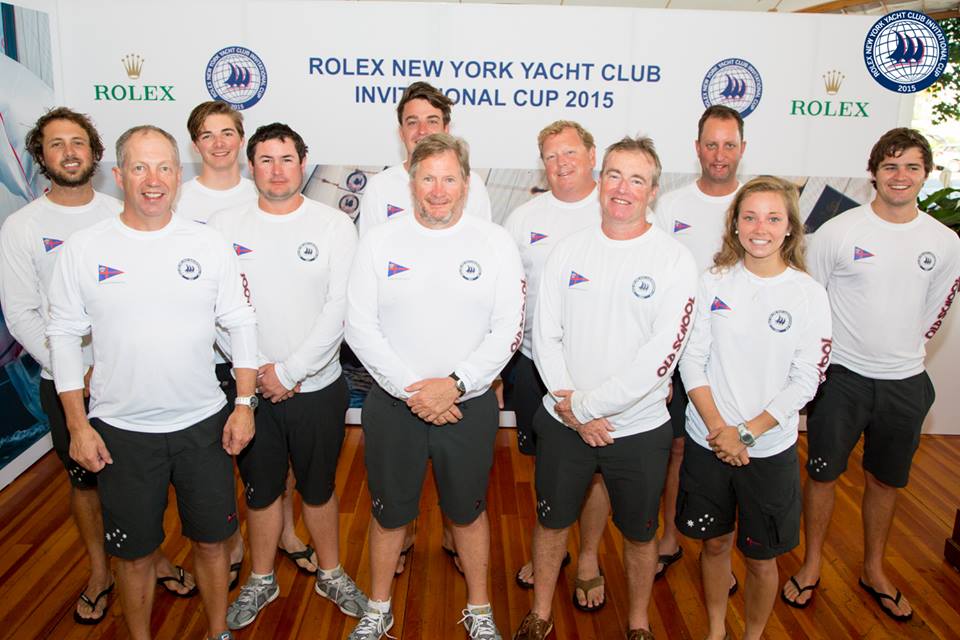 Royal Prince Alfred Yacht Club Co-skippers Bruce Ferguson & Mark Griffith, tactician Murray Gordon. Murray Gordon, Max Vos, Mick Hayward, Tim Lake, Dan Tucker, Mark Griffith, Dave Taylor, Kelly Monahan and Malcolm Parker. - Photo by Corinna Halloran Media
Royal Prince Alfred Yacht Club Sailors at 2015 New York Yacht Club Invitational Cup
This morning, 4am Australian Time, 1.30 in the afternoon New York Time, we were again following Pittwater and Australian sailors via the online live streaming of races a fair way away from here.
This week two teams from Sydney, and the only crews from Australia, from the Middle Harbour Yacht Club, and Pittwater's own Royal Prince Alfred Yacht Club, have represented all in some wonderful sailing on water's were yachts have cruised since 1844 and sought others to race since 1851 - Newport Harbour, Rhode Island.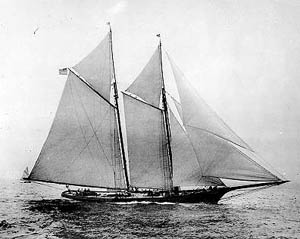 'In 1851, a schooner painted black arrived there looking to win races. This was the yacht America, owned by John Cox Stevens, the first commodore of the NYYC and other club members. (Photo shows America, winner of a race in 1851 in England and a trophy that came to be called the America's Cup.)
America crossed the Atlantic on her own bottom and challenged all English yachts to a match race. No yacht was willing to race her, however.
Finally, America joined a free-for-all on Friday, August 22, around the Isle of Wight. Watching the race, which included 15 English yachts and America, was Queen Victoria, who supposedly inquired, "Which is first?" Told it was America, she asked, "Which is second?"
"Ah, Your Majesty, there is no second," was the reply. Or so the story goes. America won the Royal Yacht Squadron's "Hundred Guinea Cup." - ' from NYYC website
It was pretty wonderful watching RPAYC and MHYC in Race 11 overtaking some, being overtaken, and remaining in 9th and 5th place steadily as the commentators, who know this course, tell all watching 'they're coming up to the windward mark', or 'they haven't got puff' about one yacht, or 'they need some clean jibing' - and then see MHYC step up to 3rd! - and RPAYC overtake two.
MHYC finished 7th and RPAYC finished 9th in race 11 - and then 'Currently on wind delay...stay tuned" - before the last race, Race 12, on what the commentators, two of them America's Cup champions, state is 'Championship Saturday'.
Earlier in the week Middle Harbour Yacht Club (MHYC) finished 1st in Races 2, 6, and 7 and was placed 4th and were 5th after Race 11 - while RPAYC won 2nd spot in Race 9 and placed a respectable 6th in Race 1 in the fleet of 17 boats.
Now 4:45 am, they're back - time for the final race - better finish loading this week's Issue: NYYC Invitational Cup webpage (with Provisional results and all other links) - more on the NYYC Invitational and interview of Pittwater's sailors - from those who are there: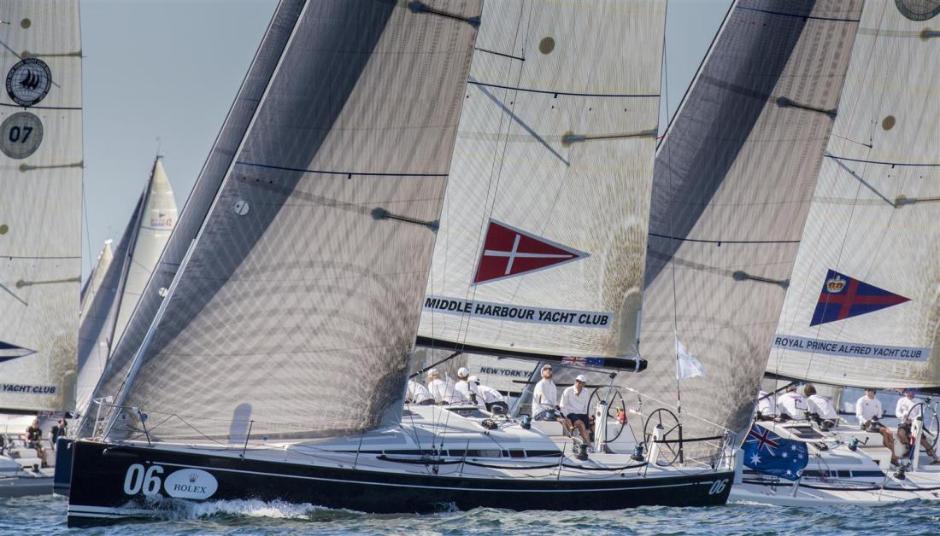 MIDDLE HARBOUR YC (AUS), BOW# 06, SKIPPER, GUIDO BELGIORNO-NETTIS, 1ST PLACE IN RACE 2 - MUTINY, Bow#: 06, Middle Harbour Yacht Club, AUS, Skipper: Guido Belgiorno-Nettis, Tactician: Julian Plante Photo By: Rolex / Daniel Forster
ROLEX NEW YORK YACHT CLUB INVITATIONAL CUP
The New York Yacht Club Invitational Cup invites Corinthian sailors from the world's preeminent Yacht Clubs to compete in a fleet racing regatta held in Swan 42 Class yachts. The regatta is hosted by NYYC in Newport, RI in alternate years.
It is a testament to the ideals of Corinthian competition, and the camaraderie associated with the sport that for the fourth edition of the Rolex New York Yacht Club Invitational Cup, six of the 17 entered yacht club teams will be welcomed back as four-time veterans of this highly-regarded event.
Hailing from all corners of the globe, the returning teams – Royal Hong Kong Yacht Club, the Japan Sailing Federation, Real Club Náutico de Barcelona (ESP), the Royal Yacht Squadron (GBR), Royal Cork Yacht Club (IRL) and the two-time defending champion, the Royal Canadian Yacht Club – are drawn by the intensity of the on-the-water competition which is enhanced by notable social events held at Harbour Court, New York Yacht Club's iconic clubhouse overlooking Newport harbour
Woven into the fabric of this event is the historic partnership of Rolex and New York Yacht Club, which was forged in the 1950s. Through this enduring association, one of yachting's greatest traditions was established with a winning sailor being presented with a Rolex timepiece in recognition of achieving excellence in competition.
At the conclusion of five days of racing (from 15-19 September) on Rhode Island Sound and Narragansett Bay, a Rolex steel Submariner Date timepiece will reward the winner of the 2015 Rolex New York Yacht Club Invitational Cup: the team which has succeeded at combining efficient boat handling and finding maximum boat speed.
"We are proud to be back in this sophisticated and prestigious event," said Yoshihiko Hattori on behalf of the Japan Sailing Federation (JSAF) team.
The opportunity to represent some of the most prestigious clubs in the world, as well as one's country, is a key motivation for the teams that repeatedly undertake the logistical and competitive challenges that are inherent in participating in an event of this calibre.
The JSAF team has finished in the top six in each of their previous appearances in the Invitational Cup. Building their team for 2015 from a crew that has sailed together for over ten years and are three-time Japanese National Champions, they hope to improve on that record.
Likewise, Irish helmsman Anthony O'Leary has assembled his crew based on their performance on his winning Ker 40, ANTIX. Representing the Royal Cork Yacht Club, generally considered to be the world's oldest yacht club, could be a daunting task for O'Leary who focuses most of his sailing efforts on offshore racing. However, a 5-8-4 record indicates that while the Irish team infrequently sails one-design boats of the size of the Swan 42s used for the Rolex New York Yacht Club Invitational Cup, they are strong competitors within reach of the prize.
Competitors must be Corinthian (non-professional) sailors and members of the yacht clubs they represent; they must also be nationals of their countries. The 2015 Rolex New York Yacht Club Invitational Cup welcomes competitors from the following yachts clubs: the Royal Yacht Squadron (GBR), Japan Sailing Federation (JPN), Real Club Nautico de Barcelona (ESP), Royal Canadian Yacht Club (CAN), Royal Cork Yacht Club (IRL), Royal Hong Kong Yacht Club (HKG), Royal Thames Yacht Club (GBR), Yacht Club Argentino (ARG), Yacht Club Italiano (ITA), Royal Prince Alfred Yacht Club (AUS), Royal Swedish Yacht Club (SWE), Eastern Yacht Club (USA), Itchenor Sailing Club (GBR), Middle Harbour Yacht Club (AUS), Newport Harbor Yacht Club (USA), Seattle Yacht Club (USA) and New York Yacht Club (USA).
Above courtesy Regatta News .com
______________________________________
THE JOY OF TEAMWORK AND RACING
September 17, 2015 - by Regatta News .com
In life there are few guarantees. In sport of sailing, however, an association with Rolex is a seal of authenticity that guarantees that both on and off the water an event – such as the Rolex New York Yacht Club Invitational Cup – is prepared for with meticulous attention to detail. Like the warranty on its fine timepieces, the company is continually setting new standards and those standards are extended to the regattas and yacht clubs with which it partners.
"The Rolex name on any sailing event immediately means it's a premier event," said Bruce Ferguson, co-helm of the team from Australia's Royal Prince Alfred Yacht Club, which has returned to Newport to race in the event for the second time. "Immediately, [the affiliation] gives it a cachet of a serious event. And the fact that you can maybe win a Rolex watch is always a good thing."
In 2013, the Royal Prince Alfred Yacht Club team finished 11th overall out of 20 teams, after a penalty dropped them from fifth place. Citing the joy of racing other countries, and representing their club, Ferguson explained that the team returned because they not only felt it was a real honor to be invited, but also that they could be in the mix to win. "All the guys on our boat, we've all been racing one-design for 18 years. This is probably the one place in the world where you get one-design racing for amateurs, with enough boats to race… and where you can find this same level of competition." Ferguson also commented on the importance of racing at New York Yacht Club (NYYC). "It's significantly important on account of the fact that we won the America's Cup from NYYC and we're racing on the America's Cup course; there's a pretty solid rivalry."
An observation by several skippers was that the level of competition has stepped up. "Definitely the top end of the fleet is tougher," said Ferguson. "It's still early in the event, but one thing is noticeable – there are less mistakes; everybody is doing the basics well and I think there's more intensity this year." The team currently stands 12th overall after two days of racing.
Paul Zabetakis, skipper of host New York Yacht Club's team, had a very similar assessment of the competition. "The level of the competition has gotten steadily better. Teams are practicing, if not on Swan 42s, then on similar boats; and they practice on a regular basis. The Seattle, Royal Thames and New York Yacht Club teams have been on the boats the longest, and it shows."
Zabetakis has a very unique perspective on the event: he has been involved from the outset in 2009, setting up and chairing the technical committee for the first two events. Despite a good season on his Swan 42, Impetuous, in 2013, he did not try to represent the home club as he had become chair of the 2013 event. With a solid commitment from his team, they embarked on a campaign for 2015 that included Key West Race Week, the New York Yacht Club Annual Regatta, and the Swan 42 Nationals, with the latter event won on the final day to secure the honor of representing the home team.
"There is something about working together over and over again as a team," said Zabetakis. "To me, what was most important was if the team dynamics were good on the boat and off the water. They were, and that allowed us to concentrate on the mechanics. [Nationals] was tough; it really put us through our paces."
Today's lone race favored the teams who were in the right place to strike and who were proficient in sailing in light air. Genoa, Italy, where the Yacht Club Italiano is based, is known for light breeze and, with Leonardo Ferragamo at the helm, the team parlayed that experience to win the race. Second across the line was the Irish team representing Royal Cork Yacht Club. Skipper Anthony O'Leary, who has raced every edition of this event, credited finding a hole in the starting line with their performance in the race.
After two days, Seattle Yacht Club has taken over the top spot in the overall standings although it is tied on points (22) with Royal Thames Yacht Club. Royal Cork is third overall with 24 points, and Itchenor Sailing Club is fourth with 27 points. Three points back, tied at 30 points apiece, are Marblehead's Eastern Yacht Club and Toronto's Royal Canadian Yacht Club which is the two-time defending champion.
The winning team is determined at the conclusion of racing on Saturday, September 19, New York Time.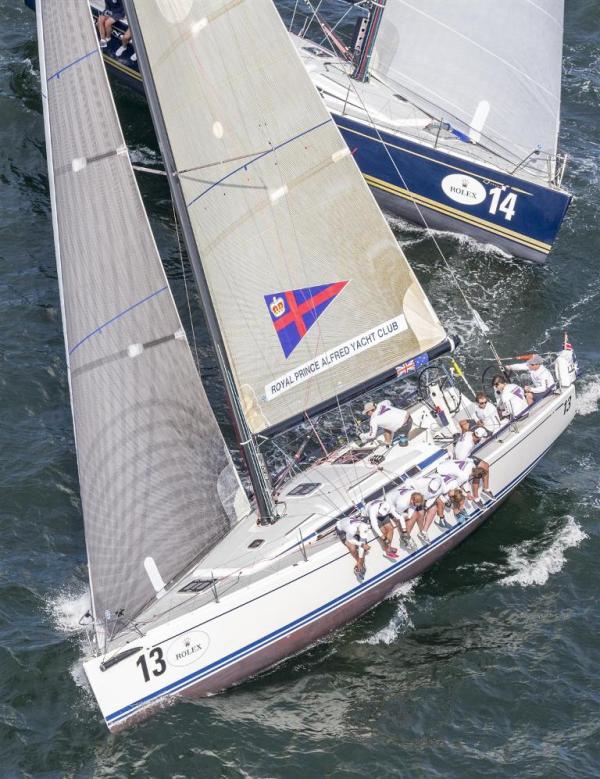 ROYAL PRINCE ALFRED YACHT CLUB (AUS), BOW# 13, SKIPPER BRUCE FERGUSON/MARK GRIFFITH - Photo By: Rolex / Daniel Forster
ABOUT REGATTANEWS.COM
regattanews.com is the comprehensive media source for the events that form the Rolex Yachting Portfolio.
ABOUT ROLEX AND YACHTING
The Rolex New York Yacht Club Invitational Cup has been partnered with Rolex since 2011. The event forms a proud part of Rolex's association with yachting and the world's leading yacht clubs in particular.