June 10 - 16, 2012: Issue 62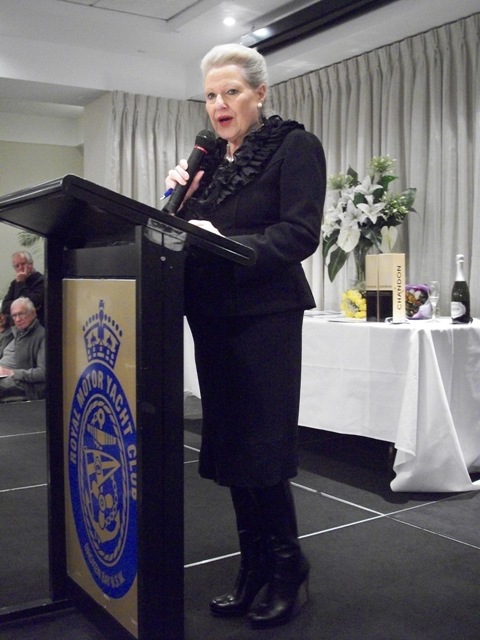 Hon. Bronwyn Bishop officially opening 2012 RMYC Marint Art Exhibition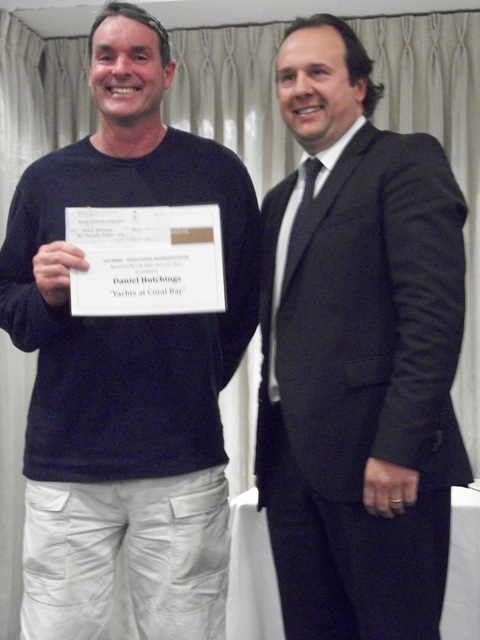 Daniel Hutchings (1st in Traditional) and Mark Guberina, G Brothers Mercedes Benz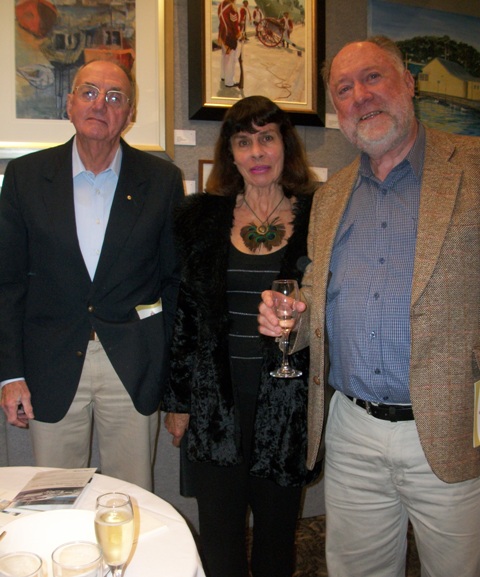 Robert Carter, OAM, President of the Australian Society of Marine artists, with Wilga and Cr. Harvey Rose, Mayor of Pittwater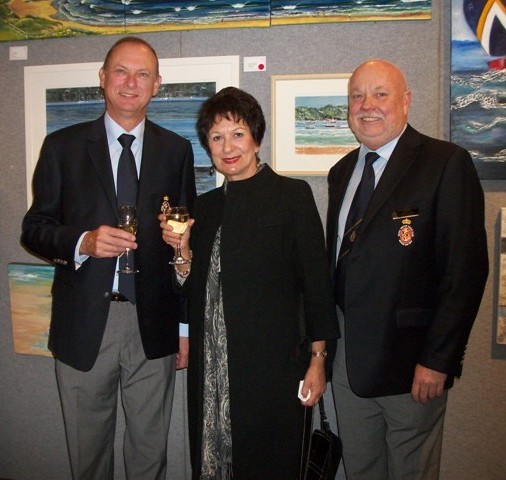 RMYC Director David Rogers, Marian Lyons and RMYC Rear Cmdr. Chris Lee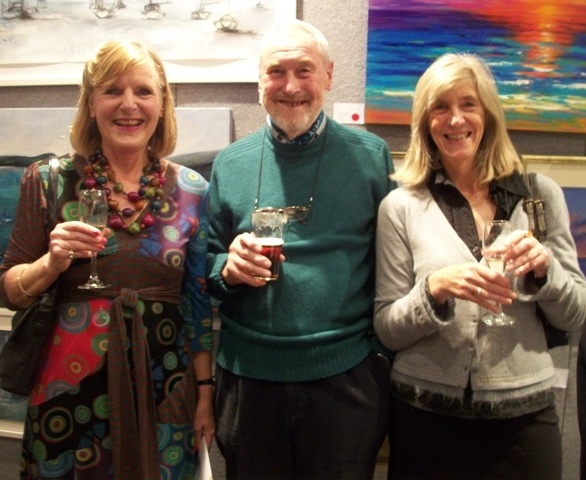 Trilby McIlveen, Philip Bond and Martha Heron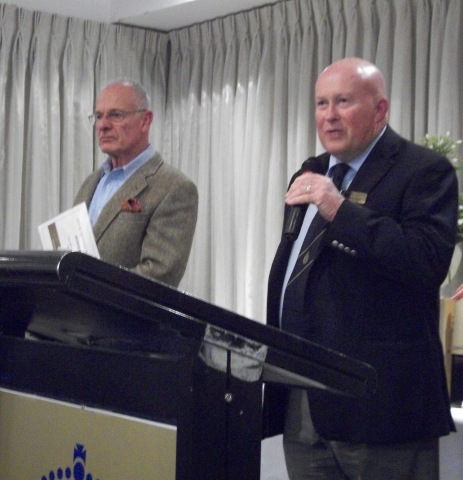 Commodores Award Winner Bruce Harkness and RMYC Cmdr. Peter Haig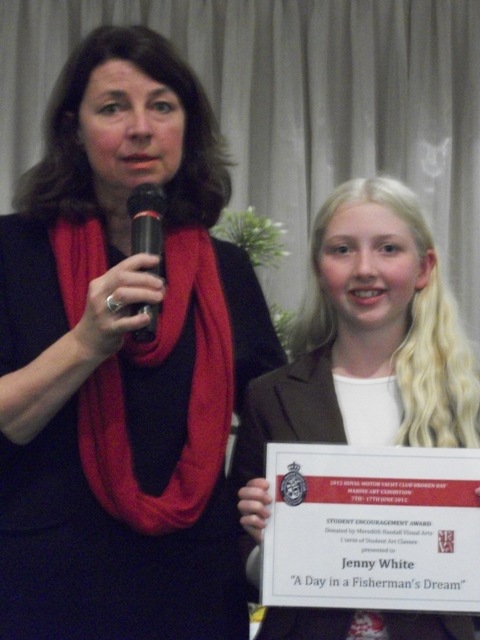 Meredith Rasdall and Student Prize Winner, 10-13yrs., Jenny White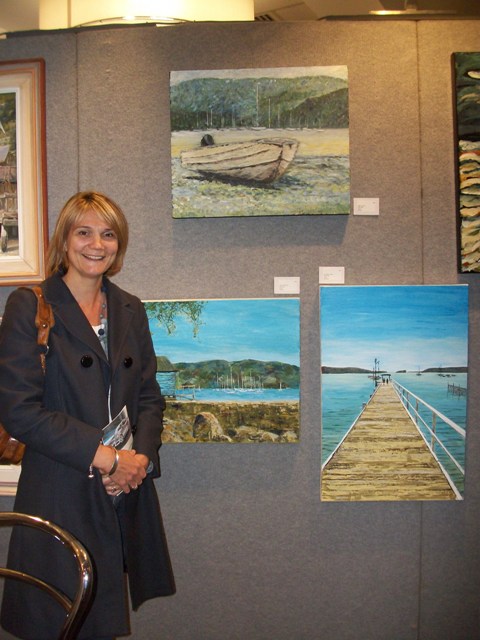 Heidi Todd, who attended with her Fan Club (children) and three of her works
RMYC 2012 MARINE ART EXHIBITION 'NAUTICAL NUANCES' Official Opening – Friday 8th of June, 2012
The prestigious Royal Motor Yacht Club Broken Bay at Newport held the opening of their 8th Marine Art Exhibition on Friday evening with the Hon. Bronwyn Bishop's eloquence marking this year's official opening. With over 300 fantastic paintings on display and for sale, scrumptious Moet-Hennessey champagne and Cape Mentelle wines that complimented the briny earth and water scenes and their effervescent qualities superbly, this was easily one of the most pleasant evenings ever spent at this iconic Pittwater club.
Vibrant Karen Baldwin, General Manager of the RMYC, welcomed over 160 guests and VIP's and explained that this year's theme 'Nautical Nuances' had allowed free range to all creators. RMYC's GM stated the Club and its Directors were very proud of what the exhibition does for our community and in involving our community with art and artists, with entries from all around Australia this year. Karen commended the huge investment of time and effort for the 283 artists who entered the adult sections and the great representation in the youth section, which has doubled this year.
Hon. Bronwyn Bishop, in officially declaring the show open, stated that each artist has "seen something different and interpreted it differently." Declaring that "nothing encourages an artist's skill, technique and inspiration then purchasing their work and enjoying it." Ms Bishop encouraged all to "Buy something of beauty, or something that is stimulating or something that is challenging to your self and your eyes. There is something here for everyone." Hon. Bronwyn Bishop's closing remarks identified the unique quality of the annual RMYC Marine Art Exhibition as more then just an Art Show as it represents the aspirations and interpretations of our Marine Artists and our community to develop and maintain all that enriches our whole society by investing in the development of our artists and our art.
Held in conjunction with the Australian Society of Marine Artists, whose President Robert Carter OAM, Narrabeen gent, was present and won a prize in the Traditional section for his wonderful 'Wooden Boats and Iron Men', this annual competition and Marine Art Exhibition has become an institution many look forward to in Pittwater. Philip Bond, initiator of RMYC Marine Art show, WPYC gent and popular local writer, was his usual cheerful courteous self on Friday. Philip works for months prior to each year's presentations and is one of the judges each year. Also on hand in their capacity as judges, a big task considering the number and quality of works entered this year, were Chief Judge Paul Tonkin, a Fellow of the Australian Society of Marine Artists, Joanne Breukel, Interior Decorator and Erika Beck, Artist. Also attending were Pittwater Councillors Harvey Rose, Bob Grace, Ian White, Jacquie Townsend, Julie Hegarty and Pittwater Council's General Manager Mark Ferguson. Representing the RMYC were Commodore Peter Haig, Vice Comm. Ted Breukel, Rear Comm. Chris Lee, Treasurer Mark Lloyd and Directors David Rogers and Gordon Cockerly and Past Commodore Leo Tuck who had already purchased a painting! John and Christine Woulfe were also mentioned as long term contributors and supporters. Some of John's sculptures formed part of the exhibition; breathtakingly beautiful steel, wood and stone pieces.
Local artists and local scenes were well represented, as were wonderful visions from famous interstate watery places such as the Murray River and other Sydney nautical locales, Balmain for example. Thanks to the generous support of the RMYC, Moët-Hennessy Chandon, Pittwater Council, represented by Cr. Harvey Rose, and 1st and 2nd prize major sponsors G Brothers Mercedes Benz, who were represented by Mark Guberina, this annual feast for the senses can only gain in popularity for art-lovers and artists alike. The total prize pool this year was $4,725. Special student categories for 10 to 13 years and 14 to 18 years for our budding young marine artists, with the best entry in each divisions receiving $250 with a new ''Encouragement Award'' donated by Meredith Rasdall Visual Arts – one term or Children's Art Classes, were of a very high quality. The future of Marine Art seems assured if these youngsters keep up their great work and dedication.
In closing Karen Baldwin thanked the tireless Sally Bacon, her
PA, whose hard work and dedication over the last few weeks ensured the success of this show. Interviews with winners by Peter Scott, absentee judge, will be published in 'Go Boating' magazine's next edition for those who'd like to know more about these creative people and their works. The Marine Art Exhibition is open now with visitors welcome between 10.00am and 5pm. If you are an art lover you must treat yourself to seeing these pieces; the range of visions and insights, the mediums, the colours will conjure up memories of saltwater life that will merge with these new works. The exhibition runs at the Royal Motor Yacht Club Newport until the 17th of June 2012. You may well pick up a painting that resonates with your heart at a price that your head agrees with as those on display are certainly worth more then asked. On Sunday 17th June 2012, the final day for this great annual celebration of Marine Art, the RMYC is hosting a day of Wine Tasting and Marine Art at the RMYC Wine Fair in the Garden Forecourt. Wine Tasting is from 11am to 3pm, with over 10 Exhibitors on show.
Councillor Harvey Rose, Mayor of Pittwater closed his address to guests with consistent insight by an oration of a wonderful poem, Sea-Fever by John Masefield, Poet Laureate of the United Kingdom from 1930 until 1967. These verses eloquently epitomised all seen, felt and inspired on Friday evening and all you too may experience by visiting the 2012 'Nautical Nuances' Marine Art Exhibition at Newport's Royal Motor Yacht Club.
Sea Fever
I must go down to the seas again, to the lonely sea and the sky,
And all I ask is a tall ship and a star to steer her by,
And the wheel's kick and the wind's song and the white sail's shaking,
And a gray mist on the sea's face, and a gray dawn breaking.
I must down go to the seas again, for the call of the running tide
Is a wild call and a clear call that may not be denied;
And all I ask is a windy day with the white clouds flying,
And the flung spray and the blown spume, and the sea-gulls crying.
I must go down to the seas again, to the vagrant gypsy life,
To the gull's way and the whale's way, where the wind's like a whetted knife;
And all I ask is a merry yarn from a laughing fellow-rover,
And quiet sleep and a sweet dream when the long trick's over.
John Masefield
RMYC's 2012 Marine Art Exhibition 'Nautical Nuances' Prize Winners
STUDENT PRIZES
STUDENT PRIZE AGE 10-13 YEARS - $250
Painting No: 301, Title:"Welcome to My World" Artist: Ava Williams
STUDENT PRIZE AGE 14-18 YEARS - $250
Painting No:308, Title: "Espadon" Artist: Jessica Nord
Encouragement Award Painting No:298, Title: "A Day in A Fisherman's Dream" Artist: Jenny White
COMMODORE'S AWARD - $500
Painting No: 91, Title: "Impending Storm, Clareville Beach" Artist: Bruce Harkness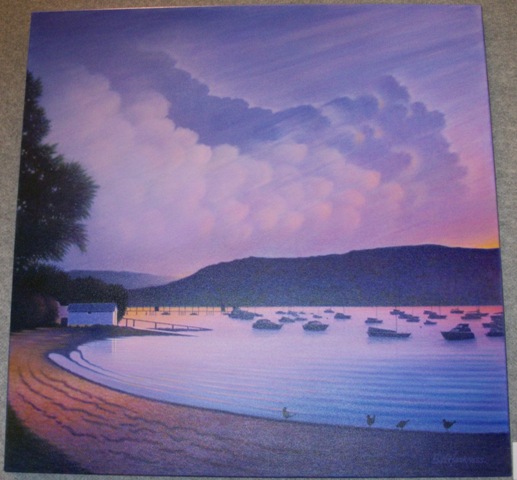 Bruce Harkness Impending Storm, Clareville Beach
HIGHLY COMMENDED - TRADITIONAL REPRESENTATION
Painting No: 268, Title: "Victoria Dock 1955" Artist: John Woodland.
3RD PRIZE TRADITIONAL REPRESENTATION - $250
Painting No: 40, Title "Wooden Boats and Iron Men" Artist: Robert Carter
2ND PRIZE TRADITIONAL REPRESENTATION - $500
Painting No: 1, Title: "Far From the Clyde IV" Artist: John Adameitis
1ST PRIZE TRADITIONAL REPRESENTATION - $1,000
Painting No: 118, Title: "Yachts at Coral Bay" Artist: Daniel Hutchings.
HIGHLY COMMENDED - MODERN/CONTEMPORARY REPRESENTATION: Painting No: 198, Title: "Nautical Shadows" Artist: Gemma Rasdall
3RD PRIZE - MODERN CONTEMPORARY REPRESENTATION - $250: Painting No: 228, Title: "Red Sky in the Morning" Artist: Donald Talintyre
2ND PRIZE - MODERN CONTEMPORARY REPRESENTATION - $500: Painting No: 218, Title: "Waiting at Kettering" Artist: Susan Sheridan
1ST PRIZE - MODERN CONTEMPORARY REPRESENTATION- $1,000: Painting No: 262, Title: "Seen Better Days" Artist: Peter Whelan.
John J Woulfe exhibits
Copyright Pittwater Online News, 2012. All Rights Reserved.