October 27 - November 2, 2013: Issue 134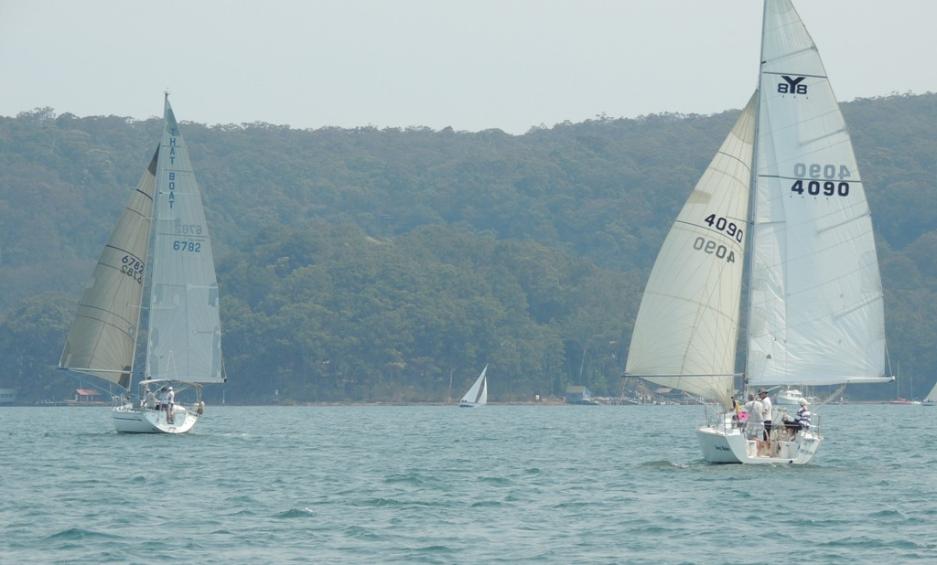 That Boat and Young Blokes down wind. Picture by Robyn McWilliam.
Lady Skippers Race 2013
by Robyn McWilliam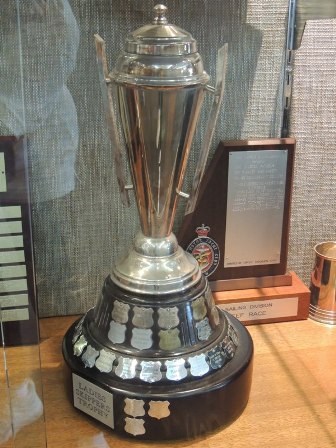 Pittwater sparkled on Sunday 20 October 2013 for Royal Motor Yacht Club's annual Lady Skippers Race. With ladies at the helm for the race duration, men were relegated to crew. Course two was displayed on the tower as six yachts jockeyed for place on the start line.
A north-easterly breeze varying between five and fifteen knots provided for a faster race this year. After a good start at the top of the line on Red Red Wine, I watched the two faster boats, Rum Runner skippered by Janelle Groenheyde and Supernova with Cathy Lamont on the helm, surge away towards Mackerel Beach mark.
On the working leg past Scotland Island, my two closest rivals, Jenny O'Neill on That Boat and Sue Mueller skippering Young Blokes, slipped past in slightly stronger breeze to the west. That left me watching their wake in fifth place. Behind us was Melissa Watson on a newly-acquired boat, Audacious.
As we tacked north with Lion Island on the horizon we scanned the water for signs of stronger wind. After rounding the first mark Rum Runner was showing brilliant pace with Supernova not far behind. Red Red Wine slowly edged closer to the sterns of That Boat and Young Blokes on the down-wind leg to Woody Point mark. Following this rounding, the wind had picked up to ten to fifteen knots, our boat was heeling and slicing through the water.
During the leg to Stokes mark our rivals tacked towards Long Nose headland. No point chasing so we continued east. At the next crossing we were in front of Young Blokes and near That Boat. On the way home Red Red Wine left the final two boats behind and edged ever closer to That Boat.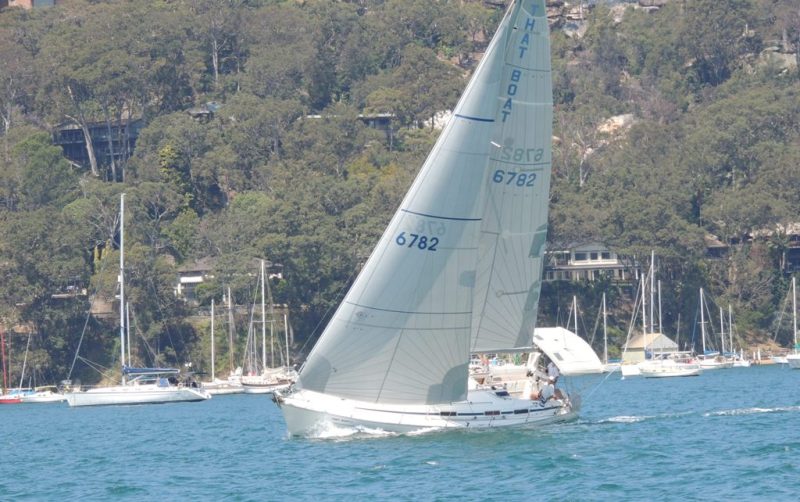 That Boat on a tack
Rum Runner had finished first over the line and was ahead enough to claim first place on handicap. Well done, Janelle! Red Red Wine's recovery manoeuvre got me back to second place with Cathy on Supernova third.
Boat crews gathered in the courtyard for finger food and the presentation. Janelle will be presented with the silver trophy at the award's night next year. All agreed we had a great day sailing on Pittwater. Lady skippers put the date in you diary for next year to expand the fleet.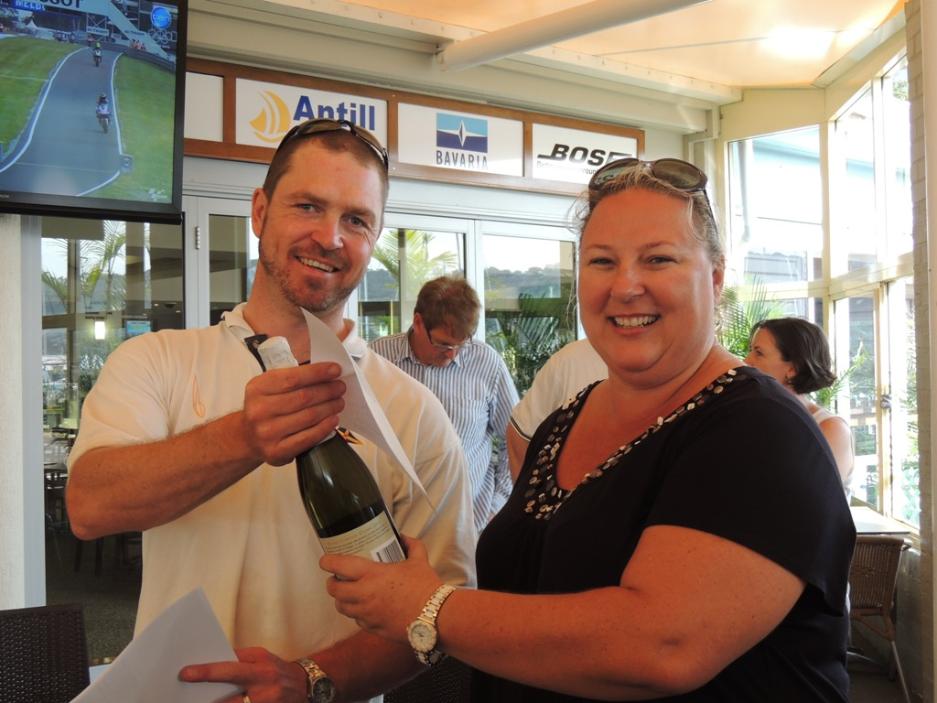 Ist Janelle Groenheyde on Rum Runner with presenter Kirk Watson.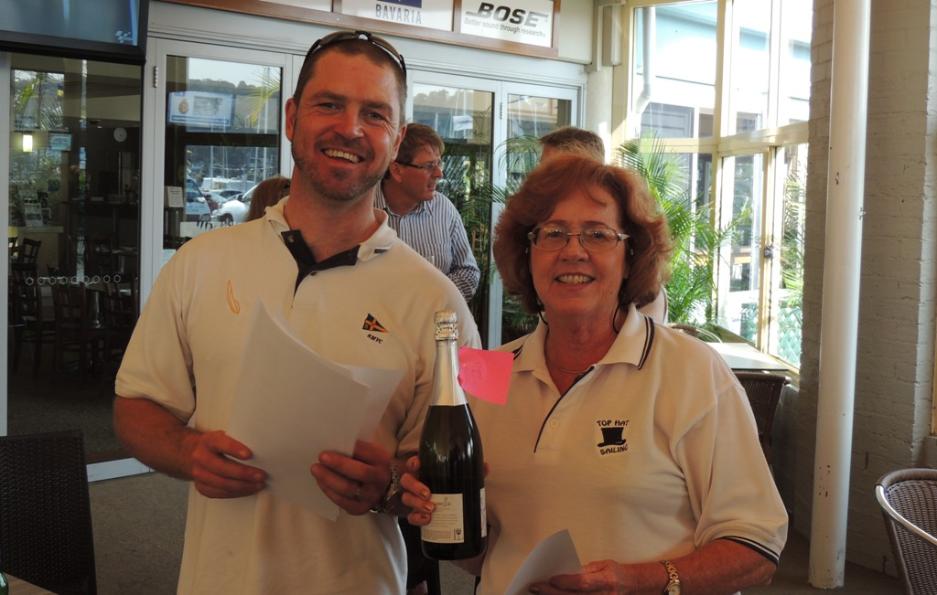 2nd Robyn McWilliam on Red Red Wine with presenter Kirk Watson.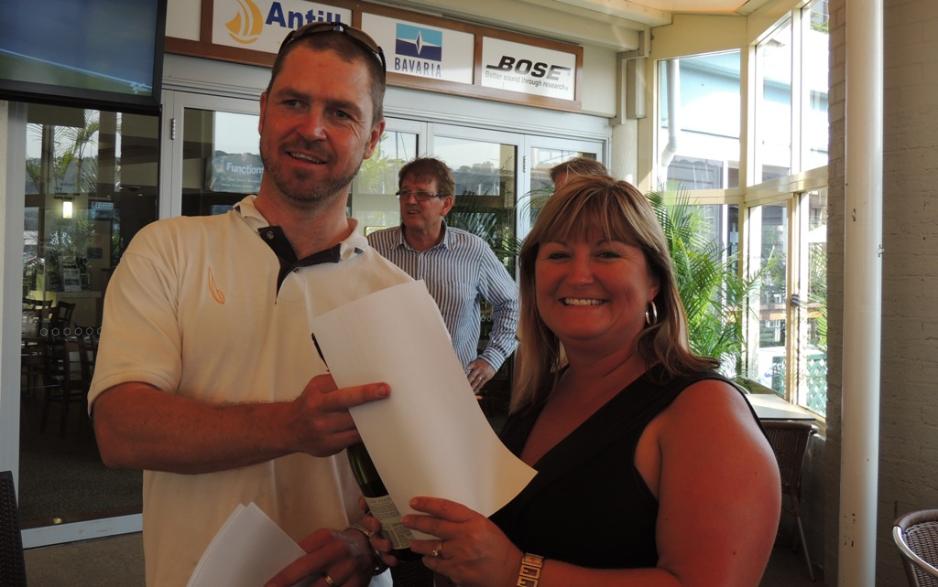 3rd Cathy Lamont on Supernova with presenter Kirk Watson.
Copyright Robyn McWilliam, 2013.