August 24 - 30, 2014: Issue 177
Pittwater Sailors at Audi Hamilton Island Race Week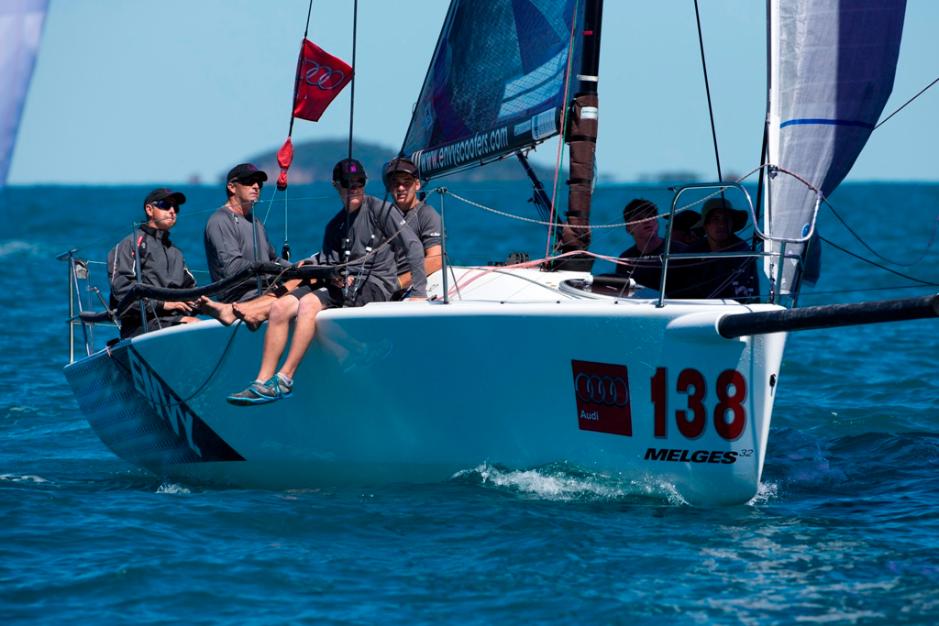 Resurrection at Audi Hamilton Island Race Week
18 August, 2014
Thirty years ago at a crossroads Barry Cuneo took the sensible parent-pleasing option and pursued a career, believing he could drop back into sailing any time. He's on the water all the time as a sea pilot on Port Philip, but when it came to sailing he discovered a large hole in the sport.
At 48 he made a return and now the long-time Royal Queensland Yacht Squadron member and sponsor is plugging that hole for a bunch of rising stars. In return for providing and sponsoring a Melges 32 for the class' upcoming world championship, RQYS has lent their club coach, three-time Olympic coach Adrian Finglas.

In turn Finglas rang a couple of the maestros – Rob Brown and Grant Wharington – to help mentor four eager RQYS crew on their way to the world title via Audi Hamilton Island Race Week, the annual regatta in the Whitsundays that has drawn a 182-boat fleet this year.
The youngest on Envy Scooters is 16 year-old Charlie Wyatt, the current Australian 29er champion. Will Bates and Klaus Lorenze are both 18 and from the Queensland Academy of Sport. Lorenze was sailing Optimists until he outgrew the tiny dinghy. Now he can lift one under each arm. Matt Parrott, 21, is a Queensland match racing champion and the boat captain.
"We see Race Week as eight days of full on training and getting the culture right on the boat," said Cuneo who is driving the Melges 32 called Envy Scooters. "We have a gym membership on the island and we are teaching the young guys how to campaign a boat properly. We aren't here to be last out of the bar."
Rob Brown was part of the winning Australian America's Cup crew in 1983 and is a three-time 18 foot skiff world champion. Grant Wharington is a highly experienced yachtsman and Rolex Sydney Hobart veteran.
For Race Week Wharington or 'Wharo' as he's best known, is on trim, Brownie looks after tactics and Adrian is mainsheet hand and coach. The four together in front of a new adoring audience are a non-stop comedy routine.
"I let the jib off when they remind me. They have to speak up so I can hear," jokes Brown.
"These guys are seriously lucky to have the depth of knowledge of Grant, Rob and Adrian," says Cuneo who is from a well-known Queensland sailing family. His dad Tom is a former Australian 16ft skiff champion and uncle John was a sailing gold medallist at the Munich Olympic Games in 1972.
At the midway point of Audi Hamilton Island Race Week Envy Scooters is the lead Melges 32 in their pointscore after six races. Stephen O'Rourke's Panther is two points from the clubhouse leader and John McDougall's Goodgear Mac 2 third.
The last three windward/leewards were ticked off in quick succession yesterday, Tuesday August 19, 2014, in the ideal 10-12 knot sou'east breeze at Turtle Bay to the east of Hamilton Island. Today, Wednesday 20th is a layday.
From December 1st -7th in Miami the Envy Scooter crew will take on the world's best in a chartered Melges 32.
Cuneo's investment to provide a clear path for teenagers once they outgrow dinghies and junior programs clearly comes from his own experience and lost opportunity. "I want to show kids what's possible and that they aren't going to be stuck forever floating around in a little boat."
By Lisa Ratcliff
Media Manager, Audi Hamilton Island Race Week 2014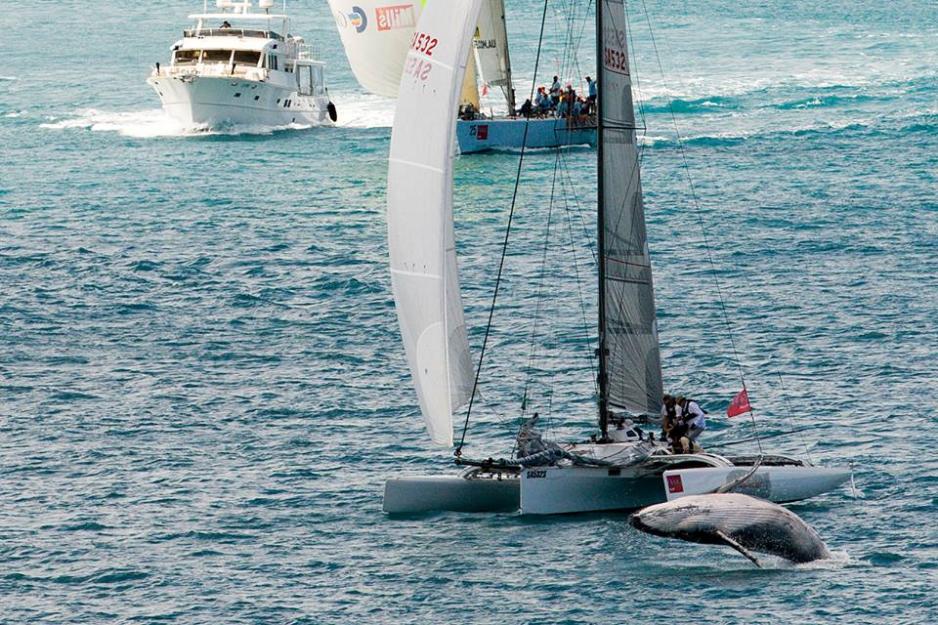 Saving the best 'til last at Audi Hamilton Island Race Week
23 August, 2014
The best of winter sailing in the Whitsundays capped off racing at Audi Hamilton Island Race Week. Bucket loads of sunshine and puffy 18-20 knots of SSE tradewinds farewelled the fleet from Dent Passage for the final time this series.
Keeping it fresh, the race committee offered crews a navigator's choice for the deciding race. At Sidney Island off Lindeman Island, IRC divisions 1 and 2 opted to head for home either via Dent or Hamilton Island. The remaining divisions made the same choice at Isolated Rock.
A full spectrum of conditions over six days created opportunities to climb, and slip down the pecking order. Gear and crew were challenged in various wind ranges – 7-10kts and shortened courses on day one last Sunday to double that today, Saturday August 23, 2014.
IRC
Karl Kwok's all-conquering TP52 Team Beau Geste has cleaned up another major Australian regatta and title. The TP52 has been campaigned on the Australian East Coast for the past two years and raked in the spoils – the TP52 Southern Cross Cup and Audi IRC Australian Championship the biggies.
"We had persistent winds this week, no matter how strong or weak there were no car parks," said Kwok.
"The first day we ran aground due to a miscalculation. After that we got better each day, we rounded off all our rough edges."
Beau Geste is heading back to Hong Kong for the South East Asian circuit.
Phil Turner's RP66 Alive from the Derwent Sailing Squadron finished second by four points among the big boat division.
In IRC division 2 Stephen Barlow's Farr 40 called Forty had enough credits to stay on dry land while the rest of the division fought for the minor placings in today's 22nm race island course. A lucky break for Barlow and his Sydney based crew as they came ashore yesterday afternoon with 100 buckets of water slopping around in the bilge, a result of rudder bearing damage. Forty is now up on the hardstand at Hamilton Island for repairs.
"We were going to race today, luckily we didn't need to as we were half sinking when we came ashore," said Barlow. "It's been a great regatta. We are surprised how we finished given the quality of the IRC competition at Audi Hamilton Island Race Week."
Post-race the co-owner of Forty, Sam Hill, organised for a couple of bottles of the island's finest to be sent to the winning crew. Hill was back in Sydney and had calculated Forty couldn't be beaten well before the news hit the crew dealing with the palaver.
Ross Wilsons' Race Week regular Eagle Rock, a Beneteau First 47.7, took out second and Geoff Boettcher's Secret Mens Business third.
IRC division 3 three, victor Local Hero from Canberra Yacht Club led the pointscore from the outset. Four wins from six races for the almost two-decade old boat is even more impressive given Race Week is the one time a year the ACT crew jump aboard the 36-footer that is Airlie Beach based.
"Yesterday was the best, a cracker breeze to claim the series; luckily we did," said skipper Matt Owen. "None of us sail on this boat regularly, just one regatta a year. We saw almost 20 knots of wind yesterday, which was a little bit scary for us with big waves and whales about. We've had a reasonable record at Race Week; in 2010 we won our division and walked away with an Audi as well.
"I've done 11 or 12 consecutive Race Weeks," said the multiple Elliott 7 and Flying 15 national champion. "We've got our Flying 15 world champs in France next year so sadly we won't be at Hamilton Island. It's really cool that I get to sail at Race Week with all of my mates. We don't need an excuse to get out of Canberra in August, it's five degrees at the moment… a bit chilly willy today."
Newcastle based Beneteau 40.7 Schouten Passage campaigned by the Howard family finished up second on the points table and Andy Kearnan's Summit 35 L'Altra Donna third in the six race series.
​MC38s
The crew on Leslie Green's MC38 Ginger celebrated winning the class' Australian championship once results were posted yesterday afternoon.
John Bacon's Dark Star from the Royal Prince Alfred Yacht Club finished with a bullet in today's passage race and held off class newcomer, Marcus Blackmore and Hooligan, to come in next best behind Ginger by six points after 12 races.
Variable SSE winds 9-15 knots had the one-design fleet taking plenty of water over the decks, Chris Hancock's Vino topping 14kts of boat speed on the kite run.
CEO's take
Hamilton Island CEO Glenn Bourke oversaw the smooth running of the 31st edition of one of Australia's premier yachting regattas, commentated for Audi's guests and raced part of the week aboard Bob Oatley's supermaxi Wild Oats XI in IRC division 1.
"We had a great diversity in conditions from the beginning to the end of the week – there was something for everyone," said Bourke. "The best breeze in years mixed with the entertainment on offer and the opportunity to catch up with old sailing friends really made the week. Our aim is to always do it bigger and better next year."
Trophy winners will be awarded at tonight's final presentation function.
By Lisa Ratcliff
Media Manager, Audi Hamilton Island Race Week 2014