February 28 - March 5, 2016: Issue 253
Premier League Inaugural Sapphires Shine at Launch of 2016 Season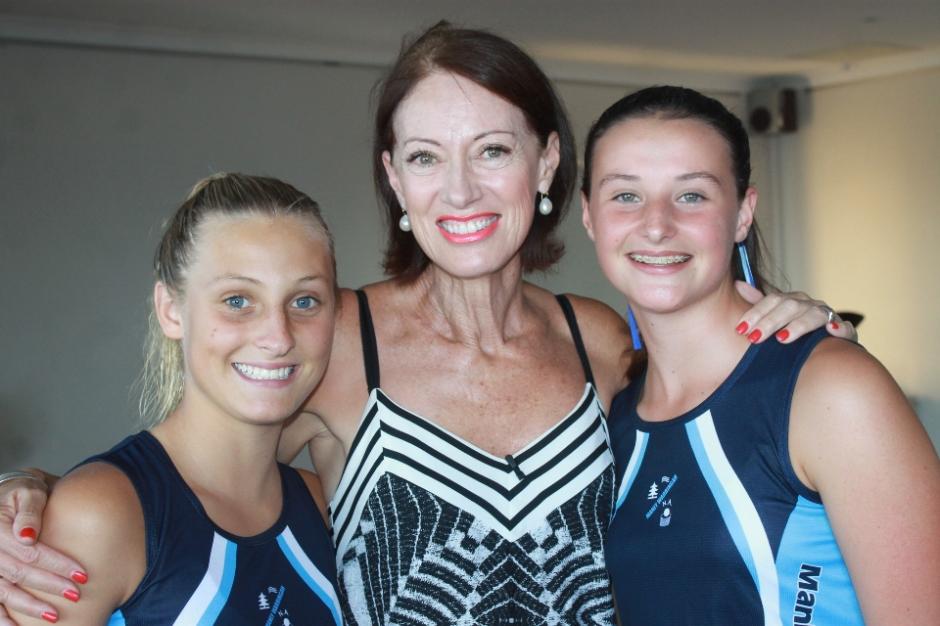 Under 16's Skye and Izzy with Annie Sargeant OAM
In July 2015 Netball NSW announced the introduction of the Netball NSW Premier League (NNSWPL).
The NNSWPL, which commences in 2016, is a new competition to attract the best current and emerging talent within NSW. Its purpose is to offer a local, elite platform for players, coaches, officials and administrators, and provide bridging opportunities in to the Australian Netball League (ANL) and subsequent ANZ Championship.
Eight successful Franchises were granted an initial two-year NNSWPL Licence:
• Blacktown City (Netball Association Incorporated)
• Central Coast Heart (Incorporated)
• Eastwood Ryde Hawks (Netball Association Incorporated)
• Manly Warringah Sapphires (Premier League Netball Incorporated)
• North Shore United (Limited)
• Panthers (Premier League Netball Incorporated)
• Sutherland Stingrays (Premier League Netball Incorporated)
• UTS St George Sparks (Netball Association Incorporated)
The NNSWPL will be contested across two Divisions – Opens and Under 20s – with a Pre-Season tournament scheduled from 2 March through 23 March 2016, followed by the commencement of the 14-week regular season beginning 18 April 2016. The Finals Series will be contested over three weeks, with the Grand Final currently penned for week commencing 22 August 2016.
On Wednesday February 24th the Manly Warringah Sapphires held a launch event to introduce their inaugural Opens and Under 20's teams players, coaches, managers and support team.
2015 Sport Australia Hall of Fame inductee as the 37th Legend of Australian Sport Annie Sargeant OAM, who will fulfill a role as Specialist Shooting Coach with the Sapphires was MC for the evening.
"Welcome to the Season 2016 launch of the Manly Warringah Sapphires, Manly Warringah's flagship Netball team, our entry into the Netball NSW Premier League, the brightest and most recent sporting team on the peninsula, a team about to become the team that every junior netballer in this area wants to play for." Annie said in opening the formal part of the launch
"For those of you who don't know me I'm Annie Sargeant, a very proud and passionate supporter of Manly Warringah netball, long time representative of the mighty Blues, and very thankful that I had the absolute fortune to craft my skills in this association and to have played alongside so many talented athletes, many of whom are in this room tonight. I'm very much aware that the success achieved later in my career, as a senior, was founded in this environment.
I must say at this start, New South Wales and Australian representation aside, and a couple of awards and a couple of world titles, I now have one regret – I'm never going to be a Sapphire, it's not on my resume – so I figure if you can't be one, best you support them in every possible way you can."
"We're so proud Manly Warringah has been successful in its bid to gain entry into this exciting new competition, further enhancing opportunities for our juniors. This has been a continuing focus for our association, ensuring our juniors have something to strive for. "
A wonderful cross section of sponsors for everything this great team of young ladies will need, attended the launch, clearly please whether their investment was the wonderful new uniforms, gym training or funding.
Also present were Netball NSW President Wendy Archer AM, Netball NSW Chief Executive Officer Carolyn Campbell, Manly Warringah Netball Association President Jane Hauser and members of the MWNA Executive.
Carolyn Campbell was asked to speak, stating, "Tonight is really exciting for me as this has been a journey to reform our competition to best suit our needs moving forward
Three years ago, Netball NSW proactively commenced an extensive review of its High Performance Programs, with the inclusion of such an elite competition in its pathway seen as a priority in the organisation's vision of producing State and Australian representatives.
"With participation and interest in netball at an all-time high, the introduction of the Netball NSW Premier League is an exciting development for the sport within New South Wales,"
"While we have, and will continue to run successful competitions, we see the Netball NSW Premier League playing a vital role in retaining our State's emerging and elite talent pool while providing the high level competition which aspiring athletes, coaches and officials require for higher accolades."
"I would like to congratulate the Manly Warringah Netball Association for all the work you have done to get the Sapphires to where they are today. There is no doubt that this cannot be done without the help of your Executive and to hear the list of sponsors who have been thanked tonight I thank them too for their support – you will not regret being in at ground level in supporting this team in the competition they're about to play in.
It is different, it will be new, it has many aspects to it where we will take Netball to a whole other level and you will be a part of that."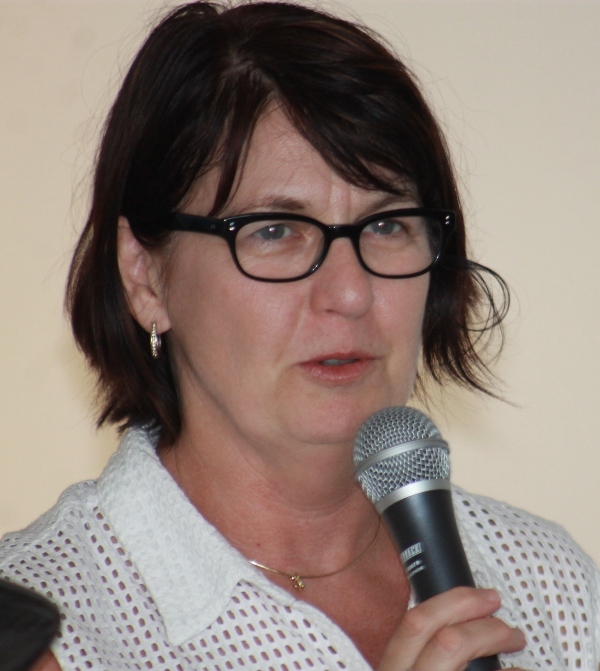 Netball NSW Chief Executive Officer Carolyn Campbell
Head Coaches for both the Under 20's and the Opens then introduced the girls whose captains, beginning with the Under 20's Meg Richardson and followed by Opens Captain Nicole (Nikky) Deegenaars gave wonderful thanks to everyone who has helped them thus far and spoke eloquently of what they have been doing in preparation as Sapphires and what they hope to do this Season.
Meg stated that this was a huge privilege, the team had a really exciting season ahead, and heartily thanked the sponsors for ensuring they had everything they needed. Her outline of what they had been doing, from pre-season training since last October for fitness, doing strengthening and conditioning sessions, gym sessions for developing strength, court sessions, refining precision in their drills showed how hard this young team have worked.
"...our skills and fitness have developed and we have really gelled as a team," Meg stated, "Thanks to coaches and training staff for the training and effort you have put into us for this season. Thanks to psychologist for helping us to get on the court and play consistently despite what distractions may be going on in our lives. Thanks to our manager – and our coaches, we love all your commitment and enthusiasm and sharing your experience skills and knowledge with us so we can develop not only as individual players but also how we work as a team – I know you will push us to be the best I can and I can't wait for what the season has in stall for us. Finally I'd like to say what a privilege it has been selected to captain such a talented and hardworking team. I believe every single one of us is committed to living up to the outstanding netball traditions of Manly Warringah.
Thank you to all our sponsors and all of you who are here tonight who have made this incredible opportunity possible." the first Under 20's captain stated in closing.
Nikky thanked everyone for attending and valuing what the Sapphires are doing, " I've been blessed and privileged with the honour of being the Club Captain for the Sapphires for 2016. For me this is very special and where I started my netball journey…" the Opens stated.
" Netball is doing some beautiful things at every level in our country and this will be something that will help us refocus on how we can promote netball in every community and at every level.
We have been asked tonight to think about what we're doing here at Manly Warringah and for me this would involve developing a club culture for the Manly Warringah Sapphires.
On the Northern Beaches there is a club culture in other sports; people know about premier league soccer or football, they know about those gentlemen and how they work. A lot of people know about the Sea Eagles rugby league and the culture we have around that.
There is such a rich culture in netball in Manly Warringah and yet that public eye understanding of what is that culture, who are those girls, who are those women, and what does that stand for, hasn't yet been understood enough and that's what we're here to have the honour of doing.
To lead that is really exciting.
I've been asked tonight 'what does it mean to be a Sapphire?' I initially thought of the name itself and thought 'Sapphire – Australian Diamonds – yeah, we're stepping it up, that's where we're going' – we're thinking about how we can change club structure and leagues and make this more professionalised, how we can give a pathway that's clear and direct.
So I think what is in the name is what it means to be a Sapphire, it is an acknowledgement that you want to be the best you could be in your sport. You want to achieve the best that you can achieve in your career, and you want to help the people around you to do the same.
So the number one meaning of Sapphire for me is 'excellence', shining bright through.
The other way I see this, and I think this is more important, is this is a gemstone, which is found in the ground – you have to source it locally, you've got to dig deep – when you find it, it might be a bit rough and need a bit of polishing – BUT – if we look at our Opens Team, 10 of our girls are local Manly players.
For me to be a Sapphire means being local and being given access to a program that can take you from who you are with whatever raw rich talent you have, and without having to go somewhere else and outsourcing as we have Tim from Beaches Strength & Conditioning or Sam from Crompton Athletics to give that base conditioning, to give that base strength, to give someone the skills to not just a happy player but to become an athlete. We have Andy from Total Focus thinking about who we are as individual people. We have a holistic program that can hopefully take these gorgeous girls here and take them in the direction they want to go without ever leaving where they came from.
So what does it mean to be a Sapphire – it's a great opportunity that I'm blessed to have.
Thank you for being here. Thank you for caring about something that we love and seeing the beginning of what we hope will be a brilliant opportunity."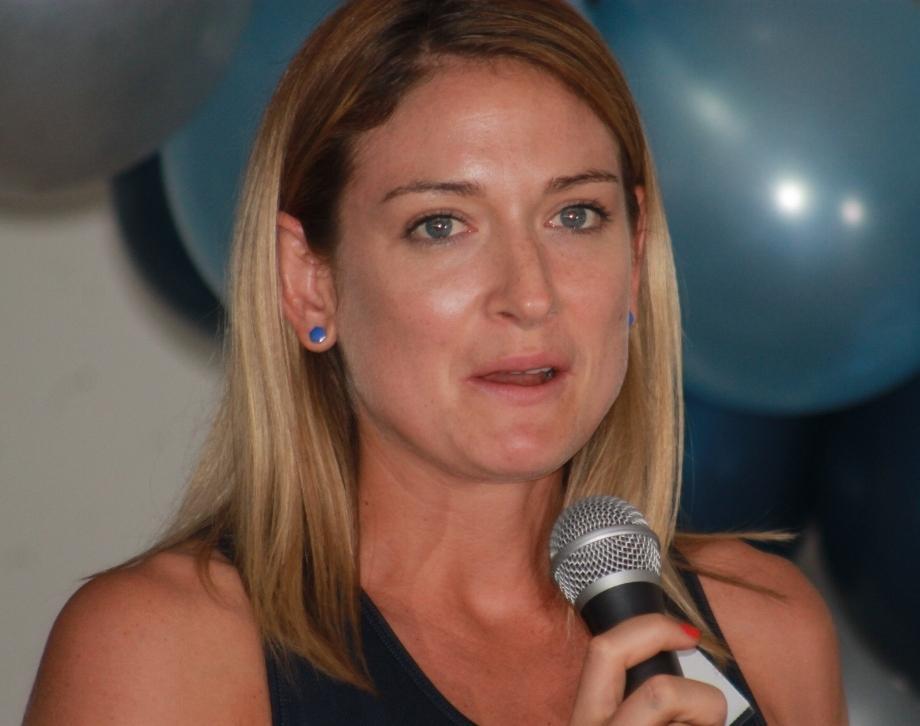 Nikky Deegenaars, 2016 Sapphires Club Captain
Annie Sargeant echoed the sentiments these girls expressed, agreeing with Nikky's Sapphire's vision, "Our Sapphires are aptly named as the gemstone reflects the colours of the Manly Warringah Netball Association, a gemstone that sparkles and shines brilliantly blue." in her closing remarks.
"Congratulations to all who have been selected to be the 2016 Sapphires. We wish you every success on court but more importantly we wish for you that you're able to fulfil the core values and trademarks that you have talked about tonight in what is special about being a Sapphire …We wish you longevity too. It's not just about 2016, it's about your road moving forward."
The Sapphires will lead out the 2016 Netball NSW Premier League with a pre-season match this Wednesday, March 2nd being at 7 p.m. at the brand new $35 million Netball Central centre of excellence at Homebush, with the Under 20's team playing the UTS St George Sparks.
This will be followed by the Opens girls at 8.40 p.m. playing the Eastwood Ryde Hawks.
For those who cannot get to Homebush, Netball NSW announced on February 2nd the Netball NSW Premier League (NNSWPL) will be streamed LIVE and FREE during the competition's inaugural season through BarTVSports.
Keep up to date with the Manly Warringah Sapphires on their Facebook page: www.facebook.com/ManlyWarringahSapphires
and through the Manly Warringah Netball Associations Facebook page and Website
Supporter packs are now available too ! Email membership@mwsapphires.com.au for more information.
What a great inspiration and fantastic role models for all the MWNA teams and every girl who plays netball from Pittwater through to Manly and all courts in between.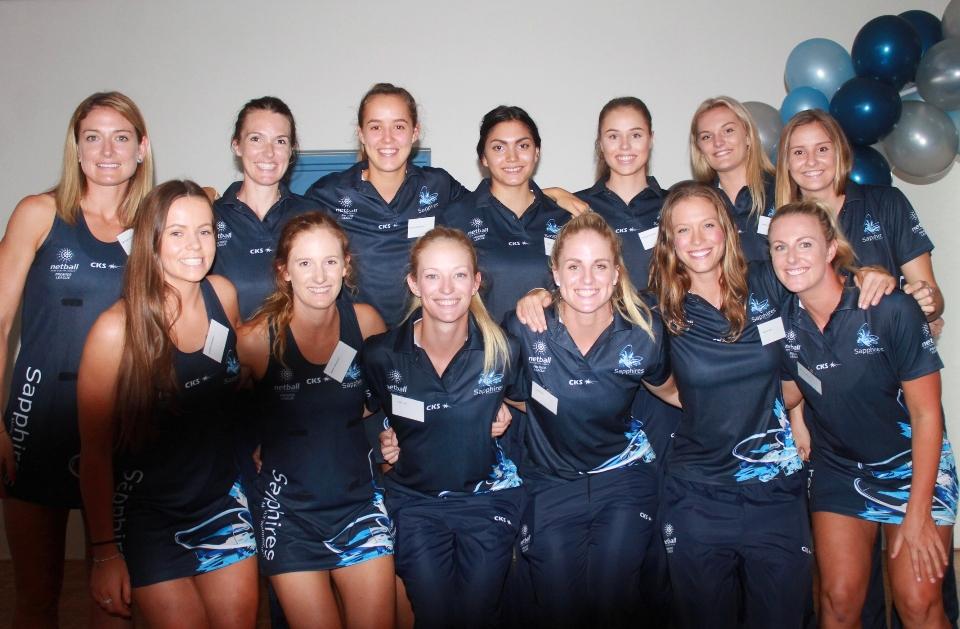 2016 Sapphires Opens Team
2016 Sapphires
Opens Team
Lauren Cantwell Leadership group: selected into the Canberra Darters team 2016 season
Tiffany Cashman
Nikky Deegenaars Club Captain
Nicola Gray
Cristy Linaker ACT U21
Eliza Long
Tory Low
Georgia Marshall NSW U21
Brooke Miller
Hollie O'Shannassy
Teigan O'Shannassy NSW U17, ANL Waratahs
Keely Rodrigo
Mikah Van Gogh Leadership group

Under 20s
Isabella Caproni
Lucinda Drinan NSW U17
Rebecca Fear Under 20s Vice Captain
Maddie Hartman Leadership group
Samantha Horton
Chloe Katoa
Ruby Lemon
Matilda McDonell NSW U17
Kayla Nakhoul
Eve Parker
Meg Richardson Under 20s Captain
Kelly Singleton Leadership group
Latika Tombs
Georgia Westwood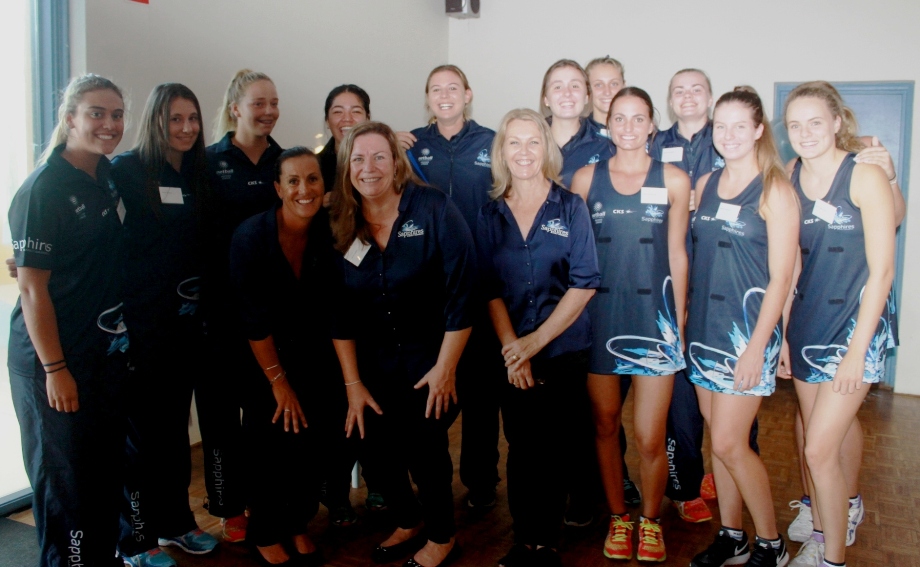 2016 Under 20's Team
HEAD COACH OPENS: Jen Wright
ASSISTANT COACH OPENS: Karan Smith
MANAGER OPENS: Lisa Eady
HEAD COACH 20'S: Virginia Welsh
ASSISTANT COACH 20'S: Cath Chiddy
MANAGER 20'S: Carissa Tombs, OAM
MENTOR COACH: Jill McIntosh
SPECIALIST SHOOTING COACH: Annie Sargeant
SPECIALIST DEFENCE COACH: Mo'onia Gerard
STRENGTH & CONDITIONING TRAINER: Sam Crompton, Crompton Athletics
STRENGTH & CONDITIONING FACILITY: Tim Dalecki, Beaches Strength & Conditioning Academy
SPORTS PYCHOLOGIST: Andy Johnson, Total Focus
PHYSIOTHERAPIST: Kandice Goodwin
Sponsors
Freshwater Community Bank
Craig Marsh - CK Sports
Tracey Chawan - CK Sports
Tim Dalecki - Beaches Strength & Conditioning Academy
Sam Crompton - Crompton Athletics
Anna Fear - Support Guards Australia