December 25 - 31, 2011: Issue 38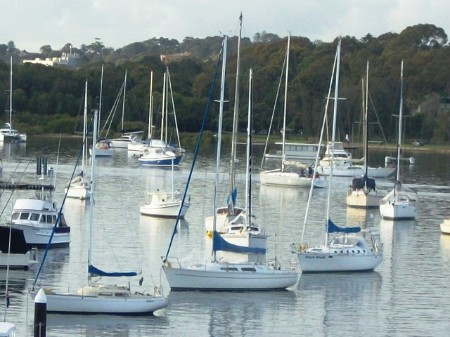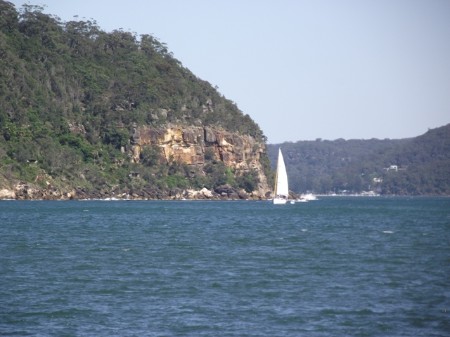 Copyright Robyn McWilliam, 2011. All Rights Reserved.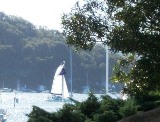 Post-Christmas Cruising
by Robyn McWilliam
I cherish getting away on the boat after the Christmas rush. Throw in shorts and tops, cossies and sarongs, stock up on food and wine and we're off. Most locals and many Sydneysiders prefer to go around West Head to quiet bays such as Refuge, Jerusalem, Akuna, Castle Lagoon or Smiths Creek.
Hubby drives the runabout while I motor our 35 foot yacht Red Red Wine towing kayaks. His is a somewhat large tender for a raft-up but vital for getting to cafes up river. At Akuna Bay we usually have three to five yachts of friends. Once the anchoring and tying stern-to is done, let the leisure begin. With no cars, traffic or queues to contend with, days drift by. Everyone self-caters so it's like camping on water.
Following breakfast several of the women do a walk. We are dropped off at Cottage Point for a six kilometre trek along the road. After a good climb and great views we meet the blokes for a coffee or milkshake. Other mornings we'll kayak to the upper reaches of the bay. I love paddling past golden sandstone etched by time and weather. Oysters clutter the lower rocks. Gum trees shadow the water as sting rays skitter back and forth. Paddles dip from side to side as we glide past the bush. So relaxing!
After lunch the blokes may attend to maintenance jobs while the women take to their books. In the afternoons with a cuppa we engage in our favourite combat game, playing 500. Sarongs are pegged from awnings to backstay for relief from the sun. Cicadas chorus from the overhanging gums. If it's really hot we go in near the sand for a swim then use the cockpit shower.
Around 5 pm we gather on different boats for drinks and nibbles. White Castello or brie with fig paste on a biscuit accompanied by a chilled sauvignon blanc. What more could you ask for while waiting for the sun to dip behind the hill bringing cooler evening air?
As darkness descends, people meander off to cook dinner. Lights twinkle on other boats. The rigging ceases its jangling as the wind dies. There's barely a ripple and the yachts are still.
You are more aware of your surroundings on the water: the wind or lack of it, tides rising and falling, and the heat of the sun. At night the moon appears big and yellow in the dark sky. Later its silvery sheen is reflected across the watery expanse. Existence is pared back to the basics: food, sleep, exercise and the company of friends.
On New Year's Eve we head back into Pittwater to enjoy the fireworks. Colourful bursts of red, silver and purple illuminate the night sky. Another year begins.
© Robyn McWilliam. 2011. All Rights Reserved.