August 5 - 11, 2012: Issue 70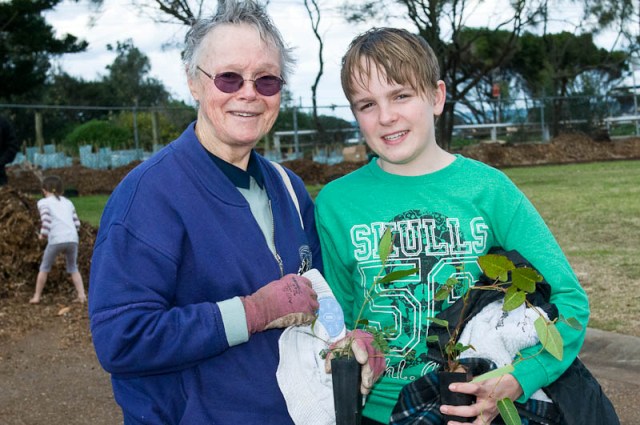 Maureen Brown and Callum Parker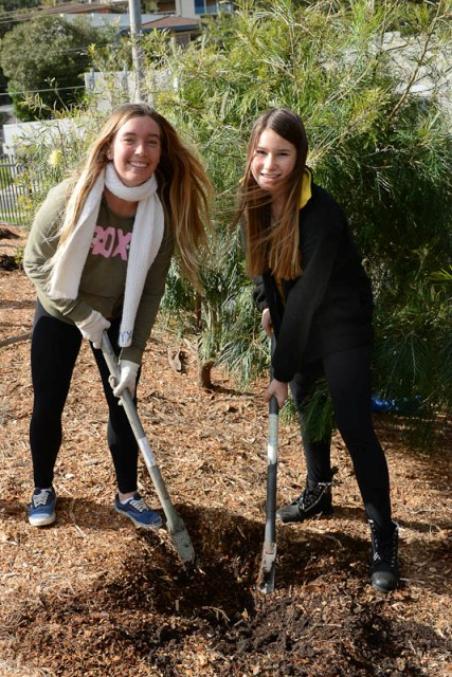 Sally Doyle and Tori Casazza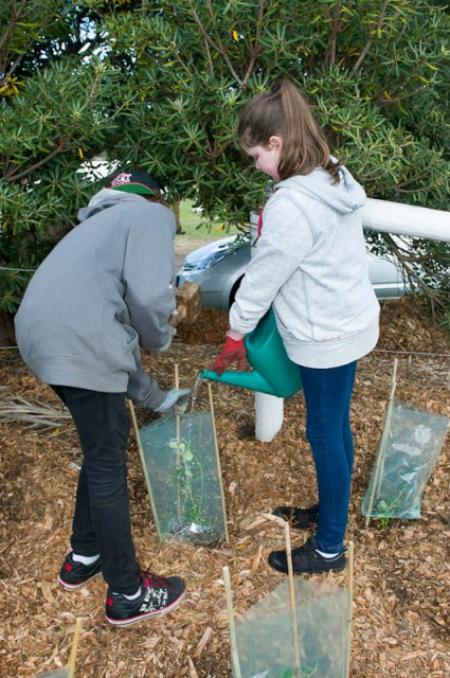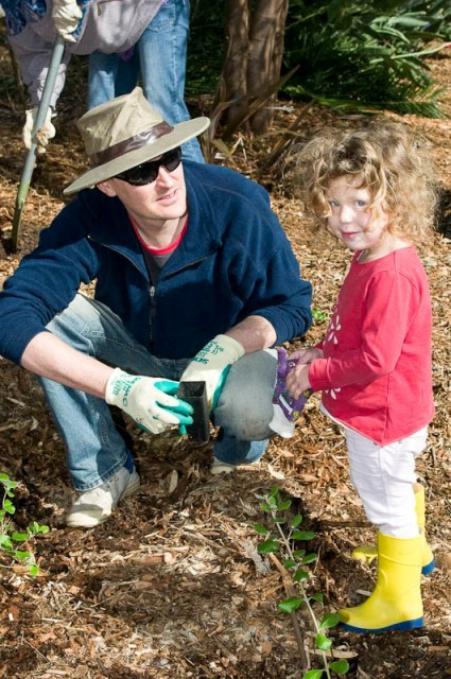 Young enthusiast with dad
National Tree Day 2012 at Narrabeen – 10 Year Anniversary for Pittwater
29th of July, 2012
Last Sunday a good turn out of adults and children participated in National Tree Day 2012 at the Lakeside Holiday Park at North Narrabeen. National Tree Day, initiated by Planet Ark in 1996, occurs on the last Sunday in July each year. Last year over 1 million native trees and shrubs were placed in the good Australian soil at over 2900 sites. We asked Callum Parker, who was attending the planting with grandmother Maureen Brown, if he'd enjoyed the planting and he said it was "really good". Callum and his grandmother had planted dozens of native shrubs by the time we arrived.
Pittwater Council has participated in the National Tree Day for ten years this year. Council has an emphasis on restoring local indigenous plants and creating wildlife corridors to encourage our birds and furry creatures to return as part of a strong bush regeneration program from Narrabeen to the tip of the Barrenjoey lighthouse promontory.
Removing weeds is a high priority with other 'weed removal days' scheduled throughout each year's Bushcare Calendar. This policy was followed again on Sunday with the removal of the Canary Island Date Palms (Phoenix canariensis) and replacing these with local indigenous Cabbage Tree Palms(Livistona australis). The African Olive Weed, a prevalent weed in Pittwtaer bush reserves and private gardens, had already been removed in weeks prior to last Sunday.
The other plants included on Sunday were Eucalyptus botryoides (bangalay), Westringai frutcosa (coastal rosemary), Correa alba (white correa), Kunzea ambigua (tick bush), lomandra longifolia (spiny mat rush), Myoporum boninense (boobiala)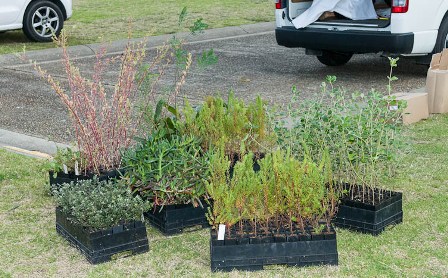 Pittwater Council always provides highly knowledgeable and enthusiastic Bushcare officers for each planting or weeding day as well as bringing tools, sunscreen, giving training and a nice morning tea. Volunteers also recieve free native plants for their own gardens.
On Sunday we counted 50 participants who were all very enthusiastic and did a great job. The amount of children and young adults attending, some of their own voilition, bodes well for the future of our green areas. More were arriving as we left. Council staff were very appreciative and stated earlier this week; "It was not easy planting into difficult soil and thick mulch. The staff of Sydney Lakeside Holiday Park have agreed to finish planting what we could not achieve on the day. Many of the participants showed an interest in joining in other environmental activities in the area."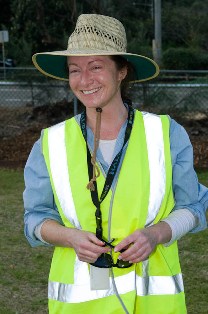 Bushcare groups are a great way to see your own personal investment in Pittwater grow, literally, enjoy our great outdoors and good company, learn more about our reserves and their plants as well that great 'feel good' factor that comes with getting your hands in the dirt. Information about Bushcare opportunities in Pittwater can be found on Council's website on the following link: HERE. Or call Council's Bushcare Officer Helena Dewis on 9970 1367 (pictured).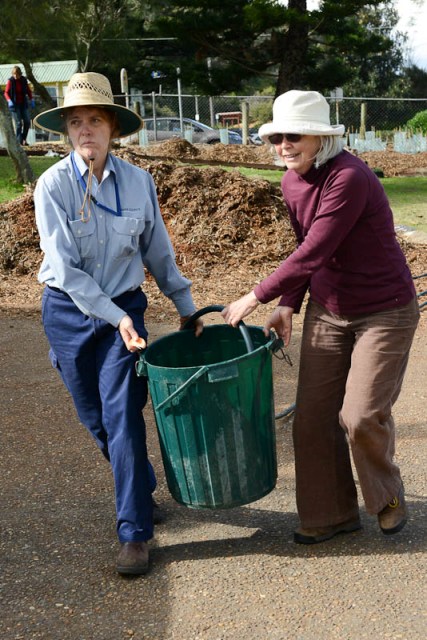 Pam Bateman (Noxious Weeds Officer - Pittwater Council) and Marita Macrae (of PNHA)
Previous National Tree Days in Pittwater*
2002 - Hitchcock Park, Avalon
2003 - Pittwater Rugby Park, Warriewood
2004 - Hitchcock Park, Avalon
2005 - Winnererremy Bay, Mona Vale
2006 - Hitchcock Park, Avalon
2007 - Governor Phillip Park, Palm Beach, and around the North Narrabeen Indoor Sports Centre behind Narrabeen High
2008 - Des Creigh Reserve, North Avalon
2009 - Bilarong Reserve, North Narrabeen
2010 - Bilarong Reserve, North Narrabeen
2011 - Lakeside Caravan Park, Narrabeen
18 months after revegetation, native fauna including small wrens and ringtail possums, have been recorded and observed on these sites!
* From Pittwater Council Website.
Photos by Michael Mannington of Volunteer Photography.