December 7- 13, 2014: Issue 192
Pittwater Students Selected For Gallipoli School Tour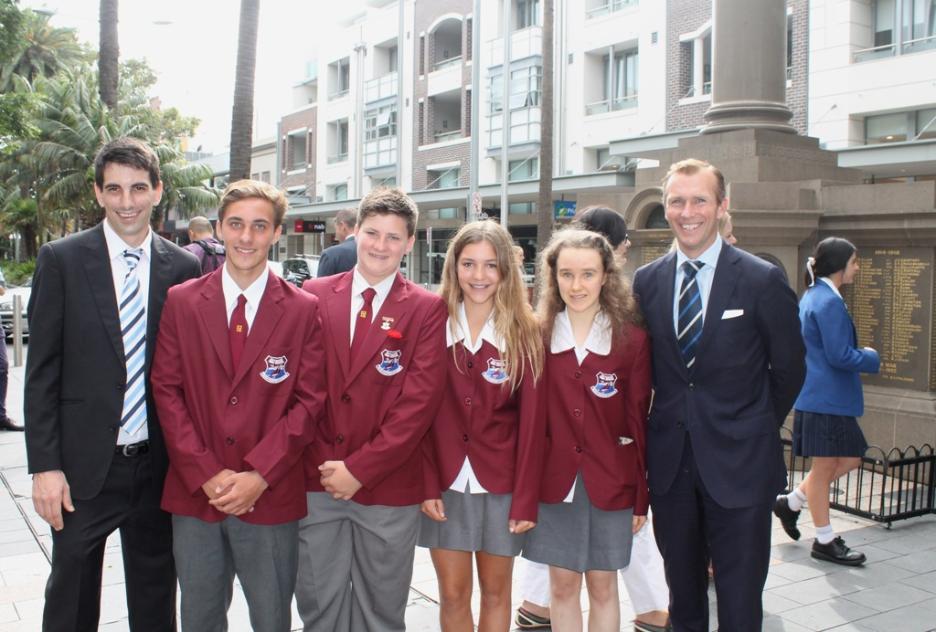 Left to right – Mr Stephen Kovacs (teacher), Hamish Wickman, Noah Coopey, Jessica Ratcliff, Kathleen Parkinson and Rob Stokes.
Pittwater Students Selected For Gallipoli School Tour
3 December 2014
Member for Pittwater Rob Stokes today announced the four students selected to represent Pittwater High School at next year's Centenary Anzac Day commemorations at Gallipoli.
Pittwater High School is one of just 25 schools from across NSW selected to send students to participate in this historic occasion.
The NSW Government is funding this important initiative which involves 100 students and 28 supporting teachers taking part in a nine-day tour to Turkey to visit WW1 battlefields and attend the Anzac Day Dawn Service at Gallipoli.
The successful students from Pittwater High School are Noah Coopey, Kathleen Parkinson, Jessica Ratcliff and Hamish Wickman. The accompanying teacher will be Mr Stephen Kovacs.
"This is an incredible opportunity which none of these students will ever forget," Rob Stokes said today.
"It's fantastic that our community will be directly represented at one of our nation's most significant occasions.
"These students will experience firsthand why the shores of Gallipoli are such a moving and emotional place.
"It's vital the importance of Anzac Day is properly appreciated and carried on by our younger generations.
"This initiative aims to establish direct links between our schools and an event which helped shape our national identity.
"Benefits will be provided to the entire school as students will share their experiences and incorporate their observations into classroom programs.
"More information on the 2015 Gallipoli School Tour is available by visiting http://veterans.nsw.gov.au/centenary/gallipoli-2015-school-tour/
"This is a true once-in-a-generation opportunity and I'm delighted that Pittwater students will be part of it," Rob Stokes said.