July 15 - 21, 2012: Issue 67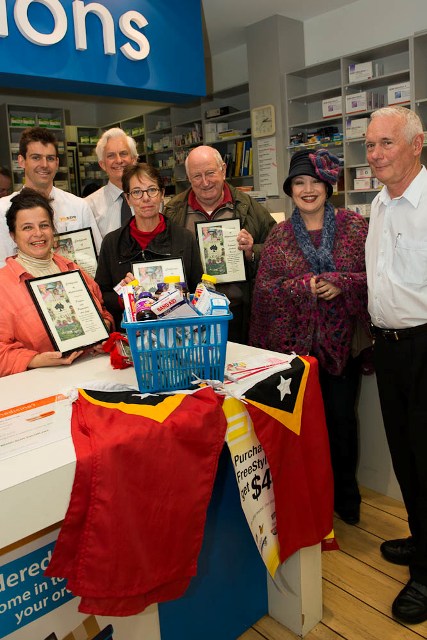 Left to right at front Tuesday 10th of July: Jane Sutherland (Panders and Pepperpots), Victoria Creecy (Avalon Chamber of Commerce), Tamara, Dr. Peter Saxon-Williams (who was selecting items to take on his trip provided by Herforts). At Rear: Simon and terry Herfort, Bishop Bernard. All received Certificates of Appreciation from PFOS. Photo by Michael Mannington.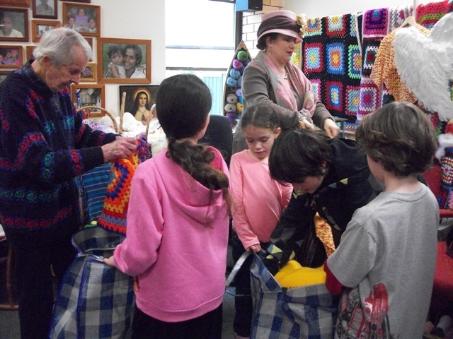 Wednesday 11th of July; Packing the hand knitted blankets; The Harding children, Jo Wilde, (Sue Beynon and Lorraine Carnsew also present).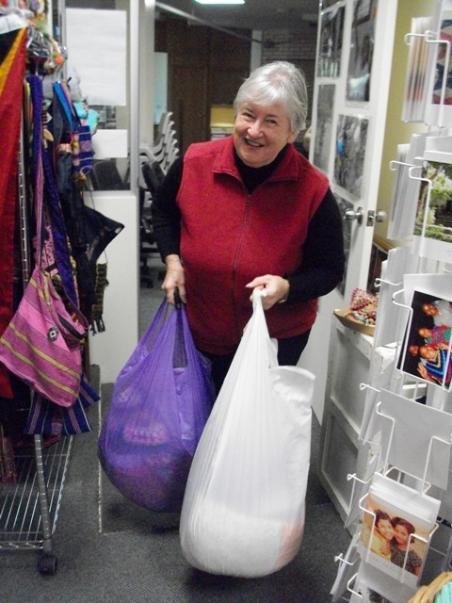 Liz Daly arriving with more blankets.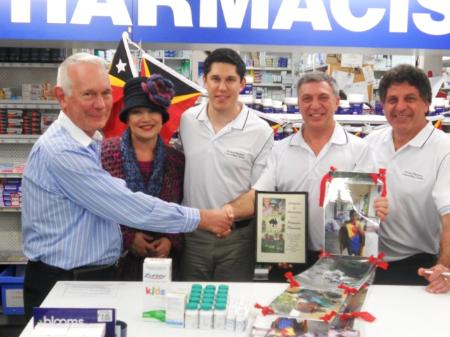 Thursday 12th of July; Pittwater Pharmacy contributes medical supplies.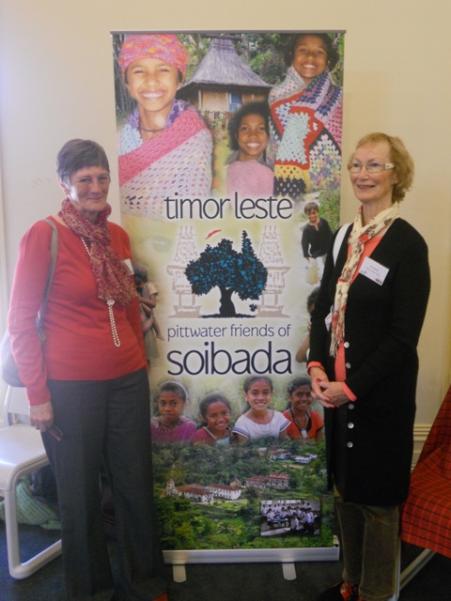 Saturday 14th of July: Sue Beynon and Anne Harvey at the Inaugural Timor-Leste Friendship Group Forum.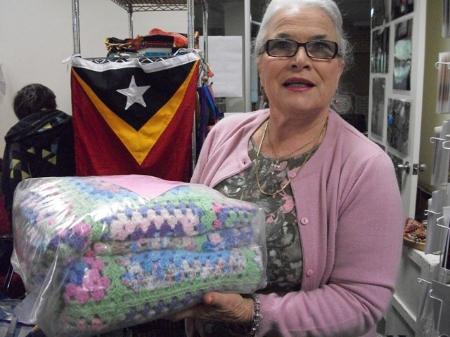 Dannie Sloper arrives with mother and baby blanket set she created.
Pittwater Friends of Soibada Fly Out today
This morning a team consisting of teachers from the Pittwater Catholic parish, Jill Gavin, Cathy Penning, as well as Avalon doctor, Peter Saxon-Williams and a practice nurse from the Avalon Parade Medical Clinic, architect Emille Jensen, film maker David Haythornthwaite and a photographer have accompanied Tamara Sloper Harding to Timor Leste.
The Pittwater Friends of Soibada, led by Chairlady Tamara Sloper Harding, is a community group who have joined Pittwater Council in signing a Friendship Agreement with the people of Soibada, a remote village community in Timor Leste. This agreement provides a basis for the Pittwater Community to support and assist the people of Soibada to improve their daily lives. The Pittwater Community's commitment to assisting Timor Leste began a couple of years ago at Maria Regina Primary School in Avalon. With the support of Pittwater Catholic Parish, local churches of all denominations, Rotary, community groups and that of Pittwater Council it has since grown to encompass the wider community.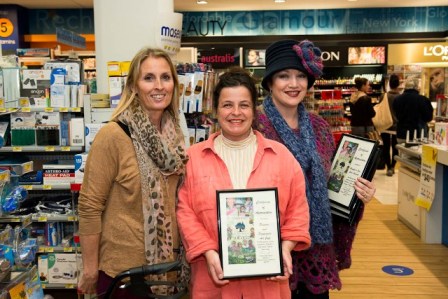 Cathy Penning, Jane and Tamara
For the last few weeks Tamara Sloper-Harding has been cramming 48 hours worth of work into every 24 hours. During past months there has been a Yoga for Soibada session at the Avalon Recration Centre, local made handcrafts and Soibada goods sold at the Avalon Tattoo, blankets knitted, cakes baked, slushies sold, brooches crocheted and many meetings with varying Community Groups and representatives to work out the fine details of each aspect of this project.
The Pittwater community and individuals have also made many contributions. A short overview of these includes John at Luscious (Deli in Avalon) who has made continual donations of tips, Panders and Pepperpots have sold the cakes Tamara made at night, Blackmores have donated children's vitamins, Herfort's You Save have given all kinds of paediatric medical supplies, Freckles in Avalon gave several hundred dollars worth of new children's clothes as well as selling beautiful blankets made by Marjan, one of the ladies who has been a Soibada knitter from the get-go, Pittwater Parish must be thanked for their continual support and allowing the Knitters to use their Justice Office for working and storing all the items made, and the Avalon Chamber of Commerce who have made a large monetary donation and offered to do it again at Market Day this year. Ralph, Len, Sam Papandrea and Andrew Snow, of Pittwater Pharmacy at Mona Vale generously donated medical supplies to be used in the clinic in Soibada.
On Wednesday the Soibada Knitters Group packed over 100 blankets ready for the flight. These hand knitted colourful warmers, put together by Pittwater women and assembled by Liz Daly from Wrapped with Love, will keep children in the village of Soibada warm. Prolific knitter Dannie Sloper has made a mother and baby set and arrived with these to ensure they were included along with this special note: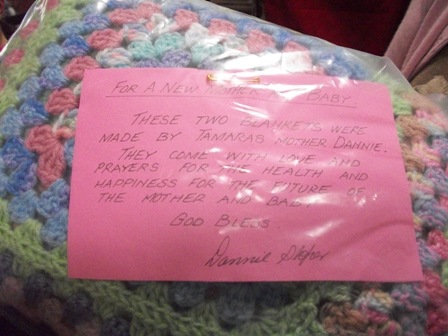 This relationship between Pittwater and Soibada is about the growth of lasting friendship and sustainable development. It is about empowering the people of Soibada to resurrect their own village and their lives. The PFOS's goal is to facilitate the change that comes from within the Soibada community. As the PFOS states: "We must enable the people to help themselves and restore the dignity that has been stolen from them during years of oppression. They need ownership of any project and the impetus for change must be internal. With your support we will change the future for the children of Soibada and Timor Leste by helping them to help themselves."
In preparation for this trip and as part of the Parish commitment to our sister Parish in Soibada, Anne Harvey, Sue Beynon, David Haythornthwaite, a PFOS Committee member, Tamara Sloper Harding and Jane Mulroney from Pittwater Council attended the Inaugural Timor Leste Friendship forum held yesterday, Saturday 14th of July. Kirsty Sword Gusmao, the Australian-born wife of Timor-Leste Prime Minister Xanana Gusmão, was the key note speaker and fondly remembered her evening in the Parish at Maria Regina Church, a visit that instigated the whole friendship process between Pittwater and Soibada.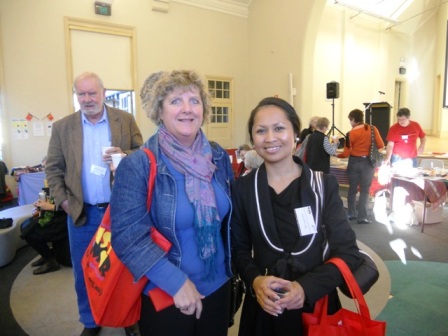 Jane Mulroney from Pittwater Council with Consul General Maria de Jesus
The Inaugural Timor-Leste Friendship Group Forum; 'Building Collaborative Partnerships for Timor-Leste' was held at the University of Western Sydney, Parramatta Campus. Part of this day were a series of workshops, running concurrently, covering all aspects of the friendship relationship; including, education (both child and adult), small business, health, infrastructure, construction. A full report on the outcomes of the forum will be available when Tamara returns from Timor.
In the meantime, to support this great project you can attend the Trivia Evening to be held on Saturday August 25th, 2012 at Avalon's Recreation Centre. Contact Tamara by phone on 0403226699 or email her at tamara.harding@bigpond.com or Mike 0419 717382 or email him at mikes@interpeace.com and perhaps put 'Trivia Night' in the subject heading so these folk can quickly identify those interested. It's bound to be a great night and if you're investing in children and restoring dignity to a whole people that you'll win just by attending.
For more information on the range and scope of this project please read Tamara's Update of May 2012. If you would like to see more have a look at this great video made by David Haythornthwaite during last year's trip.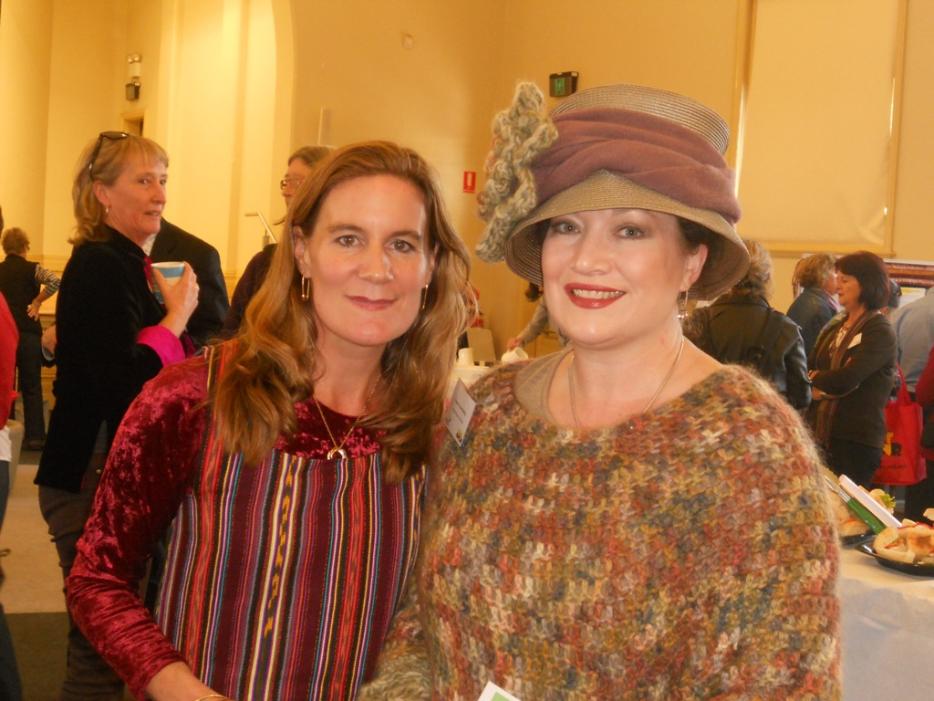 Tamara Sloper Harding and Kirsty Sword Gusmao, wife of Prime Minister of Timor Leste.