April 6 - 12, 2014: Issue 157
Pittwater Festival 2014 – A Celebration of Pittwater and All that it Offers Closed with Inspirational and Educational Fun Events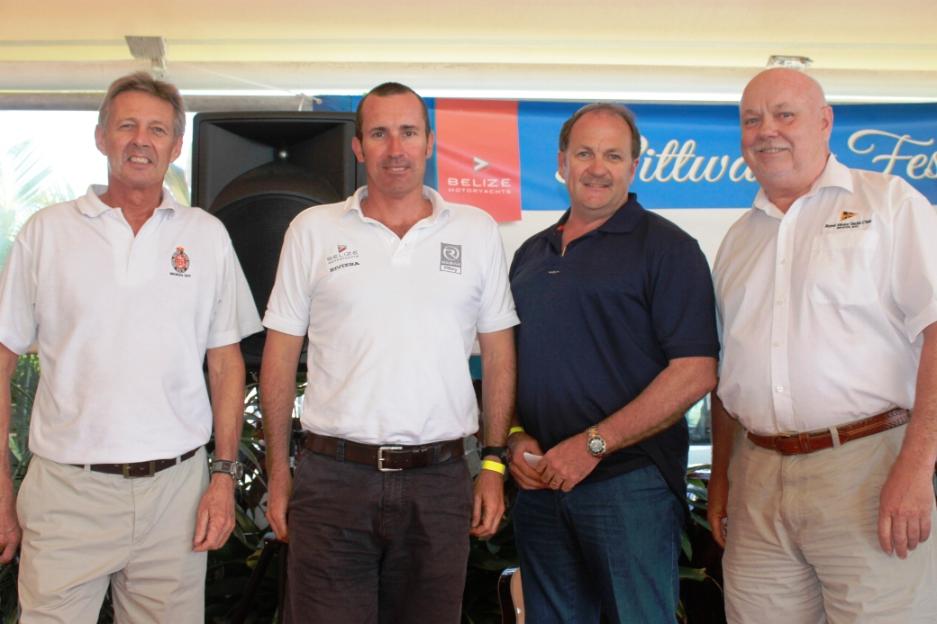 Rob Brown, OAM, Mark Riley - R-Marine Riley, Wesley Moxley, CEO Riviera, Chris Lee - Vice Commordore of RMYC Broken Bay.
Pittwater Festival 2014 – A Celebration of Pittwater and All that it Offers Closed with Inspirational and Educational Fun Events
Sunday 30th of March brought to a close the inaugural Pittwater festival. A month long celebration of aquatic events, fun and features closed as it opened, with a focus on the many educational and fun activities that can combine to not only help us explore Pittwater and her history, but also enhance your skills on the waterways.
Three events were run over the weekend of March 29-30; The Blue Water Navigational Trail, which took participants up the Hawkesbury, the Pittwater Paper Chase, a run in your boat hither and thither tracking down clues which would lead to the next, and the R-Marine Riley Docking Competition – great fun as well as educational.
From presentations of Sunday March 30th, 2014:
Rob Brown OAM:
Thank you to everyone who has been involved in this weekend's events – this wouldn't happen without all the crews and boat owners. I'd like to thank Mark Riley of R-Marine Riley for all the events he has put on over the whole of the Pittwater Festival. I'd also like to welcome Joanne Baxter of Westpac Rescue Helicopter here today. We'd also like to welcome the CEO of Riviera Wesley Moxey.
Vice commodore Chris Lee presented trophies for the Blue Water Navigational Trial
How the navigation trial works:
David Rogers, Captain of Cruiser Division RMYCBB:
This was quite an easy event as we gave everybody the latitude and longitude of the course and the distances together with the magnetic
In these instructions you have will also been provided with the waypoint latitude and longitude for the start, each turning point and the finish point. Also provided will be the approximate magnetic bearings and cumulative distance in nautical miles for each course leg. In other words you have all the information to enable you to steer an accurate course and to be on time along the course.
The maximum speed allowed to be declared for this event is 8 knots but please be aware of your wash when passing other boats and you must observe the Roads and Maritime rules for safe navigation at all times. The event which starts in Pittwater travels up to and into the entrance of the Hawkesbury River before returning to back to a finish in Pittwater.
The event will be scored using GPS tracker boxes to be placed on each boat. These boxes are to be promptly returned to the Event Committee at the RMYC immediately after completing the course to allow each boat's score to be computed. For every second a boat is either early or late at secret check points along the course a penalty point will be incurred. The boat with the least penalty points will win the event and second and third will follow with the next least number of points etc. Great prizes will be awarded to the winning boat and those that run second and third.
The GPS trackers measured the length that you took and compared this to the course you should have taken. There were secret waypoints and check points along each leg of the course and for each second that you were early or late you incurred a penalty point.
The boat with the least amount of penalty points won.
Rob: Thank you David, and please stay here as you came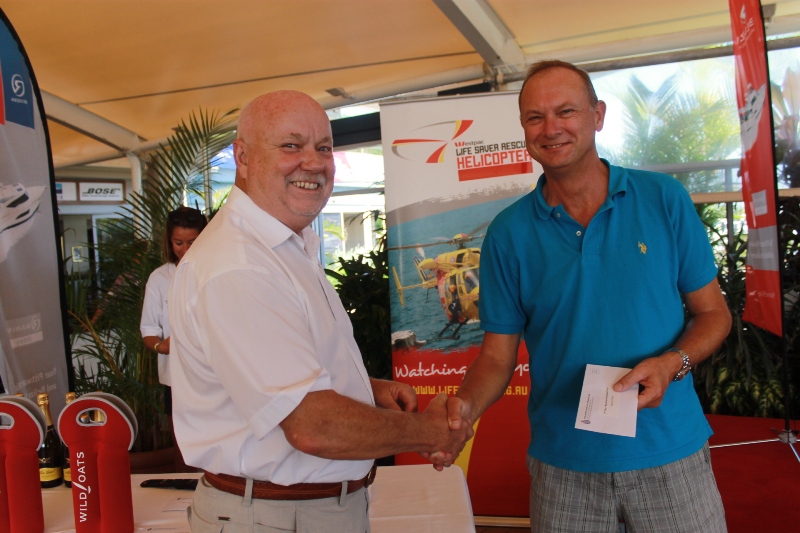 Third: David Rogers 'Escape'
Second: 'Pelara' – Peter Haig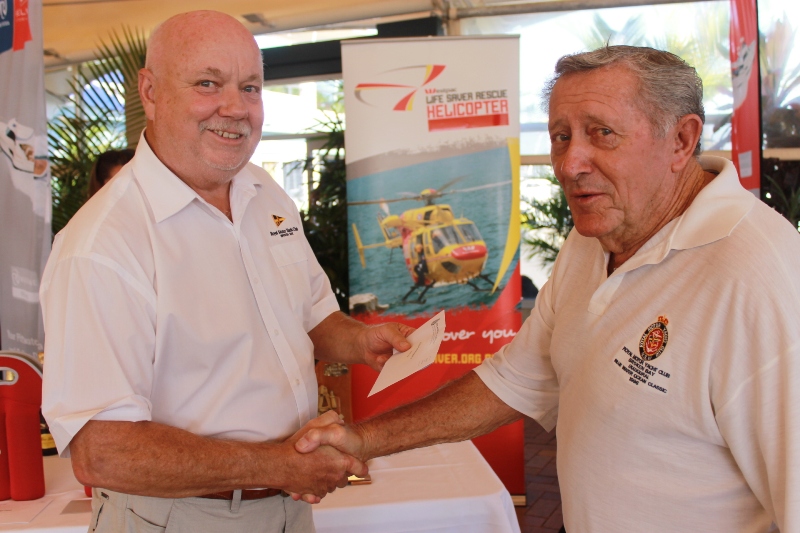 First: 'Kooringa' - Brian Bird
Brian Bird: I must say I appreciate this very much. We haven't entered our boat in anything for at three years but this time, thanks to Bob Nicholson, as one navigator and Peter Cox as the other, we have done well. Thank you everybody, this is great.
Rob Brown OAM:
The Pittwater Festival hasn't happened without our support partners. Our local Riviera and Belize dealer, Mark Riley of R-Marine Riley have done a fantastic job. For over 34 years Riviera has been producing beautiful boats, a large proportion of these models represented here at RMYC's marina through their owners.
I'd like to call upon the CEO of Riviera, Wesley Moxley. Wes started with Riviera as a shipwright in 1982, two years after the company was founded in 1980. He was later promoted to Production Manager in 1987 and then Managing Director in 1998. Please welcome Wes Moxley who will present the rpizes for the R-Marine Riley Docking Competition.
Wesley Moxley: It's a great pleasure to be here in Pittwater, it's a beautiful day and a beautiful place to come to. I have really enjoyed myself here today. The Docking Competition was a lot of fun for those who entered and everyone who did participate receives a prize from R-Marine Riley and Riviera.
It's fair to say that Riviera has had a rough couple of years. I retired in 2008 and went to do some other things, among them starting the Belize line in 2010. now that Belize and Riviera are together as of March 2012. Rodney Longhurst is very committed to building beautiful boats and placing the company where it should be considering the stature of the boats we produce. We're rebuilding the culture, we're rebuilding the company and are reengaging with our customers along their journey to enjoying their boats.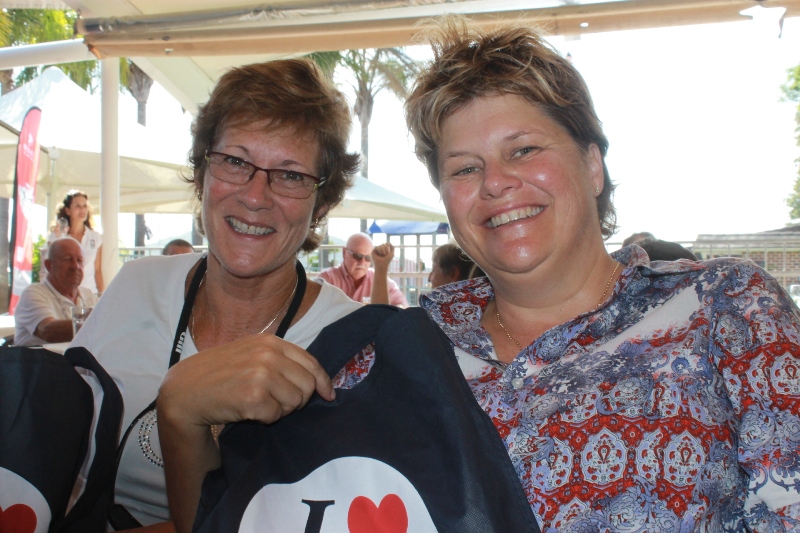 Simone and Linda
Today everyone was a winner but the ladies who came first were Simone and Linda. Although a six month boat owner she did a superb job at reversing and backing in and doing all asked of her, and Linda supported that ably with directions.
Our best Team Members were Meg and Janelle. The Fastest Manoeuvre goes to Frank and Fabio; we were worried at one stage that the swim platform may need a little bit of work – congratulations.
Ken O'Brien presented prizes for Pittwater Paper Chase
Pittwater Paper Chase
The Paper Chase is a challenge of observation, whereby you follow simple instructions that are provided when you enter, to navigate the course which starts at the Royal Motor Yacht Club Broken Bay and takes you to various locations around Pittwater. Along the way you will be asked to find the answers to questions that are provided on the questionnaire from things you will see on the way.
Competitiors were asked to find, various locations, names, objects or identifying features on the shoreline or on the water along the course.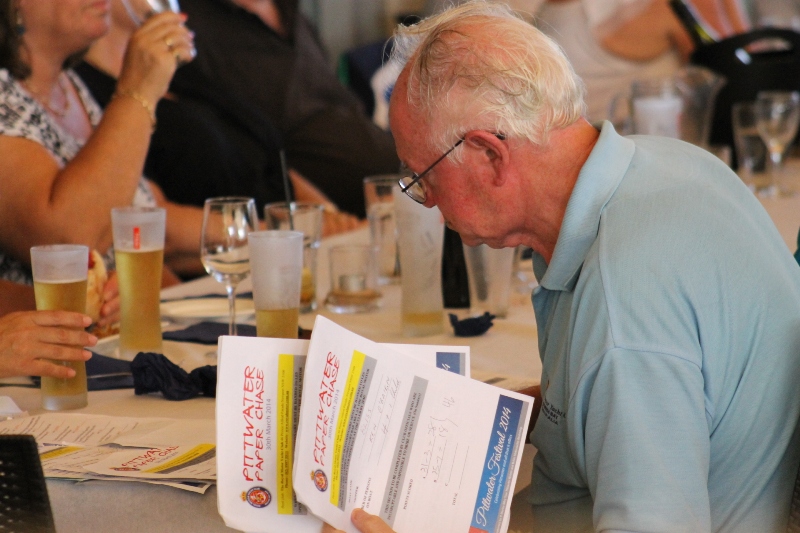 Les Spencer - Tallying
Clues may have been, a particular house or jetty, a name on a boatshed, or unusual object that is nearby. The clues may be straight forward, or cryptic, or just plain tricky. Clues will be in the order of the key locations that you have to navigate to, so there is no need to back track.
The course takes you from the RMYC across to Scotland Island, then head North to Stokes Point, then to Morning Bay on the western foreshore, then head around Scotland Island towards Bayview and then to the finish off the RMYC. Questionnaires will be marked by completely incorruptible, dedicated, invisible officials of the RMYC!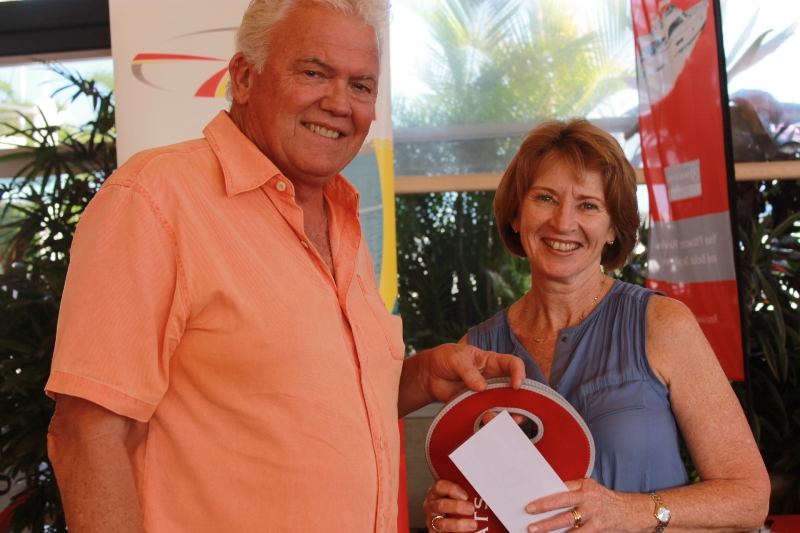 Third: with 51 points: Escape, David and Sue Rogers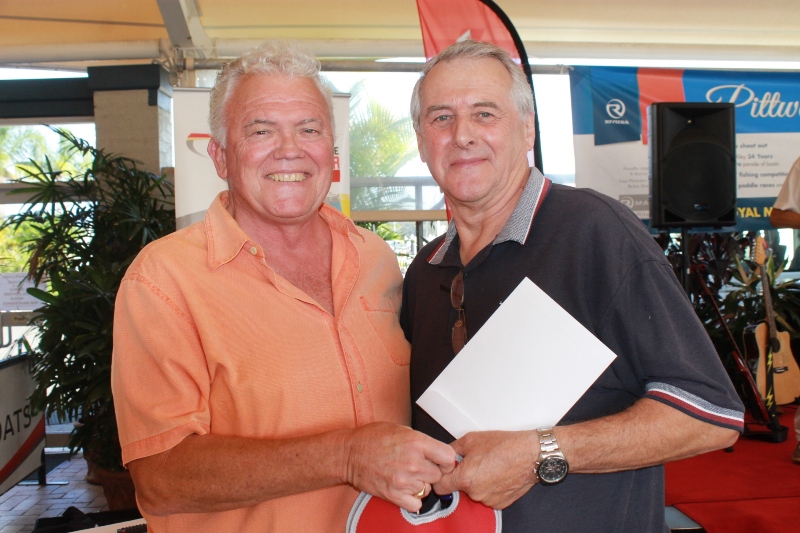 Second: with 52 points: Edastra, Howard Robertson
First: with 52 ½ points: Kahuna, Bob Nicholson
Rob Brown OAM: We've had five weeks of aquatic action and activities. I think everyone would agree that people have certainly enjoyed the variety of events we've had. This is all in aide of celebrating Pittwater and all that it offers. The club decided that we wanted to open our doors and invite the local community to come and experience the club and all of the wonderful things you can do on Pittwater.
The Surf Boat Shoot Out involved 24 teams from Surf Life Saving Clubs on the northern Beaches. It poured with rain but everyone was walking around with smiles on their faces.
This was followed by the Stand Up Paddle Board event where 150 people registered for Stand Up Paddle Lessons – the Scotland Island Race and Time Trials out here in the Marina – the club was filled with activity and everyone had a great time.
The following week saw the Game Fishing Tournament with over 45 boats competing, some of the best boats and game fishing teams from around Australia were here. That was a great success as they actually caught fish this time.
Last weekend was just a magic couple of days on Pittwater as the Classic Yacht Regatta was run. I had a phone call on Monday from a Bilgola Plateau resident who had just returned from the Mediterranean; they thought they were overlooking St Tropez with all the old classic boats sailing around. It was a magnificent sight.
The reaction to that Regatta seems to indicate that next year it will be bigger and better and it will turn into one of the biggest Classic Yacht Regattas in the Southern Hemisphere in the years to come.
That brings us to this weekend and the final day with the Blue Water Navigation Trial yesterday and the Pittwater Paper Chase today. These events draw to a close the Inaugural Pittwater Festival for 2014. I would like to call Wes Moxley up to officially close the festival.
Wes Moxley: Thanks Rob, it's been great for us to be a part of. Stephen Milne who does our marketing has been a long time member of this club and keeps his boat here and regularly returns here to spend time on his boat. After being here today I can understand why. So, hats off to the Royal Motor Yacht Club for opening the doors for embracing Pittwater with this festival, and to all the members for being a part of it, to Commodore Peter Haig, a long term Riviera owner, to all who have been involved in the various events, the staff of the club, the club with a great friendly atmosphere has been tremendous to be around.
A special thanks to Rob for your efforts from us and the R-Marine Riley camp – you have been a pleasure to work with.
To all the Riviera client members of the club, a big thank you to you for your loyalty and commitment to us over the years.
We look forward to being involved and being part of this Festival, it's certainly a tremendous series of events and going for a month provides an opportunity for very different styles and an opportunity for people to get into boating and the lifestyle we all enjoy and love. Thank you and we look forward to it next year.
Vice Commodore Chris Lee: I'd like to take this opportunity on behalf of our Commodore Peter Haig and our Board and members to thank Rob for fulfilling his dream in putting this festival together. I'd like to thank Mark Riley and Wes from Riviera for their support and sponsorship over this festival. I'd also like to thank our staff who have worked so hard over the month to make these series of events so successful. Thank you.
Throughout the festival the Royal Motor Yacht Club – Broken Bay identified a concomitant service that should be supported by all of us and ran raffles during all events to raise funds for the Westpac Rescue Helicopter. Rob Brown called upon Joanne Baxter, representative of this essential organisation.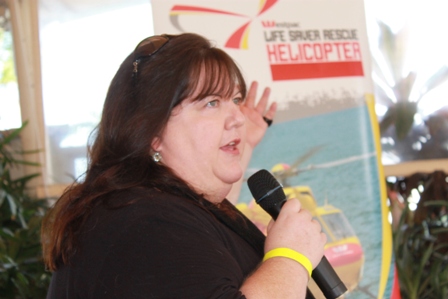 Joanne Baxter: I was just looking at this banner which we have used over a number of years as it is significant. Some of you will remember our involvement in the Sydney to Hobart which is what connected us with the yachting fraternity, not just here but in Australia. This is one of the reasons we're so proud of being part of this festival.
We'd like to have a greater involvement in this festival in the future and hope to have the chopper out here next year. We'd like tot hank all the supporters and sponsors for their contribution during this festival and for the support of the Westpac Rescue Helicopter Service throughout this month. This is something that is very connected to what we do; we advocate boating awareness and safety for very obvious reasons – we do rescue many people who find themselves stranded in boats, Rock fisherman of course. We have been on the Beaches over the last almost 40 years and we've done thousands and thousands of rescues during this time. We're very proud to continue to keep this community safe and would like to thank Rob for all the work he has done here.
We look forward to the festival being bigger and better next year and to be involved once again.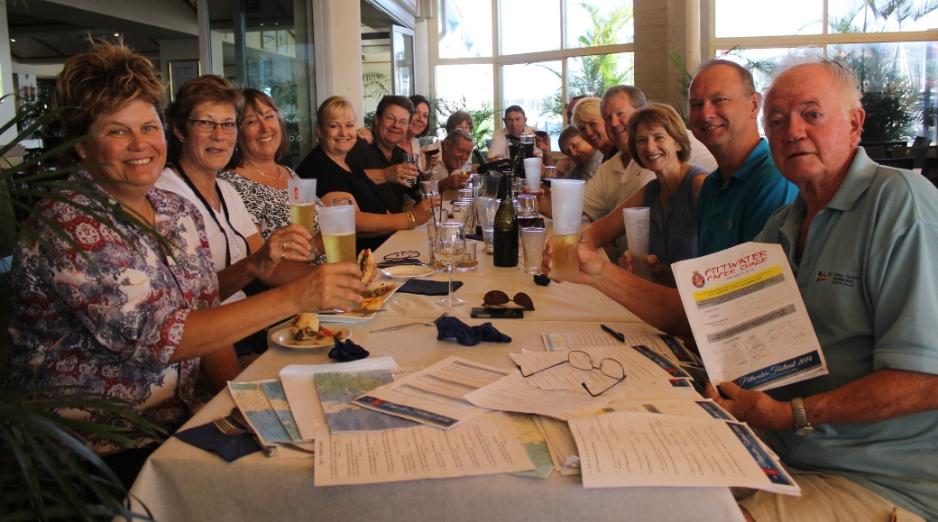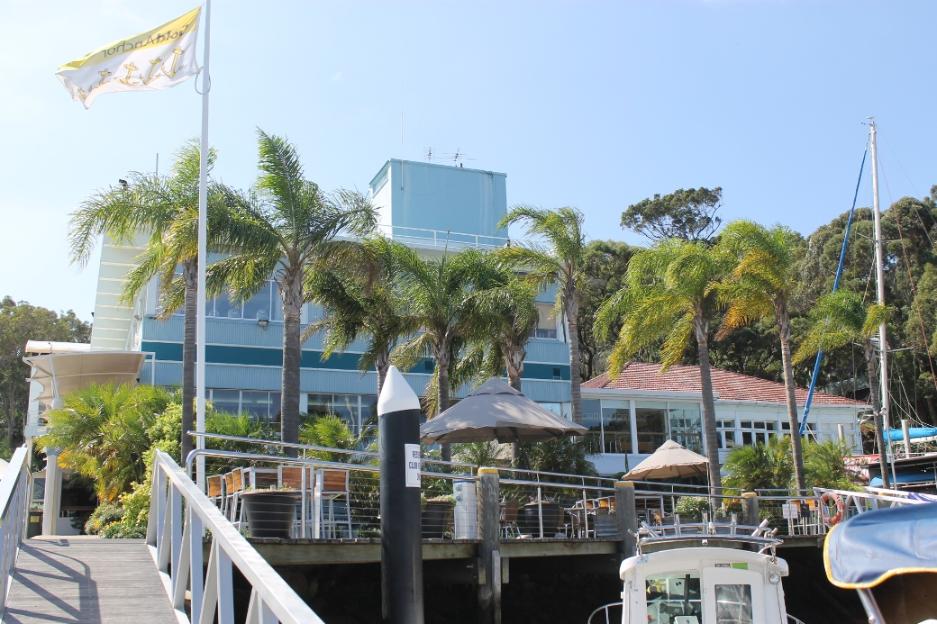 Report and Pictures by A J Guesdon, 2014.