August 28 - September 3, 2011: Issue 21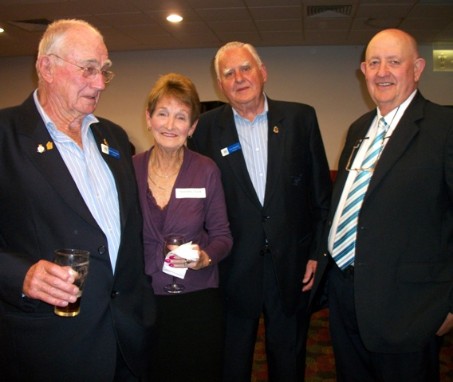 Above: (l to r) Brian Sargeson, Dorothy Clarke, Don Chessell, Bruce Smith.
Below: Ken Hughes of the NSW Rural Fire Service and Hans Carlborg, President of the Rotary Club of Pittwater.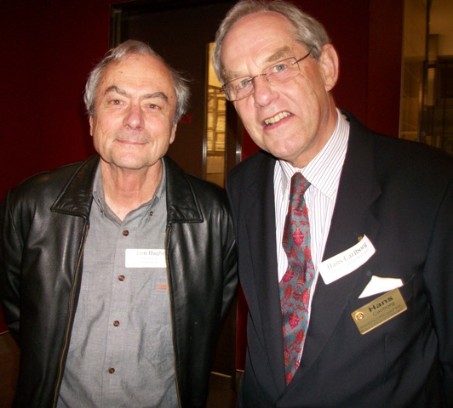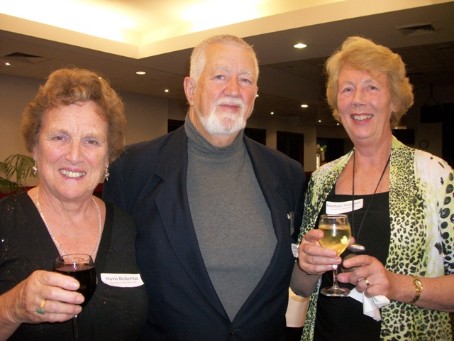 Above: (l to r) Mavis Bickerton NBU3A, Allan Burrowes of Computer Pals NB and Rosemary McCullough of NBU3A
Below: Lions Club of Pittwater members Ken Davison and Tony Denham.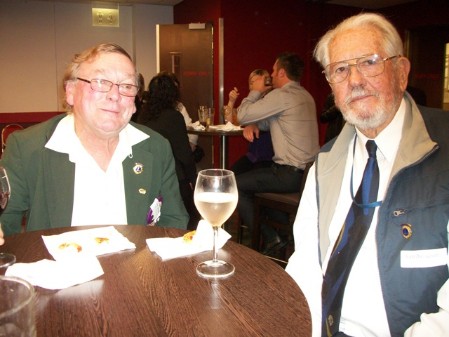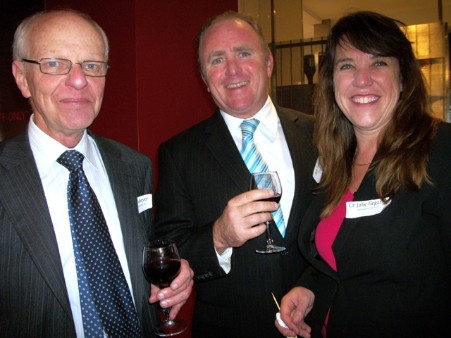 Above: (l to r) Frank Windeyer of Easy Care Gardening, Rob Emerson President of Newport SLSC and Cr. Julie Hegarty of Pittwater Council.
Below: Lizzie Landers and Jan Kirk of Aboriginal Support Group Manly Warringah Pittwater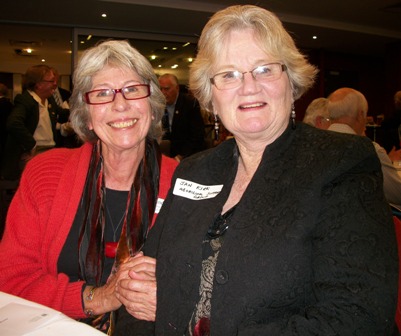 Pittwater RSL Community Development and Sponsorship Evening
On Tuesday night Pittwater RSL held their annual Community Development and Sponsorship evening. Bruce Smith, CEO of Pittwater RSL explained that 'supporting the community is what the Club is about'. In the past twelve months donations made by Pittwater RSL amount to approximately $389,000. These range from sports and SLS Clubs to Medical Research and Charity organisations. Local schools, Support groups, the RSPCA and the Premier's disaster Relief Appeal (QLD Floods) were included. This represents a huge investment in our community and its individuals and signifies the commitment Pittwater RSL has towards being a responsible and caring member of Pittwater.
This evening cheques were presented to a further thirty community based support groups, educational volunteers groups, organisations that strive to provide assistance to the frail and disabled in Pittwater as well as providing continuing support to Organisations such as Lifeline and Care Flight.
Guests were welcomed by Bruce Smith who is retiring this year and will be sorely missed in his role as CEO. He explained Pittwater RSL is all about investing in and supporting our Community. Cheques were presented by the President of the RSL Club for the last 16 years, Brian Sargeson. Both gentlemen were warm and generous hosts. Pittwater RSL staff constantly brought out canapés of prawns, rolled rice rolls and other delicacies to keep gathered guests comfortable. One of our staff requested a copy of the list of those who have received from this excellent RSL in the last year. We place it here so you may gauge for yourself the scope and level of Pittwater RSL's interest in developing and maintaining Pittwater.
DONATIONS MADE OVER THE LAST 12 MONTHS INCLUDE, AMONGST OTHERS:
BEI LOON DRAGON BOAT CLUB
BUNGAN BEACH SLSC CANCER COUNCIL
CHILDREN'S MEDICAL RESEARCH
CURE OUR KIDS
LIFELINE NORTHERN BEACHES
LIONS CLUB OF PITTWATER
MANLY WARRINGAH BASKETBALL
MANLY WARRINGAH TAXI GOLF CLUB
MONA VALE CRICKET CLUB
MONA VALE HOSPITAL
MONA VALE JNR RUGBY LEAGUE
NARRABEEN SPORTS HIGH SCHOOL
NEWPORT BREAKERS RUGBY CLUB
NEWPORT PUBLIC SCHOOL
NEWPORT SLSC
NORTHERN BEACHES OUTRIGGER CANOE CLUB
NORTHERN METROPOLITAN CLUBS IN THE COMMUNITY
NORTHSIDE RIDING CLUB
NSW FIRE BRIGADE
PALM BEACH GOLF CLUB
PENINSULA CRICKET CLUB
PENINSULA SOFT BALL CLUB
PITTWATER HIGH SCHOOL BAND
PITTWATER RSL FOOTBALL CLUB
PITTWATER RSL NETBALL CLUB
PITTWATER SOFTBALL
PITTWATER STAFF CHARITY COMMITTEE
PITTWATER TIGERS JUNIOR AFL CLUB
PREMIER'S DISASTER RELIEF APPEAL (QLD FLOODS)
RED CROSS
RSPCA
ROTARY CLUB OF PITTWATER
SALVATION ARMY
SPECIAL CHILDREN'S CHRISTMAS PARTY
SURF LIFE SAVING NORTHERN BEACHES
WARRIEWOOD SLSC
WARRINGAH CRICKET CLUB
TOTAL DONATIONS MADE BY THE CLUB OVER THE LAST 12 MONTHS, INCLUDING IN KIND DONATIONS, AMOUNT TO APPROX 389,000.
DONATIONS made on Tuesday Night:
Aboriginal Support Group Manly Warringah Pittwater
These funds will be put towards regular information evenings with guest speakers on indigenous issues.
Autism Spectrum Australia
Our donation will contribute to alterations and additions to the entry gates and the existing swimming pool at the Vern Barnett School.
CareFlight
Tonight's donation will provide funding for I mission in the local area.
Cerebal Palsy Alliance (formerly the Spastic Centre)
Our grant will be put towards the purchase of a lap top computer and play equipment.
Computer Pals for Seniors Northern Beaches
This donation will help to provide external training for volunteer teachers.
Cubby House Toy Library
The funds provided will be used to help provide loan, of toys and equipment to families whose children have special needs, with the support of occupational therapists to allow them to undertake therapy at home.
Easy Care Gardening Inc (Community Assist Lawn Mowing)
Our grant will help to provide subsidised lawn mowing to aged/disabled members of the community who are financially disadvantaged.
Elanora Heights Community Kindergarten
This donation will assist to purchase a new cover for the Kindy's sand pit.
Lifeline Northern Beaches
We are proud to continue our association with Lifeline and tonight's donation will help to continue the 24 hour telephone counselling service established for problem gamblers.
Manly Warringah Pittwater Community Aid Service Inc
These funds will support this local welfare service and provide training for volunteers in first aid, dementia and mental health support communication, as well as the purchase of additional resources such as first aid kits and street directories.
Manly Warringah Pittwater Community Transport Inc.
Our support will help to provide a Door to door, weekly transport service to frail aged residents in the community.
Northern Beaches Interchange
Tonight's donation will be put towards activities and social & emotional support for the whole family of children with disabilities.
Northern Beaches Lone Parent Family Support Scheme
This money will be used to help replace worn out, mouldy carpet at their premises, where meetings & support groups are held.
Northern Beaches U3A
Tonight's donation will be used to purchase a data projector and lap top to allow expansion of the current curriculum.
Palm Beach War Memorial Kindy
These funds will be used to purchase a shed to house the specialised "Gross Motor Skills equipment" purchased with funds from the CDSE in 2010.
Peninsula Senior Citizens Toy Repair Group
Our donation will assist the Toy Repair Group to continue their excellent work supplying restored/repaired toys to underprivileged children.
Sailability Pittwater
Funds would be used to replace various items of equipment, i.e. sails, an outboard motor, etc.
Streetwork Incorporated
Our cheque will contribute towards "Breaking the Cycle" an early intervention strategy for 4 high risk/need 12 - 18 yr olds of multicultural background from Pittwater LGA
Warringah Pittwater Volunteer Rural Fire Service
Our donation will be used to purchase a set of simulated injuries and wounds to be used in first aid training.
Copyright Pittwater Online News, 2011.
All Rights Reserved.