October 28 - November 3, 2012: Issue 82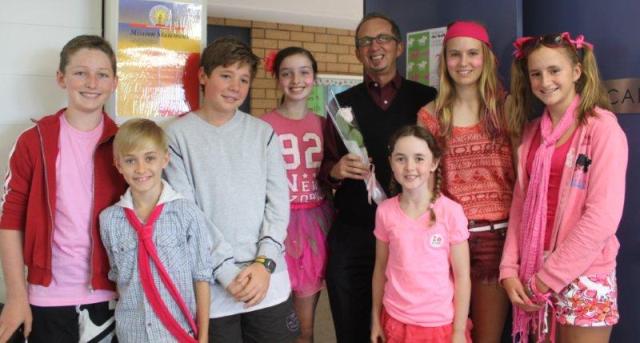 Parish Priest, Father George Kolodziej presented with a rose on International Teachers' Day.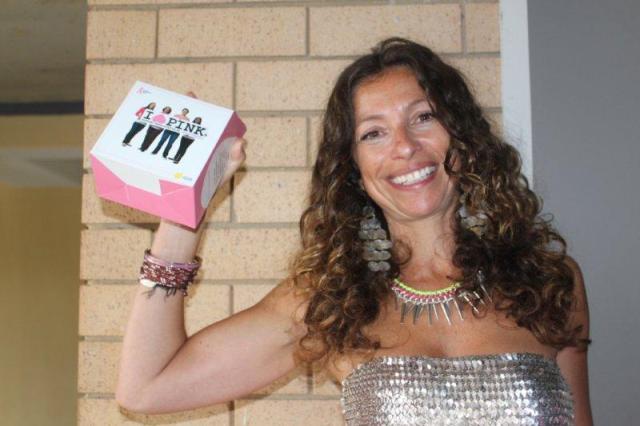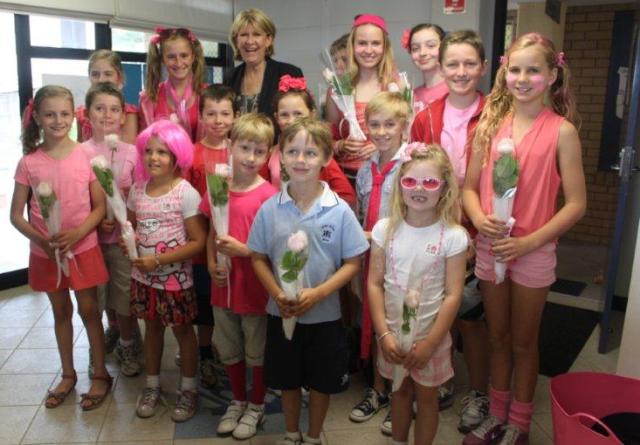 Principal Mrs Kathy Gee with School Captains and Student Class Representatives among roses for International Teachers' Day.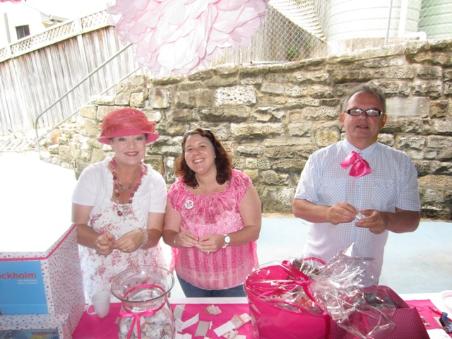 Parents, Tamara Harding, Alison Quinton and Danny Longhurst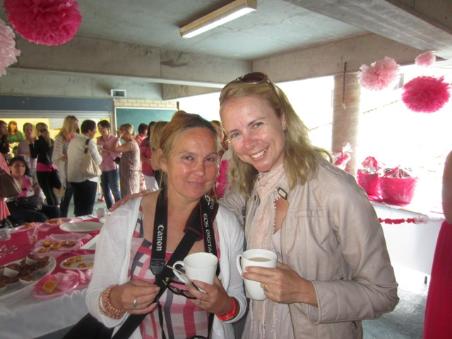 Regina School Parent Photographers, Victoria O'Neill and Peta Wise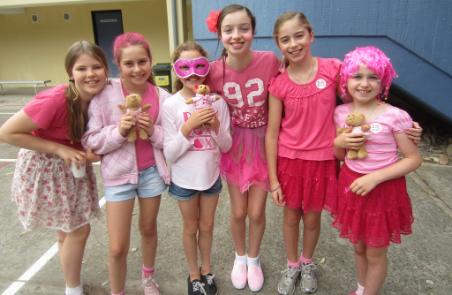 Copyright Joanne Seve and Victoria O'Neil, 2012. All Rights Reserved.
Pink Ribbon Day at Maria Regina
By Joanne Seve
Year 1 Class parents, Jo Longhurst and Lisa Taylor at Maria Regina Catholic Primary School, Avalon did a marvellous job organising the annual Pink Ribbon Day Breakfast fundraiser at the School on Friday, 26 October.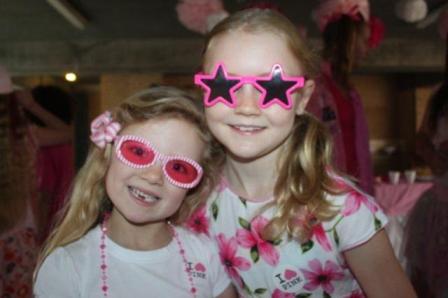 For $10 per family, parents, grandparents, students and teachers at the School each enjoyed a wonderful breakfast, donated by Year 1 parents, so that all funds could go to the Cancer Council for its prevention programs, support services and research for Women's Cancers.
For a gold coin donation, students dressed in pink mufti, adding to the spirit of the day and they and their families purchased merchandise from Pink Ribbon, ranging from $3 to $10.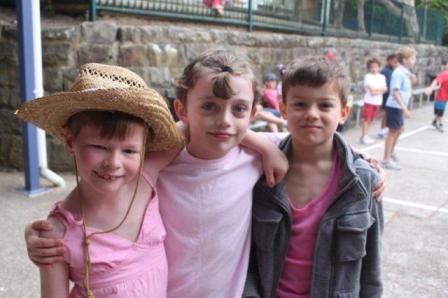 Year 1 and other parents also made generous donations for hamper raffles at the Breakfast. Year 1 Class teacher, Mrs Rebecca Billing was an active catalyst for this.
There were also silent auctions of a big children's Doll's House donated by I Am Kidz of Avalon and a framed autographed swimming cap and photo of Australian Silver and Bronze Olympic Medallist, James Magnussen and there were two very special guest speakers at the Breakfast.
The School's P&F Association and all the School are pleased that in addition to raising moneys for the Cancer Council, the morning was a celebration of community support for one another.
Friday, 26 October 2012 was also International Teachers' Day and each of the teachers at the School were presented with a rose as an expression of appreciation by all the students.
Joanne Seve, President, P&F Maria Regina Catholic Primary School, Avalon. Photos by Victoria O'Neil and Joanne Seve.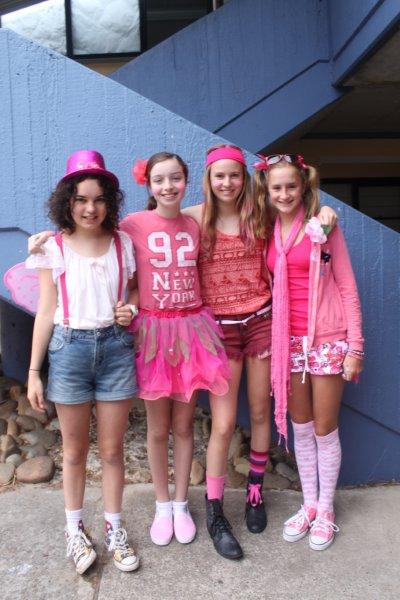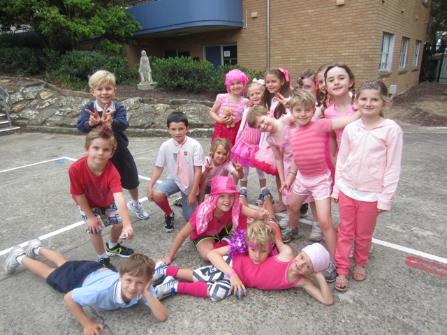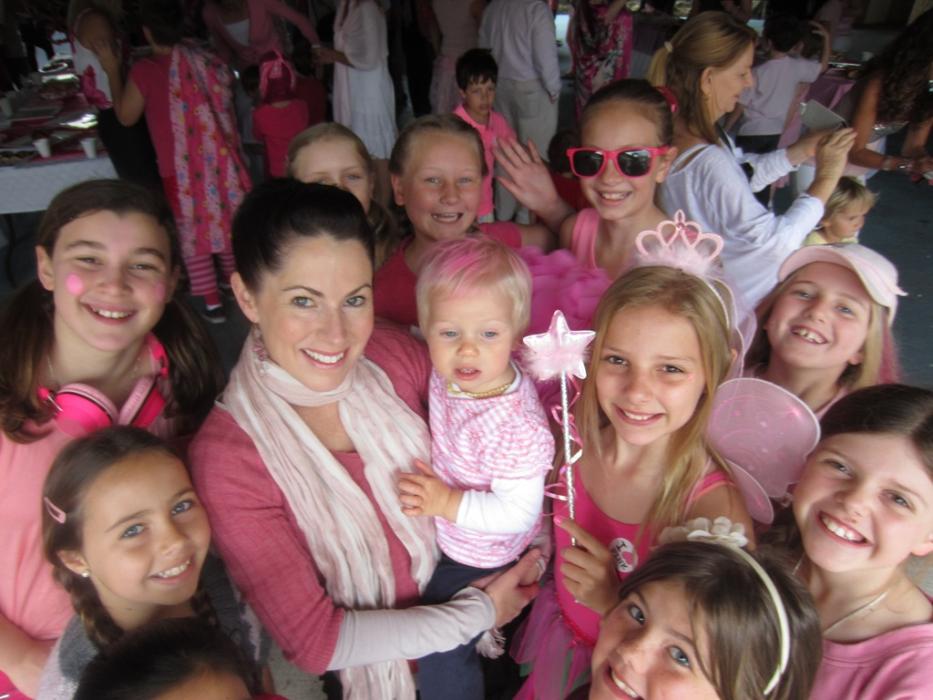 Mrs Wright (teacher), baby and students