May 20 - 26, 2012: Issue 59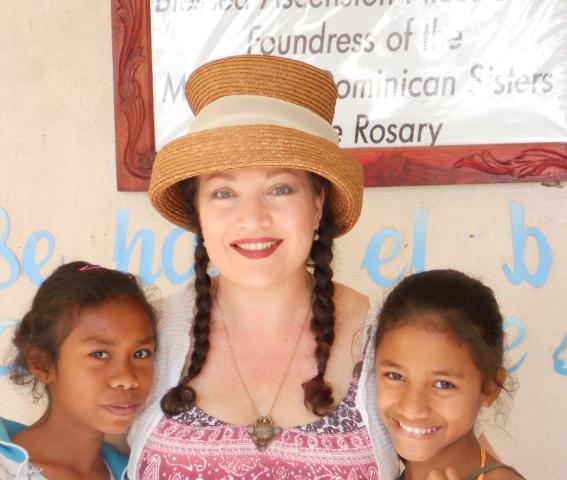 Tamara Sloper Harding with some of the children from the orphanage
Timor-Leste Independence Day at Marira Regina, Avalon, 18.5.2012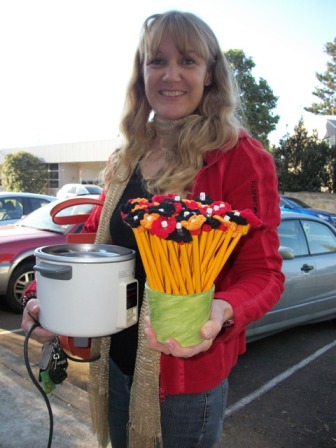 A range of handmade goods by Pittwater community people are made and sold to support the PFOS projects; Christina, with Timor Leste decorated pencils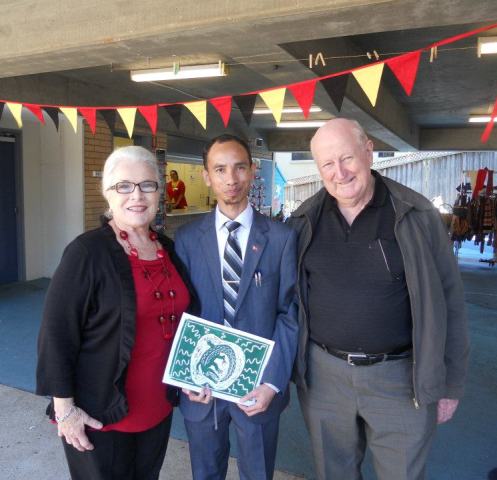 Danni Sloper, Consul Fonseca Dos Santos Pereira and Bishop Bernard, Timor-Leste Independence Day Celebrations at Maria Regina, Avalon on 18.5.2012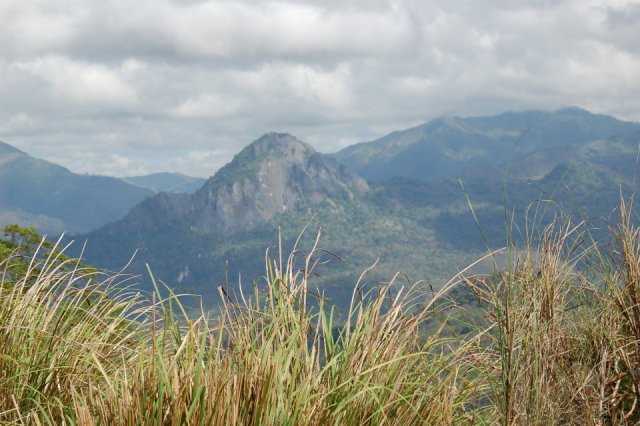 Soibada Terrain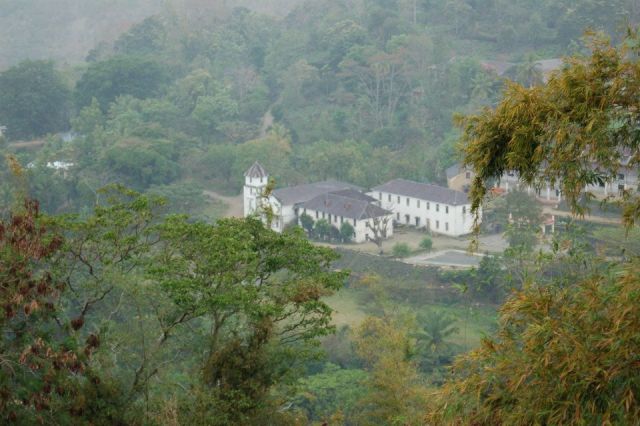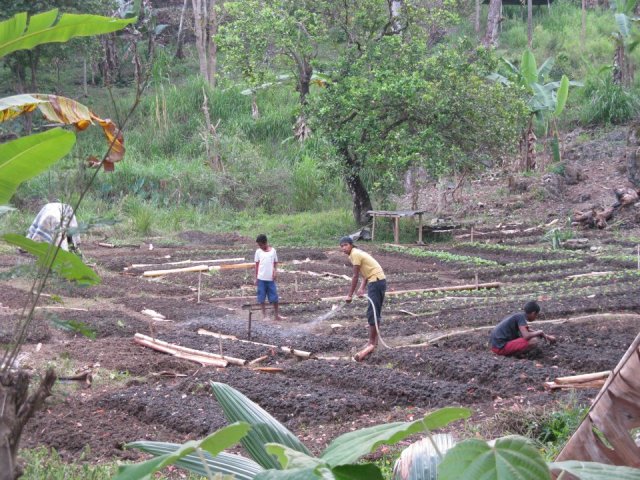 Kitchen Garden, Soibada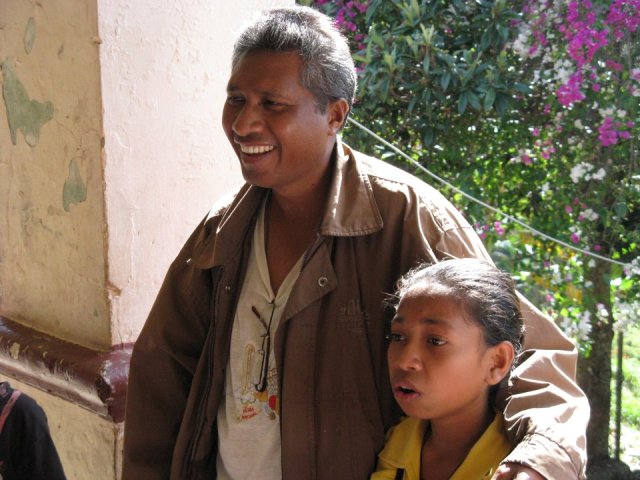 Father Abel, Soibada, September, 2011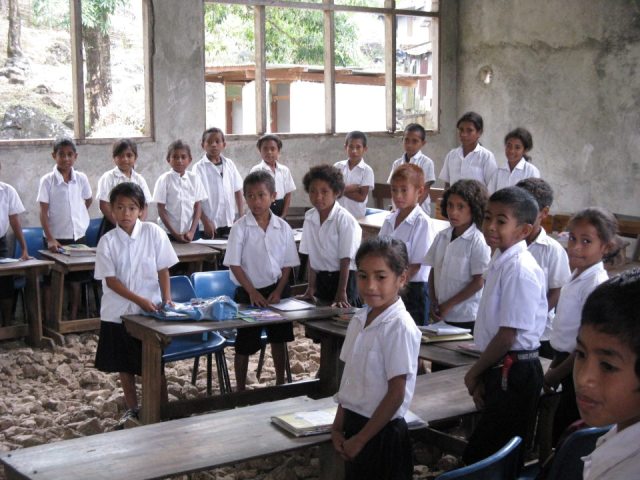 Schoolroom in Soibada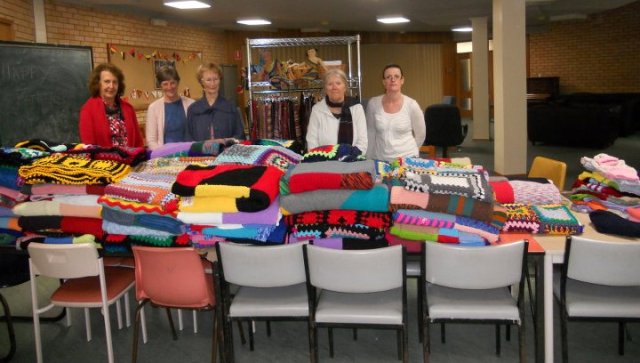 Hand knitted blankets going to Soibada, September, 2011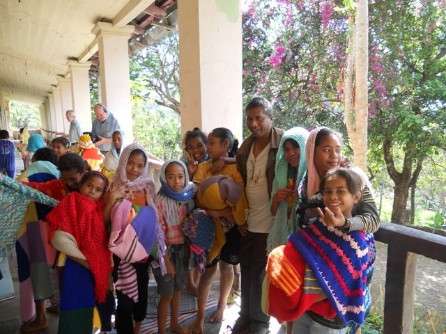 Words and Images Copyright Tamara Sloper Harding and Pittwater Friends of Soibada, 2012. All Rights Reserved.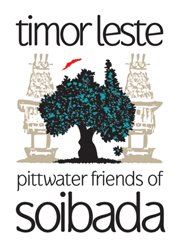 Soibada, Timor Leste – 10 Years of Independence
by Tamara Sloper Harding
Chairlady Pittwater Friends of Soibada
This weekend is a very special one for our sister village of Soibada in Timor Leste (East Timor). Gaining independence has been a long process and 20 May is Timor-Leste Independence Day - a day of great celebration for all Timorese. It is a day on which they remember the sacrifices of their brothers and sisters, sons and daughters, and celebrate the liberation for which they fought and the independence they won from Indonesian rule. This small island nation of 1.2 million people was taken over by Indonesia soon after it was granted independence from Portugal in 1975. After 24 years of struggle against illegal occupation, decades of brutal and bloody The brutal annexation killed off nearly one-third of Timor-Leste's population by 1999, when it pursued a UN-sponsored act of self-determination. in 1999 and three years of United Nations governance, they finally achieved democratic self-government on May 20, 2002 and became the first new sovereign state of the twenty-first century.
The Pittwater Community's commitment to assisting Timor Leste began a couple of years ago at Maria Regina Primary School. What started in this small Parish school has spread throughout the general community and is testament to the school's motto of "Making a Difference". The staff and the children should be acknowledged for their enthusiasm and interest beyond the privileged area of the Northern Beaches. With the support of Pittwater Catholic Parish, local churches, community groups and that of Pittwater Council it has since grown to encompass the wider community. Not only are we reaching across the sea to Soibada, but we are reaching out beyond our local community and enveloping people from all backgrounds and beliefs in our quest to do something good in the world. It is cohesive and compelling force that is taking on a life of its own. This friendship that has flourished to embrace the entire community of Pittwater at so many different levels has become a fine example of the power of ecumenical friendship.
Avalon Chamber of Commerce has been very generous in their support of Pittwater Friends of Soibada. Luscious Café in Avalon, just near Woolworths hosted a fundraiser a few months back and donates all tips received in the café to Soibada. Panders and Pepperpots Art Café in Avalon sell cupcakes with the proceeds going to Soibada. They have also hosted a fundraiser and act as a regular meeting place for members of the Pittwater Friends of Soibada.
Background
Australia has had ties to East Timor for far longer than most people are aware. – In WW2 over 40,000 East Timorese died as a result of assisting Australia. We promised them friendship and protection ……. And we let them down.
Timor-Leste, is our closest neighbour, only one hours flight from Darwin, one of the world's newest nations and the poorest country in the region. 10 years on from independence, the rural areas are still among the most disadvantaged places on the face of the earth. Almost two-thirds of its adult population is illiterate. Over 50% of the population is under 15 years of age. Its children face extraordinary challenges. One in ten babies dies before reaching their first birthday. Timorese women are ten times more likely to die during child birth than Australian women. Only one in 100 teachers now in East Timor's schools has had any training. 90 per cent of the school buildings and related infrastructure have been destroyed.
Pittwater's sister village of Soibada is very remote, and breathtakingly beautiful, high in the mountains in central Timor. It was originally built by the Portuguese. It has few resources and was devastated by past occupation by Indonesian and militia groups and subsequent turmoil following Independence. There are no bridges to Soibada, so during the rainy season the town is completely cut off. The community have been very proactive yet need our support to increase their health, well-being and capacity. Our Community is helping to provide that support for local projects and to build skills that will contribute to the long term independence and sustainability of the village. Soibada is 135km from the capital, Dili. On a good day it takes about five and a half hours to get there by 4 wheel drive on unsurfaced extremely winding roads. This series of interconnected potholes, called a road, is the village's only link to the outside world.
Update
Our focus remains sanitation and education. It is quite amazing to witness the depth to which the village of Soibada has been embraced by the community of Pittwater. The project is engendering a tremendous amount of support from schools, community groups, churches of all denominations, local media and the general public. This collaboration and growing interest will enable us to fund the kitchen garden scheme and commence the building project. It is touching people of all ages in different ways. It was delightful to have a kindergarten boy come up to me recently and say, "I would do anything for Soitana – I just love to help them!"
In July, there are a group of volunteers going to Soibada. This includes medical and teaching personnel from Pittwater who will establish a mentorship program and regular volunteer scheme. Several parishioners will be making the trek up the mountains for the first time. Two teachers, Cathy Penning and Jill Gavin will be assisting at Soibada school. Brookvale Rotary president, Ken Snell of Mona Vale will oversee the reconstruction of the school toilets that is being funded by his club. Avalon GP Dr Saxon Williams and local nurse will be working out of the empty Soibada clinic.
We are currently funding educations programs for the community with the assistance of Timorese run NGOs. The Soibada Project aims is to utilize NGOs already based in Timor Leste and staffed by Timorese people
Appropriately trained local educators, nutritionists and other medical staff are better placed for liaising with the community of Soibada. Not just geographically, (saving money that would be spent on airfares for Australian volunteers – money put to better use within the village) but also linguistically and culturally.
The people of Soibada have access to resources and tradesmen qualified to restore the old damaged buildings of the school. It is a much better use of resources for us to employ local tradesmen and use local products. This way we assist in stimulating the local economy by providing jobs and giving them the means to help themselves. Thus, restoring their dignity and giving the people a sense of ownership of the facilities that we fund.
Father Abel has met with the director of HIAM Health Rosaria Martins da Cruz. She has been operating out of Dili National Hospital since Nov 2003 and has dedicated her life to help the poorest of the poor and socially disadvantaged. During her childhood, Rosaria was disturbed by the injustices and violence from the Indonesian occupation. "When I was young my eyes were opened and I saw it all around me. I thought in my head "Rosaria! What can you do to help them? Why is this happening in your country?" A woman of vision, Rosaria seeks to empower Timorese people to work together to reduce high infant and maternal mortality rates and to assist in the reduction of poverty and hunger through education and support. She said that HIAM came from her ambition to do something for her country. "I could not do this alone- you need people to help you, to support you, to realize your dreams, so together with them you can help everyone." HIAM Health is a Non Government Organisation (NGO) working to create a future for the nation in the way of education, rehabilitation and prevention of malnutrition. HIAM stands for "Hamutuk Ita Ajuda Malu" which means in English "Together We Help Each Other". The vision of HIAM-Health is to empower Timorese people to work together to reduce high infant and maternal mortality rates and to assist in the reduction of poverty and hunger through education and support. In the past much of the nutrition advice has come from visiting volunteer nutrition consultants. One of HIAMS strengths is that the local staff have extensive knowledge of what is acceptable within the village community and of the availability of food.
Of the several programs conducted through the HIAM centre, the one we are funding at present, is the Home Garden Project. Working under the philosophy of "Give the man a fish and feed him for a day; teach a man to fish feed himself for life." The Centre provides training in the development of the "Home Kitchen Garden". At the moment the women in Soibada do the majority of the work involved in crop production. They often walk for up to two hours to tend their crops. In doing so they leave their many children (the average family consists of 8 children) unsupervised or under the care of older siblings (this includes small infants that could still be breastfed). Their produce also seems to be mostly carbohydrates and do not provide a balanced diet.
Nutrition and household gardening are integral components for the reduction of malnutrition in low-income families. The parents/caregivers will receive training to develop their knowledge and skills in producing a garden for all seasons, thus ensuring food security and a possibility of a cash income from surplus produce. The Centre provides training in the development of the "Home Kitchen Garden". As nutrition and household gardening are integral components for the reduction of malnutrition in low-income families. Participatory learning is essential and training covers skills in producing a garden for all seasons ensuring food security. A practical learning approach has been found to work best with when dealing with low levels of literacy and education. In this way HIAM is equipping families with the tools to enable them to have some control over their situation. Empowering people to be able to provide good nutrition for household consumption is good for the family and good for the nation as a whole. The home kitchen garden will overcome malnutrition in all ages, improving maternal health and infant health and improving the chances for successful breast feeding.
At the Hiam Centre 900 sq mts of land is allocated to the 'Home Kitchen Garden'. Participants live in at the centre for a week and attend home kitchen gardening workshops on a daily basis. They are involved in all aspects of home kitchen gardening to improve nutritional health, food security and eliminate hunger. It is a very impressive set up with outdoor classrooms and numerous types of gardens and waste reduction training areas. Friends of Soibada have funded Rosaria and her team to visit Soibada and consult with the community. In June, 12 carefully selected villagers will commence live in education programs specifically tailored to meet their needs. They will then pass this knowledge onto others in the village under the mentorship of HIAM's team.
Gardening Skills to be achieved in the HIAM Program
Training in identification of fruits and vegetables with a high nutritional content for balanced diet
Training in the importance of a home kitchen garden
Training in soil preparation for a home kitchen garden
Training in irrigation methods for a home kitchen garden
Training in organic pest control methods
Training in seed collection and storage
Training in productive living fence
Training in use of grey water
How to integrate animals into home gardening
Participants will have the ability to grow vegetable and fruits to supplement family nutritional intake
Participants will have knowledge of the nutritional value of fruit and vegetables.
Participants will have knowledge to grow produce surplus to their requirements for sale
The development of the friendship between Pittwater and the village of Soibada is already having very positives implications for both communities. Since hearing of our project several other schools in Sydney are now approaching their local councils with a plan to join in friendship with a village in Timor Leste.
This relationship is about far more than raising funds and doing charitable deeds. It is about the growth of lasting friendship and sustainable development. It is about empowering the people of Soibada to resurrect their own village and their lives. The future of Soibada is bright and full of promise. With your support we will change the future for the children of Soibada and Timor Leste by helping them to help themselves.
Our goal is not to make the change, but to facilitate the change so that it comes from within the Soibada community. We must enable the people to help themselves and restore the dignity that has been stolen from them during years of oppression. They need ownership of any project and the impetus for change must be internal.
The Soibada Knitters who meet each Wednesday at 1230 in the Social Justice Office under Maria Regina Church has grown to include people from as far away as Manly. I think the knitters are almost getting as much out of the project as the children warmed by their blankets in Soibada! It is a very social group – We always welcome more people to join us, and of course are constantly seeking donations of wool!