December 23 - 29, 2012: Issue 90
RESERVE RENAMED AFTER PATRICIA GILES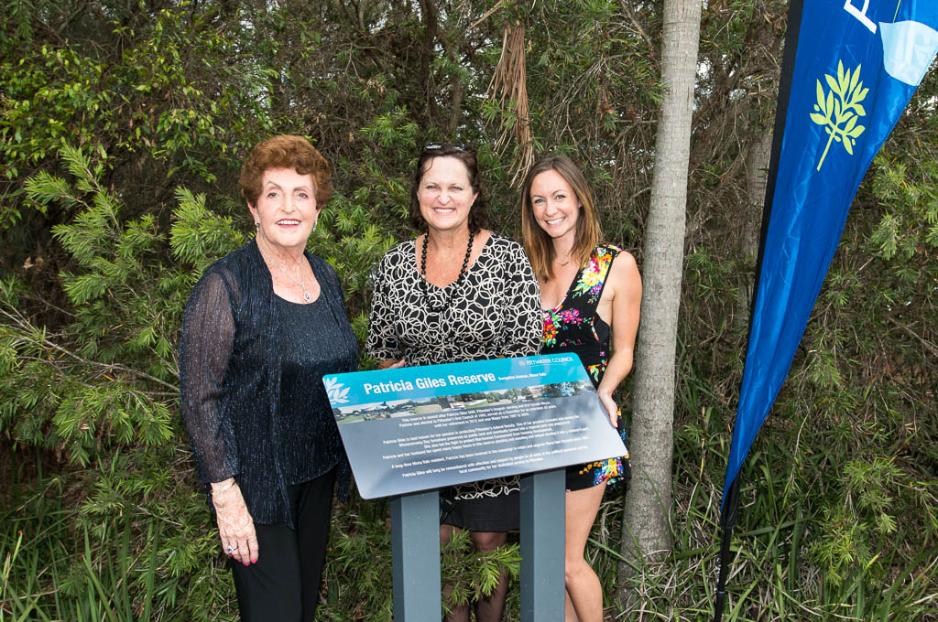 Patricia Giles OAM with Trina Moyes and granddaughter Angela Hubbard. Picture by Michael Mannington.
RESERVE RENAMED AFTER PATRICIA GILES
Pittwater's longest serving councillor and first female Mayor Patricia Giles OAM was honoured on Thursday 20 December by having one of Pittwater's reserves named after her. The former Bangalow Reserve at the corner of Bassett Street and Bangalow Street Mona Vale will be renamed Patricia Giles Reserve. The greening of Bangalow Reserve was a particular personal triumph for Patricia and her husband Ian, spending countless hours weeding, mulching, planting and nurturing the native gardens.
Mayor Jacqui Townsend said Bangalow Reserve was one of Pittwater's open space areas that had directly benefited from Mrs Giles' passion for the local environment.
Patricia Giles was elected to Pittwater's first Council of 1992 and served as a Councillor for an unbroken 20 years until her retirement in 2012. She was Pittwater's Mayor from 1997 to 2004 and was awarded Order of Australia Medal for outstanding service to the community in 2011.
"Patricia has worked tirelessly over the decades to protect Pittwater's natural beauty and to stave off inappropriate development," the Mayor said.
Mayor Townsend said one of Mrs Giles greatest achievements was seeing the Winnererremy Bay foreshore preserved as public land and eventually turned into the highly popular regional park and playground it is today.
"She also led the fight to protect Warriewood escarpment from housing development and its subsequent acquisition to form the 70 hectare Ingleside Chase Reserve," said Mayor Townsend.
Mayor Townsend said that Mrs Giles would be long remembered with affection and respect by people on all sides of the political spectrum and the local community for her dedicated service to Pittwater.
"Patricia Giles has provided Pittwater and its community with an enduring legacy and Patricia Giles Reserve will provide a lasting tribute in honour of her outstanding achievements," added Mayor Townsend.
Patricia Giles Reserve
Pittwater is our piece of paradise
We are glad to call it home.
You'll never find a better place
No matter where you roam.
For twenty years we forged ahead
Proud of what we've done
We vowed to preserve, protect and enhance,
This area so hard won.
At present residents live in peace
We have earned it and what's more
Pittwater Council served this community well
From bush land to mighty seashore.
Thank you for this honour
My heart is full of pride
When Pittwater Council won the Bluett Award
I thought nothing could eclipse that ride.
Everything was accomplished
Because we all worked as one
But for me, this little reserve in Bangalow Ave
Is where it all began.
It all started with a small band of warriors
And a community who had faith to belive
I do thank you, each and everyone
I'm so proud of what we have achieved.
Patricia Giles OAM
Above: Patricia Giles OAM and Harvey Rose.