January 5 - 11, 2014: Issue 144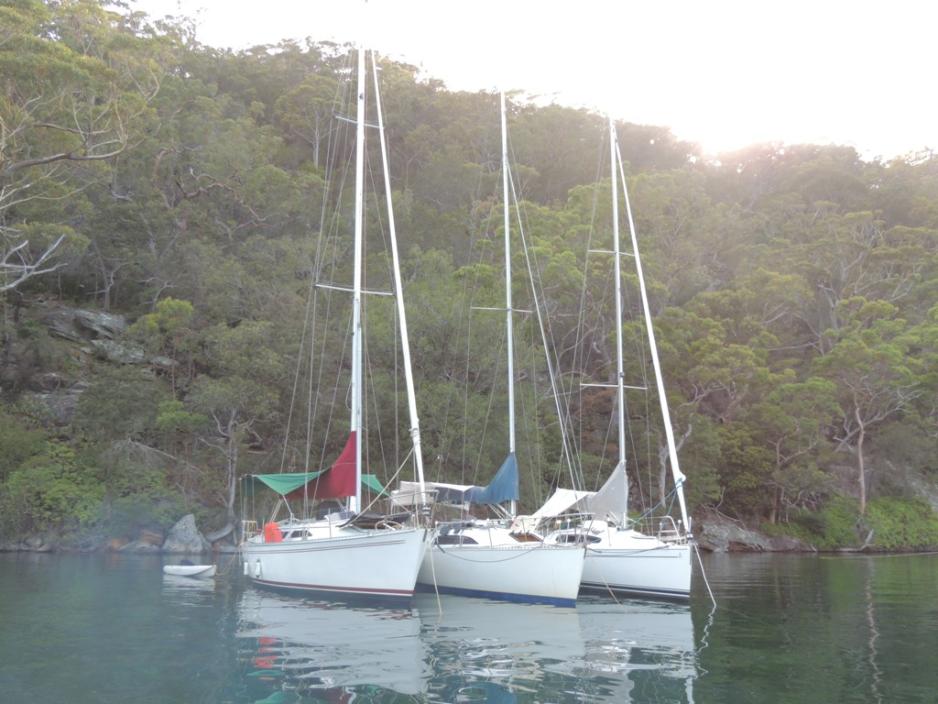 Our Wondrous Waterways
by Robyn McWilliam
Following Boxing Day, after stocking up the boat, I motor Red Red Wine down Pittwater. Ian drives the runabout; I tow the kayaks. The post-Christmas cruise is our precious downtime.
Around West Head and nearing Refuge Bay the water traffic is busy. Motor cruisers spear through the water leaving woeful wakes. Yachts are sailing and houseboats meander from bay to bay. Tinnies sprout fishing rods as anglers seek a catch.
Our destination this year is Castle Lagoon. We start with four yachts rafted-up. With dug-in anchors and stern lines secured to horizontal logs ashore, we're well prepared for the gale-force southerlies predicted for Sunday. Time to relax and slide into natural rhythms.
Hillsides of jumbled rocks and gum trees surround us on three sides. Touches of red Christmas bush remind us of the festive season. The chorus of cicadas is constant. Only at dusk do they rise in crescendos and cease for the night.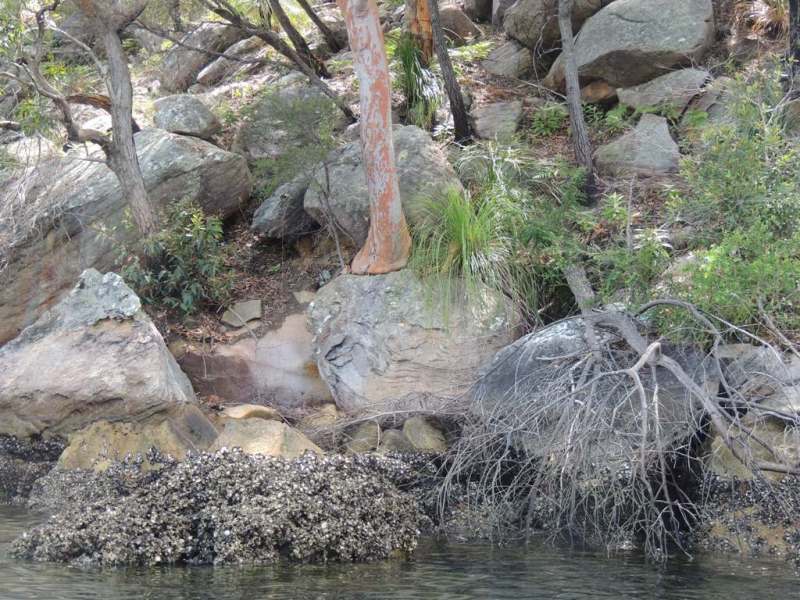 Shoreline.
Food is simple: mangoes with breakfast, ham salads for lunch and maybe lamb steaks and Mediterranean vegetables in the evening. The blokes attend to maintenance jobs while the women read novels. I actually leave my book to help strip, clean and grease the winches for the year of racing ahead.
Late afternoons we gather for a game of 500. Amidst the banter of bidding we enjoy a chilled sauvignon blanc and an assortment of cheeses. Old sheets are pegged to rigging to protect us from the sun's heat. In the calm evenings, darkness descends, lights twinkle on other boats and the yachts are still.
Our main adventure is kayaking to Cottage Point for coffees and milkshakes. It's mostly in the no-wash zone so is not too precarious. I glide past colourful sandstone sculpted by nature. On our return we see a helicopter swoosh in an arc to land on the deck of True North, a cruise boat from the Kimberley region.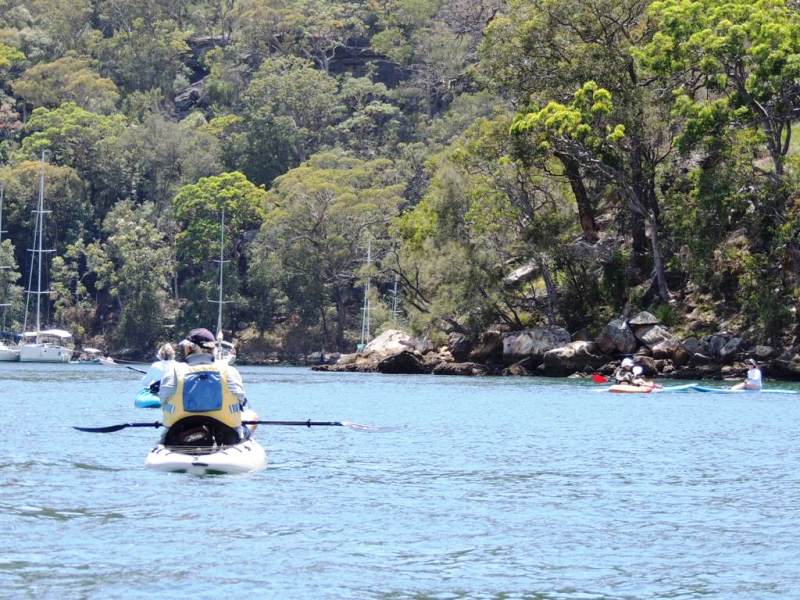 Kayaking the bay.
On another day we circuit the extended bay viewing oyster-encrusted rocks and grass trees. The sky is pale blue but for white wisps of cloud. Back on the boat, reflections waver in the water's surface as it sluices around the shore line. It's certainly therapeutic being out on our waterways.
On New Year's Eve we converge on Pittwater. Fireworks light up the sky above the myriad boats. Bursts of green, red and silver welcome in 2014.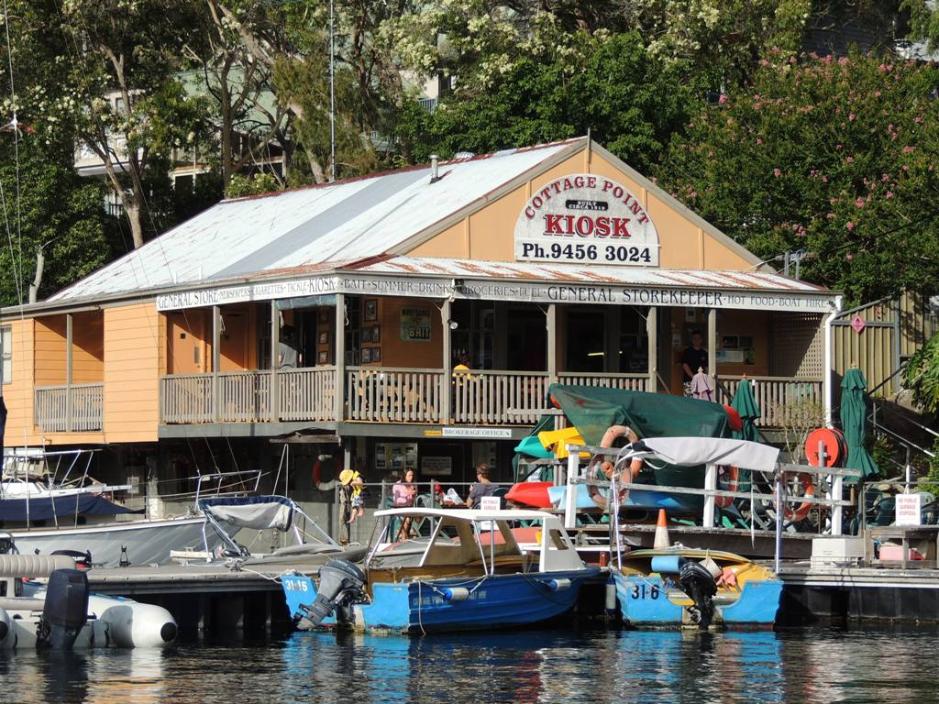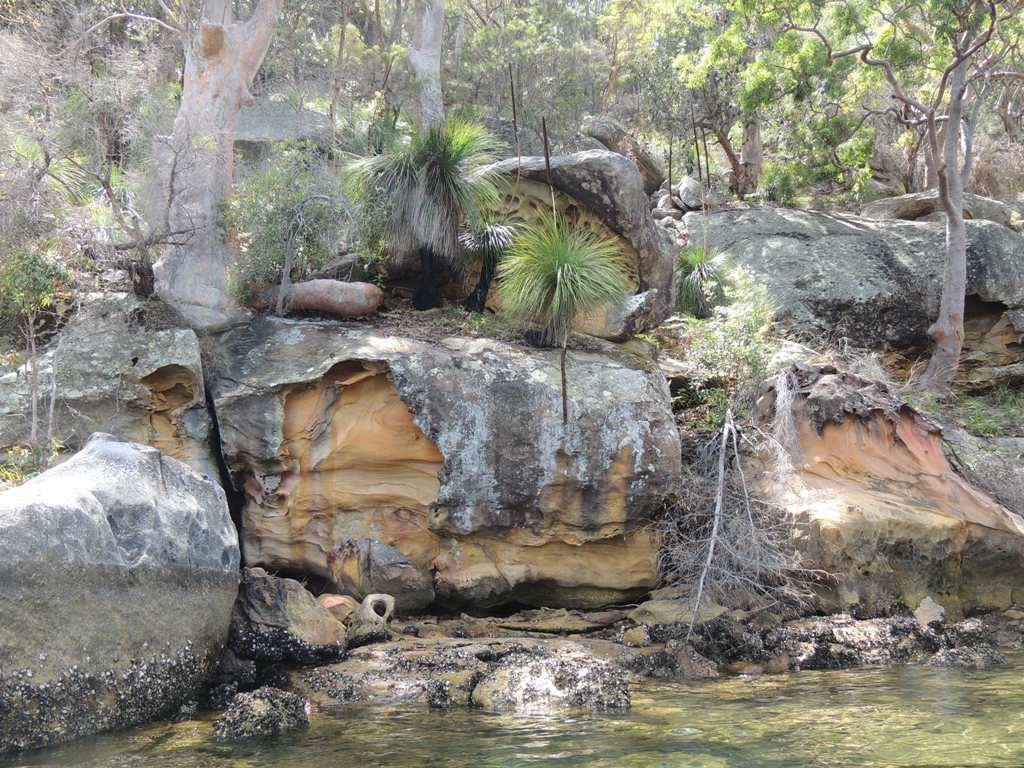 Sandstone sculptures and grass trees.
Words and Images Copyright Robyn McWilliam, 2014.