November 15 - 21, 2015: Issue 240
Open Regatta to decide 2015 MC38 Australian Season Championship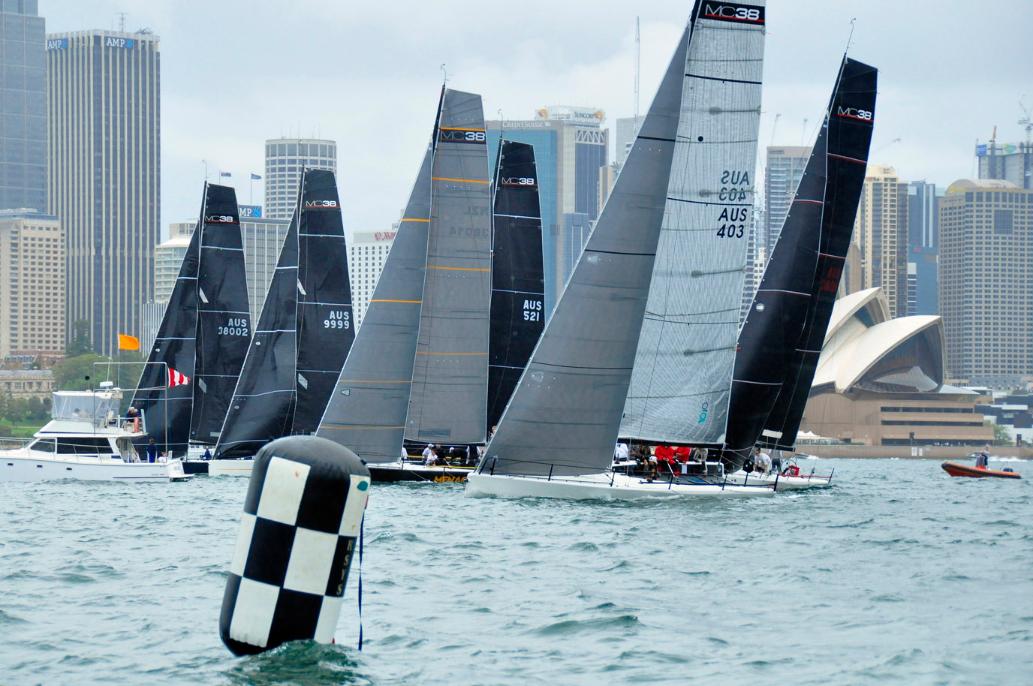 MC38 Open start - photo by Bob Fowler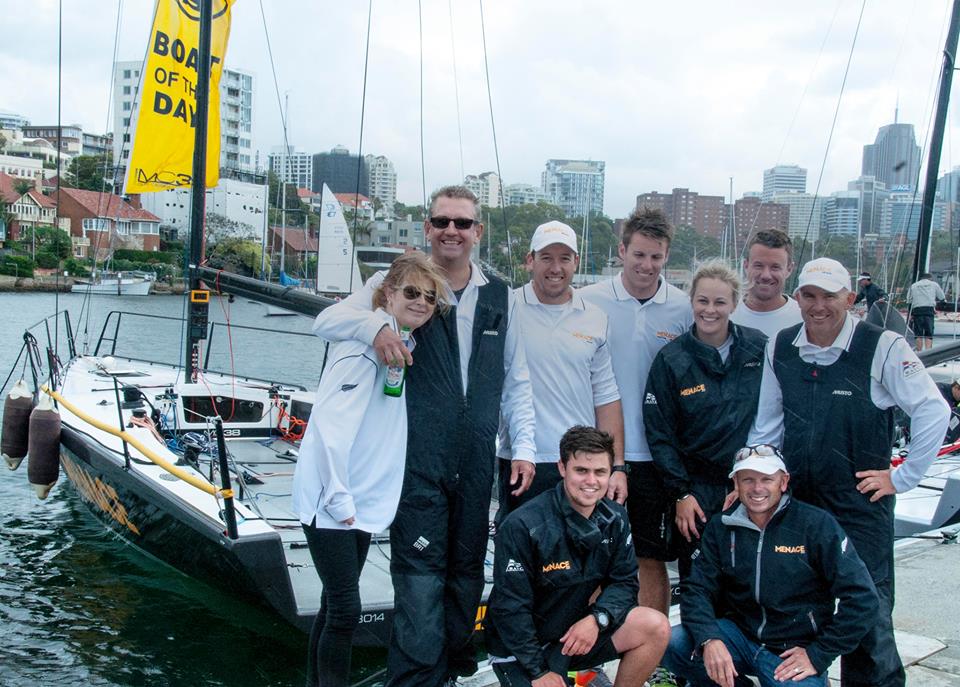 Winning Menace crew - photo by Bob Fowler
Game, set and match to Menace Yachting
Event: MC38 Open Regatta, November 14-15, 2015 hosted by the Royal Sydney Yacht Squadron with racing on Sydney Harbour
15 November 2015
Kiwi brilliance overcame six Australian MC38 crews at the closing event of the class' inaugural five part championship series that began last February.
Howard Spencer's Menace, sailing for Royal Akarana Yacht Club, scored game, set and match when the crew was awarded the North Sails boat of the day flag, the MC38 Open Regatta trophy, and, with that victory, the perpetual MC38 Australian Season Championship and half model trophy.
Second in the Open after four remaining windward/leewards were completed between Athol Bight off Mosman and the top gate near Garden Island, Sydney Harbour, went to Leslie Green's Ginger (CYCA) and third to class president John Bacon and Dark Star from the Royal Prince Alfred Yacht Club.
In the championship standings Dark Star finished with eight points, second to Menace's five points and ahead of Ginger on 11 points.
"Though it's hard to lose to a Kiwi, it was fantastic Howard and his crew made the effort to fly across from Auckland to compete with the fleet," Bacon said. "Congratulations to Menace Yachting for finishing the series in great style and for repeatedly setting the benchmark so high."
Seven MC38s took on strong southerlies gusting up to 25 knots and downwind rides of 24 knots of boat speed where the crew was hanging on and the boats were right on the edge. A number of the high performance one designs lost control in the puffs, Assassin's helm Clare Crawford later referring to today as "type 2 fun….it's more enjoyable in retrospect".
Menace's tactician Ray Davies agreed theirs was the perfect end to the season. "It's a fantastic way to finish. The team's worked really hard this year and today we were really in a sweet spot in terms of configuration. These boats sail like a dinghy and you need people in position before you can lean on them. Howard drove really well the whole weekend, very polished and on his game from day one.
"The racing has got a lot closer over the season, plenty of mixed performances though the same three boats ended up on the podium, and there's a great atmosphere among the fleet plus the on water umpiring is brilliant," Davies summarised, adding, "All the teams know what they have to work on in the off season."
Danielle Bowater was the Menace crewperson picked up and thrown off the dock back at the host Royal Sydney Yacht Squadron this afternoon, Sunday November 15, 2015, for her rolling smart-alecky comments. She took her swim and afterwards good-naturedly agreed with the crew's ruling.
Menace has been on the market for some time but if Spencer doesn't take a serious enquiry within the week he will remove the For Sale sign and recommit to the next season of MC38 racing. The 2016 class nationals will be held outside of Sydney in February prior to the next Australian Season Championship commencing in its new shorter format, between April and June.
"Trucking a fleet of this size to different cool venues is a great concept; hopefully it appeals to a couple of new owners," said Bacon. At this afternoon's final trophy presentation the MC38 association president thanked all the host clubs, class sponsors, boat managers and administrators for their support throughout the season.
MC38 Open Results Overall (Scratch)
Points Sail no. Boat Skipper 1 2 3 4 5 6 7
1. 15.0 NZL38014 Menace Howard Spencer 3.0 2.0 4.0 1.0 2.0 2.0 1.0
2. 24.0 38011 Ginger Leslie Green 1.0 5.0 5.0 5.0 5.0 1.0 2.0
3. 27.0 38002 Dark Star John Bacon 8.0 3.0 2.0 4.0 1.0 5.0 4.0
4. 28.0 9999 Assassin Clare Crawford 6.0 1.0 1.0 7.0 7.0 3.0 3.0
5. 31.0 HI101 Vino Chris Hancock 2.0 6.0 7.0 2.0 3.0 6.0 5.0
6. 33.0 521 Hooligan Marcus Blackmore 5.0 4.0 3.0 6.0 4.0 4.0 7.0
7. 40.0 403 Ghost Rider Ross Hennessy 4.0 7.0 6.0 3.0 6.0 8.0 6.0
By Lisa Ractcliff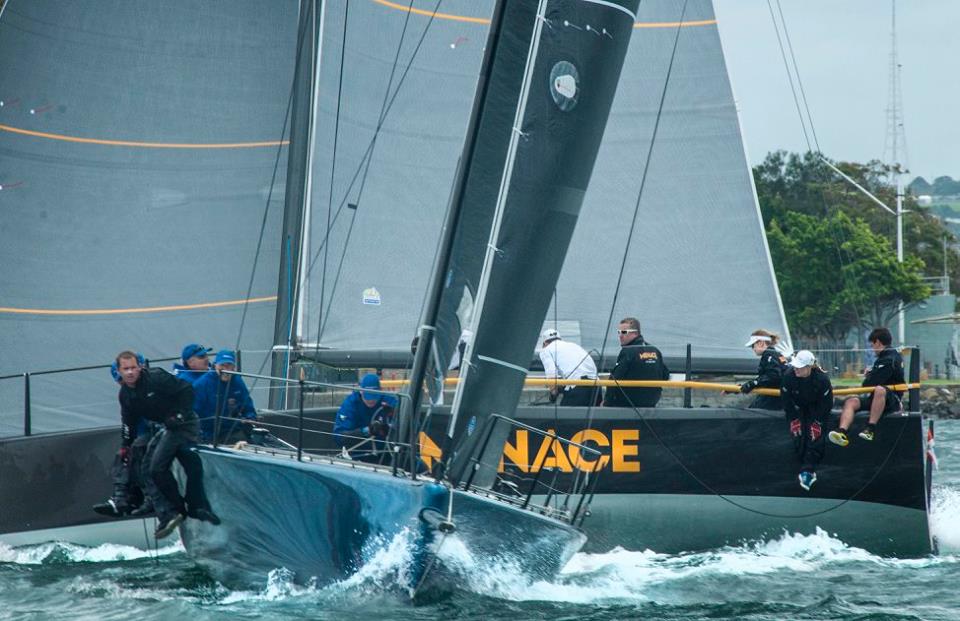 Dark Star (foreground) & Menace - photo by Bob Fowler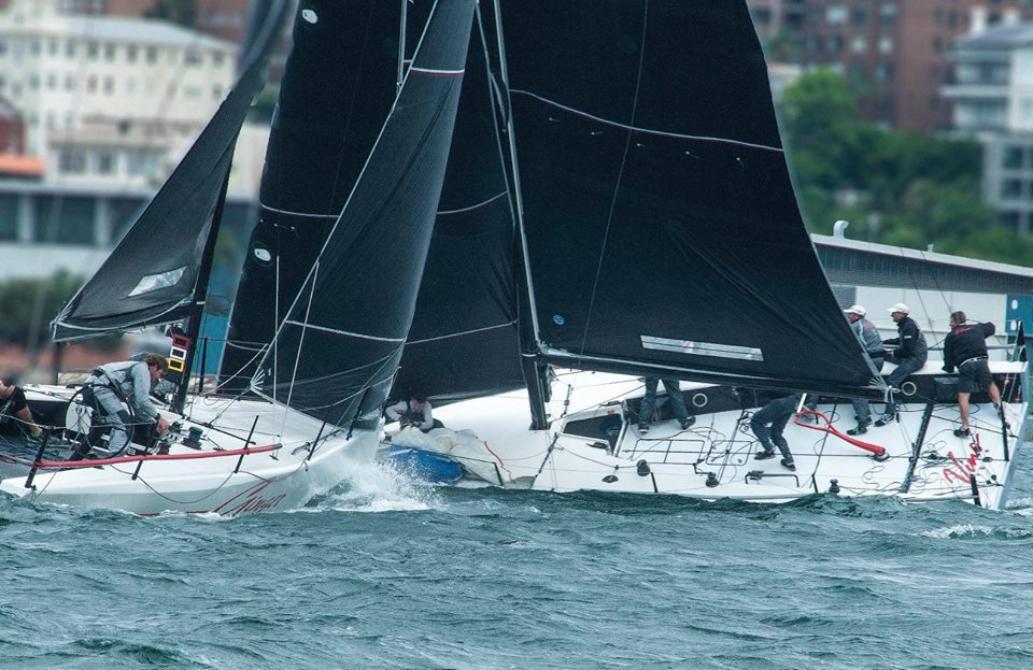 Ginger & Vino - photo by Bob Fowler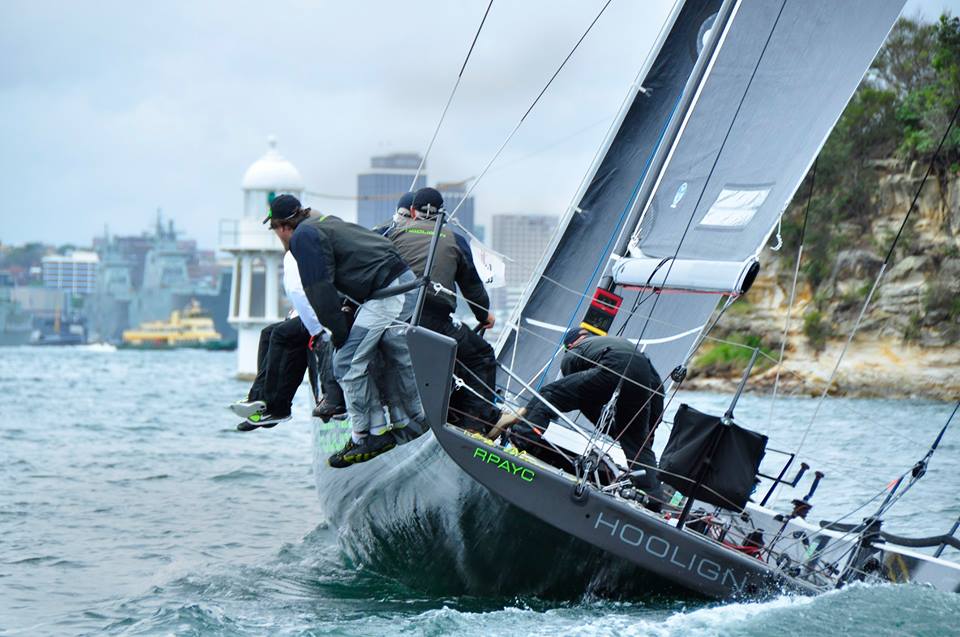 Hooligan on the Harbour - photo by Bob Fowler
2015 MC38 Australian Season Championship: Assassin boat of the day
November 14, 2015

Event: MC38 Open Regatta, November 14-15, 2015 hosted by the Royal Sydney Yacht Squadron with racing on Sydney Harbour
A steady consolidation and playing the numbers game for the season's second half has seen Robin and Clare Crawford's MC38 Assassin climb into bed with the top ranked crews and today on Sydney Harbour they took out 'boat of the day' at the MC38 Open Regatta.
Following jockey Michelle Payne's remarkable Melbourne Cup win less than two weeks' ago, sporting journalists have sought parallels between horse racing and other sports where men and women compete on equal terms. On a damp and very grey spring day in Sydney the MC38 class' only woman helm showed sailing is one of those rare sports.
Two wins from three starts for Assassin's amateur team up against Australian MC38 champions and America's Cup sailors and national and world champions in various classes shuffled the typical finish order.
"Once you are out in front everything's easy," an ecstatic Crawford, daughter of the boat's owner Robin, said back at the host Royal Sydney Yacht Squadron this evening. Good placement and taking a gamble paid off in race two and their second bullet she felt they earned even more.
Assassin's tactician Evan Walker spoke highly of all the crew but singled out Clare then Alex Gough from North Sails' Brisbane loft for special mention for his strategic input.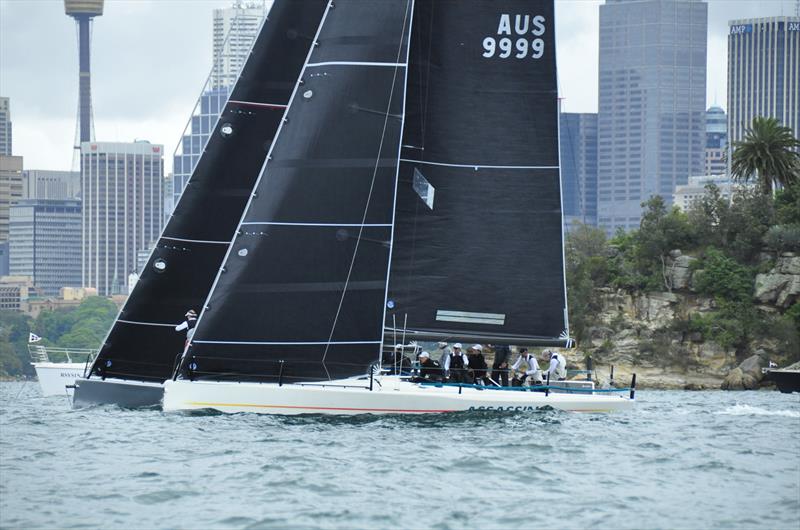 Boat of the day Assassin MC38 Open day 1 - photo by Bob Fowler
A fracas between Leslie Green's Ginger and John Bacon's Dark Star in the opening race also rearranged the scores. Dark Star took the heavy hit of a DNF, or Did Not Finish, after Bacon's Royal Prince Alfred Yacht Club crew rightly completed a penalty turn on the wrong side of the finish line then unwittingly failed to return and go through the line again in order to finish properly.
Consistent placings put Howard Spencer's Kiwi campaign on Menace in to second, a point off Assassin, and Ginger is third in the overall standings after a tricky day one outing for the class' season curtain-closer.
Menace's tactician Ray Davies acknowledged their primary goal is to win the MC38 Season Championship they lead by a point, though they'd love to win the deciding event as well. "The competition was pretty fierce out there and the venue was tricky given the harbour traffic and wind shifts. The cloud cover meant an unsteady breeze, which is a good leveller."
The highest profile sailor in the MC38 contest and part of Emirates Team New Zealand America's Cup effort paid tribute to the top tier newcomer: "Assassin had a clean day and after some very smart sailing they thoroughly deserve boat of the day. They've got a good roll on," Davies praised.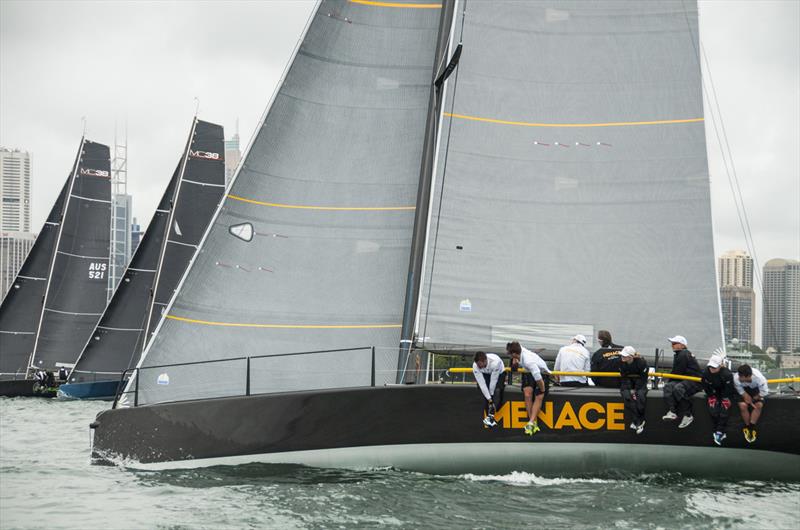 Menace Open Regatta on Sydney Harbour - photo by Bob Fowler
There's more than a weekend regatta trophy up for grabs for the trio in with a shot at taking out the inaugural Season Championship -Menace, Dark Star and Ginger. Ginger in particular played hardball out on the track, picking up two penalties from the all-seeing on-water umpires.
Swirling sou'easterlies up to 12 knots slowly faded over the course of the afternoon and when thunderstorm activity played further havoc with the late afternoon breeze, RSYS Principal Race Officer Rob Ridley in consultation with umpires Richard Slater and David Tallis decided not to proceed with the fourth race.
All owners agreed with an earlier start tomorrow of 11am to try and complete the full seven race schedule. The Bureau of Meteorology's closed waters forecast for Sunday November 15, 2015 is southerly winds 15-20 knots and a 70% chance of showers.
MC38 Open Results Overall (Scratch)
Pos Pts Name R 1 R 2 R 3
1 8.0 Assassin 6.0 1.0 1.0
2 9.0 Menace 3.0 2.0 4.0
3 11.0 Ginger 1.0 5.0 5.0
4 12.0 Dark Star 7.0 3.0 2.0
5 12.0 Hooligan 5.0 4.0 3.0
6 15.0 Vino 2.0 6.0 7.0
7 17.0 Ghost Rider 4.0 7.0 6.0
By Lisa Ratcliff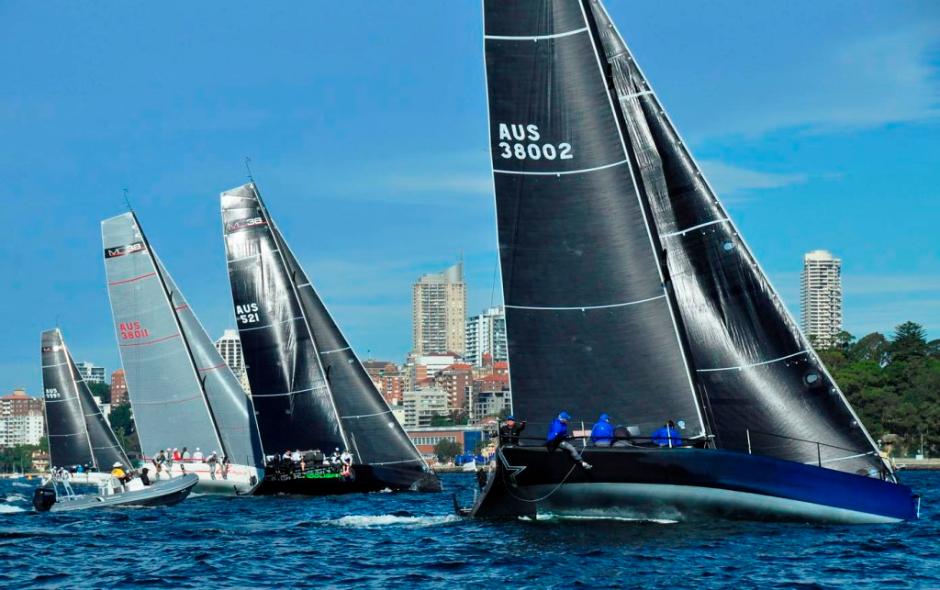 MC38 start on day 2 Autumn Regatta - photo by Bob Fowler
Open Regatta to decide 2015 MC38 Australian Season Championship

Event: MC38 Open Regatta, November 14-15, 2015 hosted by the Royal Sydney Yacht Squadron with racing on Sydney Harbour starting at midday both days
Final points from this weekend's MC38 Open Regatta on Sydney Harbour will decide the first-ever MC38 Australian Season Championship victor, and the one point gap between first and second forebodes a fiery showdown.
Howard Spencer's Menace, sailing for Auckland's Royal Akarana Yacht Club, and John Bacon's Dark Star representing the Royal Prince Alfred Yacht Club on Sydney's northern beaches, went into last month's MC38 Spring Regatta with the same margin. The pair finished behind Ginger when Leslie Green's crew of current national champions pieced together an outstanding series on the fickle waterway that put them third on the points table, four points off the front-runners.
Based on a 1,3,1,2 scoresheet from the MC38 Summer Regatta back in February, the Autumn Regatta in May, Winter Regatta in June and Spring Regatta in October, Menace sits on the lowest score of four points, counting one drop. Dark Star recorded 2,1,2,3 to be on five points having discarded their lowest third place.
Double points from this weekend's Open must be carried and season ties will be resolved in favour of the owner or charterer who finishes highest, making it the requisite event of the class' inaugural Season Championship.
A solid 20 southerly change is due to hit Sydney Friday evening. The seven MC38s may catch the tail end of it on Saturday before it peters out during the afternoon and into Sunday when 8-9 knots of sou'east breeze is forecast for the final windward/leewards and harbour passage race.
Light air sailing usually adds weight to a tactician's mental load though Dark Star's Cameron Miles seems unfazed. "I'm really looking forward to the challenge. The other guys are sailing really well and we feel like the underdog. We've got a few tricks up our sleeve plus we've been working on a few manoeuvres," Miles warns.
The Royal Sydney Yacht Squadron on the foreshore at Kirribilli will host the scheduled seven race decider for confirmed starters Menace, Dark Star, Ginger (CYCA), Robin and Clare Crawford's Assassin (CYCA), Ross Hennessy's Ghost Rider (RPAYC), Chris Hancock's Vino (MHYC) and Hooligan with RPAYC owner/skipper Marcus Blackmore back on the helm.
Owners have agreed that the 2016 MC38 Australian Season Championship series will be a three round event in the first half of the year and the 2016-17 series will begin the second half of 2016 and continue through summer into 2017. The 2016 MC38 National Championship is scheduled for February 5-7 on Lake Macquarie.
By Lisa Ratcliff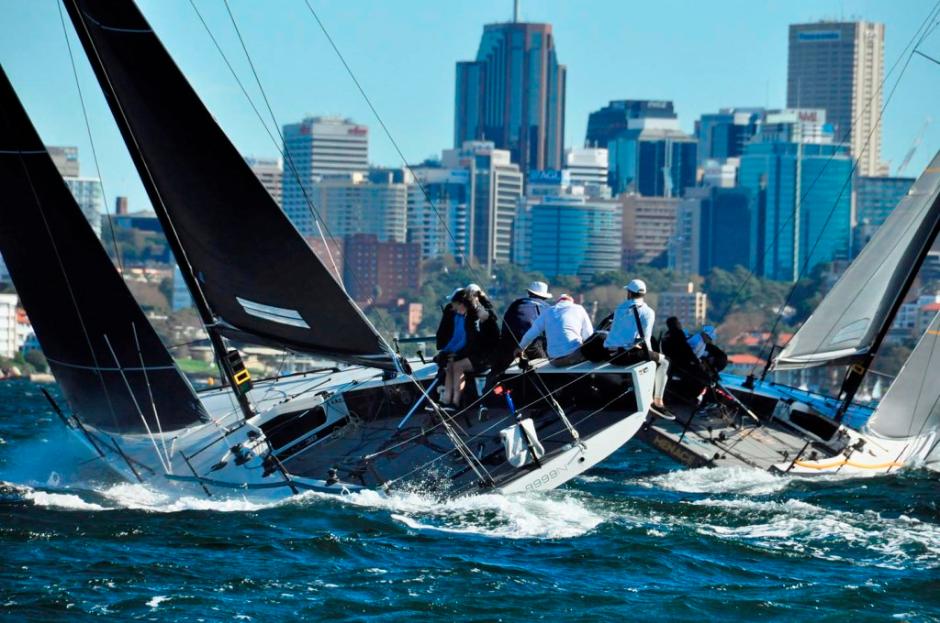 Ghost Rider & Menace - photo by Bob Fowler
Reports by Lisa Ratcliff, Pictures by Bob Fowler, 2015.