August 10 - 16, 2014: Issue 175
Nina Curtis and Darren Bundock Take Silver at Rio Test Event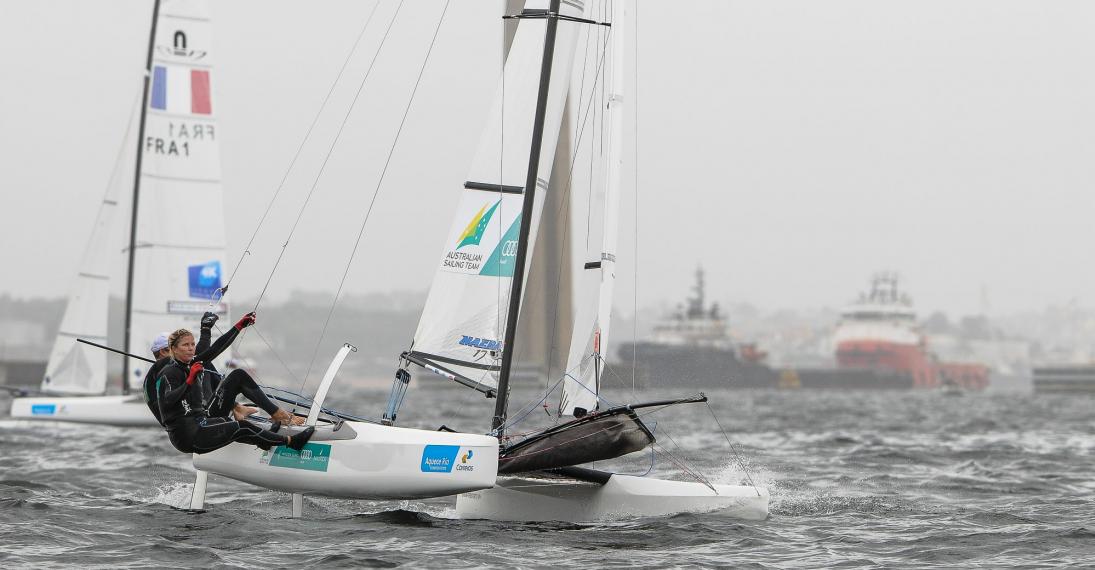 Australians Darren Bundock and Nina Curtis by Rio 2016 / Alex Ferro
Two Silver medals at Rio Olympic Test event for Australian Sailing Team on first day of Medal Races
By Cora Zillich, Saturday, 9 August 2014
Outteridge/Jensen and Bundock/Curtis win silver in the 49er & Nacra 17, while Mat Belcher & Will Ryan and Tom Burton lead 470M and Laser fleets ahead of tomorrow's medal race.
The Australian Sailing Team won two Silver medals at the first Olympic Test event for the 2016 Rio de Janeiro Olympic Games overnight: Olympic gold medallists Nathan Outteridge (NSW) and Iain Jensen (NSW) won silver in the 49er class while dual Olympic silver medallist Darren Bundock (NSW) and Olympic silver medallist and RPAYC member Nina Curtis (NSW) took home the silver medal in the Nacra 17.
The Medal Race places were also decided in the Men's 470 and Laser fleets with medals to be confirmed tomorrow and with the Aussies going into the Medal Racing with the strongest lead in both fleets. Only near disaster can keep Mat Belcher (QLD) and Will Ryan (QLD) from winning gold and also Laser sailor Tom Burton (NSW) has a comfortable lead ahead of the final race day in Rio.
This morning racing concluded in the 49er, 49erFX and Nacra 17 on a breezy day at the Aquece Rio - International Sailing Regatta 2014. A south westerly breeze from 15-20 knots spoilt the Nacra 17 sailors on the Pão de Açucar course as an excellent Medal Race played out. The breeze faded towards the afternoon with the 49er getting three single point theatre style Medal Races in and the 49erFX sailing two.
Nacra 17
In the first Medal Race of the day for Australia, Darren Bundock and Nina Curtis went into the final race in second position behind France's Billy Besson and Marie Riou who had a six point lead over the Australians.
Sailing in 20 knots of breeze on the Pão de Açucar race course the French team put in a solid performance and sealed gold with a third place in the Medal Race. They finished ahead of Australian Sailing Team's Darren Bundock and Nina Curtis who took silver ahead of British Pippa Wilson and John Gimson (GBR). Australians Euan McNicol (NSW) and Lucinda Whitty (NSW) finished ninth overall.
"The Nacra probably saw the best of the conditions today," said Bundock after the race. "We had a good south westerly breeze and we were on the race course underneath Sugar Loaf so the breeze was funneling through there. We had to beat the French by putting two boats between us and we weren't able to do that. But we were able to hold off the British team, the Austrians and Swiss. We wanted to come here and obviously do well and finish on the podium and that's what we did. For us it was quite good to finish in second spot. We still have two years to go before the Olympic Games and we are already on the podium. We just need to breach the gap to Gold."
About the value of the test event Bundock added, "It's been a real eye opener being here. We came here with a bit of an open mind, just trying to get as much out of it. We've either trained or raced on every course that they plan to race in two years time and we've experience a full weather cycle as well. We've had rain, we've had sun, we've had wind, and we've had no wind. We were inside on the flat water or outside in the waves so I think we've sucked in as much information as we could and it has been a very valuable experience being here two years before the Olympic Games."
49er
Nathan Outteridge and Iain Jensen went into the three single point theatre-style 49er medal races in third and moved up to take silver following a 1-3-8. Kiwis Peter Burling and Blair Tuke took gold whilst Dylan Fletcher and Alain Sign (GBR) picked up bronze.
"We sailed really well in the first two races and had a bit of a shocker in the last race", said Outteridge after the racing. "We were trying to do a bit of a mathematical game throughout that final race to try and get into gold from our current silver position. Unfortunately we missed a few shifts and got becalmed at the top mark and while the leaders took off in a puff we managed to sail in the last lap to last position. On the finishing line we overtook the Americans by half a pole length, which secured us silver. All in all a pretty stressful day."
"But as we said before the result wasn't the main focus of this event. Obviously results are nice and a silver is a great result for us. It was more about learning the venue and the individual race courses as well as dealing with Rio as a city and feeling comfortable and familiar in the environment. I think we ticked nearly every box and we are looking forward to review it all and be better prepared for next year. We know it will be a tricky event and we are more prepared for it now."
About the road ahead Outteridge said: "We are half way from London ending and Rio starting and we have two years to go. After London, we basically had one year off from 49er sailing and this year we are getting back into it. We have the exact same combination with Goobs, myself and our coach Emmett (Lazich) and it's going well."
"We're in the hunt and we have a bit of a job list of what we need to be doing moving forward. From here, we're off the World Champs in Santander (Spain) and we are looking forward to changing our Sail Number from a five to something lower. Maybe a three to a one would be quite nice and from there it will just be about preparing for the Rio test event next year."
49erFX
It was a solid week for Aussie 49erFX crew of Olympic Silver medallist Olivia Price and crew Eliza Solly (VIC), who went into the final medal races in third position.
With the wind dying, the last medal race had to be abandoned and after two single theatre style Medal Races Price and Solly were leapfrogged by Dutch pair of Annemiek Bekkering and Annette Duetz (NED) to finish fourth overall.
As still a new combination the pair was happy with the overall performance as Price explained: "We came to Rio with our new coach Shane Smith and we came here with a couple of goals in mind. Obviously to try and see as much of Rio's wind as we could and also to try and develop quite a good communication relationship with our coach. We've been able to do that and we've really started some good stepping-stones to keep on going into Santander."
Racing on their home waters Martine Grael and Kahena Kunze (BRA) took out gold ahead of Alex Maloney and Molly Meech (NZL).
470M
After the last day of racing ahead of tomorrow's Medal Race, Mat Belcher and Will Ryan (AUS) have an excellent lead in the Men's 470 and a solid result on the final day will seal the deal. Belcher and Ryan are 17 points clear and with the way they're sailing, only near disaster on the final day could prevent them from taking gold. Ten points separates places second to sixth, which will ensure a gripping finale.
Laser and Laser Radial
At 18:00 local time Tom Burton (NSW) had a 14 point lead over Nick Thompson. The British sailor was on the receiving end of a bow to the bicep and was unable to compete in the eighth race of the series. The British sailor put in a request for redress and is awaiting the final outcome from the International Jury. As it stands Burton sits on 21 points, Thompson has 35 and is tied with Robert Scheidt (BRA) in third.
In the Laser Radial Queenslander Ashley Stoddart finished 18th overall.
Saturday's Medal Racing will commence at 12:00 local time (1 a.m. AEST) with the Laser up first. The Men's 470 will follow at 13:20 (2:30 a.m. AEST).
Media coverage and results from the Aquece Rio will be delivered by the Rio 2016 team and ISAF through www.aquecerio.com/en/competicoes.php and www.sailing.org/2014-test-event.php
About the Event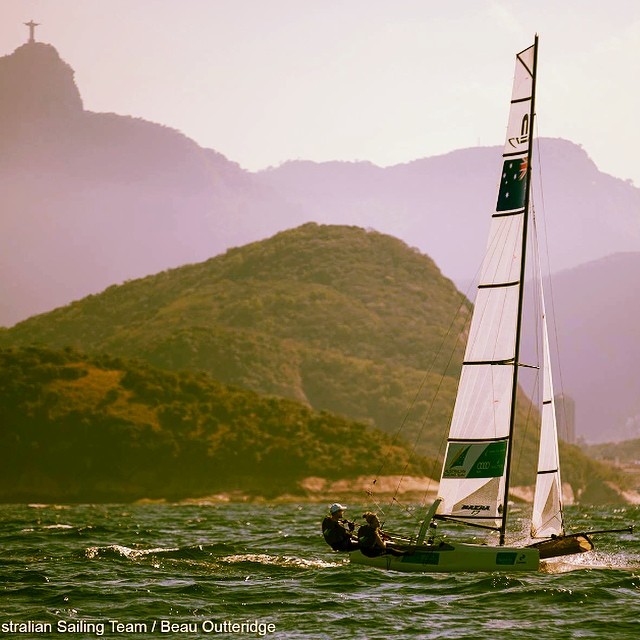 Aquece Rio – International Sailing Regatta 2014 is the first of two test events with the second following in 2015, provisionally scheduled for 12-22 August.
Organised by Rio 2016 and Confederação Brasileira de Vela (CBVela) in conjunction with the International Sailing Federation (ISAF), the regatta will test the field of play, equipment, workforce, systems and procedures two years out from the Olympic Sailing Competition.
All five proposed Olympic race course areas will be assessed during the course of the regatta. Three course areas – Ponte, Escola Naval and Pão de Açucar – are situated inside Guanabara Bay with the other two – Copacabana and Niterói – located outside the bay in open water.
Rankings of Australian Sailing's Athletes racing at the 2014 Rio Test Event:
Final Results:
49er : Nathan Outteridge (NSW) / Iain Jensen (NSW) 2nd
Steve Thomas (WA) / Rhys Mara (NSW) 12th
49erFX : Olivia Price (NSW) / Eliza Solly (VIC) 4th
Nacra17: Darren Bundock (NSW) / Nina Curtis (NSW) 2nd
Euan McNicol (NSW) / Lucinda Whitty (NSW) 9th
Medal Races To be run yet:
470M: Mat Belcher (QLD) / Will Ryan(QLD) 1st
Angus Galloway (QLD) / Rob Crawford (NSW) 21st
Laser: Tom Burton (NSW) 1st
Matt Wearn (WA) 5th
Laser Radial: Ashley Stoddart (QLD) 18th
For further updates follow the Australian Sailing Team on Facebook and on Twitter @AusSailingTeam #AusSailing.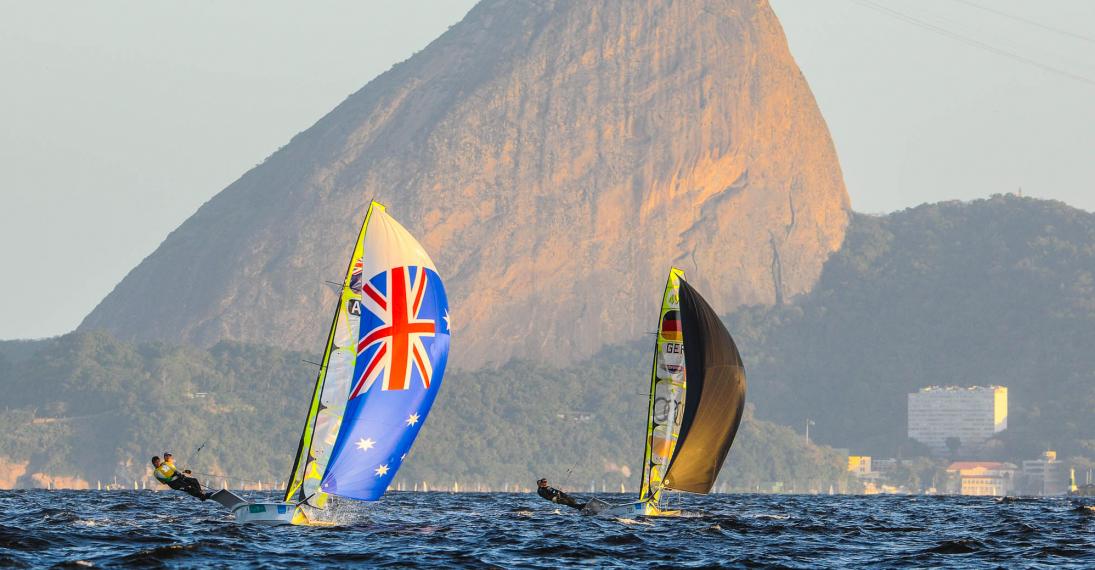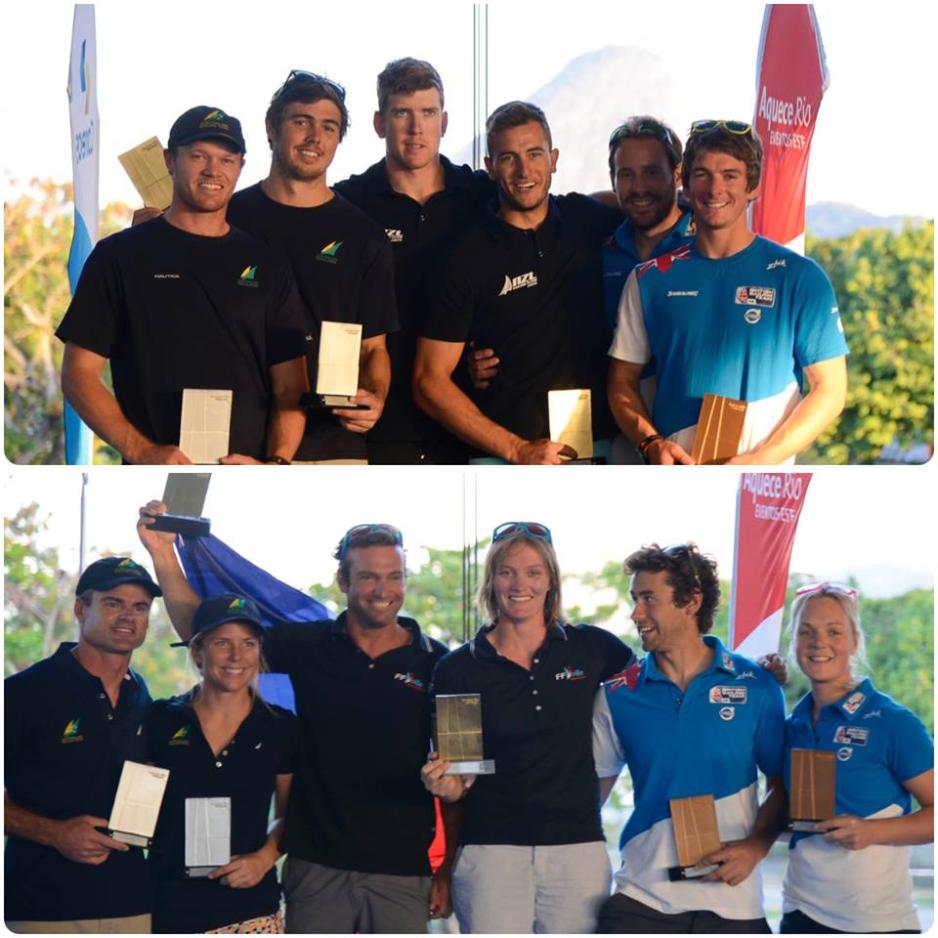 Picture credits: 1) Nathan Outteridge/Iain Jensen © Australian SailingTeam / Beau Outteridge 2) Darren Bundock/Nina Curtis ©ISAF 3-5) Medal Ceremonies / Olivia Price/Eliza Solly ©AqueceRio / Alex Ferro