December 8 - 14, 2013: Issue 140
Night Blooming Plants and Scented Gardens – The Fragrant Romance of Summer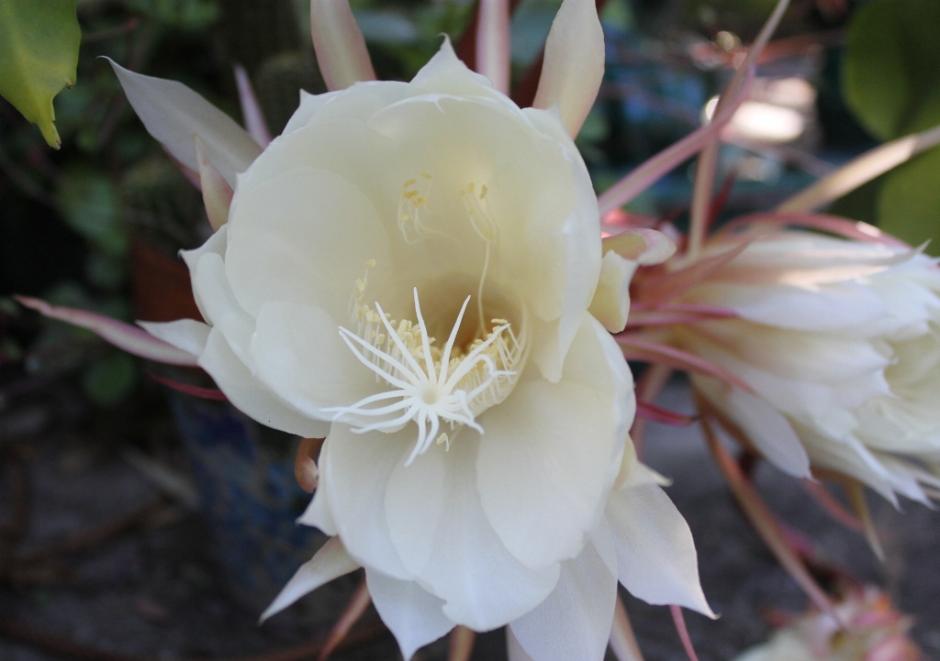 Night Blooming Plants and Scented Gardens – The Fragrant Romance of Summer
There are some wonderful scented flowers that give a special atmosphere to our green outdoor areas at night, especially during Summer when we may be more inclined to spend night hours enjoying the rise of the moon. Gardenias and roses are well known for bringing fragrance and the inference of romance and the epitome of a 'Summer Romance' may ensue. Among our Australian Native plants both flowers and foliage give pleasant breaths and those like mint bushes and some boronias will bring beautiful colour and a celebration of the season to your senses.
Floral perfumes are produced by plants primarily to attract insect pollinators. It should be no surprise that many of these have a sweet, often honey-like fragrance. In Australian Native plants some have a caramel or chocolate aroma as well as the 'honeyed' breaths. You may notice that some flowers seem more aromatic in the evening than during the day. These are species which are pollinated by moths and other insects which fly and feed mainly at night. Frequently these plants have white, creams or light yellow flowers, colours which act as beacons in paler moonlights.
All can make the human of the species 'swoon with delight' – sweetness in doth sweetness out bring. Just recall the spark of delight in any lady's eye when presented with a solitary sweet small flower or a whole bunch to fill a room and house with 'sweet rememberings' for a week to also recall 'in the seed is the fruit' languor.
The word perfume used today itself derives from the Latin per fumum, meaning "through smoke." Perfumery, or the art of making perfumes, began in ancient Mesopotamia and Egypt and was further refined by Romans and Persians.
The world's first recorded chemist is considered by many to be a woman named Tapputi, a perfume maker who was mentioned in a cuneiform tablet from the 2nd millennium BC in Mesopotamia. She distilled flowers, oil, and calamus with other aromatics then filtered and put them back in the still several times.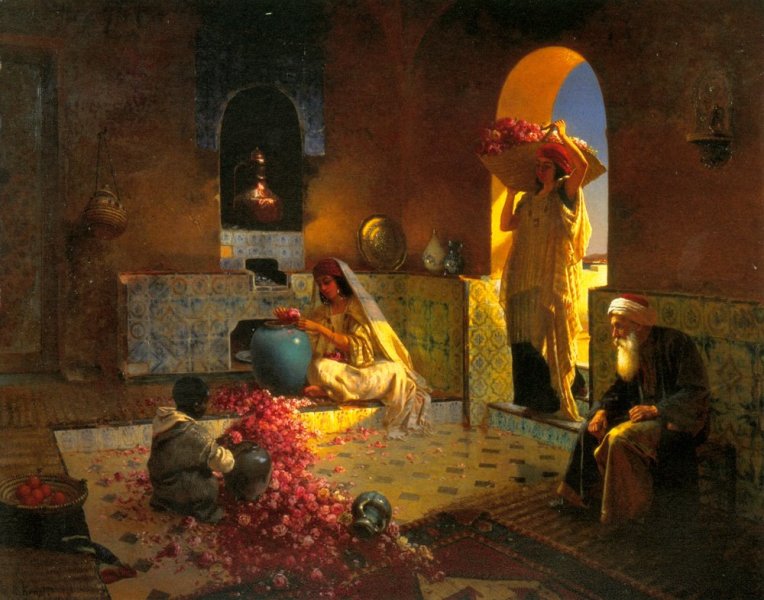 The Perfume Maker by Rudolf Ernst
In 2005, archaeologists uncovered what are believed to be the world's oldest perfumes in Pyrgos, Cyprus. The perfumes date back more than 4,000 years, were discovered in an ancient perfumery. At least 60 stills, mixing bowls, funnels and perfume bottles were found in the 43,000-square-foot (4,000 m2) factory. In ancient times people used herbs and spices, like almond, coriander, myrtle, conifer resin, bergamot, as well as flowers. (1.)
The Arab chemist, Al-Kindi (Alkindus), wrote the Book of the Chemistry of Perfume and Distillations in the 9th century, which contained more than a hundred recipes for fragrant oils, salves, aromatic waters and substitutes or imitations of costly drugs. The book also described 107 methods and recipes for perfume-making and perfume making equipment, such as the alembic (which still bears its Arabic name).
The other aspect of a purpled and pinked night Summer sky above a moonlit garden is the sight of the flowers themselves. Some people write their poetry in and with and through their gardens and to add this dimension at the time of day when the 'blue breath' is being made, or CO2 being converted back into pure oxygen, a few 'night blooming' plants that will flower as Summer commences and runs are required.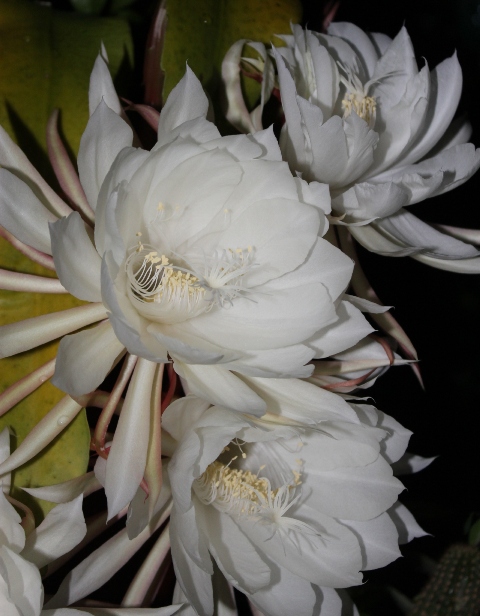 This week, in our garden, one of these has opened, brought 'come and look at this' gazing and then gazing into the eyes of each other – no small feat decades into loving each other, deposing the cry of 'you're killing the romance!' from the house and its grounds for at least the days of blooming.
Flowering in late spring or early summer is our Dutchman's Pipe Cactus Epiphyllum oxypetalum (Dutchman's Pipe, kardable, Night Queen or Nishagandhi or Gul-e-Bakawali) a species of cactus and one of the most cultivated species in the genus. It is a variety of nightblooming Cereus and often confused with species of Selenicereus. Large specimens can produce several crops of flowers in a season and ours has several more to open in coming weeks. Regardless of genus or species, night-blooming cereus flowers are almost always white or very pale shades of other colors, often large, and frequently fragrant.
Native to Central America and Northern South America, E. oxypetalum blooms rarely and only at night and the flower wilts before dawn. In 1909, C. A. Purpus collected a slightly different type in St. Ana, Orizaba, Mexico. It has carmine red outer petals and the flowers have an unpleasant smell, rather than being fragrant. It was originally named Phyllocactus purpusii, but does probably not deserve any botanical recognition.
The Chinese chengyu (four character idiom-tan hua yi xian) uses this flower (tan-hua) to describe someone who has an impressive but very brief moment of glory, like a "flash in a pan", since the flower can take a year to bloom and only blooms over a single night. Therefore someone described via this flower is generally understood to be a person who shows off or unexpectedly gains some achievement and is thought to be an exception or only lucky. The flower also has a rich history in Japan, where it is known as the Gekka Bijin or "Beauty under the Moon".
Widely cultivated and escaped in many places, its true origin has never been fully understood. It is often linked to the Legend of "BAKAWALI" in most S.E. Asian countries. (2.)
Gule Bakawali is a popular medieval romance in several Indian languages. The seventeenth-century poet nawajish khan was perhaps the first to write a Bangla version of Gule Bakawali, a story in verse about the love of Prince Tajulmulk for the fairy Bakawali. There are numerous adventurous and miraculous incidents in the story, which is set in India. 'Bakawali' is the name of a flower there. This romance is accepted as the poet's masterpiece. Nawajish Khan's other books include Gitavali and Bayanat, which were both inspired by sufism, Praksipta Kavita, Pathan Prashangsa and Jorwar Singh Kirti, works eulogising two landowners of Chittagong, Hossain Khan and Jorwar Singh respectively.
The Sprinter catalogue records an Urdu Gule Bakawali written in verse in 1625. In 1722, Sheikh Izzatullah, a Bengali, wrote a prose version, Tajulmulk Gule Bakawali, in persian. It is not known on which version Nawazish Khan based his poem.
There were several variant versions of Gule Bakawali, such as the poetic versions by Muhammad Mukim (1760-70), Muhammad Ali, Munsi Ebadat Ali (1840), Umacharan Mitra (1834), and Abdus Shakur, and the prose version by Bijaynath Mukhopadhyaya (1904). Kedarnath Gangopadhyaya wrote a play based on the story in 1978. Ebadat Ali's Gule Bakawali is a dobhasi puthi.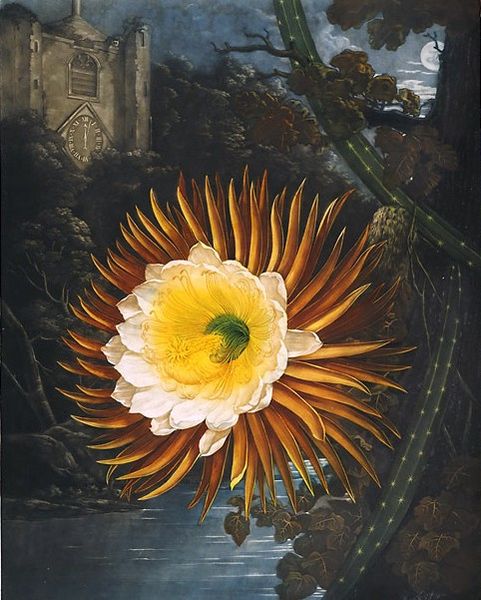 The story was also popular in urdu. Thus, at the beginning of the nineteenth century, Munsi Nehalchand Lahori wrote a prose version titled Mazhabe Ishq (1803), and Dayashankar Nasim wrote a masnavi (poem) called Gulzare Nasim (1835). [Wakil Ahmed] 3.
The 'night gardens of romance' sung of in the Song of Solomon indicate how long we have ventured into gardens under moonlight where rare flowers bloom just for that night and make our heads giddy with thoughts of love by their perfumes, scents that indicate a lifelong marriage or dedication to all that is romantic love:
How fair is thy love, my sister, my spouse! how much better is thy love than wine! and the smell of thine ointments than all spices!
Thy lips, O my spouse, drop as the honeycomb: honey and milk are under thy tongue; and the smell of thy garments is like the smell of Lebanon.
A garden enclosed is my sister, my spouse; a spring shut up, a fountain sealed.
Thy plants are an orchard of pomegranates, with pleasant fruits; camphire, with spikenard,
Spikenard and saffron; calamus and cinnamon, with all trees of frankincense; myrrh and aloes, with all the chief spices:
A fountain of gardens, a well of living waters, and streams from Lebanon.
Awake, O north wind; and come, thou south; blow upon my garden, that the spices thereof may flow out. Let my beloved come into his garden, and eat his pleasant fruits.
I am come into my garden, my sister, my spouse: I have gathered my myrrh with my spice; I have eaten my honeycomb with my honey; I have drunk my wine with my milk: eat, O friends; drink, yea, drink abundantly, O beloved.
I sleep, but my heart waketh: it is the voice of my beloved that knocketh, saying, Open to me, my sister, my love, my dove, my undefiled: for my head is filled with dew, and my locks with the drops of the night.

References
1.Perfume. (2013, November 30). In Wikipedia, The Free Encyclopedia. Retrieved from http://en.wikipedia.org/w/index.php?title=Perfume&oldid=583875717
2.Epiphyllum oxypetalum. (2013, August 22). In Wikipedia, The Free Encyclopedia. Retrieved from http://en.wikipedia.org/w/index.php?title=Epiphyllum_oxypetalum&oldid=569667678
3.Gule Bakawali From Banglapedia http://www.bpedia.org/G_0220.php
Illustrations
The Perfume Maker by Rudolf Ernst (1854–1932)
A night-blooming cerius Selenicereus grandiflorus, originally titled The Night-Blowing Cereus[sic] when it appeared in the The Temple of Flora, 1804. Date 1799 Source Botanicus www.botanicus.org "Temple of Flora" Author Robert John Thornton (1768-1837)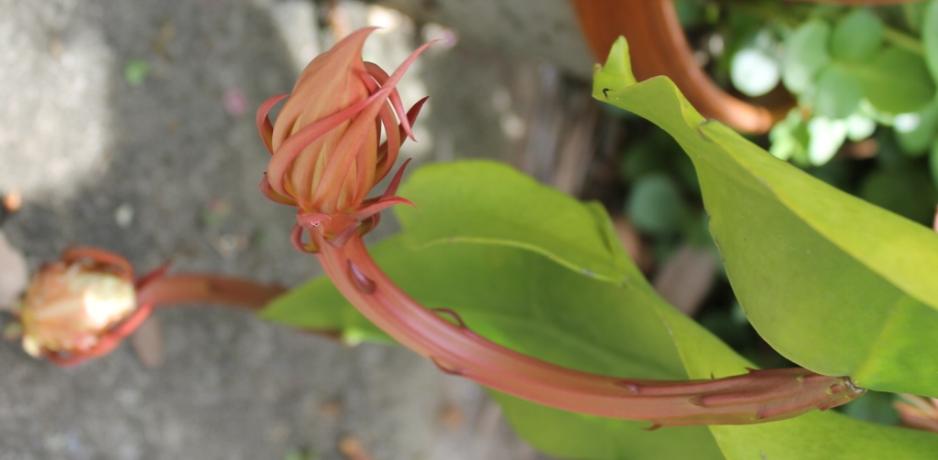 Wednesday 4.12.2013 - large flower bud unopened.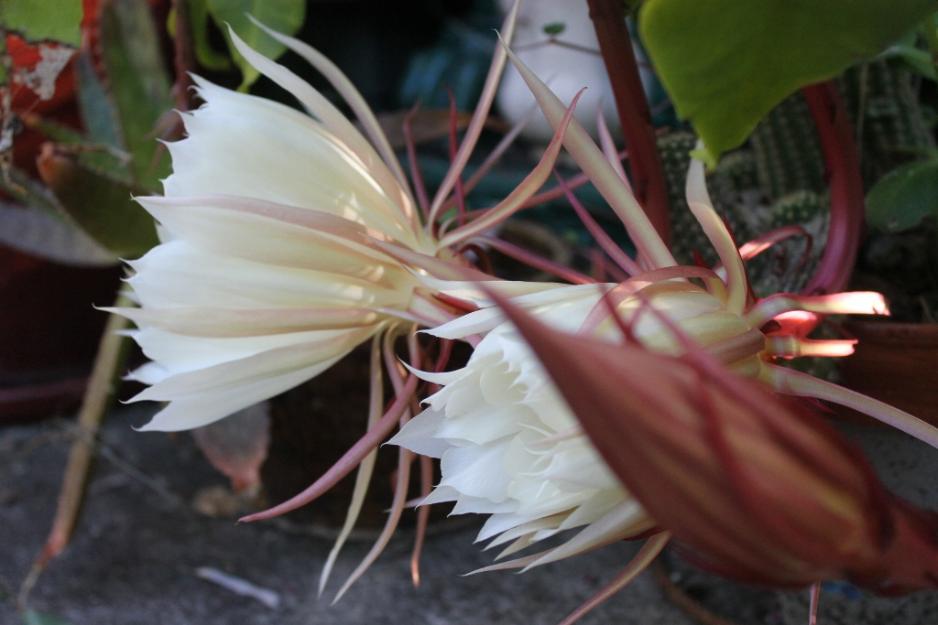 Saturday moring 7.12.2013 a.m. - already wilting in the morning light after last night's blooming.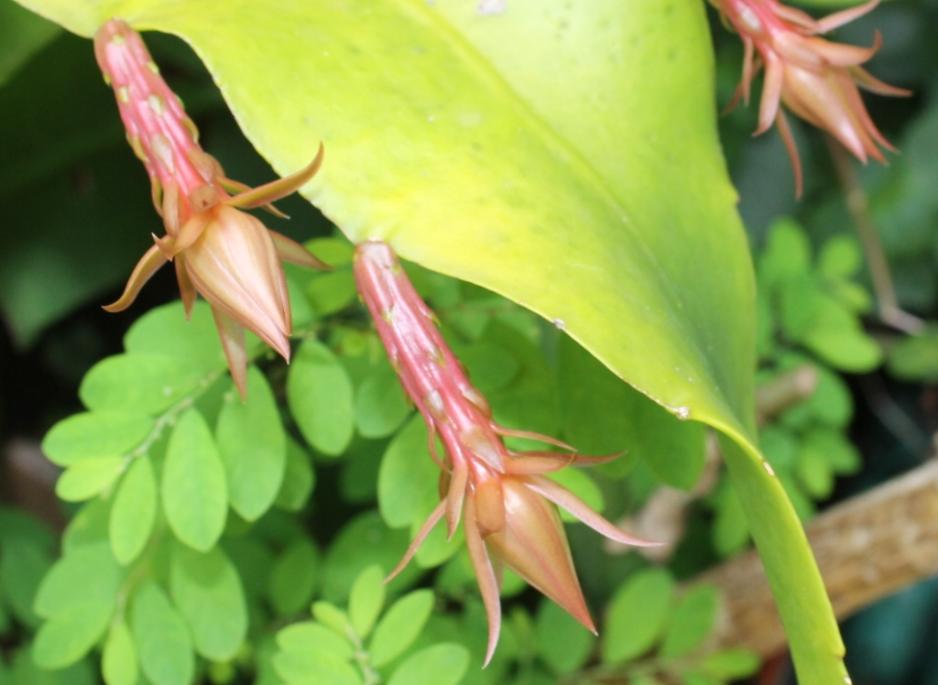 More Night Queens are on their way.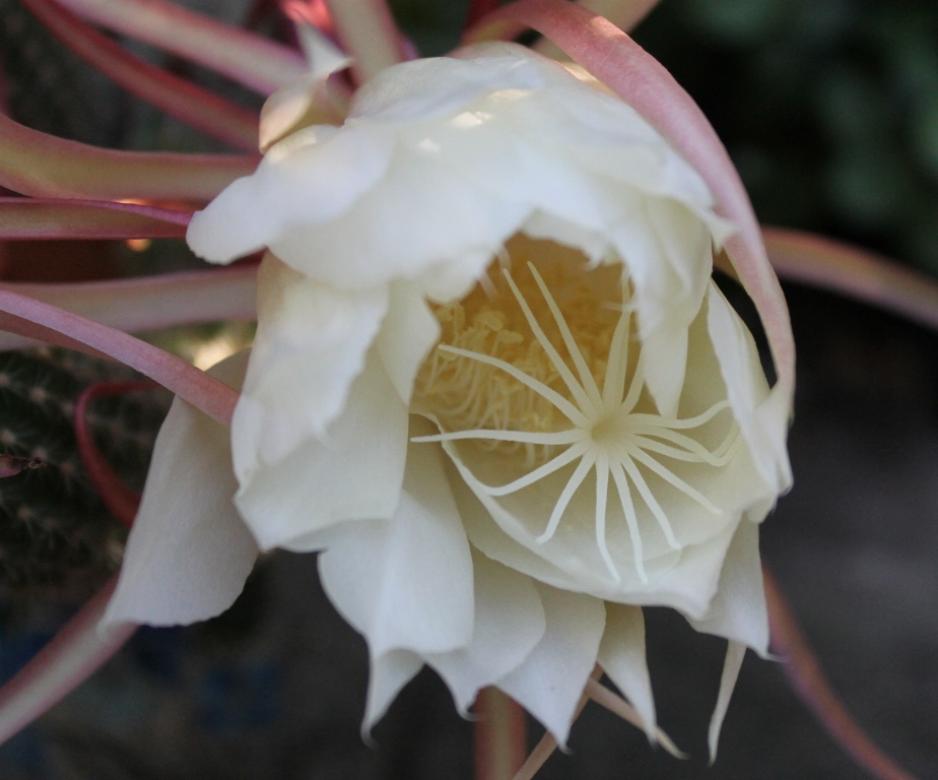 Words and Pictures by A J Guesdon, 2013.