March 16 - 22, 2014: Issue 154
Newport SLSC Wins 2014 NSW Surf Life Saving Open Championships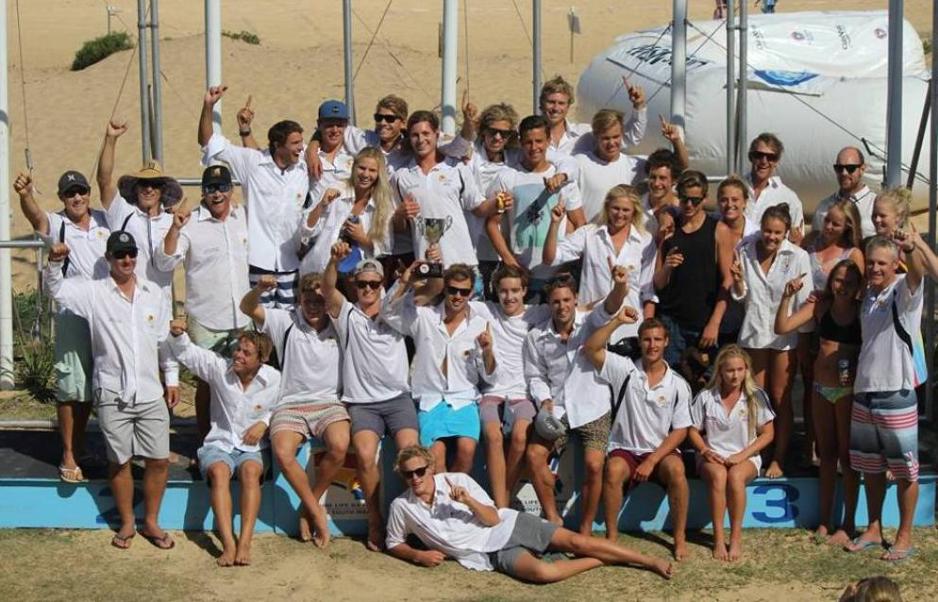 Newport SLSC Wins 2014 NSW Surf Life Saving Open Championships

It's the one they wanted so badly and by winning the men's open taplin, Newport broke new ground at the State Championships at Umina by becoming the champion club for the first time in their history.
Newport broke Manly's dominance by collecting 312.5 points with their great northern beaches rivals [Manly] second on 307 points.
Newport, though, didn't have things entirely their own way with Redhead and Avoca providing very strong competition.
The Newport boys' hearts were in their mouths as their last ski paddler Luke Morrison was challenged by Avoca's Lachlan Tame.
"I just tried to get off my ski first and back my running,'' Morrison said.
Max Brooks, who won a swag of medals, including the under 19 iron and board, said the highlight for him was the Open Taplin victory.
"It was definitely one of the biggest wins we've had and most exciting,'' he said.
"Three years ago we [as a club] came 21st overall, Two years ago we were 12th and last year fifth. This is massive. It was just a full club effort and everyone put in.''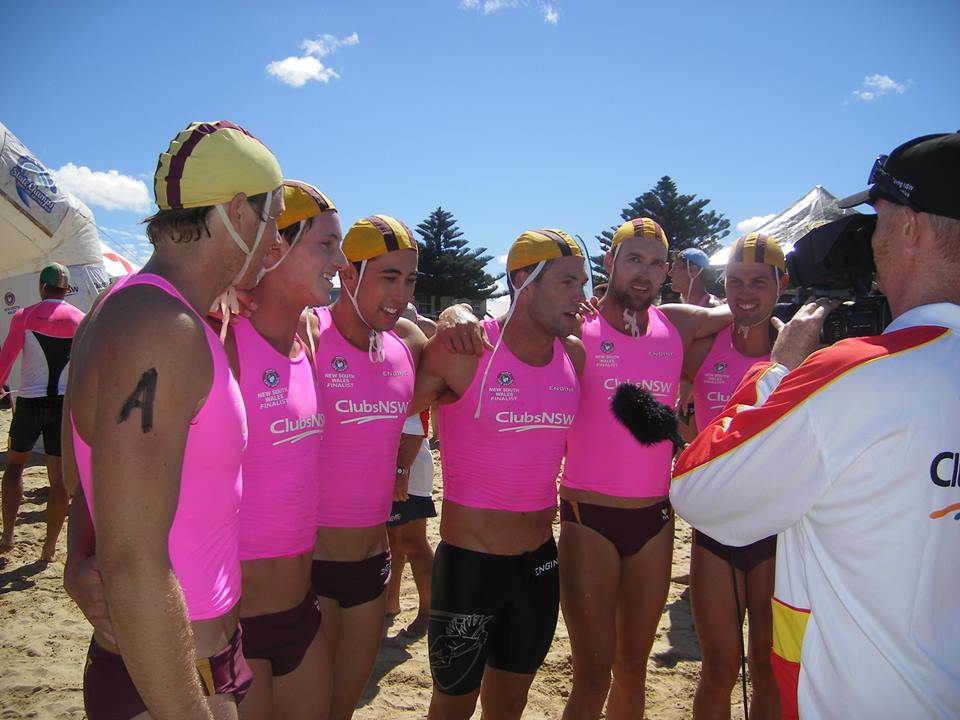 Picture: The Newport boys, Tom Atkinson, Jonah Beard, Mitchell Trim, Kendrick Louis, Luke Morrison and Max Brooks. courtesy Your Local Club.
The final day of the 2014 NSW Surf Life Saving Opens Championships culminated in dramatic fashion with some big upsets and plenty of action under perfect sunshine at Ocean Beach/Umina. March 9th, 2014. TV cameras, photographers and cheering fans lined the beach for the premiere event of the State Championships; the Open Ironman and Ironwoman races.
For just the second time in 20 years a country athlete took out the Opens Ironman with Ben Carberry from Warilla Barrack Point besting experienced ironmen and heavy favourites Nathan Smith (Manly) and Kendrick Louis (Newport). Carberry produced quite possibly the biggest surprise of the weekend to everyone on the beach but himself and his team who had faith in his abilities from the start.
"I knew I was capable of something special against these guys and it was just up to me to prove it! To battle side by side with a living legend in Nathan Smith for most of the race and to come out on top, oh man I'm just over the moon," said an ecstatic Carberry.
Manly LSC has taken out back-to-back wins in the grand slam women's event with superfish Georgia Miller, fresh off a gold medal in the under 19 ironwoman final, tapped into the spare tank and pulled out a comfortable victory over Bulli's Hannah Minogue. Miller's teammates parked right at the finish line whipped the sizeable crowd up with their noisy reception. Just an hour earlier Miller dominated the under 19 ironwoman field, her first iron win since under 12s.
Cheering Miller on at the first changeover was mentor and teammate Naomi Flood, a former pro ironwoman and now Olympic kayaker.
With 10 gold medals and one bronze at the Central Coast carnival there is a promising future ahead for the Manly champion who is chasing around the Kellogg's Nutri-Grain qualifying series and is currently placed fifth.
Last year Manly's Candice Falzon collected the open ironwoman state title for the strong Northern Beaches club.
Newport SLSC ended up winning the overall club pointscore this year, topping last year's title holder Manly LSC by just a few points.
TEAM NEWPORT - STATE CHAMPIONS 2014!!
What a weekend - Congratulations to each and every one of our competitors in the water, in the boats and on the sand - We did it!
Newport SLSC 312.5
Manly LSC 307
Wanda SLSC Inc. 191
All Results at:
www.surflifesaving.com.au/members/resources/surf-sports/results
By John Taylor – NSW Surf Life Saving
Congrats to Jacob Nielson as well as Pete, Lachie and Jayke.

One thing you can say about Jacob Nielsen [pictured right] is that he certainly has patience. Jacob has been competing at Newport since he was five and he finally won his first ever State Championship medal at Umina over the weekend and it just happened to be GOLD in the under 19 Rescue Tube Rescue.
"I am just stoked, very happy,'' said the Pittwater lifeguard. Jacob says he just loves the [surf life saving] culture. "They are just a great bunch of blokes at Newport,'' he said.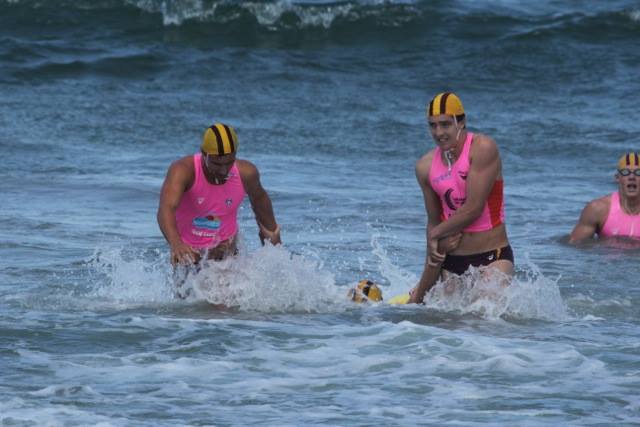 Jacob, who is also at university doing a Construction Management degree, is seen here holding patient Lachie Reid. Peter Euers is on the left and Jayke Rees is far right. Photo courtesy Tania Marr
All in the family – Rees Family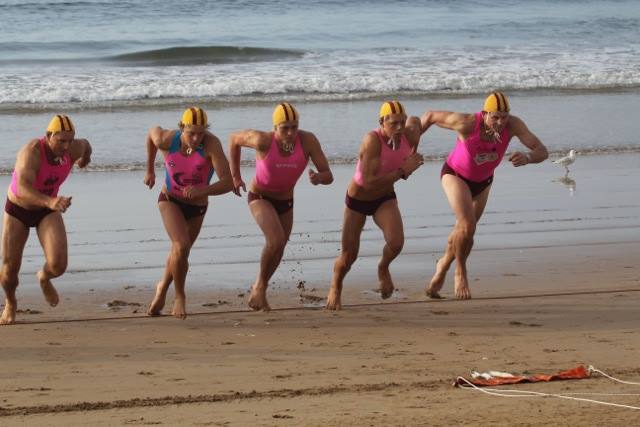 Now here's something with a difference ... two dads competing with their sons in the same event.
Dave Rees [left] and Mal Reid [ right] were part of Newport's Mixed Under 17 surf belt team at the State Championships at Umina over the weekend. Mal was third linesman and Dave was on the reel.
"It's good to be able to do something with your kids and it was a bit of a novelty for me,'' Mal said. "We also did the under 19s and opens and managed to get a bronze with Kendrick [Louis] who was the beltman in the opens.''
Our picture also shows Lachie [second left] Ollie Signorini [under 17 beltman] and Guy Rees [second right]. Photo courtesy Tania Marr.