December 4 - 10, 2011: Issue 35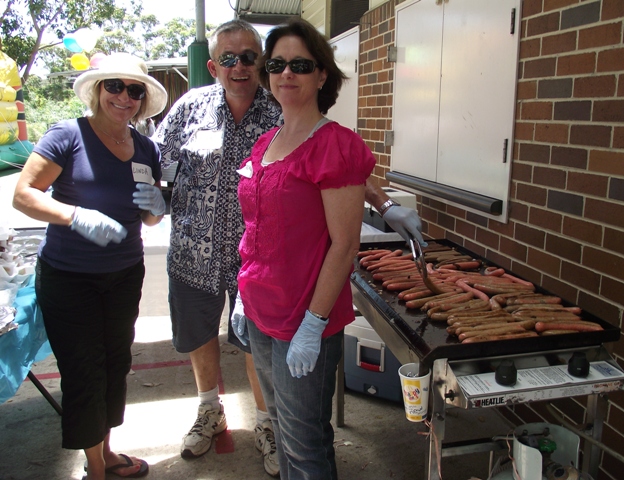 Left to right; Linda, Brian and Tracey, NBI Volunteers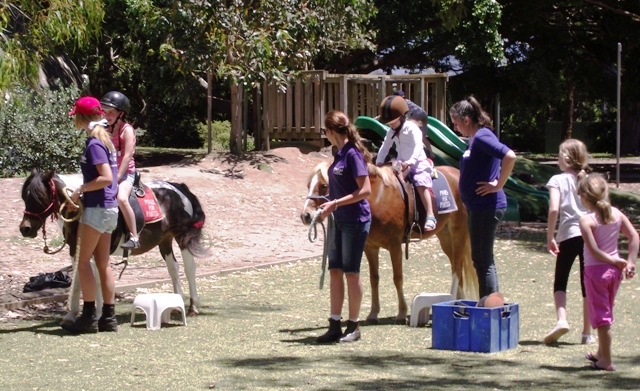 Pony Rides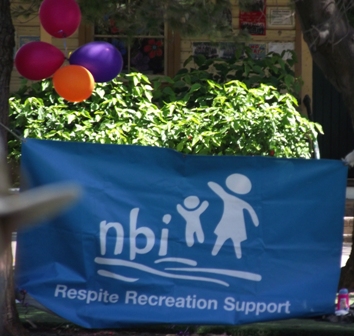 Copyright Pittwater Online News, 2011. All Rights Reserved.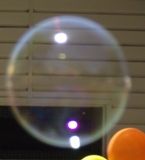 NBI Fun Day 2011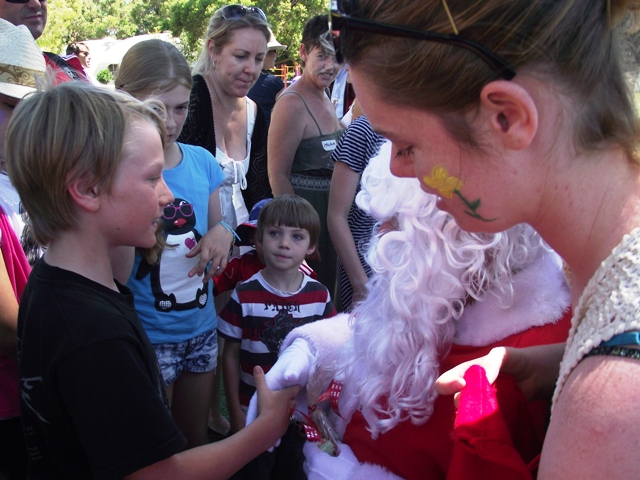 Santa has begun making his rounds of all the Christmas parties and was at the NBI Fun Day celebration on Saturday to hand out bags of lollies for all the children. A sausage sizzle, run with the help of volunteers in the Peer Support Program for teenagers, Linda and Brian, with help from Tracey, handed out hundreds of sausage sandwiches. A jumping castle, pony rides, face painting by Kookaburra volunteer Jillian, and small Christmas boxes to be decorated, with the help of Bec, also a volunteer, amused the children for hours. The pony rides were popular, as was the 'fishing pond' for smaller tikes.
Andrew and Naomi ran the raffle table with Carolyn, NBI's CEO ensuring Santa Claus made it to and from the grounds of North Narrabeen Public School where the party was held. NBI, which offers respite support and recreation for children and families living with a sibling with a disability, run this event annually and over a hundred children and parents attended on Saturday.
Saturday was also, coincidentally, the annual International Day of People with a Disability, an observance which aims to promote an understanding of disability issues and mobilize support for the dignity, rights and well-being of persons with disabilities. Each year has a theme and in 2011 it is Together for a better world for all: Including persons with disabilities in development. Don't DIS my ABILITY is an educational campaign in New South Wales supported by the NSW Government's Ageing, Disability and Home Care, Department of Human Services to celebrate International Day of Persons with Disabilities.
The goal of Don't DIS my ABILITY is to change misconceptions surrounding disabilities. Ambassadors are selected as role models for the campaign from the arts, sports and business sectors and events are held throughout metropolitan and regional NSW. The campaign publication, Made You Look is circulated across NSW and well worth reading for its inspirational stories and information.
NBI is looking for volunteers to help with all their great programs over Summer and into next year. The range of activities and age groups means you may be going kayaking, visiting the Chinese Gardens or any of the other outings children from young to teenage years love. Brian and Linda spoke of how much fun it is and how much enjoyment each outing they've been involved in has given them in return. If you have a few hours, capable hands and a warm heart please contact NBI at admin@nbi.org.au
More Pictures
Don't Dis my Ability website: http://www.dontdismyability.com.au/