August 30 - September 5, 2015: Issue 229
Narrabeen Football Club Premier League Champions for 2015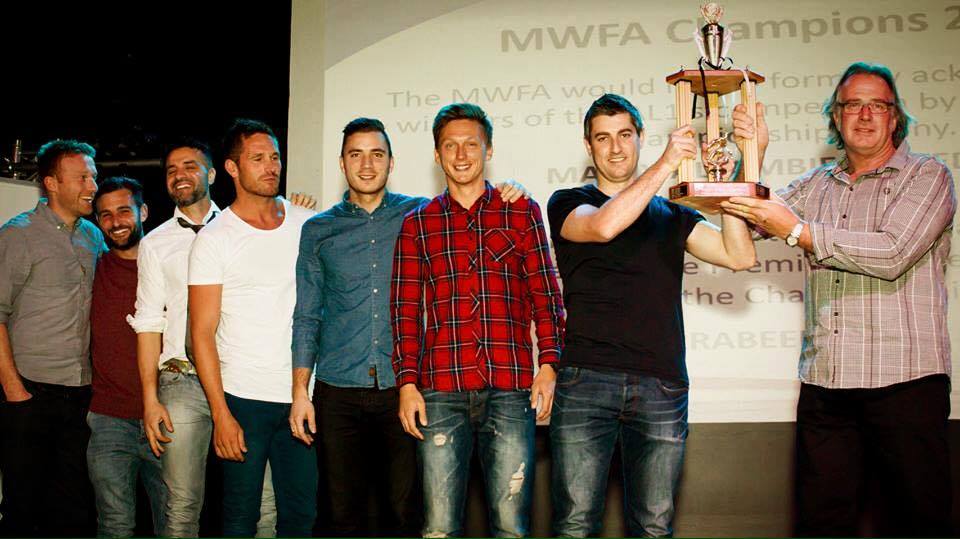 Narrabeen Football Club Premier League Champions for 2015
NARRABEEN are champions of the MWFA Premier League for the first time in their 50 year club history after beating Wakehurst 4-2.
Daniel Ott (2), Jakub Sklenar and Adam Foti were on the score sheet at Narrabeen Sports High, with three points ensuring the "Beenies" can't be caught with two rounds remaining.
Skipper Mark Femia, who has been with the club five winters, is still coming to terms with the achievement.
"It has been an amazing journey, we had big plans, so to execute them with a great bunch of lads is such a great feeling,'' he said.
"We have been building every year, and I said in pre-season I felt we had the squad to win the league.
"The likes of Ollie Skelding, Josh Lawson, Rocco Papalia and David Guzzo have strengthened was what already a quality team.
"We can't wait to play in the NSW Champion of Champions later on, but now our focus is doing the double."
Other games saw Brookvale and Manly Vale finish 2-2, St Augustine's stay in fourth spot after a 1-0 win against CC Strikers, Pittwater RSL FC beat Dee Why 3-1 and Seaforth and Mosman shared the spoils in a 2-2 draw.
Manly Warringah Football Association: MWFA Awards night 2015
PLAYERS, coaches and supporters of peninsula football made their way to Dee Why RSL on Saturday, August 22nd for the inaugural MWFA Premier League and Amateur League Division One awards night.
Football Federation Australia media identity Dave Mason was the master of ceremonies, with a host of gongs handed out from just after 7pm.
Mosman's Sam Byrne was the big winner on the evening, snaring the coveted Lorna Gale Premier League Player of the Year trophy.
Other winners included Coach of the Year (Narrabeen's Joe Santarosa), Goalkeeper of the Year (Narrabeen's Rocco Papalia) and Rookie of the Year (Wakehurst's John Bushnell).
Manly Vale striker Tyson Masters took home the Golden Boot ahead of Narrabeen's Jakub Sklenar.
St Augustine's veteran Peter Robertson almost raised the roof when he announced as Club Person of 2015.
Manly Warringah Football Association general manager Jeremy Toivonen was chuffed with how the night panned out.
""From where I sit and the feedback I have received, the night was a resounding success,'' he said. "The MWFA will no doubt look to make it a regular fixture on the calendar on an annual basis."
In the major Amateur League division one awards, Avalon's Louis Renaud was a popular choice as stand out player of the competition.
Manly Allambie's Johannis Van Leeuwen was the obvious selection for Coach of the Year after guiding his team to promotion.
Mosman's Daniel Godward was the golden boot winner.
The Manly Warringah Football Association was established in 1947 and has remained the sole focal point for the development of Football on Sydney's Northern Beaches.
The community based Association consists of 17 member clubs throughout the Mosman, Manly, Warringah and Pittwater LGAs. It has the responsibility of administering the game of Football to 16 000 male and female players from the age of under 6 to over 35.
Find out more: www.mwfa.com.au
Top: NARRABEEN FOOTBALL CLUB PREMIER LEAGUE CHAMPIONS FOR 2015 - photo by Chris Knevitt.