July 22 - 28, 2012: Issue 68
Nara and Kyoto: The great Buddha and Kyomizudera (the sloping veranda)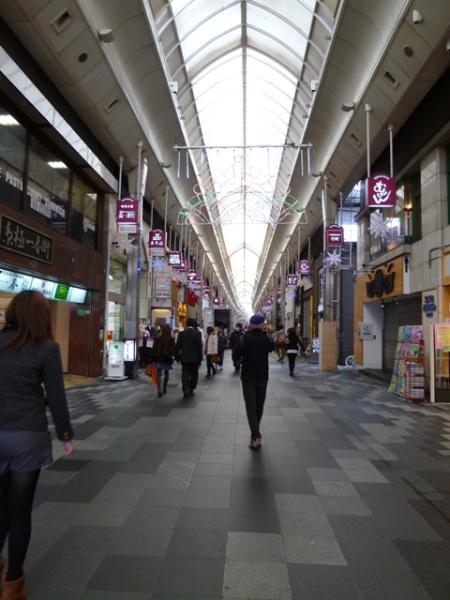 Covered shopping mall close to our Ryokan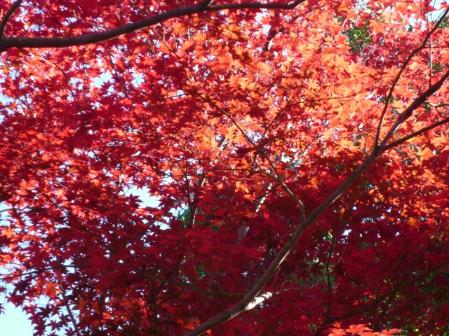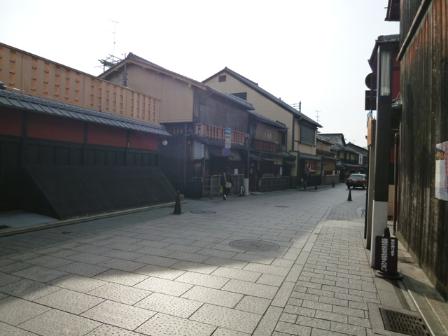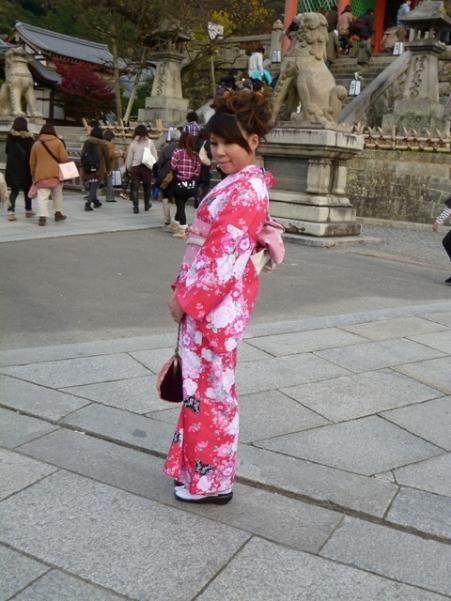 A local minx at Kyomizu dera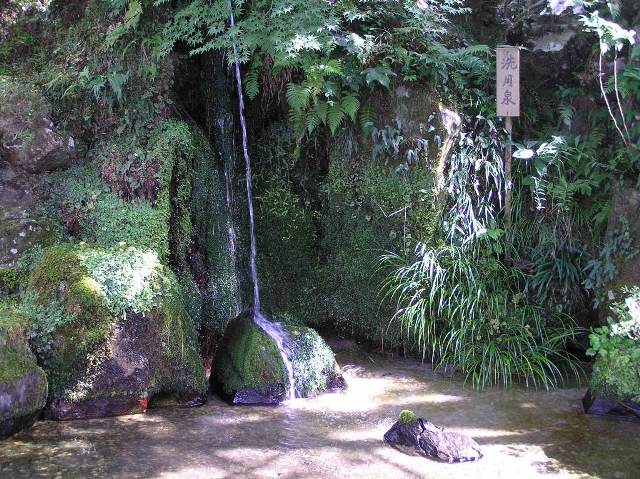 Water feature nihon style in then Heian garden
Nara and Kyomizu dera
By Paul Wheeler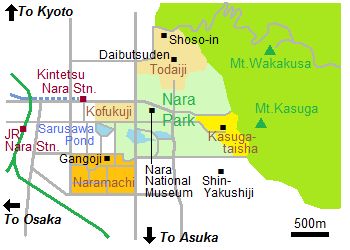 Nara is the capital city of Nara Prefecture in the Kansai region of Japan. The city occupies the northern part of Nara Prefecture, directly bordering Kyoto Prefecture. Eight temples, shrines and ruins in Nara, specifically Tōdai-ji, Saidai-ji, Kōfuku-ji, Kasuga Shrine, Gangō-ji, Yakushi-ji, Tōshōdai-ji, and the Heijō Palace remains, together with Kasugayama Primeval Forest, collectively form "Historic Monuments of Ancient Nara", a UNESCO World Heritage Site. Map Link.
After the peace and quiet of the Kumano Kodo we hit Kyoto on the weekend, Friday lunchtime to be precise. Our train from Tanabe hugged the coastline all the way to Shin Osaka. The Pacific coast is very lovely, surprisingly so actually because I hadn't actually been told how sensational it was before this trip. Good sandy beaches and little islands dotted about just off shore for the main, very picturesque indeed. At Shin Osaka we changed for a short Shinkansen ride to Kyoto. Kansei to Kyoto had previously taken us a good hour but on the shinkansen it was hardly worth sitting down for the fifteen minutes, so we didn't. Chaos in the station car park but organised chaos so our taxi duly arrived and after a bit of argy bargy our driver worked out where we were going and we duly arrived at our Kyoto pied-à-terre.
The Ryokan Kyo-no-yado Kagehei is very highly recommended. Mitsui Travel really did us proud with our accommodation. Two minutes from the main shopping strip, 30 seconds from the bustling ( I really mean bustling, trust me) Nishiki-koji street market, a short stroll to the Imperial palace, book if you want to go in, and the historical Gion district. Centrally located heaven as far as the room, the food and the baths. The very elegant and classical looking Lady of the house kindly allowed us to leave our bags in the office till check in time (you will not get in your room before check in time, have I mentioned that before, should I mention it again? it is an incontrovertible fact) and so we duly wandered around a very lovely city for a short while window shopping and generally luxuriating in the wonderful ambience that is Downtown Kyoto.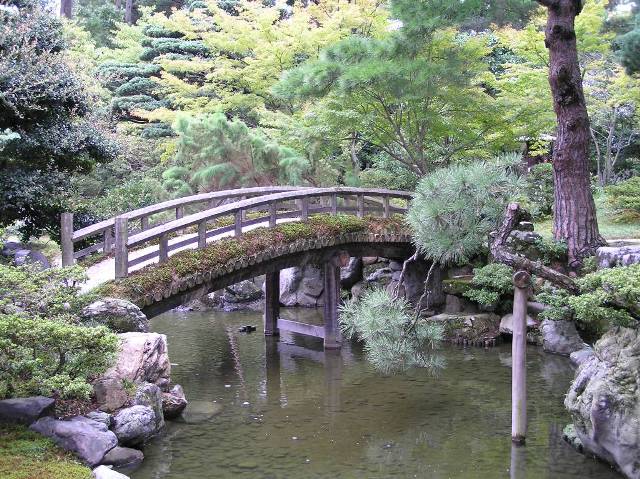 Bridge in the Kyoto palace grounds
The next morning was a beautiful morning and after our lovely breakfast and our highly illegal sneak into Starbucks for a coffee and a biscuit we decided that today would be the day we went to Nara to see the great Bhudda and his great mates at Todai-ji. You have to negotiate the small deer that wander around freely very much like the horses in the new forest in England. They don't mind if part of the negotiation includes special deer biscuits conveniently available for a small price and they're not above an insistent but gentle butt in the bum if the biscuits are a bit slow in coming.
Umm... there is SO much to see in Japan, on a previous visit to Kyoto we had been in several beautiful Temples and Temple Gardens. The first ever Temple garden I went into was the Heian- jingu. I was still smoking back then and as I entered I saw a small pavilion with an ash tray and turned to my ever urging wife and said "Right I am sitting down here and having one or possibly two cigarettes, I am not moving for a while so shtum and take it in. " and I did and she did. It was so obviously special and had that effect that the Bible Garden has, in spades. It also has the stepping stones that featured in the Last Geisha. Basically if we go to Kyoto again we could just start the process again and visit the places from out first visit because we both wanted to see those sights again but there is never enough time.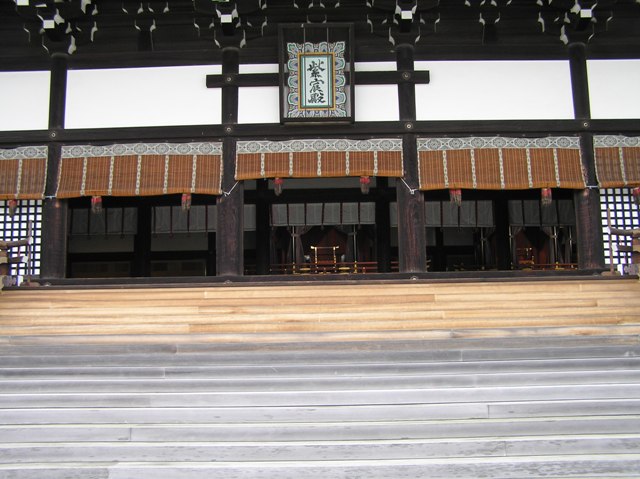 Steps to petition the Emperor in his Kyoto Imperial Palace
There is also the Nijo Castle in the middle of town which is famous for its nightingale floors; you just can't walk around without making the floor squeak, and honestly you can't, I really tried, in my socks, and it can't be done ... no night time surprises here. These, along with the Golden Pagoda and the Silver Pavilion and the Philosophers walk are all places that can carry a lot more than one visit. Nara was wonderful and according to our guide book we didn't even get to the wonderful bit ... oh well. Train back, beer, bath, dinner, beer, sleep.
The next morning we decided to go to Kyomizu dera, quite close by. We like walking and walking through the alien but charming back streets of Kyoto down to the Gojo-dori over the Kamo-gawa and up teapot lane to the Temple was an adventure and joy all by itself. So many people and they're all going to stand on the sloping verandah just like us. Firstly though we had to enter the totally black womb of the world and feel our way along until we got to the dimly lit stone where we could make a wish, it's a magic place.
The views from the sloping verandah were lovely and we enjoyed them along with the thousands of other people enjoying them at the same time but it was a festive, benign atmosphere with young couples, lovers, families mingling with no animosity at all. Kerry is always amazed that things I would run a mile from at home I fully embrace when in places like London or Kyoto. She can't understand why I'll happily go shopping for hours and then when we come home point blank refuse to spend more than half an hour in Warringah Mall. I'll explain, partially at least. In London in the shops around Knightsbridge, Chelsea, Carnaby St. and Oxford street you are liable to walk into a shop and the sales girls and boys speak a strange over exaggerated sloane rangerese where all the elongated vowel sounds are made at the back of the nose and the jaws and lips hardly move. I'm sure you've heard something like it on reality teev but if you haven't got into these shops you haven't heard the real thing which is enormously amusing, and of course when an old fart walks in they really ham it up, it passes the time I think. That was in '07 in London. '011 in Kyoto I walk into this boutique with Kerry and the shoppies are doing exactly the same thing in Japanese and as I start falling about the place they notice and ham it up even more. Forget Esperanto, these sales assistants thousands of miles apart could speak to each other with perfect understanding by using shoppish girlese. Travel is so fascinating, don't you think?
Copyright Paul Wheeler and Kerry Ritson, 2012. All Rights Reserved.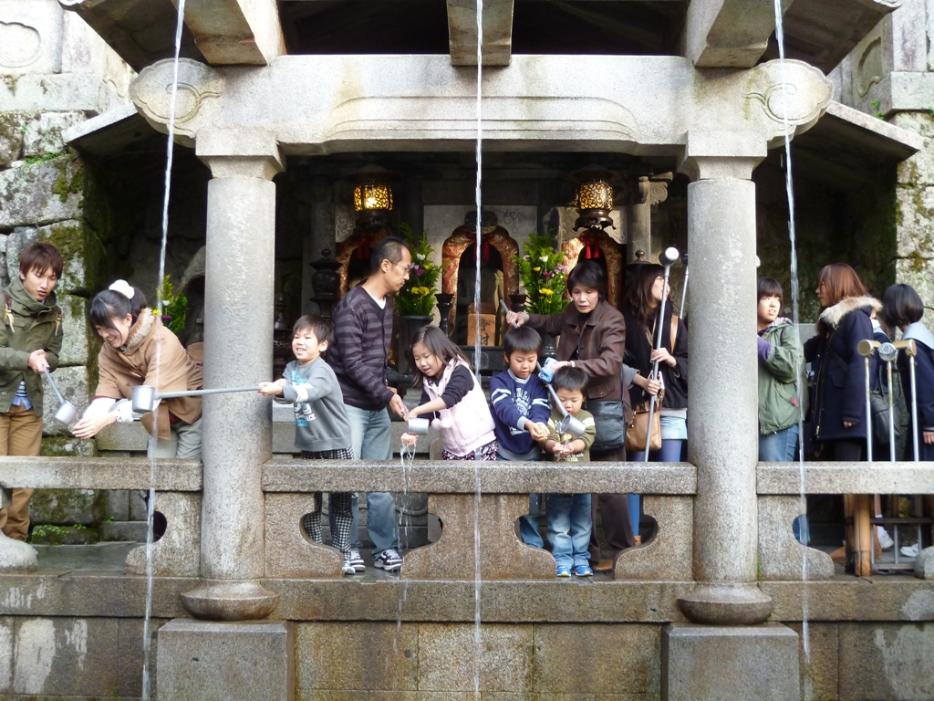 Washing or drinking in the waters of the Otowa waterfall brings good luck in exams and life and health and makes you beautiful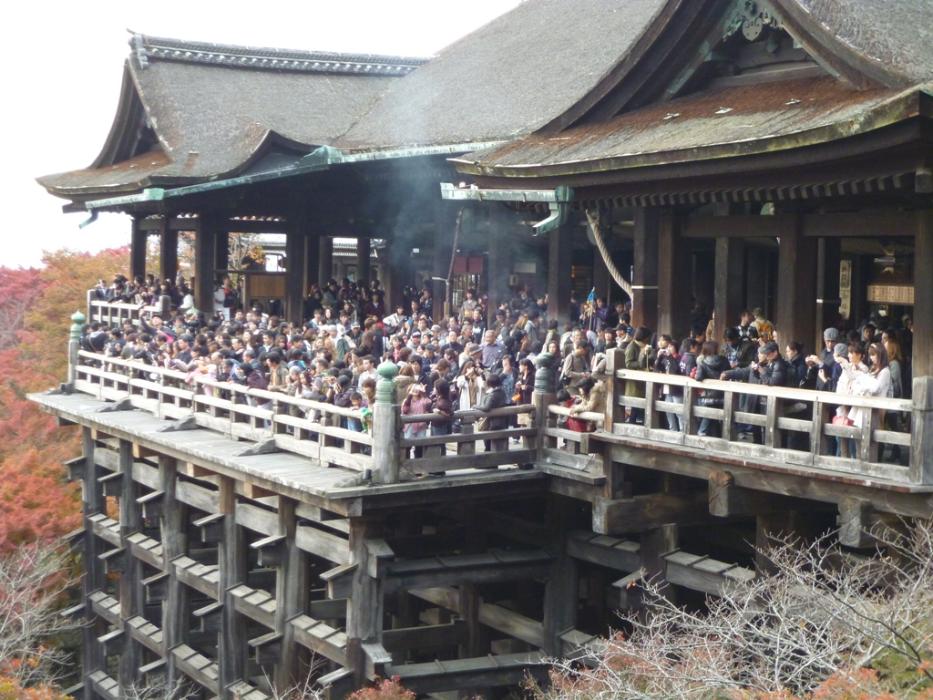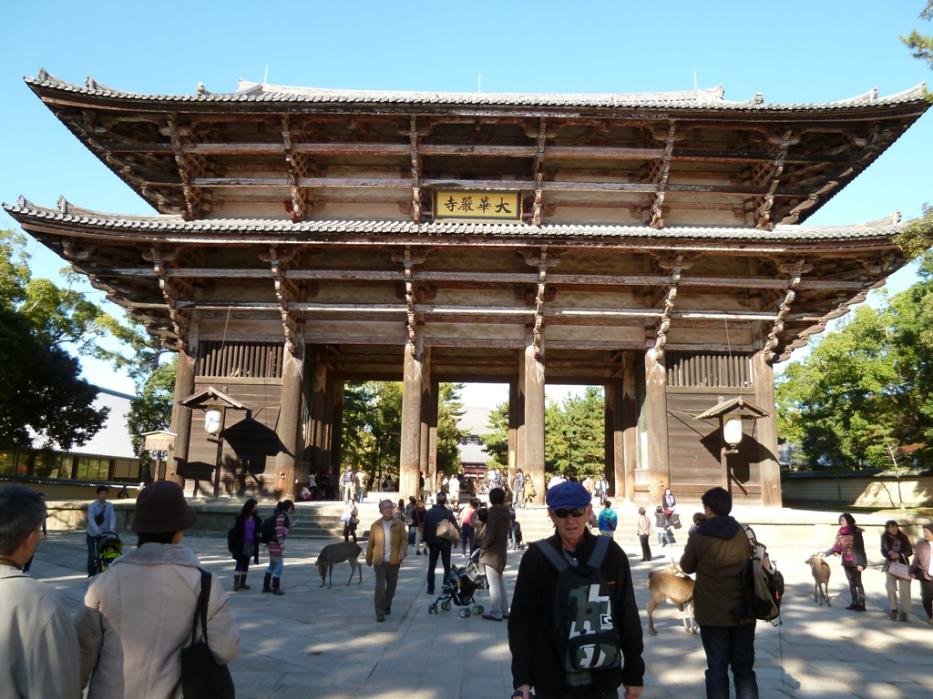 On the way through to the great Bhudda through the Nandai-mon
Inside Daibutsu-den and Below: The Great Bhudda