November 15 - 21, 2015: Issue 240
Milly Bennett Set to Defend Her Youth Match Racing Title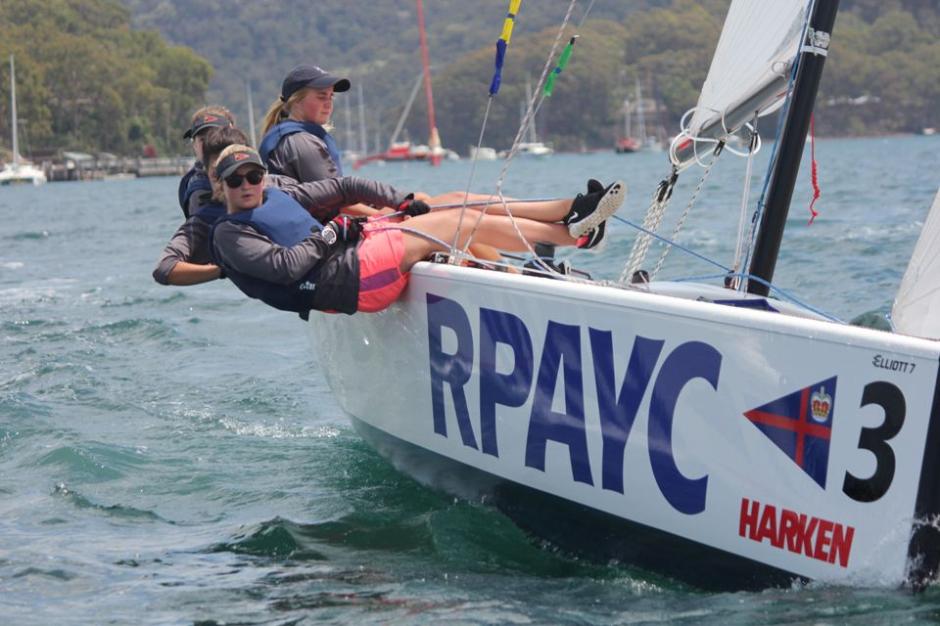 Milly Bennett's MAXX Team in the 2014 HARKEN International Youth Matching Championships - photo by RPAYC
Milly Bennett Set to Defend Her Youth Match Racing Title
Saturday 14 November 2015

A record 16 youth teams will be racing on Pittwater from Thursday 19 to Sunday 22 November for the 2015 HARKEN International Youth Match Racing Championships hosted by the Royal Prince Alfred Yacht Club.
"The HARKEN" as it is known in youth sailing circles worldwide, stands out as one of the premier events for youth on the international match racing calendar and has, during its 23 year history' served as a launch pad for a number of local yachting stars including America's Cup skipper James Spithill.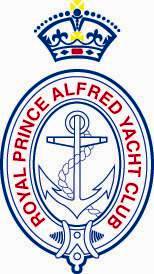 This year 16 teams from Australia, New Zealand and New Caledonia will compete for the coveted Rockin' Robin Perpetual Trophy*. Last year, Milly Bennett took the trophy back to Australian soil when she skippered the first all-female team to victory after the Kiwis held the trophy for the past four years including back to back wins in 2011, 2012 and 2013.
Milly's MAXX Racing Team as they call themselves will be racing with wind in their sails after a dominate win in the recent Women's Open Match Racing Championships held on Pittwater in September and are set to be the favourites to take out the event again for back to back wins for the RPAYC.
"We are well prepared, we've sailed a lot more as a team since last year, we have had some tough challenges overseas and won some key events at home, we have learnt a lot from some of the best female sailors in the world and we are really looking forward to it." said an excited Milly.
Club coach, Tom Spithill is weary of the competition but is confident that the home ground advantage his three teams possess will help them a lot in this event.
"We train on Pittwater and we know the place like the back of our hands, it's a tough place sail and I'm always worried about the Kiwis as they always bring their Sunday best but we have to get one back off them after the Rugby World Cup and I think we can get over the line again this year." said a confident Tom.
Other teams competing come from the host club The Royal Prince Alfred Yacht Club, Royal Sydney Yacht Squadron, Royal Port Nicholson Yacht club (NZ), Royal Freshwater Bay Yacht Club (WA) Royal Port Nicholson Yacht Club (NZ) Sunshine Coast Sailing Team, Royal Yacht Club of Tasmania, Canberra Yacht Club, Cruising Yacht Club of Australia and the Royal Sydney Yacht Squadron.
After a team weigh-in, practice session and opening ceremony on Wednesday with press conference at 1800hrs, match racing will commence on Pittwater on Thursday at 1000hrs and conclude with the finals on Sunday 22 November.
The courses will be standard match racing windward/leeward set up and racing will take place in the big pond just north of Scotland Island.
The regatta will be sailed in the Club's fleet of Elliot 7 keelboats.
The teams will sail a double round robin with each crew racing each other twice. The top two teams will then battle it out in a best of five final and the next two in the best of three petit final. The remaining seven teams battle it out in a single round robin to decide 5th to 11th places.
Race Officer for the event will once again be Ted Anderson whose experience goes back to the Olympic match racing in 2000.
One of the premier events for youth on the match racing circuit, the 2015 HARKEN International Youth Match Racing Championship marks the 18th consecutive year with HARKEN Australia as naming rights sponsor and is one of the longest standing regatta partnerships in the world.
Their ongoing commitment to the development of youth match racing is a credit to the Northern Beaches leading manufacturer and marketer of quality sailboat hardware and accessories.
Conditions for the first day of competition are forecast to be a light East North Easter building to 12-13 knots later in the day.
Follow all the action on the water from Thursday with live results at: intyouthmatchracingchampionship.com.au
Facebook: www.facebook.com/HarkenIntlYouthMatchRacing
Twitter:@RPAYCyouthmatch
Instagram #rpayc
* Robyn Wiltshire presented the club with a perpetual trophy named the 'Rockin'-Robin Trophy'. Robyn presented the trophy in memory of her husband Grant and son Robert, Andrew Young & Jeff Smith, all club members who tragically lost their lives at sea aboard the yacht 'Rockin' Robin' whilst on passage to Fiji in 1990.
By Stephen Collopy
RPAYC Marketing Coordinator