November 18 - 24, 2012: Issue 85
Rotary Clubs Raise Seventy Thousand For Palliative Care at Mona Vale Hospital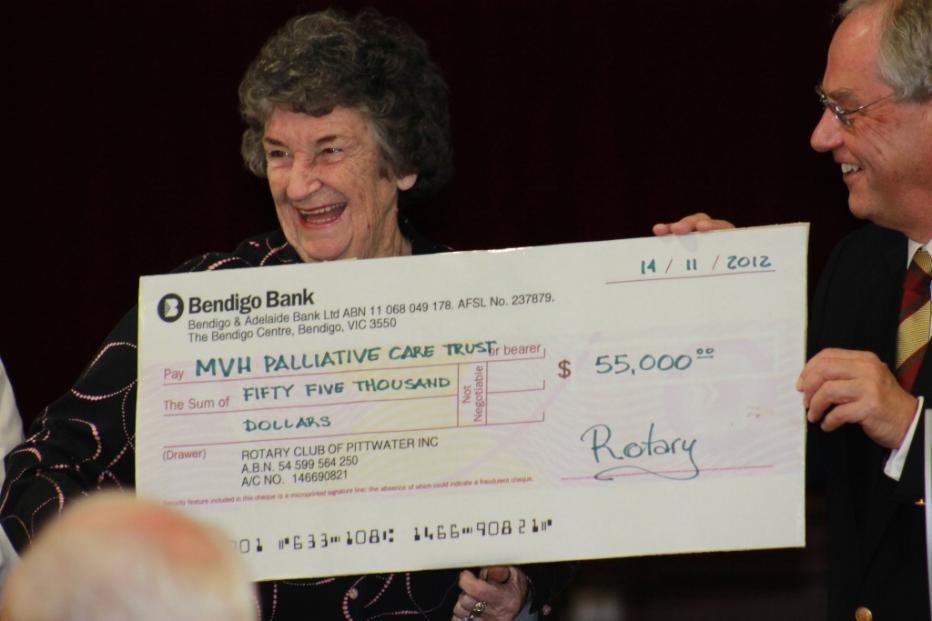 President of Mona Vale Hospital Auxiliary Eileen Gordon and President of the Rotary Club of Pittwater Hans Carlborg on Thursday Evening.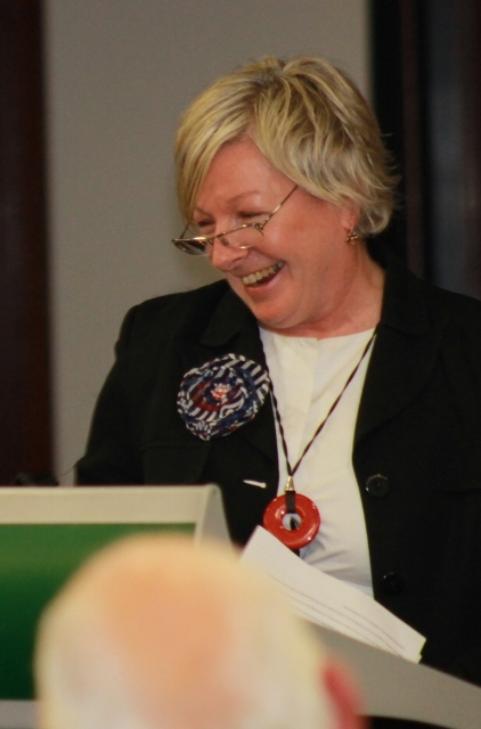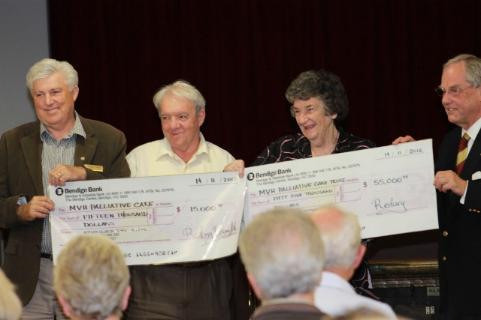 John Power (Terrey Hills Rotary), Dr. Peter Moore, Eileen Gordon, Hans Carlborg.
Photos and Words by A J Guesdon, 2012.
Mayoral Address and Presentation of Palliative Care Funds
On Wednesday 14th of November members of Terrey Hills Rotary and Pittwater Rotary joined in listening to a wonderful Address given by Councillor Jacqui Townsend, Mayor of Pittwater. Cr. Townsend outlined a program of Community Engagement, Annual Ward Forums and a plan to apply for a Grant to repair or restore the Bayview Baths as part of the newly elected Councils plans. An online Noticeboard, where residents may enquire about matters concerning them is part of this new structure, and will be available soon.
Our new Mayor reiterated that community spirit within Pittwater is "second to none", referring to our secession from Warringah in May 1992 and to our over 300 currently active Bushcare Volunteers. A question and answer session after her address, in which attending Councillors Ian White, Bob Grace, Julie Hegarty, Kylie Ferguson, Kay Millar, Sue young and Jacqui Townsend all participated touched on subjects as wide ranging as the NSW Government's Green Paper (see Community News page) to Men's Sheds.
We (PON) asked about the PCYC slated for Warriewood as a Youth Centre, much needed in Pittwater, and all heard how hard Pittwater Council had worked on their proposal only to learn the Federal Government had awarded Grants to areas that hadn't even applied. Council staff and Councillors are currently exploring other options to bring about this facility for our younger people.
The other highlight of the evening was the presentation to Eileen Gordon and Doctor Peter Moore, palliative care specialist, of two rather large cheques for Palliative Care in Pittwater.
From the Rotary Club of Pittwater's Press Release:
On 14th November the Rotary Clubs of Pittwater and Terrey Hills officially handed over the proceeds from their fundraising efforts in support of extensions and upgrades to the Palliative Care Centre at Mona Vale Hospital. The funds, totalling $70,000, were presented by representatives of the two clubs at a ceremony at Pittwater RSL Club.
Over the last 18 months Pittwater Rotary has nominated as its major community project raising funds for the expansion and upgrade of the facilities of the Northern Beaches Palliative Care Centre on the grounds of Mona Vale Hospital. The outcomes of this project are a greater local awareness of the importance of palliative care, and funds raised to the amount of $60,000. Terry Hills Rotary raised $15,000 by nominating the palliative care building project as the major beneficiary from their annual golf day at the Terrey Hills Golf Club.
In March 2010, The Rotary Club of Pittwater identified the Palliative Care Centre project as a significant challenge, a great need in the community and one which Northern Beaches residents and businesses would eagerly support. Several club members had experienced first-hand the support of local palliative care specialists and so appreciated the potential value Rotary could add by raising the awareness of the need for additional palliative care support in the area and to raise additional funds for the building program.
With the funds raised by Rotary clubs and other sources, the building project is scheduled to commence in the beginning of 2013.
Pittwater and Terrey Hills Rotary clubs express their deepest appreciation to our community for the invaluable support of more than 50 local businesses, organisations, clubs and individuals in aid of palliative care generally, and the Mona Vale Palliative Care Centre in particular.