September 14 - 20, 2014: Issue 180
Lock Crowther Multihull Regatta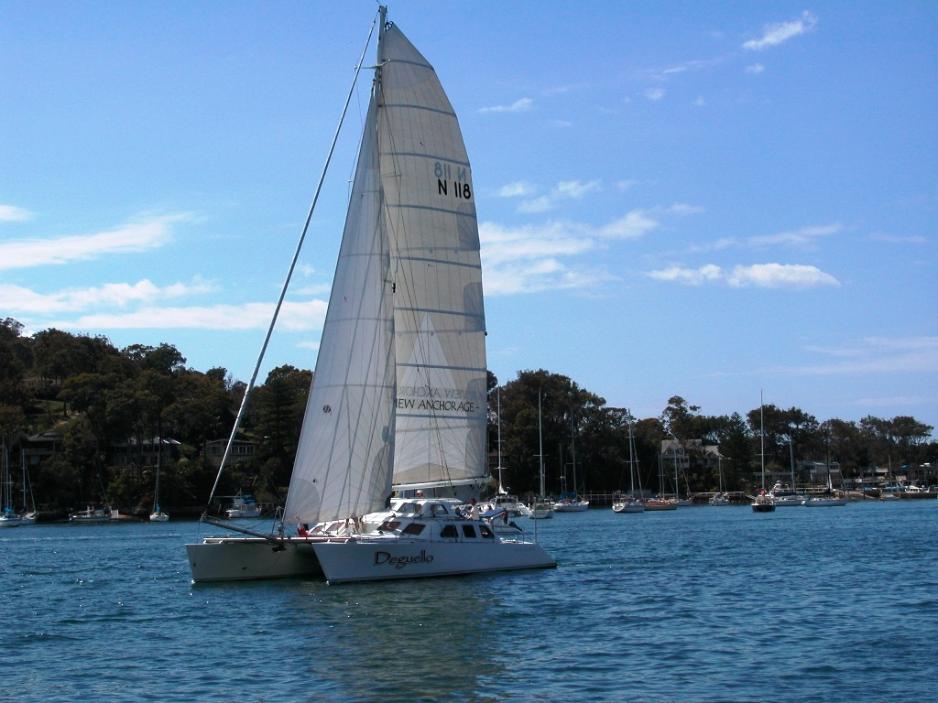 Lock Crowther Multihull Regatta
by David Bishop and Alan Brand
Over the upcoming October long weekend, the Multihull Division of the Royal Motor Yacht Club at Newport will be hosting the annual Lock Crowther Multihull Regatta.
This regatta is dedicated to the memory of Lachlan (Lock) Crowther - one of Australia's foremost, and a world renowned, multihull designer.
Hosted by the RMYC since 1996, this year's regatta includes an ocean race for suitably equipped boats on Friday 3 October as well as four inshore races on Saturday and Sunday 4 & 5 October.
The Regatta typically attracts many of Australia's fastest multihulls, as well as cruisers, for three days of fabulous fun both on and off the water. Sponsors' prizes are awarded at a sumptuous Regatta dinner for places in Racing, Cruising and OMR divisions. Arguably Australia's most friendly, fun Regatta! And this year we've issued an invitation to "off the beach" multihulls such as Hobie cats to compete as well.
For the ninth year running, APC logistics, an Australian based international freight forwarding company, has signed on as principal and title regatta sponsor with Multihull Central/Seawind Catamarans providing major support for the cruising and social activities. Click HERE for a full list of regatta supporters.
__________________________________
Lock Crowther was an all-round multihull designer who enjoyed great respect among his peers. His design career spanned more than 30 years and during that time more than 2500 Crowther Multihulls were launched. His first trimaran was designed and built in 1958. It was an 18 foot day sailor which Lock campaigned on Victoria's Gippsland Lakes.
The late 1960s saw the first of Lock's Ocean racing and performance cruising trimarans known as Kraken, Zephyr, Tempest and Impala series ranging from 25 to 55 feet. His designs were very advanced in comparison with other designers of the time. During the early 1970s Lock further developed his ocean going trimarans and introduced the popular Buccaneer series ranging from the 24 foot bay racer to the open ocean 40 footer. Many Buccaneers are still racing today.
The first of his catamaran designs were introduced in the early 1970s, with the Spindrift 37 and 45 footers. During the 1980s and early 1990s Lock's catamaran designs continued to develop and many of Australia's well known catamarans such as Bagatelle, D-Flawless, XL2, John West, Windswept, Shotover, Top Gun and Room with a View were being campaigned on the Australian racing circuit.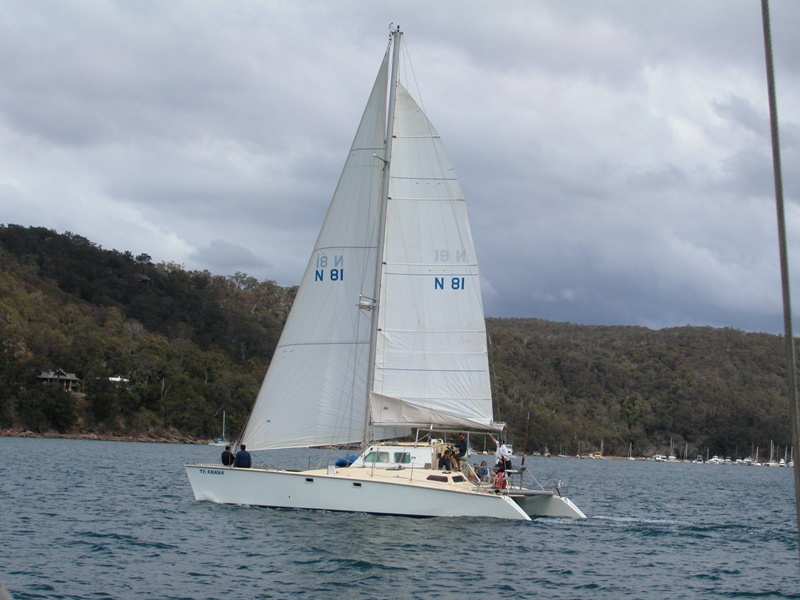 RMYC member Jim Geddes' "Te Arawa", a Crowther Spindrift 45.
His Catana design was produced as a production boat in France in 1987. Among his innovations was the introduction of drag reducing bulbous bows to catamarans.
During the 1970s and the 80s his trimaran development continued with the then radical Twiggy series. During the mid to late 80s the famous 40 footer Bullfrog was campaigned in over 30 ocean races throughout the pacific between the west coast of the USA and the east coast of Australia.
Lock was also a great sailor campaigning many of his own designs. He was the winner of the 1969 New York to Bermuda race on his Kraken 40 design Ringo sailing the first 500 miles in 36 hours. In 1972 he won the Brisbane to Gladstone on the Kraken 40 design Captain Bligh which sailed through Cyclone Emily.
Lock Crowther died in 1993 at the age of 53 doing what he liked most - sailing his boat Deguello.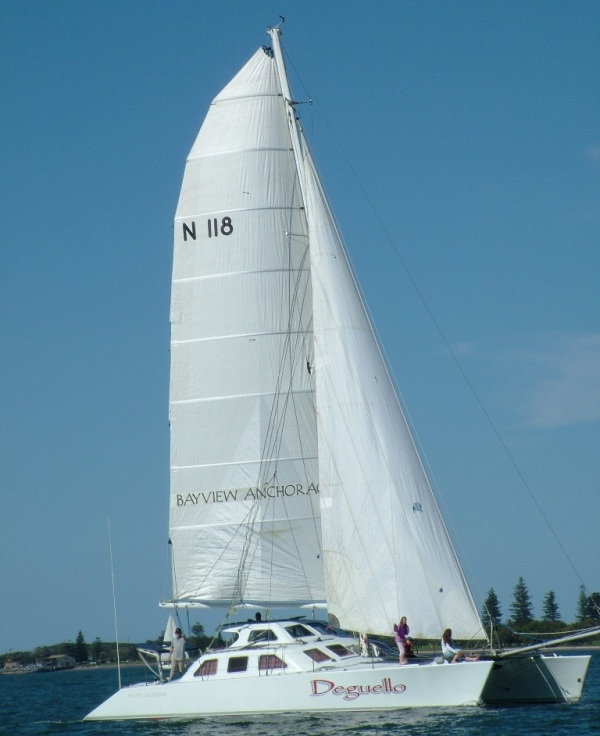 Lock's last boat "Deguello"
The first "Memorial" regatta in 1996 attracted 22 participants with 12 of the fleet being Crowther designs. The racing division was fittingly won by a Lock Crowther 40 foot catamaran Mighty Manfred owned by David Bishop and the Cruising division by a Crowther Seafire 33 owned by Horst Anna.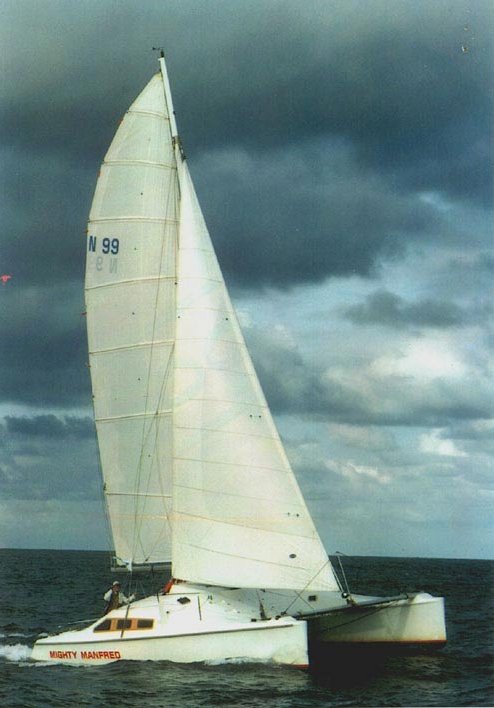 Winner of the first Lock Crowther Regatta in 1996, David Bishop's "Mighty Manfred" a Crowther 40.
Over the years the regatta has attracted over 500 multihulls of all shapes and sizes from all over Australia – including Sean Langman's ORMA 60 trimaran now named BOQ Team Australia .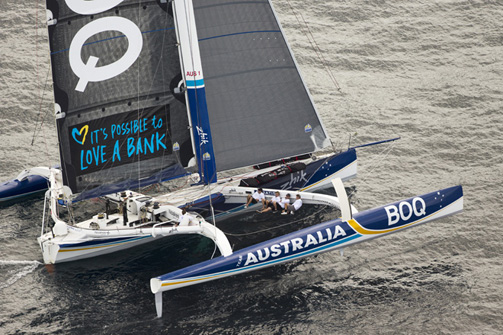 Sean Langman's ORMA 60 trimaran "BOQ Team Australia"
Come down to the RMYC over the weekend for a closeup of some of these amazing sailing craft. Next week we'll run a "bio" style article on Lock Crowther the man, including some interesting anecdotes to provide a more personal perspective of this amazing Australian multihull designer.
Finally, a 5 minute highlights video of action in the 2011 Lock Crowther Regatta and full details and Entries on our Website