Local Nippers Catch Environmental Education Grant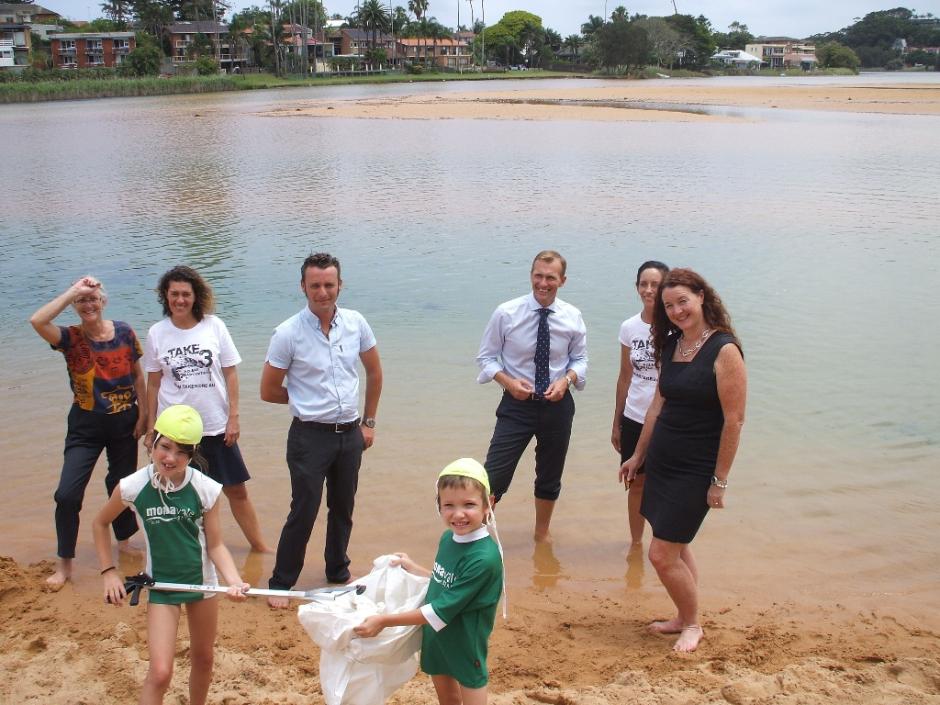 Picture: Announcement of the Coastal Kids Program at Narrabeen Lagoon
Local Nippers Catch Environmental Education Grant
10 December 2014
Member for Pittwater and NSW Environment Minister Rob Stokes today announced funding to support the launch of a new environmental awareness program for local surf club Nippers.
A grant of $45,900 has been provided to Pittwater Council for their new Coastal Kids Program which will educate junior surf club members about the importance of marine ecosystems, the threats they face and how they can be better protected.
The program will commence in May 2015 and provide hands-on learning opportunities for up to 200 local Nippers and 20 surf club educators over the next two years.
The Coastal Kids Program builds upon existing environmental initiatives supported by the NSW Government's Environmental Trust including Pittwater Council's Coastal Ambassadors Program and Take 3's Clean Beach Initiative.
"This program will offer a fantastic opportunity for local Nippers to learn more about our coastal environment in a hands-on way," Rob Stokes said today.
"Nippers often understand waves and currents but it's what's happening under the water and around rock platforms that's really important for the future of our coast.
"This innovative program will be delivered by Pittwater Council's education staff and workshops will focus on waste, pollution and marine biodiversity.
"By including a train-the-trainer program, this initiative will also empower local surf clubs to continue delivering environmental education as a part of their individual programs.
"We must keep getting the message out that our beaches and marine life can't be taken for granted.
"It's great the NSW Government is able to partner with Pittwater Council and Take 3 to help educate younger generations on this vital issue.
"This is a great initiative and I look forward to other communities across Sydney getting on-board with similar ideas," Rob Stokes said.
__________________________________________________________________
CEC Environmental Education Grant A Real Win for Local Nippers
10 Dec 2014
Pittwater Council has been awarded a $45,900 grant to deliver its Coast Kids Program—a train-the-trainer education program that teaches local nippers about the coastal environment, waste issues and marine biodiversity.
Pittwater's Coastal Environment Centre (CEC) will work with approximately six of the peninsula's Surf Life Saving clubs, empowering club trainers to continue delivering coastal environmental education as part of their individual programs.
Pittwater Mayor Jacqueline Townsend said she was thrilled the NSW Environmental Trust had awarded Pittwater the grant; "It will enable the CEC to continue rolling out award winning education programs to the community".
"The program is a great way for Council to partner with community groups, and to be a part of a greater process that ultimately will protect and enhance our local coastline and precious environment.
Natural Environment & Education Manager Mark Beharrell said the train-the-trainer model is an effective teaching strategy, and one that Council has had a lot of success with in the past.
"Our CEC staff are energetic and professional educators who deliver an outstanding range of environmental programs for schools and the broader community," Mr Beharrell said.
"By working with the nippers leaders and age managers, we will be able to help equip our surf clubs with relevant knowledge about our coastline to pass on to our younger community, within a unique context that they can relate to; it's a very effective way to learn." he said.
News of the grant has come soon after the CEC was recognised for its quality education programs in the 2014 NSW Coastal Management Awards.
"The CEC has been delivering educational programs for the last 23 years with close to 350,000 individuals participating," Cr Townsend said.
Member for Pittwater and Minister for the Environment, the Hon. Rob Stokes announced the grant at the CEC earlier today.
________________________________________________________
Take 3 - So awesome to spend some quality time with NSW Environment Minister Rob Stokes today!
Take 3 were guests of the Coastal Environment Centre (CEC) & Pittwater Council at today's announcement of their NSW Environmental Trust grant to work with Surf Life Saving Clubs (SLSC) in the region.
Take 3 also received funding from the Env. Trust to develop a program for SLSC's so we'll be working closely with these guys over the next year! So proud of our team & all they've achieved!
Rob Stokes genuinely cares for the environment and our oceans, and is doing all in his power to push through sensible legislation.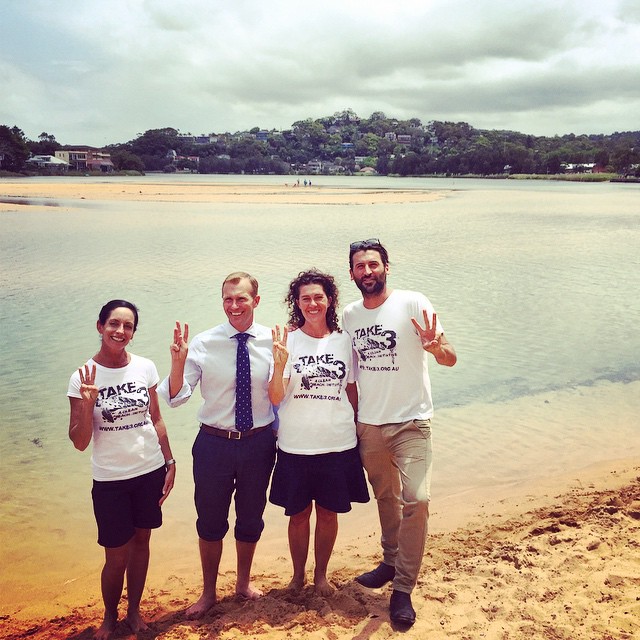 Pictured is Amanda Marechal, Rob Stokes, Sarah Beard (our new project manager for the SLSC program) & Tim Silverwood.