November 15 - 21, 2015: Issue 240
Local Boaties In Ocean Thunder Opener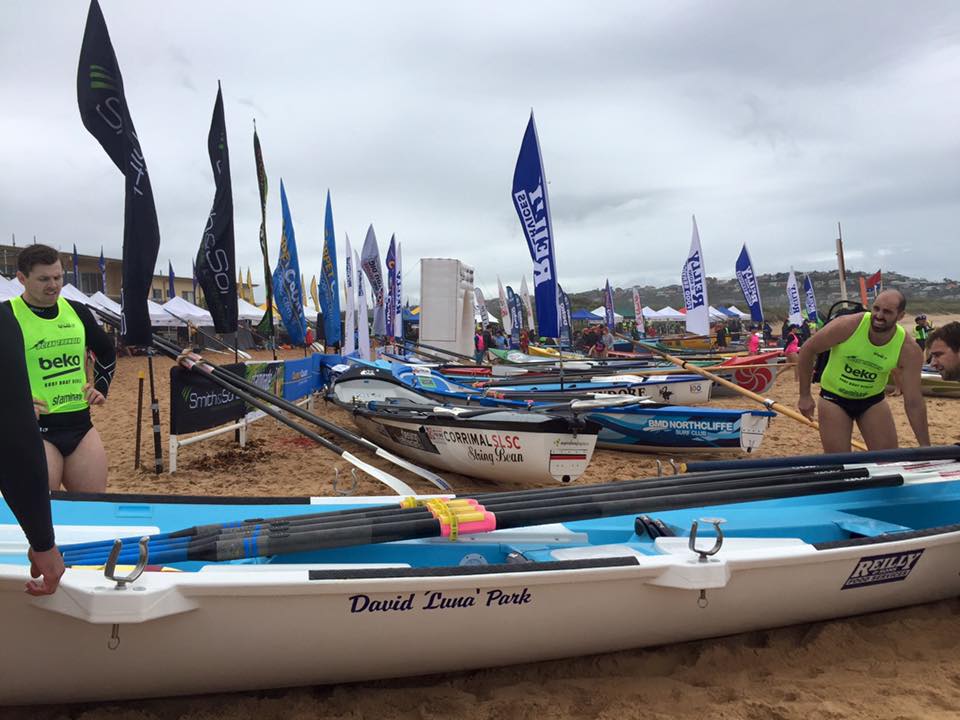 Local Boaties In Ocean Thunder Opener
November 14, 2015: SLS NSW and Beko Ocean Thunder Surfboat Series
The opening round of the 2015/16 Ocean Thunder Series began at Sydney's Dee Why Beach on Saturday November 14th.
The Ocean Thunder Series promises to be an exciting and challenging series across the four rounds for the elite crews of 24 male and 12 female teams who have signed on for the new campaign.
All rounds will take place on Dee Why Beach providing a central location at a beach renowned for providing interesting conditions. Round 2 is scheduled for 12 December.
A break for Christmas follows before the final two rounds take place on 9 January and 6 February respectively.
Just as was the case last season, spectators who are unable to get to the events will be able to catch up on all the action when it is broadcast on Fox Sports.
HSM Group spokesperson Peter Hickey said it's an exciting opportunity to watch some of Australia's finest surf boat athletes take on the ocean and each other.
"In many ways this event is one of the toughest to win in Australia. It's an established and proven format and many of the competitors in the event go on to win medals at a state and national level," Mr Hickey said.
He also praised the ongoing support of major sponsor Beko Home appliances which has expanded its presence on the NSW surf boat scene in recent times.
"Beko is a strong supporter of Surf Life Saving in NSW and is keen to encourage surf sports because it promotes health, fitness and teamwork.
"Beko support has extended through to the naming rights of the Best of the Best Surfboat Challenge and they also support surf boat competition at the State Championships. The Ocean Thunder series complements these events and takes the excitement levels up a notch," Mr Hickey said.
NSW Sports Manager Rob Pidgeon believes the high calibre of the competition may inspire the next generation of surf boat competitors.
"It's great to see such a series take place in NSW," Mr Pidgeon said.
"There are a lot of talented crews coming through the ranks and these events are always closely fought. This is another chance for our members and the public to see first-hand, the skill and fitness required to compete at this level," he concluded.
Each round of the competition will contain a knockout format with the competitors having to race a gruelling 13 times in a day to record a win – the overall winner will be crowned following the final event in February.
The 2015/16 Ocean Thunder Series is sponsored by Beko Home Appliance Group.
For further information about the event go to www.oceanthunder.com.au
Facebook page: www.facebook.com/Ocean-Thunder-Pro-Surf-Boat-Series
Beko Ocean Thunder Surfboat Series: Results Round One – November 14, 2015
Men's Finals
Congratulations to 360 Financial - Currumbin (Clark) Event 1 Winners of Beko Ocean Thunder Surfboat Series 2015/2016.
2nd - A Curtains & Blinds - Currumbin (Wildman)
3rd - Dial Before You Dig - Mona Vale (Collins)
4th - Smith & Son Renovations - Palm Beach (Spence)
5th - Dial Before You Dig - Austinmer (Patison)
6th - Rocks Brewing - Mona Vale (Halangahu).
Women's Finals
A win to Jac Oars-Austinmer
2nd - Currumbin Hunters - Currumbin (Wildman)
3rd - TJS Services - Currumbin (Hickey)
4th - Back to Balance - North Cronulla (Lea)
5th - Blackmores - Bilgola (McManus)
6th – Budgy Smuggler - Palm Beach (Spence)
Well done to each and every crew out there today in such trying conditions.