February 10 - 16, 2013: Issue 97
Narrabeen Lakes Amateur Swimming Club – Children's Learn to Swim Program – Rockpool, North Narrabeen
Narrabeen Amateur Swimming Club has a Learn to Swim program which provides swimming lessons by qualified AustSwim instructors on Saturday mornings (9am to 11am) during the summer season for a nominal fee of $20 per child for the season. Lessons start from 17th November and run until to 16th March 2013. Their Registration day is early in November each year.
This Learn to Swim program was started in 1960 by members of NLASC (The Narrabeen Ladies Amateur Swimming Club: formed on the 17th September 1933). The club offered free swimming lessons every Saturday and Sunday between November until March. This volunteer program has taught over 15000 children how to swim, many of whom then joined the club and become involved in the swimming races available.
It's not easy to get little ones into the water some days and teaching them the basics of swimming, although imperative, is always made easier and stays with them if it comes from teachers who are good at engaging with them and making sure they enjoy it so no aversion to water is formed. The NLASC's Learn To Swim program, fifty two years old now, has teachers who are mums and grandmums working one on one with the children while mum or dad stay poolside, getting a few deep breaths of good salt air and a chance to relax while chatting.
On Saturday morning photographers J P Fisher and Glenn Nicholls took these great photos of the children learning to swim with their tutors Louise, Sarah, Fiona, Emma, Selena (Pittwater Councillor) and Liz.
Judy Dubois, chief instructor of more then 20 years who was recognised for her dedication to ensuring children learn to swim and enjoy the water by receiving a Pittwater Council Community Service Award in 1998. In 1992 the NLASC and learn to swim program received a Highly Commended Award from the NSW State Government.
The NASC has also had many fine swimmers rise from their beginnings in this club to go on and make an impact at State, National and Olympic level.
Swimming Carnivals. The New South Wales Women's Amateur Swimming Association will hold Its final championship carnivals at the end of this month, and as Miss Norton has signified her intention of competing. It probably will be her last appearance before she leaves for Berlin. The carnivals will be held on March 21, 25, and 31. The entries for the first carnival are large and keen competition In anticipated among the 12 juniors who have entered for the 220yards Junior freestyle championship of the State. Miss Margo Rawson and Miss Ivy Crowe are expected to fill the first two places. Miss Rawson Is the title-holder, and Miss Crowe has been registering particularly good times at Narrabeen this season. Jottings on Sport. PAT NORTON. (1936, March 16). The Sydney Morning Herald (NSW : 1842 - 1954), p. 4. Retrieved from http://nla.gov.au/nla.news-article17317546
Another NLASC participant was Jenny Turrell who went on to become a Commonwealth gold medal winner in the 1974 Christchurch games; 800m FINA World Championships winner and a 1500m world record holder in 1976.
During the 2009-2010 season members discussed changing their name from Narrabeen Ladies Amateur Swimming Club to Narrabeen Lakes Amateur Swimming Club to reflect the changing membership of the club and keep a link to their history, reflecting the first meets were held in Narrabeen Lake, on the lagoon in October 1933, prior to the North Narrabeen Rockpool being completed. This proposal was accepted by members and this is how they are known today.
For more information on the Learn to Swim Program for Children: Contact Liz Kelly 0418 696 525. Email: lizzy1@ozemail.com.au Facebook
More great pictures by Glenn and JP can be seen on Frozen Moments Photography: www.frozenmomentsphotography.com.au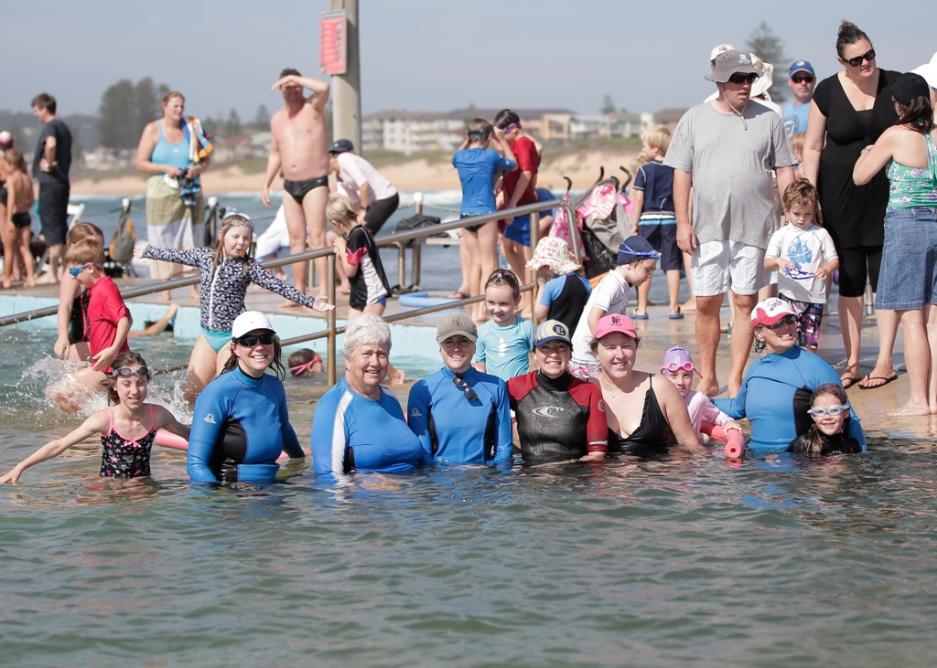 Left to right: tutors Louise, Sarah, Fiona, Emma, Selena and Liz. Picture by Glenn Nicholls.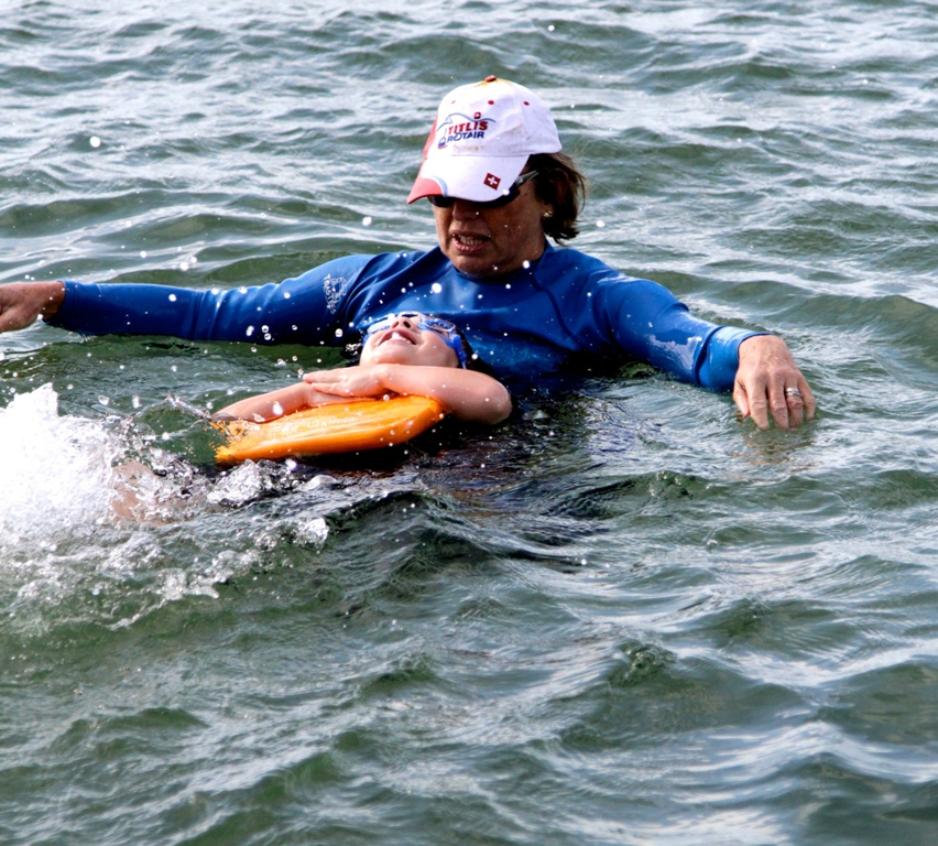 Liam McAndrews (4 years, from Dee Why) with Liz Kelly. Picture by J P Fisher.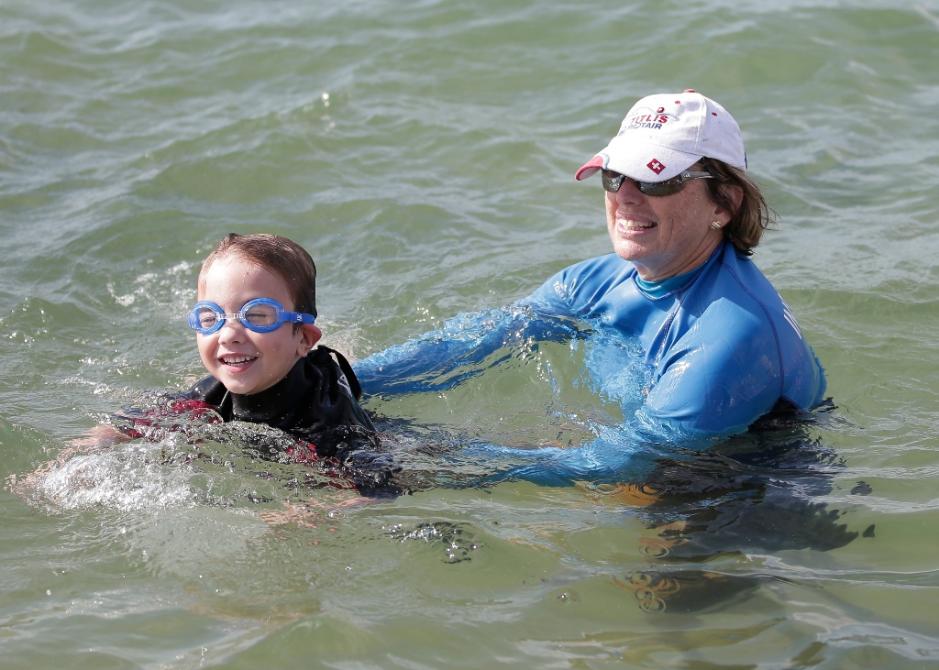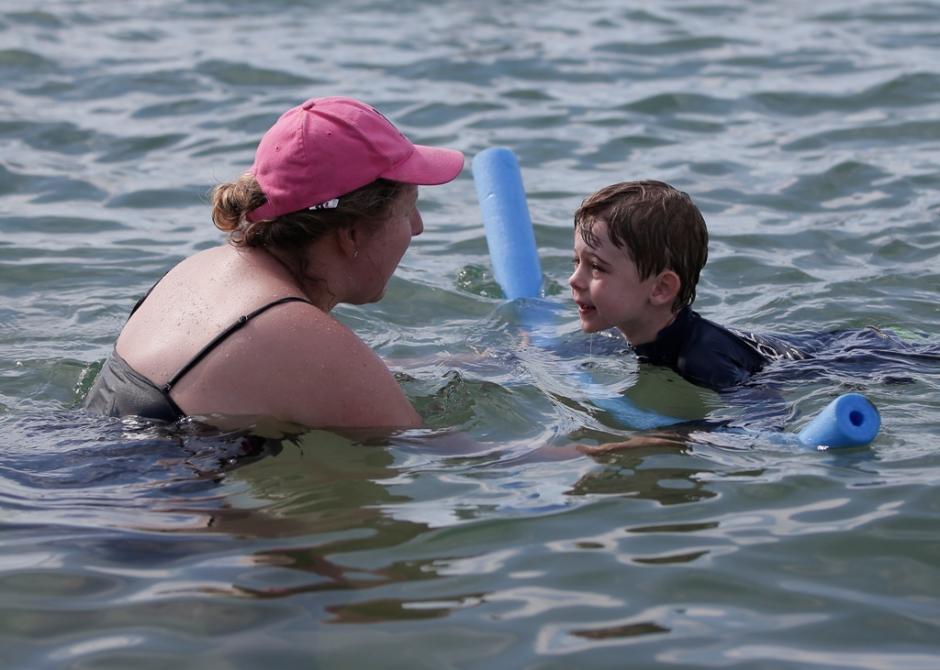 Byron Johns, (Elanora) with Selena Griffiths.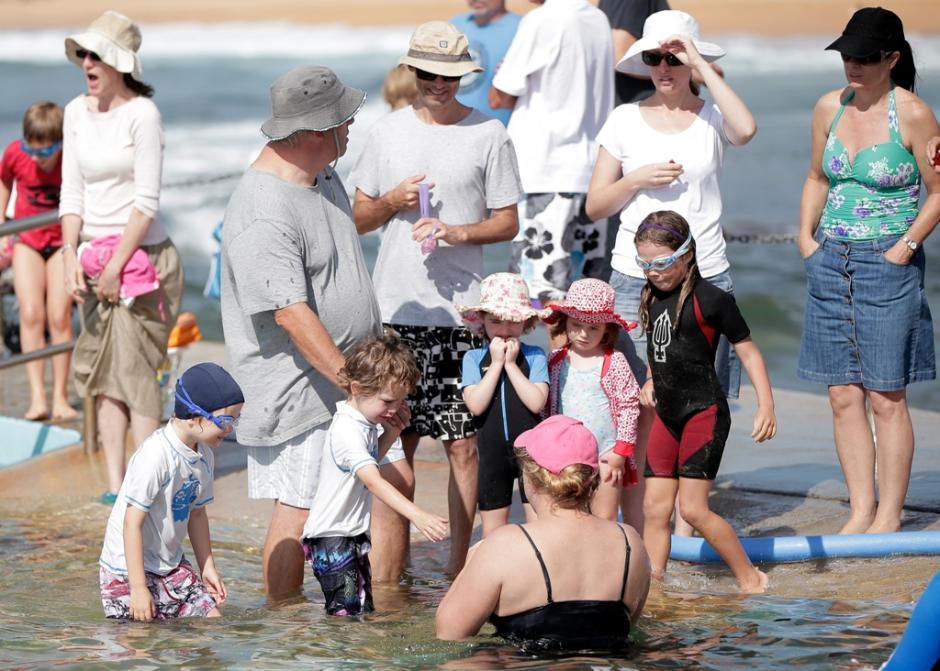 Twins William and Charlie (4 years, Bayview) with Pittwater Councillor and Instructor Selena Griffith. Picture by Glenn Nicholls.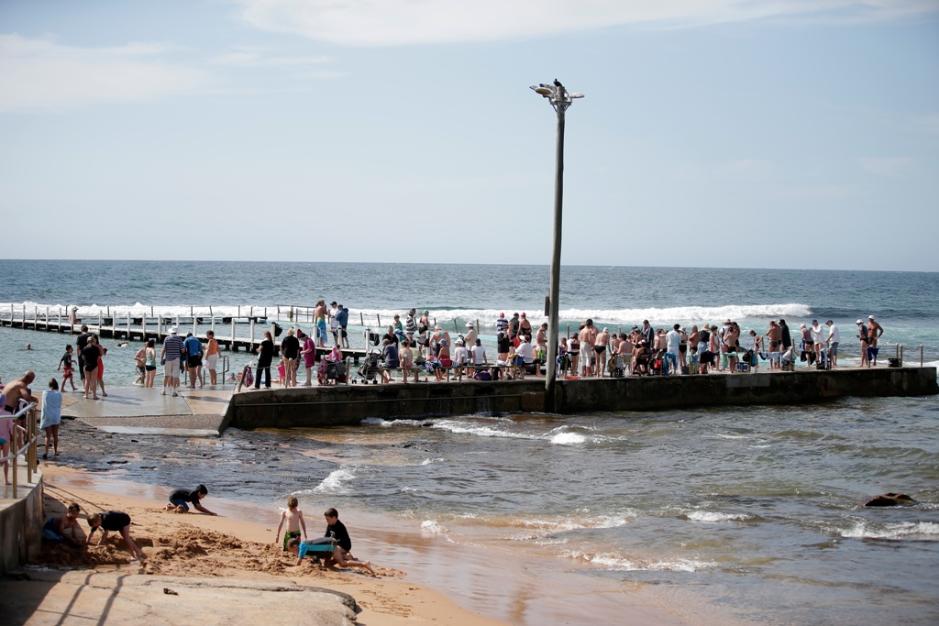 Pictures this page by J P Fisher and Glenn Nicholls 2013. All Rights Reserved.