August 28 - September 3, 2011: Issue 21
Photos Courtesy Sydney Kings: Luke Cooper who plays for Manly and Sydney Kings. With the mayor of Warringah Michael Regan, in the huddle during the match and signing autographs with the fans after the match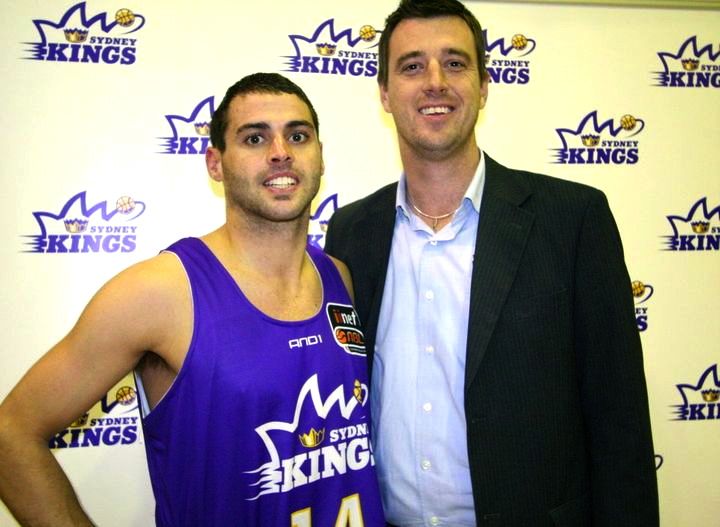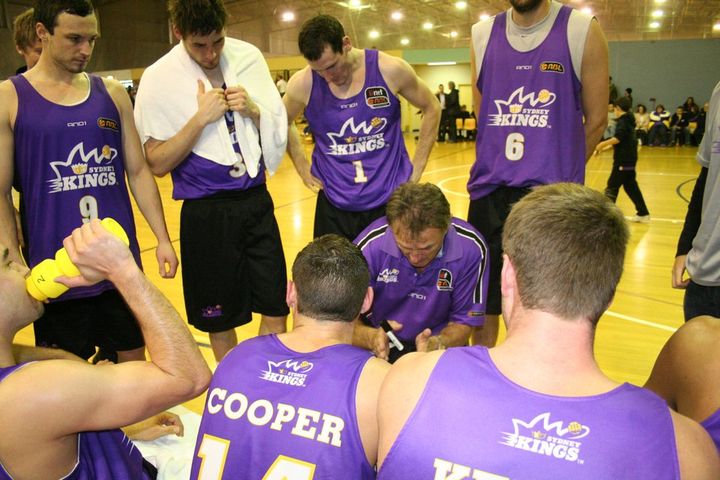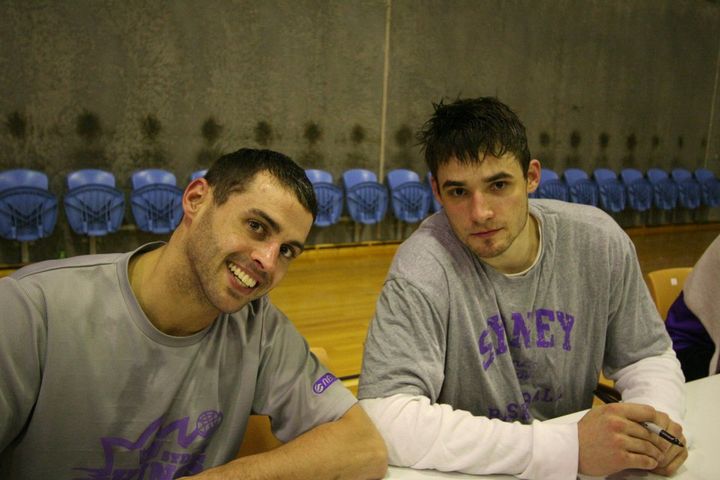 Copyright by Sydney Kings – Matt McQuade, 2011.
All Rights Reserved.
Kings vs Drake University
by Sydney Kings – Matt McQuade
from Brad Dalton
It was a wild Friday night (19.8.11)in the Harbour City and the action was intense at the Northern Beaches Indoor Sports Centre as the Sydney Kings kicked off their 2011/12 preseason with a 95-62 blowout win over visiting US college team Drake University.
Sydney overcame a slow start to dominate the second half and gave their many fans a taste of what to expect in the National Basketball League – a high-powered unit who will present a lot of different looks to opposing teams and be a very difficult team to defend in the upcoming season.
Five Kings scored in double figures, led by 'The Franchise', Julian Khazzouh, who tallied 20 points, 12 rebounds and five blocked shots and was a colossus inside all night.
Ben Madgen had 17 points, six rebounds and four assists to show he is going to be a force yet again, Anatoly Bose was impressive on debut with 16 points and seven boards, and Aaron Bruce had a fine game with 11 points, seven rebounds and two steals.
Drake got 26 points and six rebounds from star guard Rayvonte Rice and 17 points from forward Ben Simons, but they shot just 30% from the field and were outrebounded 47-26 by a Sydney team that just overpowered them after halftime.
"A big part of what we are trying to do this season is try to put together a group that will show a different look every single time down the floor", Assistant Coach Tim Hudson said in the aftermath.
"We aren't getting ahead of ourselves – we know that was a college team and they were a lot smaller than us – but I think the potential of this team is very exciting. One thing's for sure – we've gotten guys who are gym rats, who work hard, and are all good people, and that's really important for us".
This was the final game for Drake in a tour that has taken them to Auckland and Melbourne before their final stop in Sydney, and the past ten days have been extremely special for Coach Mark Phelps and his young group, who have conducted themselves in an exemplary fashion during their trip down under.
"Obviously tonight wasn't a great way to finish the tour, but this has been an incredible experience for us", Coach Phelps said later.
"The opportunity to come down and be together for the ten days and play against bigger and older teams has been really valuable, and we've been able to do a lot of team-building exercises and build chemistry, which for our team is very important".
The Kings were boosted by the surprise clearance of import Kevin Ratzsch, who only arrived in the country on Thursday yet suited up and hit a jumper in the lane for his first points in the purple and gold, although he looked understandably rusty given he was still suffering the after effects of jet lag.
And another pair of new Kings were involved early. Anatoly Bose scored the first basket on a beautiful feed from Aaron Bruce, and Bose looked in the early going as every inch the potent offensive weapon he was in college at Nicholls State.
It may have been an exhibition game, but don't tell Coach Phelps and his staff that. Right from tipoff they were exhorting their team on as though they were back in Iowa playing in the NCAA, and the players responded with a wholehearted effort, although their lack of size and experience were too much to overcome over the 40 minute journey.
The man early for the visitors was the explosive Rayvonte Rice, who swished a trey as part of his eight points in the opening four minutes as Drake jumped out to an early 13-7 lead.
Julian Khazzouh was being double teamed every time he touched the ball as Sydney struggled to get in the flow offensively, and at the other end of the floor the Kings' coaching staff would not have been pleased with the number of defensive breakdowns as the Bulldogs' penetration was causing all kinds of problems.
Drake big man Ben Simons showed a deft touch from the perimeter, contributing nine points of his own, and with the purple and gold turning over the ball six times in the opening ten minutes, the visitors went to the first break up 23-17.
The Kings looked to up the intensity at both ends as the second period got underway, and a triple from Luke Martin followed by a monster two hand tip jam by Martin Iti brought the crowd to their feet and cut the margin to a single basket in the opening couple of minutes.
It's size and athleticism were causing issues for the smaller Bulldog squad and he had another four points to help the Kings tie the game at 27, forcing Coach Phelps to burn a timeout with the momentum shifting to the home team.
The Kings began to take control, with Khazzouh finally breaking free for a pair of scores and Madgen knocking down a wide open three, and Sydney forged ahead 36-30 thanks to a 13-3 run in just over three minutes.
Simons continued his fine play with a pair of baskets to pull Drake back in it, but Aaron Bruce started to come into his own and had six points to help the Kings stay in charge.
Rice came off the pine to swish a triple to keep Drake close, but Ben 'Mad Man' Madgen upfaked and drained a trey at the buzzer to make it 47-43 Sydney at the main break.
That man Madgen was at it again as we got the third period underway with a three pointer from the corner, and when Bose found Khazzouh with a great feed for the easy score and then scored himself in transition, the Kings had a quick 7-0 run and a 54-43 advantage in less than ninety seconds.
Rice again knocked down a three to continue his torrid offensive showing, but the Kings' size and experience were starting to take their toll, and when Luke Cooper attacked the rim and scored with the and one, Sydney had blown the lead out to 63-48 midway through the period.
The Kings kept pouring it on to the delight of the sellout crowd, and a dunk from Khazzouh and a ten footer from Madgen capped another 13-3 run and had the purple and gold leading 67-48.
Coach Phelps exhorted his troops to up their effort, and to their credit the Bulldogs responded, cutting into the lead as the Kings rotated their bench frequently, and with three minutes left the margin was a still gettable 15 points.
Sydney's offence dried up momentarily, but Martin Iti again had fans screaming with a monster one hand alley-oop dunk off a pass from Luke Martin, and the Kings went to the final break with their biggest lead of the ballgame to that point, 73-52.
With one period left to play on their tour, Drake tried to up the ante, but their shots were falling consistently short, betraying tired legs. Meanwhile Luke Cooper was in attack mode, putting enormous pressure on the Bulldogs' D with relentless penetration to the basket.
It took nearly four minutes for the visitors to register their first field goal of the period – a jumper to the impressive Ben Simons – and the Kings just kept pulling away.
Bose had a couple of dunks down the stretch and Sydney got anything they wanted to in transition, closing the show with a late 14-2 run as the crowd stood and acknowledged what was a impressive start to Sydney's campaign.