Inbox and Environment News - Issue 214
May 17 - 23, 2015: Issue 214
Vale William T. Cooper
6 April 1934–10 May 2015
One of Australia's foremost and highly regarded bird illustrators, William Cooper, passed away last Sunday. Best remembered for his remarkable paintings in a series of bird monographs — parrots, pigeons and doves, kingfishers, turacos, birds of paradise, bowerbirds — produced in conjunction with Joseph Forshaw, his exquisite artworks have always been highly sought-after and feature in galleries the world over.
Growing up around Newcastle, Bill was always interested in nature, and he was constantly fascinated by its details — the graceful shape of a feather, the sheen of a duck's wing, the whiskers on a flycatcher, a pardalote's delicate spots. A natural extension of this was to draw what had so fascinated him.
"I was always fiddling around drawing birds," he once said. This 'fiddling around' saw him win art competitions at an early age, and this, in turn, allowed him to meet other artists who helped shape his artistic progress.
As a young man he would spend his evenings after work with paintbrush in hand, refining his technique and always learning the best way to capture the true essence of his subject, whether it was a subtle landscape or a detailed portrait of a bird. This attention to detail brought about a growing number of commissions, and by the 1960s, Bill was able to become a professional artist.
Never content to paint from flat photographs, Bill was determined to paint from life instead, and this quest resulted in numerous trips around Australia, as well as other parts of the world in pursuit of subjects — mostly birds, but various other animals as well.
Bill's excellence was recognised by Sir David Attenborough, who described him as 'the best ornithological illustrator alive'. Few would argue with that.
William Cooper was 81 and died at his home at Malanda, on Queensland's Atherton Tableland.
In a special memorial tribute the ABC will screen Sarah Scragg's documentary Birdman: The Art of William T. Cooper at 2pm this Sunday on ABC1.
Vale William T. Cooper
12 May 2015
Staff at NLA Publishing are this morning saddened to hear of the loss of William T. Cooper, 'Portrait Painter to the Birds', who has died aged 81. We had the privilege of working with Bill on his biography by Penny Olsen and of meeting him at the book's launch at the Library in March 2014. In December of that year, Bill and his botanist wife, Wendy, received Honorary Doctorates from the Australian National University. Bill had previously been awarded the Gold Medal of the Academy of Natural Sciences (USA) and an Order of Australia.
Bill produced beautiful land- and seascapes before turning his attention to birds. In a career which spanned more than fifty years, Bill captured birds in intricate detail, placing them in their correct natural environment, and focussing as much on bill and eye size as a bird's expression and movement.
The National Library of Australia holds more than 150 original watercolours, sketches and other ornithological works by William T. Cooper. A scroll through these images in our catalogue shows a pair of lairy Green-winged Macaws, distinguished and comparatively sombre Red-tailed Cockatoos and a Great-billed Parrot and a Blue-naped Parrot perched amid vibrant native flowers.
Congratulations to Boomerang Bags Finalists for the 2015 Healthy Waterways Awards - Category: Community Stewardship
May 12, 2015
Vote your favourite finalist to win the $1,000 People's Choice Award. All voters go into a draw to win a $100 retail voucher, with a winner drawn every four weeks. Vote now -http://healthywaterways.org/awards/vote
Vote for Boomerang Bags under Community Stewardship
See: Living Ocean's Boomerang Bags for a No Plastic Please Avalon + Pittwater! - Now meeting every Tuesday in Avalon Recreation Centre
Boomerang Bag Avalon Sewing Bees Now Every Tuesday
Surfrider Foundation and Living Ocean
Thank you to everyone who's been involved in the initiative so far, we've got a wonderful group of regular sewing bee volunteers who are really starting to kick some goals!
Thanks to support from Pittwater Council we can now afford to rent out Avalon Recreation Centre every Tuesday, which is very exciting news!!
So make sure you pop into Avalon Recreation Centre on Tuesdays, anytime from 11am-5pm and come join the team. All welcome, no sewing skills needed, we need people to cut material, stamp and of course to come along and have a cuppa.
I'd like to also say a big thank you to Laurel who is our lead sewing bee coordinator, we couldn't be running the program without her dedication and patience.
Jessica Hensman, Operations Manager
PO Box 968, Mona Vale NSW 1660, Surfrider Foundation
E: operations@surfrider.org.au W: www.surfrider.org.au
______________________
About Healthy Waterways
Healthy Waterways is an independent, not-for-profit organisation that works with our members from government, industry and the community to protect and improve South East Queensland's waterways. We believe that shared understanding, regional collaboration and targeted solutions across the whole water cycle are the key to improving and maintaining waterway health.
Healthy Waterways was built on a foundation of rigorous science which continues to underpin the organisation's programs and initiatives. We provide best-practice scientific advice to inform waterway investment, and facilitate regional scientific projects for the benefit of South East Queensland's waterways. Our suite of decision support tools model the likely outcomes of waterway strategies, enabling our members to identify the most targeted, cost effective management actions to address waterway issues. We monitor and report on the condition of our waterways and provide capacity building for water professionals and community groups. We support reforms to policy and planning, and our education programs inspire and motivate the community to value and protect our waterways.
Vision: with our members, we have one clear vision to achieve healthy waterways for a healthy economy.
Purpose: Healthy Waterways works to understand and communicate the condition of the waterways to drive and influence future targets, policy and actions.
Values: We respect and value those we work with and the contributions that they make, and act fairly and ethically in all we do.
Scientists and policymakers have extensively studied our collaborative model, including representatives from the Chinese, Singapore, Philippine and Indonesian governments.
Our work has also attracted national attention with formal commendations from the Wentworth Group of Concerned Scientists and the House of Representatives.
Register of Australian Environmental Organisations Inquiry: Have Your Say
On Thursday 26 March 2015 the Committee adopted an inquiry referred by the Minister for the Environment, the Hon Greg Hunt MP, asking the Committee to inquire into and report on the Register of Environmental Organisations.
The Committee invites interested persons and organisations to make submissions addressing the terms of reference by 21 May 2015.
The House of Representatives Standing Committee on the Environment will inquire into and report on the administration and transparency of the Register of Environmental Organisations (the Register) and its effectiveness in supporting communities to take practical action to improve the environment.
The Inquiry will have particular regard to:
• the definition of 'environmental organisation' under the Income Tax Assessment Act 1997, including under Subdivision 30-E;
• the requirements to be met by an organisation to be listed on the Register and maintain its listing;
• activities undertaken by organisations currently listed on the Register and the extent to which these activities involve on-ground environmental works;
• reporting requirements for organisations to disclose donations and activities funded by donations;
• the administration of the Register and potential efficiency improvements;
• compliance arrangements and the measures available to the Department of the Environment and the Australian Taxation Office to investigate breaches of the Act and Ministerial Guidelines by listed organisations; and
• relevant governance arrangements in international jurisdictions, and exploring methods to adopt best practice in Australia.
For information on how to make a submission, go to our Making a submission to a Committee Inquiry page.
Additional useful information can be found on the Notes to help those intending to make a submission to a parliamentary committee inquiry page.
From: http://www.aph.gov.au/reo
Upload your submission here:
Kevin Clark nature's gentleman
by DPI Fisheries: Published on 12 May 2015
This short video tells the story of Kevin Clark who grew up on the Richmond River. Over his lifetime he has seen the long term effect of in-stream barriers (including weirs) to our fish. He has quietly chipped away in the background with Fisheries, Councils and his fishing club to help out by installing a fish ladder on his local waterway. Kevin and friends are now seeing some great changes to their local fish stocks.

Cooee: Issue 60 - May/June 2015
Special Review: Climate Change Authority - Australian Federal Government
The Minister for the Environment has requested a Special Review under Part 3 of the Climate Change Authority Act 2011. The terms of reference for the Review include whether Australia should have an emission trading scheme and any conditions for introducing such a scheme. It requires the Authority to consider whether the climate policies of other countries, including the USA, China, Japan, Republic of Korea and the European Union are equivalent to an emissions trading scheme. The Authority must also consider what Australia's contribution should be to an effective and equitable global response to climate change.
The Authority has been asked to publish three reports:
The first draft report of the Special Review, released in April 2015, recommends emissions reduction targets for Australia, including a 2025 target of 30 per cent below 2000 levels.
a draft report on emissions trading schemes by 30 November 2015
a final report by 30 June 2016, recommending the action Australia should take to implement its obligations under the UNFCCC global climate agreement—expected to be finalised in Paris, December 2015.
How can I be involved in the Authority's Review?
The Authority welcomes submissions on the first draft report of the Special Review. In particular, stakeholders are invited to comment on the recommended 2025 target. The Authority will discuss its report with key stakeholders and in public forums in April and May 2015.Submissions can be emailed tosubmissions@climatechangeauthority.gov.au
Submissions made in response to a March 2015 call for comment can be found here.
There will be further opportunities for stakeholder input throughout the Special Review. In the next stage of the Review, the Authority will be examining the relative merits of different emissions reduction policies and the right policy mix for Australia. It will publish a second draft report by November 2015 and a final report by June 2016.
Comparing countries' emissions targets: A practical guide
As a key consideration in the Authority's first draft report for the Special Review, the Authority will consider how Australian targets compare to other countries'. The guide explains the criteria that the Authority uses for these comparisons and includes examples.
From: www.climatechangeauthority.gov.au/special-review
See Documents at: www.climatechangeauthority.gov.au/special-review/first-draft-report
NSW Govt.Office of Environment and Heritage - HAVE YOUR SAY
National Parks Commercial Fishing Access
A new vehicle access permit system for commercial fishers to access NSW National Parks.
To improve management and provide certainty for industry, National Parks and Wildlife Service (NPWS) is developing a new vehicle access permit system.
The system is to enable commercial fishers to access areas in national parks that may be closed to the public.
The proposal is open to public comment, with the new system to start on 1st July 2015.
There will be a standardised, state-wide application process that applies in all parks across the state. It will also help the NPWS fulfil its responsibilities to manage parks for all people of NSW.
How do I find out more about the proposal?
For further information on the proposed vehicle access permit system visit https://engage.environment.nsw.gov.au/consult
The new Draft Commercial Fishing Access Policy (PDF 845KB) is now available.
How do I comment on the proposal?
The proposal is open for public comment until May 29 2015.
Members of the public are invited to comment on the proposal by sending a submission by email to:npws.pssb@environment.nsw.gov.au or by mail to:
Strategy and Policy Team, National Parks and Wildlife Service,Office of Environment and Heritage, PO Box 1967, Hurstville NSW 2226
See Consultation website page for all documents:www.environment.nsw.gov.au/commercial/changesvapcfa
Page last updated: 06 May 2015
Berowra Valley National Park and Regional Park Draft Plan of Management
The exhibition of the draft plan provides an important opportunity for the community to have a say on future management directions for Berowra Valley National Park and Berowra Valley Regional Park.
Why is a plan being prepared now?
A new plan of management is being prepared, following the reclassification of most of Berowra Valley Regional Park to Berowra Valley National Park, in recognition of the park's high conservation value.
What has been updated?
Under national park status, conservation measures are a strong point of focus. National park status also allows for sustainable visitor use, subject to strict controls. Nine hectares of the original Berowra Valley Regional Park have been retained in order to accommodate local dog walkers on existing management trails.
What opportunities will the community have to comment?
The draft plan of management is on public exhibition until 6th July 2015 and anyone can make a comment.
Members of the public are invited to comment by submitting a via email submission to
submissions.berowravalley@environment.nsw.gov.au
or by post to:
The Planner, NSW National Parks and Wildlife Service, PO Box 3031. Asquith NSW 2077
Draft plan of management (POM) on page of Consultation website:HERE
Draft second edition of Environmental Guidelines: Solid Waste Landfills – public consultation
The Environment Protection Authority (EPA) has released a draft second edition of the Environmental Guidelines: Solid Waste Landfills.
The previous edition was released in 1996. It has several limitations associated with its age, including out-of-date legislation and policy, as well as not providing detailed treatment of a number of technical issues.
This draft second edition aims to address these limitations and to provide an updated set of minimum standards for design, construction and operation of a modern landfill facility. Further details about the main changes are outlined in the Questions and Answers below.
Download the Draft Environmental Guidelines: Solid waste landfills (Second edition, 2015) (PDF 1MB).
The EPA is seeking comments from industry, government agencies and the community on the draft guidelines and welcomes any comments by 30 June 2015.
Submission address
Environment Protection Authority Attention: Waste Operations PO Box A290 Sydney South NSW 1232
See all documents at: www.epa.nsw.gov.au/waste/landfill-sites
Birdlife's NatureWatch App For Australian Birds
Birdlife International; Published on 7 May 2015
NatureWatch is a new iPhone application from BirdLife International which allows you to plan your wildlife adventures, share your experiences, and help conserve some of the best sites for wildlife in the world.
NatureWatch is available in the App Store and covers 533 Important Bird and Biodiversity Areas in Australia, Cyprus, Fiji, Lebanon, Malaysia and South Africa.
Download the App from HERE
Unabated global mean sea-level rise over the satellite altimeter era
Christopher S. Watson, Neil J. White, John A. Church, Matt A. King, Reed J. Burgette, Benoit Legresy
Abstract
This study identifies and corrects instrumental drift for satellite altimeter missions, which affects estimates of the rates of sea-level rise. Corrected data show an acceleration in the rate of rise, counter to previous estimates and in line with projections.
Below: Map of the initial 122 TGs used in this analysis. Additional quality control procedures (for example, obvious nonlinear VLM) eliminate TGs shown in black, and the earthquake threshold eliminates TGs in blue. The remaining TGs in red are used for bias drift estimation. Distributions by mission are shown in Supplementary .
Nature Climate Change (2015) doi:10.1038/nclimate2635
Received 12 December 2014 Accepted 02 April 2015 Published online 11 May 2015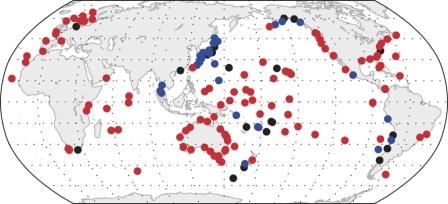 New game launched to heighten environmental education
Wednesday 13 May 2015
An innovative game to explore the range of futures open to the pastoral industry within a carbon economy has been launched by Federation University Australia.
The game, Narmboolville, is based on the Sovereign Hill property Narmbool, 15 km south east of Ballarat. It brings together environmental science, accounting and information technology and is the culmination of a two-year research project supported by the Williamson H.D. Trust and Sovereign Hill Museums Association.
"We saw Narmbool as a fantastic location to demonstrate the options that may present themselves for agriculture into the future, not least because of the excellent environmental education program associated with the property," Professor Peter Gell, one of the co-ordinators of the project, said.
"The main challenge was the real interdisciplinary nature of the project as we wanted to ensure that the game was based on real scientific data and real carbon accounting approaches.
"We then let the IT boffins loose to create a really engaging game that tests your skills as a farm manager."
The objective of this project is to bring together the principles of carbon sequestration and livestock management to encourage sustainable farm management practices under a range of future climate scenarios.
The game, developed under the guidance of project co-coordinator Dr Charlynn Miller from FedUni, requires the user to secure an income from carbon but also seek to maintain an economically viable farm business.
In essence the user becomes the farm manager, making decisions about the trade-off between managing for trees and agricultural production.
The game is freely accessible via the University's Narbool game website.
"We welcome anyone to register and play and see if they can secure carbon, and make a profit, under the scenarios that are rolled out as the game works its way through the next century," Professor Gell said.
"Who knows, maybe gamers from all over the world will come to Ballarat looking for the real Narmboolville."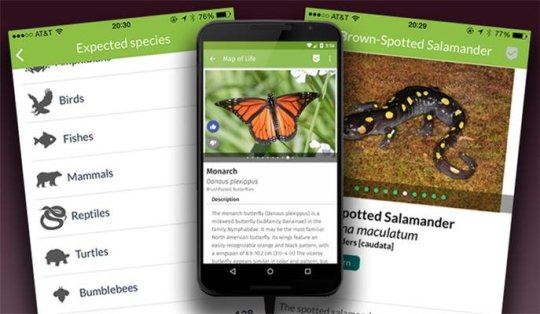 New Map of Life App puts the world's biodiversity in the palm of your hand
May 12, 2015
People can check out local wildlife wherever they are in the world with a new app that says what species of animals and plants might be nearby.
The free Map of Life app dispenses with bulky field guides by allowing users to access a vast global database of species and their ranges, based on their location.
Building on the Map of Life website, which provides a database of everything from bumblebees to trees, the app tells users in an instant which sets of species are likely to be found in their vicinity. Photos and text help users identify and learn more about what they see. The app also helps users create personal lists of observations and contribute those observations to scientific research and conservation efforts.
"The app puts a significant proportion of our global knowledge about biodiversity in the palm of your hand, and allows you to discover and connect with biodiversity in a place, wherever you are," said guiding force behind the Map of Life Professor Walter Jetz, a Senior Scientist in the Grand Challenges in Ecosystems and Environment group at Imperial College London and an associate professor at Yale University.
"This vast information, personalized for where we are, can change the way we identify and learn about the things we see when traveling, hiking in the woods, or stepping in our own back yard."
Instead of sifting through hundreds of pages in a printed field guide, naturalists get a digital guide that is already tailored to their location. With a novel modelling and mapping platform covering tens of thousands of species -- everything from mammals and birds to plants, amphibians, reptiles, arthropod groups, and fish -- Map of Life presents localised species information via maps, photographs, and detailed information.
Thanks to a recording feature, citizen scientists everywhere can log their bird encounters and dragonfly sightings directly into the app and add to the biodiversity data available to scientists around the world.
"Think of a field guide that continues to improve the more we all use it and add to it. That is the beauty of this mobile application, and its great strength," said Rob Guralnick, associate curator at the University of Florida and the project's co-leader. "Built from 100 years of knowledge about where species are found, we hope to accelerate our ability to completely close the many gaps in our biodiversity knowledge."
Indeed, making it easier and more globally streamlined for citizen scientists to contribute information is one of the key motivations behind creating the app. "The world is changing rapidly and species continue to disappear before we even knew where they occurred, what role they had, and how we could conserve them," said Professor Jetz, who is involved in several global science initiatives for advancing biodiversity monitoring.
"Too much of our knowledge is limited to too few places and species," said Professor Jetz. "Helping people everywhere to identify and then record biodiversity carries the potential to hugely extend the geographic and taxonomic reach of measuring the pulse of life."
The Map of Life app is available in six languages for iPhone and Android smartphones, and can be downloaded fromhttps://mol.org/mobile.
The National Science Foundation and NASA provided initial support for Map of Life and Google and Senckenberg Gesellschaft für Naturforschung also have supported the project.
Screenshots of the app. Credit: Image courtesy of Imperial College London
Environment 2015-16 Budget - Completion of Commonwealth Marine Reserves Review a Priority
Portfolio Budget Statements 2015-16 - Budget Related Paper No. 1.7 - Environment Portfolio
DIRECTOR OF NATIONAL PARKS
Section 1: Entity overview and resources
1.1 STRATEGIC DIRECTION STATEMENT
The Director of National Parks is a Corporate Commonwealth Entity13, operating under the Environment Protection and Biodiversity Conservation Act 1999 to administer and manage Commonwealth reserves (national parks, botanic gardens, marine and terrestrial reserves). These reserves include:
• Booderee, Kakadu and Uluru-Kata Tjuta National Parks, which are each jointly managed with their Aboriginal Traditional Owners. Kakadu and Uluru-Kata Tjuta National Parks are World Heritage listed
• national parks in the Australian territories of Norfolk, Christmas and Cocos (Keeling) Islands
• the Australian National Botanic Gardens, which is a major national institution for the study of Australian plants, and
• Commonwealth marine reserves in the South West, North West, North and Temperate East marine regions and the Coral Sea. These reserves, together with the South East marine reserves network and a number of pre-existing reserves in each region, comprise the Commonwealth waters component of the National Representative System of Marine Protected Areas.
A significant focus of the Director of National Parks in 2015-16 is the completion of a Marine Reserves Review to ensure the management of Australia's Commonwealth marine reserve network is based on scientific rigor and genuine consultation with communities and businesses, and restore confidence in the Commonwealth marine reserve planning process. Management Plans for the new Commonwealth marine reserves around Australia will be developed following the review and, until then, transitional management arrangements will be in place.
Priority outcomes continue to be the conservation and appreciation of the natural and cultural values of Commonwealth reserves, including the provision of inspirational, rewarding and safe visitor experiences, the control of invasive species and working with stakeholders and neighbours. In the jointly managed parks, improving Indigenous employment and participation in management is a priority.
The Director of National Parks will also continue to improve visitor facilities in reserves and further develop partnerships with the tourism industry.
To deliver these priorities, within the Government's fiscal strategy, the Director of National Parks will continue to look to diversify and increase external revenue, seek further improvements in the efficiency of resource use and continue to invest in the skills and capabilities of our staff.
Page 191: Programme 1.1 deliverables
• First island-wide baiting programme for eradication of cats on Christmas Island completed.
• Knowledge gaps and impediments to recovery identified for 56 threatened plant species in Commonwealth reserves.
• Australian National Botanic Gardens Master Plan completed.
• Kakadu National Park fire strategy completed.
• Develop an approach to evaluate and monitor Indigenous economic opportunities in joint managed parks by 30 June 2016.
• Cat and rat proofing of Green Parrot nesting sites on Norfolk Island National Park completed.
• Pulu Keeling National Park Management Plan completed.
• Kakadu National Park Management Plan completed.
• Consultations and Commonwealth Marine Reserve review completed and new management plans prepared.
• Yellow Crazy Ants biocontrol programme implemented in line with relevant approvals.
• Booderee National Park Management Plan completed.
• 30th anniversary of joint management in Uluru-Kata Tjuta National Park marked.
• Marine ecosystem health indicators have a baseline established by 30 June 2017.
• Proportion of terrestrial reserve management plans in place.
• Proportion of marine reserve network management plans in place.
Page 192: Programme 1.1 key performance indicators
• Populations of threatened and significant species are increasing.
• Populations of priority invasive species are reduced.
• Increase in numbers of Indigenous staff and/or contractors directly or indirectly providing park services.
• Maintain or improve the level of visitor satisfaction and number of visitors.
Source: The Australian Government Environment Portfolio -2015
Full document available at: http://www.environment.gov.au/about-us/publications/budget/portfolio-budget-statements-2015-16
Find out more about Australian Federal Government's Commonwealth Marine Reserves review:http://www.environment.gov.au/marinereservesreview/scientific-review
The RET 2014 Administrative Report now available
11 May 2015: Media Release – Clean Energy Regulator Australian Government
The Renewable Energy Target 2014 Administrative Report was tabled in parliament on 11 May 2015. The report outlines the schemes performance against its legislated objectives in 2014.
The performance and impact of the Renewable Energy Target was in the spotlight throughout 2014. However, regardless of the policy debate during 2014, the Renewable Energy Target continued to operate according to its objectives. A total of 36.8 million renewable energy certificates were validly created in 2014, representing 36.8 million megawatt hours of additional electricity generated from ecologically sustainable sources or no longer required from the grid.
In 2014 the Large-scale Energy Target experienced a slow-down in investment—wind farm accreditations, which had been increasing since 2010, fell for the first time in 2014.
In contrast, there was an increase in accreditations of large-scale solar power plants, with technology developments improving solar's economic competitiveness at the utility scale.
The Small-scale Renewable Energy Scheme experienced greater stability during 2014, with fewer changes to state-based incentives than in past years. A year of steady growth saw small-scale installations surpass the 2.2 million milestone by the end of 2014.
In particular, there was strong growth in solar panel installations at the higher end of the Small-scale Renewable Energy Scheme as an increasing number of small to medium businesses joined householders in using solar panels to reduce their electricity costs.
The outcomes of the 2014 calendar year demonstrate the Renewable Energy Target continues to operate effectively as a market-based instrument to support investment in renewable energy systems.
Long distance champions flying into extinction
8 May 2015: BirdLife Australia
While the world celebrates World Migratory Bird Day this weekend, BirdLife Australia's Threatened Species Committee has released grim news confirming that seven of Australia's migratory shorebird species are on a trajectory to extinction.
"It's a very sad roll call," said Samantha Vine, BirdLife Australia's Head of Conservation. "Once common species like Eastern Curlew and Curlew Sandpiper are now Critically Endangered with Bar-tailed Godwit, Red Knot and Great Knot not far behind".
"Without urgent conservation action, in the 30 years it takes for the average Australian to pay off their mortgage, many of these species will have become extinct. Gone. Lost to the world forever," continued Ms Vine. Perhaps most alarming is the fact that the once numerous and widespread Red-necked Stint has moved onto the Near Threatened list..
"This miraculous bird, no bigger than a sparrow, is capable of flying more than 20,000 km each year. But like other migratory shorebirds, it needs Australia, China, Korea and other Asian nations to work together to protect the rich mudflats that fuel its migration," continued Ms Vine.
"Otherwise, in coming years tens of thousands of stints and other birds will die of starvation and exhaustion as they attempt their arduous journey."
"We're watching their numbers dwindle before our very eyes. It's conceivable that within my lifetime, these birds will stop returning to our shores altogether," said Ms Vine.
However, BirdLife Australia is not going to let these birds disappear without a fight. We are calling on the Australian Government to do more to protect migratory shorebirds at home and in Asia. BirdLife has launched a petition asking Federal Environment Minister, Greg Hunt to develop:
A strong national wetlands policy to address the cumulative impacts of multiple threats to our shorebirds (the 'death by a thousand cuts'); and
An ambitious strategy to engage our international partners in the protection of habitat important to the survival of our shorebirds.
In coming weeks, BirdLife Australia will also release an interactive shorebird map that will allow the public to document actions being undertaken at shorebird sites across Australia – the good, the bad and the ugly.
"Our new interactive map will allow the community to work with us to develop a comprehensive picture of the state of shorebird habitat across Australia," said Ms Vine.
"We believe it will show just how much important habitat is being lost to port developments, housing and industry in Australia each year. But it will also put a spotlight on communities taking action to protect the wetlands and shorebirds they love."
The petition is online at birdlife.org.au/shorebirds-in-crisis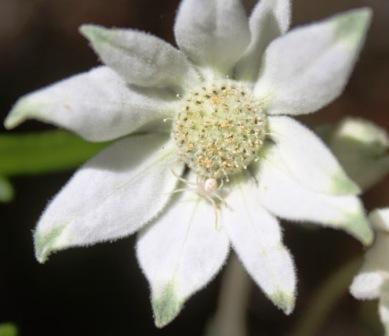 Research investment lightens our carbon footprint
May 13 2015
Empowering industry, government and individuals to reduce carbon emissions is the key goal of a new research node of the Cooperative Research Centre for Low Carbon Living (CRCLCL) to be launched in Adelaide today by University of South Australia Deputy Vice Chancellor Research, Professor Tanya Monro at 3 pm, Lochiel Park, Campbelltown.
With more than a $1.1 million joint investment from UniSA and the CRCLCL, the node will be the State's premier research hub for multidisciplinary research and innovation into the technologies, urban design, construction and building renovation, consumer choice and energy systems integration that underpin a reduction in carbon emissions.
The investment will fund up to five higher degree research positions.
Prof Monro says the new research node will provide fantastic opportunities to expand postgraduate research into what are industries of the future.
"To limit the impact of climate change, it is not enough to develop new technologies in isolation," Prof Monro says.
"We also need to empower communities to adopt low-carbon housing solutions via advances in energy and planning policy. By bringing together emerging technologies such as sustainable building materials with policy frameworks that reduce barriers to renewable energy, this CRC promises to make a deep impact and bring the concept of sustainability to low-cost housing.
"The research within this new node will be inspired by the challenges faced by this industry sector.
"We welcome the CRC for Low Carbon Living's investment in this research node and its support for new higher degree students. The investment in the node at UniSA highlights the calibre of our research into environmentally sustainable construction and development and we hope to attract students who are passionate to make a difference. It's a wonderful opportunity for us to provide world-class research training in an area that will clearly stimulate new industries and jobs into the future."
Director of UniSA's Barbara Hardy Research Institute and Professor of sustainable energy engineering, Wasim Samansays the node in SA is especially significant because it capitalises on the great amount of work being done locally to address the challenges of human's contribution to climate change.
"Locally the issue of climate change mitigation is very much on the agenda with the State Government outlining aclear direction for change and innovation," Prof Saman says.
"The research we do in here, focussing UniSA's expertise on real world technical and planning challenges, will have wide scale application for the nation, particularly in support of sustainable new urban developments and regeneration projects.
"At a time of escalating energy costs, the Node of Excellence in research will pay particular attention to low income housing and deep renovations to reduce utility costs."
CRCLCL Chief Executive Officer, Prof Deo Prasad says the Node of Excellence will draw on and expand the research program of the Adelaide Living Laboratory (ALL). Already supported by the CRCLCL the ALL developments at Lochiel Park, Tonsley and Bowden are modelling the transition to low carbon impact urban environments.
"In Australia the carbon embodied in building materials combined with the operation of those buildings is responsible for about 40 per cent of national emissions," Prof Prasad says.
"The research we are engaged in will not only contribute to stemming the progression of climate change, it also has significant immediate economic benefits. As an example, if SA alone made the transition to a net zero energy construction standard, it would reap an economic benefit of almost $1.3 billion."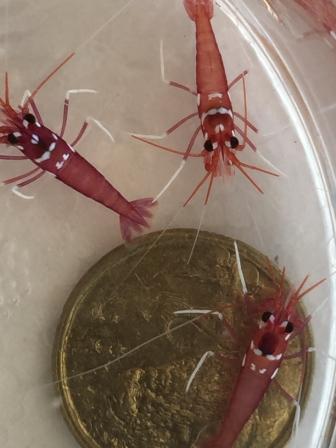 Breeding program takes pressure off coral reefs
May 13, 2015
Scientists from James Cook University have made a breakthrough in the breeding and raising of saltwater aquarium fish and crustaceans that will take the pressure off hard-pressed coral reef populations.
JCU's Associate Professor Chaoshu Zeng said the trade in marine aquarium fish is a fast expanding, multi-billion dollar industry, with the exotic creatures collected from reefs pound-for-pound the most valuable commodity in the world.
But he said developing nations such as Indonesia and the Philippines, which provide the bulk of the supply, had little effective control over their collection, with chemicals such as cyanide often used to stun fish so they could be captured, and coral reefs destroyed to scare them into the open.
Dr Zeng said through many years of hard work, JCU researchers had made multiple breakthroughs in the notoriously hard science of breeding and raising marine ornamentals.
He said a combination of confidential techniques had allowed JCU to raise more than 20 marine ornamental species, including the Harlequin Anemone Crab (a world-first), the Dot-dash Lined Cleaner Shrimp (which can retail for around $100 each), the coral sea lyretail Blenny, and the chocolate goby fish.
Dr Zeng said the team had also recently successfully raised Fire or Blood Shrimp for the first time in Australia with the best survival and quickest larval settlement in the world. The crustacean is a much sought-after variety that can be sold for nearly $300 each in Australia.
He said they also had much success with the colourful Green Mandarin Dragonet fish, achieving the highest survival rate of captive-bred examples of the species in the world.
"We did it with detailed, systematic research which ensures repeatability of results," he said. "Others may be able to breed some species, but they are often not able to repeat the success."
Dr Zeng said the project was on the cusp of being commercially viable.
Top: Fire Shrimp - image credit James Cook University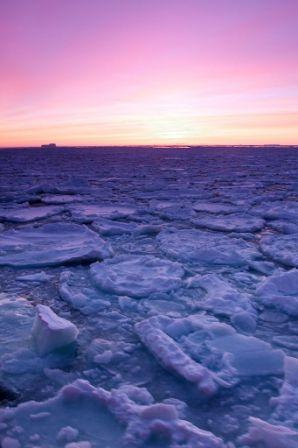 International experts gather to seek Antarctica sea ice solutions
12th May 2015
The impact of changing sea ice conditions on Antarctic operators will be the focus of a major international workshop in Hobart this week.
The Antarctic Sea Ice Challenges Workshop, convened by the Council of Managers of National Antarctic Programmes (COMNAP), will bring together the world's Antarctic program managers and scientists for the first time to tackle the issue.
COMNAP Executive Secretary Michelle Rogan-Finnemore said the two day meeting will examine the latest scientific advice on the causes and likely future trends in sea ice cover, as well as identify potential solutions.
"Challenging sea ice conditions in some parts of Antarctica, including thicker and more extensive sea ice coverage, are impacting the delivery of Antarctic scientists, support personnel and supplies to Antarctic research facilities," Ms Rogan-Finnemore said.
"Innovative and pragmatic approaches are needed to solve these evolving challenges," she said.
The workshop is being jointly hosted by the Australian Antarctic Division (AAD) and the Antarctic Climate and Ecosystems Cooperative Research Centre (ACE CRC).
Workshop convenor Dr Rob Wooding of the AAD said there will be 58 delegates attending the meeting including Antarctic program managers, sea ice scientists, ice navigators and shipping experts.
"This is the first time that a group of international experts of this calibre have gathered to work together in addressing this issue of critical importance to everyone who operates in the Antarctic," Dr Wooding said.
"The support we have received from COMNAP member nations has been exceptional."
Co-host Professor Tony Worby from ACE CRC prefaced workshop proceedings with a public lecture on changing sea ice conditions yesterday evening.
"The scientific community can offer valuable insights into why Antarctic sea ice is changing, and therefore help with the planning of Antarctic operations," Professor Worby said.
"Scientists also have access to daily satellite imagery that can be sent directly to ships, helping them choose the best possible route through the sea ice.
"Operational delays as a result of being stuck in the ice can quickly become very costly and are often avoidable," he said.
The outcomes from the workshop will be published by COMNAP later this year.
Pancake ice in the Southern Ocean (Photo: Rob Johnson)
Blue Star Sustainability Awards - Keep NSW Beautiful
Calling all people dedicated to our environmental future - Our Blue Star Sustainability Awards are now open! These annual awards aim to reward both individuals and group projects in NSW which are committed to promoting responsible environmental practices in their local areas. There are 10 different award categories, each with a regional and metropolitan winner. To enter, all you have to do is submit a short form online - it couldn't be easier!
Entries close on Wednesday the 20th of May 2015, so if this sounds like you, someone you know, or a project currently underway in your local area, head to our page and get entering! See:http://ow.ly/KO0vE

Never grown a beard before? This is your chance to grow a new beard this Winter!
Already got a beard? Get it sponsored and keep it growing!
Register Today and set up your page for The Winter Blanket Challenge 2015 today.
Beardson.org's aim is to start a Conversation about Conservation using the beard as the talking point. You can be part of this movement by growing your very own Winter Blanket for free in support of conservation and help raise $20,000 for Landcare Australia to plant native Australian trees.
Starting your beard on the 1st June and finishing on the 31st August, you will have the opportunity to create a very warm winter blanket for your face and raise funds at the same time! It's free to grow and you will save a lot of money on shavers for three months! Already got a beard? Great! Get it sponsored and keep on growing!
Register here
Welfare Integrity, Fairness and Sustainability for all Australians
12 May 2015: Media Release, Senator the Hon. Mitch Fifield, Assistant Minister for Social Services
The 2015 Budget is part of the Commonwealth Government's plan to build a strong, safe and prosperous future for all Australians.
In 2015-16, the Government will spend $154 billion on welfare, which is around 35 per cent of total Government expenditure.
The Government is strengthening the integrity of our welfare system to ensure it remains fair and sustainable so that we can continue to support those who need it most. These measures will return around $3.5 billion to the Budget.
Transformation programme
In this Budget, the Government will invest an initial $60 million to kick start the Welfare Payment Infrastructure Transformation to replace the existing welfare payment system and modernise government service delivery to meet the demands of today's digital world.
The Department of Human Services (DHS) is responsible for delivering welfare payments through Centrelink to 7.3 million people annually. It does this via a large information technology system which was developed in 1983 and modified to meet government policy changes.
Changes to policy and processes over the past three decades have made the system extremely complex, inflexible, costly to main and difficult to ensure compliance.
The new welfare payment system will save customers time and effort by offering smarter and easier online end-to-end services. It will also reduce the costs of administering welfare payments and save taxpayers money in the long run.
A strong welfare cop on the beat
The Government has zero tolerance for rorting of our welfare system.
We will put a strong welfare cop on the beat focusing on deterrence, detection, investigation and prosecution to track down suspected welfare fraud and non-compliance.
From 1 July 2015, the Government will increase DHS's capability to detect, investigate and deter suspected welfare fraud and non-compliance.
Activities will target high-risk geographic hot spots, unexplained wealth, undeclared income, and undisclosed changes of customer circumstances, which can lead to ineligibility for payments.
It will achieve net savings of around $1.5 billion.
Income test treatment of defined benefit schemes
The Government will ensure fairer treatment of defined benefit superannuation income for pensioners.
From 1 January 2016, the level of income from defined benefit superannuation that can be excluded from the pension income test will be capped at 10 per cent.
The anomaly was created unintentionally after changes were made in 2007. With the current pension rules, some people are able to exclude a percentage of their defined benefit income stream from the Age Pension means test. For example: a couple with a defined benefit scheme income of $120,000 a year with a 50% deductible amount can exclude $60,000 from the income test. Only the remaining $60,000 is assessed as income under the income test, which results in the couple receiving a part pension of $7,400 per year in addition to their defined benefit income. Under this change this couple would no longer be eligible for a part pension.
Around 65 per cent of income support recipients with payments from defined benefit schemes have deductible amounts of 10 per cent or less and will not be affected by this measure.
Department of Veterans Affairs Pensions and defined benefit income streams paid by military superannuation funds are exempt from this measure.
It will achieve net savings of $465.5 million over the forward estimates.
Better Income Management
The Government is investing $147 million to deliver more streamlined and cost-effective income management.
Around 25,000 people will continue to benefit from this programme designed to support vulnerable Australians.
Financial Wellbeing and Capability services will no longer be compulsory; however, people on income management will continue to have priority access to these services.
The Government is also investing $25.6 million to increase the financial wellbeing of up to 340,000 people, through providing financial counselling and money management skills.
The new model of Financial Wellbeing and Capability services to people across income management locations will help improve the capacity and resilience of families and individuals to manage their finances, avoid the risks of poor financial literacy and help people move out of debt.
The Government's changes to our social security system will result in fairer, more sustainable welfare now and into the future.
The origins and future of Lake Eyre and the Murray-Darling Basin
11 May 2015 - Monash University
Geoscientists have, for the first time, discovered the origins of Australia's two largest basins: Lake Eyre and the Murray-Darling Basin. The research also implies that in 30 million years' time both basins will cease to exist.
Monash University geoscientist Associate Professor Wouter Schellart, and his colleague Professor Wim Spakman from Utrecht University, have discovered how the floor of an entire ocean basin that was destroyed 70 to 50 million years ago off the North coast of New Guinea is currently located at 800-1200km depth below Central and South-eastern Australia.
Using supercomputers, the researchers found that this dense piece of ocean floor material (called a lithospheric slab) is slowly sinking into the Earth's mantle and is responsible for the formation of the Lake Eyre Basin, one of the Earth's largest internally drained basins and home to the lowest point in Australia at 15m below sea level, as well as the Murray-Darling Basin, home to the largest river system in Australia. With a combined surface area exceeding 2 million square kilometres, both basins are located directly above the deep mantle slab.
The research also predicts that in 30 million years from now, when Australia has moved about 1500km northwards, the fossil slab will be located below the Southern Ocean and, as a consequence, the Lake Eyre Basin and Murray Darling Basin will cease to exist.
Using geological and geophysical data from the New Guinea region, Schellart was able to reconstruct the geological evolution of the region over the last 70 million years, including the motion of the tectonic plates and plate boundaries. He discovered that the occurrence of deep ocean floor rocks, volcanic rocks and deformed rocks, which are currently found in the mountain ranges of New Guinea, point to the existence of a 4000km wide subduction zone. At subduction zones such as these, an oceanic tectonic plate sinks (subducts) into the Earth's interior, the mantle.
With these plate tectonic reconstructions Schellart was able to predict where the fossil subduction zone was during its lifetime some 50-70 million years ago, and therefore where the lithospheric slab disappeared into the mantle. With a global seismic tomography model that makes use of seismic waves to map the internal structure of the Earth's mantle, Schellart and Spakman were able to identify the fossil slab structure below central and south-eastern Australia at a location and depth predicted by the reconstructions.
"When we first compared the predictions of our reconstructions with the mantle tomography model we were amazed by how perfectly they aligned," Associate Professor Schellart said.
The researchers then developed a computer model to simulate flow in the Earth's mantle to be able to predict the sinking velocity of the fossil slab and to investigate how this sinking might affect the Earth's surface. They found that although the slab is sinking at a rate of less than 1cm per year, this slow sinking generates a downward flow in the mantle that is sufficient to pull down the Earth's surface and create these huge basins.
"It is incredible to think that tectonic processes that took place millions of years ago at the northern margin of New Guinea are responsible for the landscape we see today in Central and South-eastern Australia," Associate Professor Schellart said.
The research was undertaken with the assistance of resources from the National Computational Infrastructure (NCI), which is supported by the Australian Government.
The research was published in the international journal Earth and Planetary Science Letters.
Burra, South Australia 1915. Belgian Flag Day, Australia Day, ANZAC Day
NFSA Films: Published on 10 May 2015
From the National Collection. Three silent newsreel films highlighting various street parades from Burra, South Australia all held in 1915. These interesting newsreels show the then prosperous and bustling mining town of Burra, or the collection of townships known as The Burra, commemorating and celebrating three significant events in 1915. The first, held on the 10th of May, is Belgian Flag Day held as a fund raiser for the war effort. The second is Australia Day held on July the 30th. This predates the now national celebration held on January 26. At that time there was no nationally recognised national day. The third film from 1915 is the very first ANZAC Day held that year on October 13. That first ANZAC Day or the Patriotic Procession and Carnival as it was also know was more mardi gras and fete, as the title card suggests, than the solemn commemoration it is today. Many of the buildings seen in these films, including the rotunda, still stand today.
New national database of UK coastal flooding
May 12, 2015
Scientists have compiled a new database of coastal flooding in the UK over the last 100 years, which they hope will provide crucial information to help prevent future flooding events.
'SurgeWatch' contains information about 96 large storms taken from tide gauge records, which record sea levels back to 1915. It shows the highest sea levels the storms produced and a description of the coastal flooding that occurred during each event.
The database, which is described in the journal Scientific Data, has been produced by a team of researchers, led by the University of Southampton and including scientists from the National Oceanography Centre and the British Oceanographic Data Centre.
Lead author Dr Ivan Haigh, Lecturer in Coastal Oceanography at the University of Southampton, says: "The winter of 2013/14 saw some of the UK's most extreme sea levels, waves and coastal flooding for several decades. During this period storms repeatedly subjected large areas of our coast to enormous stress and damage, reminding us of the real and ever-present risks and challenges facing coastal communities today."
Professor Kevin Horsburgh, Head of Marine Physics and Ocean Climate at the National Oceanography Centre, says: "This new database allows us to improve our understanding of the statistics of extreme sea levels around the UK. Coastal flooding remains a threat to life and to economic and environmental assets. Even if there is no future change in European storminess, the slow rise in mean sea level will increase the number of times that defence thresholds are exceeded. This database is a useful tool for coastal engineers and planners who are concerned with changes to extreme sea levels."
SurgeWatch is free and accessible to a range of users, including scientists, coastal engineers, managers and planners. The team aim to expand and update the database and are appealing for the help of the general public.
Dr Matthew Wadey, a postdoctoral researcher in Ocean and Earth Science at the University of Southampton, adds: "Do you have any photographs of coastal flooding from recent or past events, which you are willing to share with us? We would like to compile and investigate these in order to improve our understanding of exactly which areas were flooded and to what water depth. Photos can be easily uploaded to our website."
Prompted by people asking "Just how unusual was the 2013/14 season?" the researchers spent over 18 months compiling records of high sea level events and coastal flooding going back 100 years. Using meteorological data, they were able to identify the large storms that produced these high sea levels, investigate the weather conditions and track of each storm. They then spent many thousands of hours reading old reports, books, news articles, blogs and websites, to estimate the extent and scale of the coastal flooding.
Elizabeth Bradshaw, data scientist at the British Oceanographic Data Centre, says: "Was the 2013/14 season unusual? Yes, very much so. Seven out of the 96 events in the 100-year database occurred during the 2013-14 storm surge season. Two of the events (5 and 6 December 2013 and 3 January 2014) are ranked in the top ten, in terms of height of sea levels. Both of these events also rank highly in terms of spatial footprints, i.e. they impacted very large stretches of the UK coast."
Robert Nicholls, Professor of Coastal Engineering at the University of Southampton, adds: "The fact that the damage was so limited during the December 2013 and January 2014 storms, compared to the tragedy of January 1953, during which 307 people were killed along the UK's North Sea coast, is thanks to significant government investment in coastal defences, flood forecasting and sea level monitoring. It is therefore vital we continue to invest in defences, forecasting and monitoring and continue to update this new database."
1. Ivan D. Haigh, Matthew P. Wadey, Shari L. Gallop, Heiko Loehr, Robert J. Nicholls, Kevin Horsburgh, Jennifer M. Brown, Elizabeth Bradshaw. A user-friendly database of coastal flooding in the United Kingdom from 1915–2014. Scientific Data, 2015; 2: 150021 DOI:10.1038/sdata.2015.21
Below: Waves batter the coast at Chesil Beach during the storm of Feb. 4-6, 2015. Credit: Tim Poate and Gerd Masselink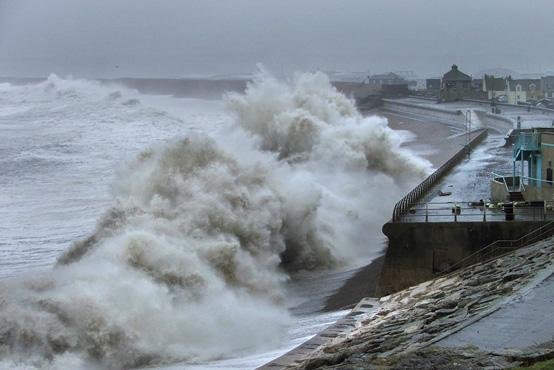 Six times more expensive to travel by car than by bicycle: Study
May 12, 2015
It is six times more expensive for society -- and for you individually -- if you travel by car instead of cycling. This has been shown in a Lund University study of Copenhagen, a city of cyclists. It is the first time a price has been put on car use as compared to cycling.
In the comparative study, Stefan Gössling from Lund University and Andy S. Choi from the University of Queensland have investigated a cost-benefit analysis that the Copenhagen Municipality uses to determine whether new cycling infrastructure should be built.
It considers how much cars cost society and how they compare to bicycles in terms of air pollution, climate change, travel route, noise, road wear, health and congestion in Copenhagen.
The study concluded that cars have a greater negative impact on the economy than bicycles:
If the costs to society and the costs to private individuals are added together, the impact of the car is EUR 0.50 per kilometre and the impact of the bicycle is EUR 0.08 per kilometre.
The study by Stefan Gössling and his colleague also shows that if we only look at costs/benefits for society, one kilometre by car costs EUR 0.15, whereas society earns EUR 0.16 on every kilometre cycled.
"The cost-benefit analysis in Copenhagen shows that investments in cycling infrastructure and bike-friendly policies are economically sustainable and give high returns," says Stefan Gössling.
Cost-benefit analysis is a method used to calculate the benefits to society of infrastructure investments.
Stefan Gössling, Andy S. Choi. Transport transitions in Copenhagen: Comparing the cost of cars and bicycles. Ecological Economics, 2015; 113: 106 DOI: 10.1016/j.ecolecon.2015.03.006
Important step in artificial intelligence: Stylized letters classified by their images
May 11, 2015
In what marks a significant step forward for artificial intelligence, researchers at UC Santa Barbara have demonstrated the functionality of a simple artificial neural circuit. For the first time, a circuit of about 100 artificial synapses was proved to perform a simple version of a typical human task: image classification.
"It's a small, but important step," said Dmitri Strukov, a professor of electrical and computer engineering. With time and further progress, the circuitry may eventually be expanded and scaled to approach something like the human brain's, which has 1015 (one quadrillion) synaptic connections.
For all its errors and potential for faultiness, the human brain remains a model of computational power and efficiency for engineers like Strukov and his colleagues, Mirko Prezioso, Farnood Merrikh-Bayat, Brian Hoskins and Gina Adam. That's because the brain can accomplish certain functions in a fraction of a second what computers would require far more time and energy to perform.
What are these functions? Well, you're performing some of them right now. As you read this, your brain is making countless split-second decisions about the letters and symbols you see, classifying their shapes and relative positions to each other and deriving different levels of meaning through many channels of context, in as little time as it takes you to scan over this print. Change the font, or even the orientation of the letters, and it's likely you would still be able to read this and derive the same meaning.
In the researchers' demonstration, the circuit implementing the rudimentary artificial neural network was able to successfully classify three letters ("z," "v" and "n") by their images, each letter stylized in different ways or saturated with "noise." In a process similar to how we humans pick our friends out from a crowd, or find the right key from a ring of similar keys, the simple neural circuitry was able to correctly classify the simple images.
"While the circuit was very small compared to practical networks, it is big enough to prove the concept of practicality," said Merrikh-Bayat. According to Gina Adam, as interest grows in the technology, so will research momentum.
"And, as more solutions to the technological challenges are proposed the technology will be able to make it to the market sooner," she said.
Key to this technology is the memristor (a combination of "memory" and "resistor"), an electronic component whose resistance changes depending on the direction of the flow of the electrical charge. Unlike conventional transistors, which rely on the drift and diffusion of electrons and their holes through semiconducting material, memristor operation is based on ionic movement, similar to the way human neural cells generate neural electrical signals.
"The memory state is stored as a specific concentration profile of defects that can be moved back and forth within the memristor," said Strukov. The ionic memory mechanism brings several advantages over purely electron-based memories, which makes it very attractive for artificial neural network implementation, he added.
"For example, many different configurations of ionic profiles result in a continuum of memory states and hence analog memory functionality," he said. "Ions are also much heavier than electrons and do not tunnel easily, which permits aggressive scaling of memristors without sacrificing analog properties."
This is where analog memory trumps digital memory: In order to create the same human brain-type functionality with conventional technology, the resulting device would have to be enormous -- loaded with multitudes of transistors that would require far more energy.
"Classical computers will always find an ineluctable limit to efficient brain-like computation in their very architecture," said lead researcher Prezioso. "This memristor-based technology relies on a completely different way inspired by biological brain to carry on computation."
To be able to approach functionality of the human brain, however, many more memristors would be required to build more complex neural networks to do the same kinds of things we can do with barely any effort and energy, such as identify different versions of the same thing or infer the presence or identity of an object not based on the object itself but on other things in a scene.
Potential applications already exist for this emerging technology, such as medical imaging, the improvement of navigation systems or even for searches based on images rather than on text. The energy-efficient compact circuitry the researchers are striving to create would also go a long way toward creating the kind of high-performance computers and memory storage devices users will continue to seek long after the proliferation of digital transistors predicted by Moore's Law becomes too unwieldy for conventional electronics.
"The exciting thing is that, unlike more exotic solutions, it is not difficult to imagine this technology integrated into common processing units and giving a serious boost to future computers," said Prezioso.
In the meantime, the researchers will continue to improve the performance of the memristors, scaling the complexity of circuits and enriching the functionality of the artificial neural network. The very next step would be to integrate a memristor neural network with conventional semiconductor technology, which will enable more complex demonstrations and allow this early artificial brain to do more complicated and nuanced things. Ideally, according to materials scientist Hoskins, this brain would consist of trillions of these type of devices vertically integrated on top of each other.
"There are so many potential applications -- it definitely gives us a whole new way of thinking," he said.
M. Prezioso, F. Merrikh-Bayat, B. D. Hoskins, G. C. Adam, K. K. Likharev, D. B. Strukov. Training and operation of an integrated neuromorphic network based on metal-oxide memristors. Nature, 2015; 521 (7550): 61 DOI: 10.1038/nature14441
PITTWATER WEATHER STATION LAUNCHED
An idea was born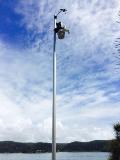 Frustrated at being unable to obtain Local Pittwater Actual weather from any source the means to achieve such information was investigated. (All current internet weather sites give Terrey Hills weather even when you request one anywhere around Pittwater)
Through the Federal Minister for The Environment, referred to the Bureau of Meteorology to be told that just one station would cost $29,000 and that no funding was available – that was a red rag to a bull.
This is despite the fact that there are no BoM Coastal Weather Stations between North Head and Norah Head – a distance of 67Kms. Going south there are stations every 11 – 30Kms to Kiama.
Without any Government assistance, private equity was volunteered by a very generous local willing to give back something to our idyllic Pittwater. Not only is he funding one station – the aim is to eventually have 5 -6 around Pittwater.
This data will benefit sailors, fishermen, power boats, seaplanes, Marine Rescue, Maritime, Water Police, National Parks, the Rural Fire Service and yacht clubs. On Saturday 21st February, 2015 the first station was commissioned at Observation Point, Palm Beach.
This website is most comprehensive with the data available in various formats including gauges that give analog and digital readings: pittwaterweather.com/Cumulus/Observation
Webcams will be incorporated subsequently to give a birds-eye-view.
Permission is pending from Rob Stokes – State Member for the Environment – to position one station on Barrenjoey Lighthouse. This will give both coastal and Pittwater coverage. Other sites will follow when siting permission is obtained.
Report by Rohan Walter
A global resource: the launch of the RMIT Art Collection Online
11 May 2015: RMIT
RMIT's art collection has come out of the shadows, offices and walls around the university to reveal more than 1000 artworks in a searchable data base for students and researchers to explore.
Martin Bean, CBE, Vice-Chancellor and President of RMIT University, who recently launched the RMIT art collection online at RMIT Gallery, said that the resource was significant because it facilitated wide general access to the dispersed collection.
"The role of universities is in enriching cultural life as well as education, and being able to access the RMIT art collection online provides an immersive experience combining both technology and education," he said.
"It is one thing for universities to own art, and another to share it."
For more than 125 years, the RMIT University art collection has served as both a repository for education and research, and as a source of inspiration. Its purpose is to tell the history of the University through the creative output of its staff and alumni, and to reflect RMIT's core values of innovation, creativity, sustainability and social engagement.
The RMIT art collection includes fine art, photography, ceramics, sculpture, textiles, new media and a ground-breaking sonic arts collection.
It provides a considerable overview of Australian art history and includes some of the most highly-regarded and successful artists that both the country and the University have produced. Works from the collection are regularly loaned for exhibition to other institutions, both within Australia and internationally.
Professionally cataloguing the entire collection has taken four intensive years, starting with partial paper records to a full accounting of all the fine art works that the university holds, in keeping with international best practice.
The online database has been meticulously annotated and researched, and provides a comprehensive global referencing system that is not only a natural progression for a university of technology, it will allow researchers access to information and history of individual artworks.
Work was undertaken by Jon Buckingham, RMIT Collections Coordinator, under the direction of Suzanne Davies, RMIT Gallery Director and Chair, RMIT University Art Collection Committee.
This, however, is just the tip of the iceberg in terms of primary sources and research material to be generated around the collection.
Ms Davies said that the collection's intuitive website had already been put to use as a teaching tool, with Master of Art students from the School of Art using it to curate a virtual exhibition for their final assessment in the Curating Contemporary Art program taught through RMIT Gallery.
"It is anticipated we will have a wide range of responses given that students now have access to a diverse range of catalogued items that provides a considerable overview of Australian and international art history," she said.
Expore the collection here: 131.170.8.226/imu/
More about here: 131.170.8.226/imu/?p=rmit-gallery-about
Scientists regenerate bone tissue using only proteins secreted by stem cells
May 12, 2015 – Scientists have discovered a way to regrow bone tissue using the protein signals produced by stem cells. This technology could help treat victims who have experienced major trauma to a limb, like soldiers wounded in combat or casualties of a natural disaster. The new method improves on older therapies by providing a sustainable source for fresh tissue and reducing the risk of tumor formation that can arise with stem cell transplants.
The new study, published in Scientific Reports, is is the first to extract the necessary bone-producing growth factors from stem cells and to show that these proteins are sufficient to create new bone. The stem cell-based approach was as effective as the current standard treatment in terms of the amount of bone created.
"This proof-of-principle work establishes a novel bone formation therapy that exploits the regenerative potential of stem cells," says senior author Todd McDevitt, PhD, a senior investigator at the Gladstone Institutes. "With this technique, we can produce new tissue that is completely stem cell-derived and that performs similarly with the gold standard in the field."
Instead of using stem cells themselves, the scientists extracted the proteins that the cells secrete--such as bone morphogenetic protein (BMP)--in order to harness their regenerative power. To do so, the researchers first treated stem cells with a chemical that helped coax them into early bone cells. Next, they mined the essential factors produced by the cells that send the signal to regenerate new tissue. Finally, the researchers delivered these proteins into mouse muscle tissue to facilitate new bone growth.
The current standard method involves grinding up old bones in order to extract the proteins and growth factors needed to stimulate new bone growth--a substance dubbed demineralized bone matrix (DBM). However, this approach has significant restrictions as it relies on bones taken from cadavers, which can be highly variable in terms of tissue quality and how much of the necessary signals they still produce. Moreover, as is the problem in organ donation, cadaver tissue is not always available.
"These limitations motivate the need for more consistent and reproducible source material for tissue regeneration," says Dr. McDevitt, who conducted the research while he was a professor at the Georgia Institute of Technology. "As a renewable resource that is both scalable and consistent in manufacturing, pluripotent stem cells are an ideal solution."
Ken Sutha, Zvi Schwartz, Yun Wang, Sharon Hyzy, Barbara D. Boyan, Todd C. McDevitt. Osteogenic Embryoid Body-Derived Material Induces Bone Formation In Vivo. Scientific Reports, 2015; 5: 9960 DOI: 10.1038/srep09960
A sobering thought: One billion smokers and 240 million people with alcohol use disorder, worldwide
May 12, 2015
A new study published today in the journal Addictionhas compiled the best, most up-to-date evidence on addictive disorders globally. It shows that almost 5% of the world's adult population (240 million people) have an alcohol use disorder and more than 20% (1 billion people) smoke tobacco. Getting good data on other drugs such as heroin and cannabis is much more difficult but for comparison the number of people injecting drugs is estimated at around 15 million worldwide.
The "Global Statistics on Addictive Behaviours: 2014 Status Report" goes further in showing that the harm to society from legal drugs is many times the harm from illicit drugs. For example, alcohol use is estimated to result in loss of 257 disability adjusted life year per 100,000 of population compared with just 83 for illicit drugs.
There are huge regional differences in use of addictive drugs. The heaviest drinkers are in Eastern Europe where 13.6 litres of alcohol is consumed per head of population each year, followed by Northern Europe at 11.5 litres. Central, Southern and Western Asia have the lowest consumption at 2.1 litres.
Eastern Europe also has the most smokers at 30.0% of adults, closely followed by Oceania at 29.5% and Western Europe at 28.5%. This compares with Africa at 14%. North and Central America with the Caribbean have the highest rates of injecting drug use at 0.8%, which is more than twice the rate in Northern Europe at 0.3%.
The authors of the report note that there are important limitations to the data, more so for illicit than legal drugs, but believe that putting all this information in one place will make it easier for governments and international agencies to develop policies to combat this scourge.
The report's lead author, Associate Professor Linda Gowing, based at the University of Adelaide in South Australia, said "Bringing all this data together has been very challenging but having this global snapshot in one accessible resource should prove invaluable for policymakers and researchers."
UCL (University College London) Professor Robert West, an author of the report and Editor-in-Chief of the journal Addiction, which commissioned the report, said "The most striking thing to emerge is how much more damage is done to society by legal drugs than illegal ones. It is a stark reminder of how the need to create shareholder value can work against global health and wellbeing."
Linda R. Gowing, Robert L. Ali, Steve Allsop, John Marsden, Elizabeth E. Turf, Robert West, John Witton. Global statistics on addictive behaviours: 2014 status report. Addiction, 2015; 110 (6): 904 DOI:10.1111/add.12899
Head On Photo Festival
Head On turns the city of Sydney into a living cross-section of cutting edge photography and video media. Exhibiting across all genres and experiences, Head On is a platform for the passion of the photographers, the excitement of the audiences, the beauty of the medium and the issues photography addresses.
Head On is a bridge between Australian and International photographic markets. In 2014 alone, Head On exhibited 55 artists from 18 countries. Festival tours in America, China and New Zealand introduced the international photographic elite and audiences in excess of 500, 000 to the wealth of photographic talent Australia possess with great acclaim.
We know photography matters and we show it.
See for yourself from the 1st – 31st May, 2015.
Head On Photo Festival: www.headon.com.au
Below: Photo by Shunzan Fan from the exhibition 'Between Heaven and Earth' at The Stanley Street Gallery from until 16th Mayhttp://bit.ly/1F78ug6