Inbox and Environment News Issue 203
February 22 - 28, 2015: Issue 203
Caribbean coral findings may influence Barrier Reef studies
February 20, 2015 - Corals may be better equipped to tolerate climate change than previously believed, according to research led by Griffith University's Dr Emma Kennedy.
Working with scientists from the University of Exeter in the UK, Dr Kennedy says the findings -- published in the journal Coral Reefs -- relate to an extensive study of Caribbean corals, but could influence future analysis of Australia's Great Barrier Reef.
Using a high-resolution molecular screening technique called Real Time-PCR, the researchers confirmed that the partnership between Symbiodinium D -- a symbiotic algae associated with resistance to coral bleaching -- and Caribbean corals is more common than had been supposed.
"Corals rely on a relationship with algae in order to get energy via photosynthesis," says Dr Kennedy, a Postdoctoral Research Fellow in the School of Environment's Australian Rivers Institute.
"However, under stressful conditions such as increased temperatures, this relationship can be disrupted, resulting in a loss of the algae in an event known as bleaching. In an extreme event, this can lead to coral death.
"Our study focused on populations of the Mountain Star coral, Orbicella annularis, a widespread and prominent reef species in the Caribbean.
"Understanding its ability to weather the pressures of a changing climate, in particular rising sea temperatures, is a key question for conservationists."
Symbiodinium D was found to be present in low abundances at almost every location the researchers tested, from Tobago to the Bahamas. As well as being geographically widespread, it was also more common in individuals, found on average in more than 30 per cent of the corals in each location.
Dr Kennedy says previous studies have shown that if Orbicella annularis contains just a small amount of Symbiodinium D it can sometimes respond better to stress events -- such as heatwaves -- and is more likely to avoid coral bleaching.
A 2007 research paper (Mieog et al. 2007, Coral Reefs) reported the presence of Symbiodinium D in 71 per cent of coral colonies tested on the Great Barrier Reef.
Having completed her PhD at the University of Exeter, Dr Kennedy's latest research involves assessing the responses of coralline algae to ocean acidification and warming. It aims to determine whether coralline algae can be used to track the impacts of climate change in the Great Barrier Reef.
Emma V. Kennedy, Nicola L. Foster, Peter J. Mumby, Jamie R. Stevens. Widespread prevalence of cryptic Symbiodinium D in the key Caribbean reef builder, Orbicella annularis. Coral Reefs, 2015; DOI: 10.1007/s00338-015-1264-4
Photo: Griffith University's Dr Emma Kennedy and University of Exeter's Dr Jamie Stevens during the Caribbean research. Credit: Image courtesy of Griffith University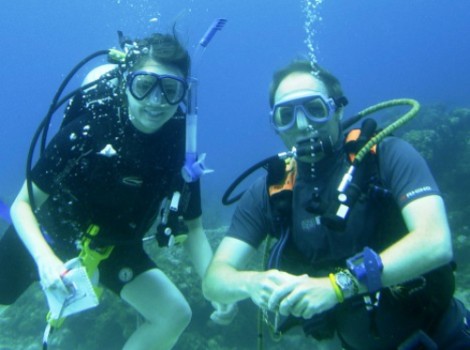 Hot headgear to hit the slopes
17 February 2015 - Tech-loving snowboarders and skiers will get a head start with the world's first intelligent snow sports helmet, created by three UNSW graduates.
Packed into the high performance headgear is every tech device you can imagine, including a full HD camera, GPS, stereo speakers, a noise-cancelling microphone to communicate with friends via Wi-Fi and Bluetooth, impact sensors, a microcomputer and an emergency beacon.
UNSW Industrial Design graduates Alfred Boyadgis and Julian Chow and Engineering graduate George Constantinos came up with the idea after a trip to the snow left them fumbling with frozen hands to operate their phones and cameras.
"The head is where everything happens and a helmet is a great platform to fit all these electronics to provide extra information such as your speed or where your friends are," Boyadgis says.
The Alpine Helmet follows on from Boyadgis' very successful final-year Industrial Design project, a 'RoboCop'-style police motorcycle helmet that won international design awards including a Silver medal in the James Dyson Award and the Red Dot International Design Award.
After graduation the trio initially headed down the traditional employment path, but with a bit of encouragement from UNSW Innovations, the University's commercialisation company, they were able to take the leap to create their own company, Forcite Helmet Systems.
Student Entrepreneur Development Manager Josh Flannery says UNSW Innovations was able to provide valuable start-up assistance including facilities, R&D support, and legal and intellectual property advice.
"We were also able to introduce the Forcite team to NSW Trade & Investment where, based on our recommendation, a grant was provided for the early development phase," Flannery says.
Boyadgis and Chow also entered the UNSW Startup Games, an entrepreneurship competition designed to provide insights into how they might further develop their ideas and their company.
"We learnt how to pitch and develop a business plan and discover what investors think. It opened our eyes to the world because we didn't really know much about the key players in the industry, the people in Silicon Valley who could help us," Boyadgis says.
Boyadgis also credits Andrew Fowkes from the UNSW Design Lab for challenging the team to consider what happens when someone crashes and the helmet is broken.
"A helmet is meant to protect you, it's meant to be replaced, and that's something we had to factor into the design," Boyadgis says.
"The top shell, the phone, the speakers, the camera, the computer, the battery – are all elements that you can pull apart, and put back together again for a reasonably affordable price."
The Forcite team hopes to have the Alpine Helmet available in time for the northern hemisphere ski season and to expand into helmets for motorbikes, bikes and the emergency services and mining sectors.
"We have had more than 2500 registers of interest in the Alpine Helmet and we're currently looking for further investment opportunities," says Boyadgis.
As for the more distant future, the Forcite team sees technology moving into a whole range of networked wearable items and, with bionic eyes and mechatronic limbs on the horizon, perhaps even incorporated into the body.
For more information or to register your interest visit Forcite.com.au.
World's first smart snow sports helmet
UNSWTV - Published on 17 Feb 2015
Clean Up Australia Day 2015
SHOROC councils would like to thank all the volunteers who have helped clean up our local area over the last 25 years. This year is the 25th Clean Up Australia Day so join in and you help clean up our local beaches, lagoons, parks, bushland and sportsfields. Already almost 100 clean up sites have been registered in the Manly, Mosman, Pittwater and Warringah council areas showing how keen and green our local residents are.
Last year an estimated 572,400 volunteers removed 15,700 tonnes of rubbish at 7,140 sites right across the country. You can join in:
Business Clean Up Day – Tuesday 24 February
Schools Clean Up Day – Friday 27 February
Clean Up Australia Day – Sunday 1 March
Get involved by registering your own clean up site or volunteer at a site near you.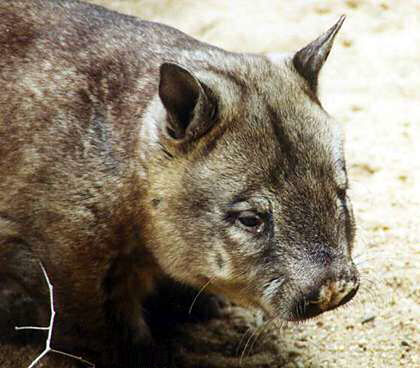 Ongoing unraveling of a continental fauna: Decline and extinction of Australian mammals since European settlement
Feb 9, 2015 - The island continent of Australia harbors much of the world's most distinctive biodiversity, but this review describes an extent of recent and ongoing loss of its mammal fauna that is exceptionally high and appreciably greater than previously recognized. The causes of loss are dissimilar to those responsible for most biodiversity decline elsewhere in the world.
The highly distinctive and mostly endemic Australian land mammal fauna has suffered an extraordinary rate of extinction (>10% of the 273 endemic terrestrial species) over the last ∼200 y: in comparison, only one native land mammal from continental North America became extinct since European settlement. A further 21% of Australian endemic land mammal species are now assessed to be threatened, indicating that the rate of loss (of one to two extinctions per decade) is likely to continue. Australia's marine mammals have fared better overall, but status assessment for them is seriously impeded by lack of information. Much of the loss of Australian land mammal fauna (particularly in the vast deserts and tropical savannas) has been in areas that are remote from human population centers and recognized as relatively unmodified at global scale. In contrast to general patterns of extinction on other continents where the main cause is habitat loss, hunting, and impacts of human development, particularly in areas of high and increasing human population pressures, the loss of Australian land mammals is most likely due primarily to predation by introduced species, particularly the feral cat,Felis catus, and European red fox, Vulpes vulpes, and changed fire regimes.
___________________

Conclusion
This review has documented the historic and ongoing unraveling of a continental fauna, resulting in the decline and extinction of some of the most distinctive species in the world. Causality has often been opaque, many factors are implicated, and these may work in a complex interactive manner. However, the major drivers of this decline have been predation by two introduced species, the cat and the red fox, and changed fire regimes. The key role of introduced predators and changed fire regimes contrasts markedly with the major threats to biodiversity in most other continents but is similar to the pattern of rapid decline of island biotas in response to introduced species (115). In this respect, Australia has been considered to be operating as a very large island rather than a small continent (28, 116). Australia's isolation has resulted in its remarkable biodiversity distinctiveness but also the extraordinary vulnerability of its biota to novel threats. With the dwindling abundance, range, and diversity of so many species, we see now only a faint shadow of the richness and abundance of the Australian mammal fauna that existed at the time of European settlement (43).
This review has documented some clear practical management priorities and demonstrated that success and recovery is possible. The Australian mammal fauna may have a brighter future if these examples are followed and priorities implemented.
However, even more pressing is a sense of societal affinity for biodiversity, a recognition of and responsibility for the quintessentially Australian wildlife by the broader community.Two of the authors of this review have, during ethnozoological research, shown older Aboriginal people stuffed museum specimens of mammal species that became extinct during their lifetimes, and been struck by the depth of emotional response by those Aboriginal elders—stroking these skins, singing the songs of these animals, crying at their loss, and the feeling that they had failed in their responsibility to maintain these species in their country. It is an affinity for nature and a lesson that the rest of society should learn. Else, the many extinctions expected in the future will be seen as inconsequential. Furthermore, if such high rates of extinction of mammals are condoned in Australia, there may be little hope for the world's biodiversity more generally.
Ongoing unraveling of a continental fauna: Decline and extinction of Australian mammals since European settlement.John C. Z. Woinarskia,b,1, Andrew A. Burbidgec, and Peter L. Harrisond. Author Affiliations: aNorthern Australian Hub of National Environmental Research Program and bThreatened Species Recovery Hub of National Environmental Science Program, Charles Darwin University, Darwin, NT 0909, Australia; cResearch Fellow, Department of Parks and Wildlife, Wanneroo, WA 6069, Australia; and dMarine Ecology Research Centre, School of Environment, Science and Engineering, Southern Cross University, Lismore, NSW 2480, Australia
Published online before print February 9, 2015, doi: 10.1073/pnas.1417301112 - PNAS - Full Open Access atHERE PDF - 905 kb
Top: Northern hairy-nosed wombat, one of our animals listed as on the brink in above paper. Credit: Eva Hejda via Wikimedia commons.
Parks Week 2015 – Watery Events in Pittwater and Surrounds: Connect With Nature
Visit a national park and connect with nature during Parks Week 2015. Held from Monday 9 March to Sunday 15 March 2015, this annual celebration highlights the important role that our parks play in local communities and the natural environment.
Over 35 great tours and events will be held in NSW national parks, on the theme 'connect with nature'. Wombeyan Karst Conservation Reserve, the oldest nature reserve in Australia, will celebrate its 150th anniversary with apublic festival showcasing the local environment. There will be entertainment, exclusive cave tours, and overnight camping packages are available so you can stay the weekend.
Activities across NSW include Aboriginal Discovery programs, ranger talks, wilderness walks, native tree plantings and WilderQuest tours for kids. You can take a surfing lesson or a guided kayak tour in pristine waters, explore lush rainforest on a mountain biking or 4WD adventure, or spot native wildlife on a sunset hike.
Enjoy one of the many tours that will be offered at a discounted rate, or choose from a range of free activities specially planned for the whole family. You can also visit new areas of national parks that are usually restricted to the public for conservation purposes.
Parks Week 2015 has been assisted by the New South Wales Government through its Environmental Trust and the Great Eastern Ranges Initiative, and is supported by NSW National Parks and Wildlife Service's Parks Eco Pass operators.
Pittwater kayak tours
Where: Ku-ring-gai Chase Nat. Park
When: Saturday 14 March 2015, 6am to 8am, 9am to 12pm and 1pm to 4pm
Join Pittwater Kayak Tours on a kayaking adventure, paddling past the majestic sandstone cliffs of Ku-ring-gai Chase National Park in Sydney. Medium. Suitable for children aged 5-12 years, and they must be accompanied by an adult. Adults up to 60 years and over, with a medium level of fitness.
Price: $40 per person. Not wheelchair accessible.
Bookings: Bookings required. Phone 0412 057 176 or emailPittwater Kayak Tours.
Basin campground stand up paddle board safari
Where: The Basin campground in Ku-ring-gai Chase Nat. ParkSaturday 14 March 2015, 11am to 12.30pm and Sunday 15 March 2015, 11am to 12.30pm
Discover the natural treasures of The Basin in Sydney's Ku-ring-gai Chase National Park on this unique stand up paddle boarding experience during Parks Week
Parks Week promotional offer: Book for 3 people and the 4th person comes free. Adult $50 per person. Child $45 per person. 90 minute experience. Bookings required.
Phone 0415 121 648 and mention 'Parks Week' to receive this special offer.
Contact: EcoTreasures, 0415 121 648 www.ecotreasures.com.au
Ku-ring-gai Gibberagong Creek kayak tour
Where: Ku-ring-gai Chase Nat. Park
When: Monday 9 March, Saturday 14 March and Sunday 15 March 2015. Tours operate 10am-12.30pm and 2pm-4.30pm on each day.
Get back to nature in Sydney's Ku-ring-gai Chase National Park with this discounted kayak tour offer for Parks Week. Bookings required.Email Southern Cross Kayaking or contact 0439 936 480. Quote 'Parks Week' to receive the discount.
Marramarra Creek bushcare camp
Join NPWS on a special Parks Week volunteering weekend, and help restore the habitat of native Australian plants along the Hawkesbury River
During Parks Week, NSW National Parks is hosting an overnight bushcare camp at Marramarra National Park. On day 1, we'll make our way in an NPWS car convoy to the start of the Marramarra Ridge trail, and take a guided Discovery walk to Marramarra Creek. Enjoy a rest and bite to eat before heading a little downstream to our weeding site, where we'll target scattered lantana and wild tobacco. After setting up camp at Marramarra Creek campground, volunteers will have plenty of leisure time to explore the creek and a enjoy a spotlight walk. On day 2, we'll get busy with a little more bush regeneration before walking back to Fiddletown.
The Marramarra Creek bushcare camp takes place over 2 days. Volunteers meet at Fiddletown, to transfer overnight equipment to an NPWS convoy car before a guided walk to Marramarra Creek. Bush generation tools, on-site training and catering are all provided.
When: Saturday 14 March 2015 at 9am to Sunday 15 March 2015 at 4pm
Where: Marramarra National Park. See getting there information.
Presented by: NSW National Parks and Wildlife Service
Grading: Medium. Suitable for adults.
Price: Free. Not wheelchair-accessible.
Bookings: Bookings required. Please phone 0419 753 798 or emailTegan Burton to reserve your spot.
See more events for Parks Week 2015 at HERE
Clean combustion project receives $1 million funding from Qatar
By Richard North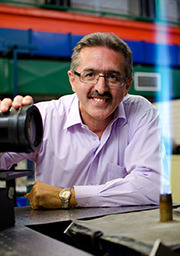 Right: Professor Assaad Masri
17 February 2015- A research project that will help engineers to develop cleaner combustion of sustainable alternatives to traditional fossil fuels has received more than $1 million in funding from the Qatar Foundation.
The project is a collaboration between Assaad Masri, an ARC Professorial Fellow in the School of Aerospace, Mechanical and Mechatronic Engineering, and Dr Samer Ahmed from Qatar University.
Their research will study how to optimise the combustion of new fuels such as biodiesels obtained from renewable sources, or synthetics such as gas-to-liquid (GTL) fuels that may be blended with conventional diesel.
Professor Masri said: "The efficient and clean combustion of liquid fuel blends is a major challenge for engine designers, and is of pressing importance since combustion will remain the main energy conversion mechanism for decades to come."
Professor Masri, a world expert in combustion, leads a team of researchers at Sydney who are working towards the dream of clean combustion with minimum waste or pollutants.
"My colleagues and I design burners and study flames that allow us to better understand the complex processes involved," he said. "This helps us to produce predictive tools that assist engineers in optimising the designs of their engines."
Qatar has become the world's biggest GTL fuel producer after investing heavily in technology to convert some of its vast natural gas resources to liquid fuels.
The Shell Pearl plant in Qatar is the largest operating GTL plant in the world and is projected, in its next phase, to produce a total of 140,000 barrels per day.
GTL fuels can be used directly in conventional diesel engines and turbines, with lower emissions than traditional fossil fuels.
While it is still not known which alternative fuel will eventually prevail, the European Union is legislating to increase the share of biofuels in the transport sector from 5 per cent to 10 per cent, and Brazil already uses a mandatory 25 per cent ethanol in its gasoline mix.
Professor Masri's research will attempt to resolve the complex problem of atomising and burning multi-component biodiesel sprays in a turbulent environment, with a particular focus on emissions of toxic gases and fine particles.
He added: "The collaboration between Qatar and the University of Sydney makes a significant contribution in this space."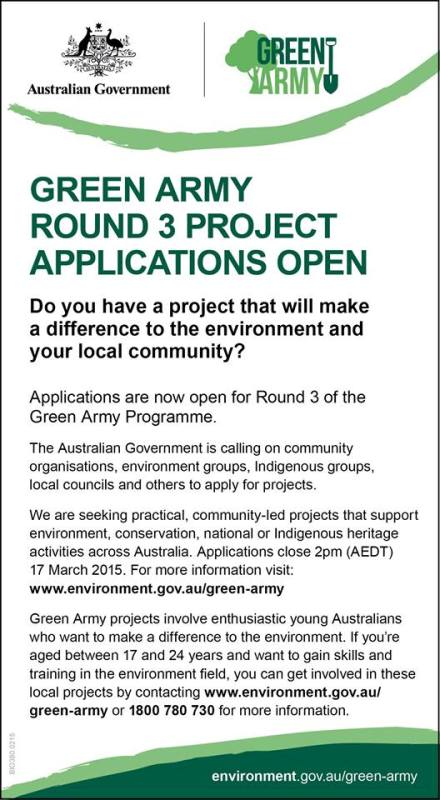 Where did the missing oil go? New study says some is sitting on the Gulf floor
January 29, 2015 - After 200 million gallons of crude oil spilled into the Gulf of Mexico in April 2010, the government and BP cleanup crews mysteriously had trouble locating all of it. Now, a new study led by Florida State University Professor of Oceanography Jeff Chanton finds that some 6 million to 10 million gallons are buried in the sediment on the Gulf floor, about 62 miles southeast of the Mississippi Delta.
"This is going to affect the Gulf for years to come," Chanton said. "Fish will likely ingest contaminants because worms ingest the sediment, and fish eat the worms. It's a conduit for contamination into the food web."
The article, published in the latest edition of the journalEnvironmental Science & Technology, details how oil caused particles in the Gulf to clump together and sink to the ocean floor.
The researchers used carbon 14, a radioactive isotope as an inverse tracer to determine where oil might have settled on the floor. Oil does not have carbon 14, so sediment that contained oil would immediately stand out.
Chanton then collaborated with Tingting Zhao, associate professor of geography at Florida State, to use geographic information system mapping to create a map of the oiled sediment distribution on the sea floor.
Chanton said in the short term, the oil sinking to the sea floor might have seemed like a good thing because the water was clarified, and the oil was removed from the water. But, in the long term, it's a problem, he said.
Less oxygen exists on the sea floor relative to the water column, so the oiled particles are more likely to become hypoxic, meaning they experience less oxygen. Once that happens, it becomes much more difficult for bacteria to attack the oil and cause it to decompose, Chanton said.
Chanton's research is supported by the Florida State University-headquartered Deep-C Consortium as well as the Ecogig consortium, centered at the University of Mississippi. The work was funded by the Gulf of Mexico Research Institute created to allocate the money made available to support scientific research by BP.
His previous research examined how methane-derived carbon from the oil spill entered the food web.
Jeffrey Chanton, Tingting Zhao, Brad E. Rosenheim, Samantha Joye, Samantha Bosman, Charlotte Brunner, Kevin M. Yeager, Arne R. Diercks, David Hollander.Using Natural Abundance Radiocarbon To Trace the Flux of Petrocarbon to the Seafloor Following the Deepwater Horizon Oil Spill. Environmental Science & Technology, 2015; 49 (2): 847 DOI: 10.1021/es5046524
Online survey for the Commonwealth Marine Reserves Review
This Review is focusing on the management of the Commonwealth Marine Reserves networks that were declared in 2012. The Review has been established to build a strong evidence base to guide how these reserves should be managed in the future, and includes two components: an Expert Scientific Panel to review the science supporting zonation and marine reserve management; and five Bioregional Advisory Panels to consult stakeholders.
This survey consists of 20 questions and should take approximately 15-20 minutes to complete. You do not have to answer all the questions in the survey for your response to be considered.
The South-east Commonwealth Marine Reserves Network, the Great Barrier Reef Marine Park and marine reserves managed by the States and the Northern Territory (generally begins 3 nautical miles (5.5 kilometres) offshore) are not affected by this Review.
If you have, and wish to provide, more detailed information we encourage you to make a separate written submission to the Review.
Information about the terms of reference and guidance on how to make the most of your ideas when providing your feedback can be found on the Join the conversation page of our website or through the headings on page At: www.marinereservesreview.com.au/
The submission period will remain open until 28 February 2015.
NB: - took us 5 minutes
Protecting Wetlands in a new National Park in Sydney
By Judith Bennett, President of Friends of Narrabeen Lagoon Catchment
Sydney's Northern Beaches contain an important collection of ecosystems and wetlands. Friends of Narrabeen Lagoon Catchment report that within Sydney's Northern Beaches suburbs, there is a collection of endangered ecosystems which are not currently represented within the National Park system.
These lands are within the catchments of Narrabeen Lagoon and Middle Harbour and are recognised as being an important regional resource. A large proportion of the bushland is owned by the Metropolitan Local Aboriginal Land Council (MLALC).
Most of the remaining bushland is within Oxford Falls Regional Crown Reserve but is under claim by MLALC, who have proposed that their freehold land plus the crown lands under the claim be amalgamated into the Gai-mariagal Aboriginal-owned National Park under Part 4A of the New South Wales National Parks and Wildlife Act 1974.
MLALC is the first Aboriginal land council in NSW to propose a National Park on their lands following guidelines issued in 2008 for Aboriginal lands of high conservation value.
If approved, the proposal would provide Aboriginal training, employment and cultural tourism opportunities. Waratah Park, which was recently transferred to MLALC ownership, is proposed to be the "Gateway" to the Gai-mariagal National Park. An Aboriginal Cultural Centre will be developed there.
The proposed Gai-mariagal National Park would help to conserve an ecological corridor that links coastal/ estuarine lagoon habitats such as dunes, seagrasses, reed-beds and mud flat habitats to floodplain ecosystems that contain swamp oak forests and swamp sclerophyll forest.
The park would also contain a range of ecosystems types including palm forest, eucalypt forest, rainforest and gully forest, as well as the endangered Duffy's Forest, shrub-land, woodland, heath and hanging swamps that occur on lateritic ridges in the north, south and west.
Protecting such a complete progression of habitats is important, particularly with the projected impacts of global warming, to allow movement of a wide variety of fauna species such as gliders, honey eaters and tree snakes across vegetation types and up and down altitude gradients to utilise seasonal resources. More information on the proposed Gai-mariagal National Park can be found at www.Gai-mariagal.land.
From: 'Wetlands Australia, National Wetlands Update February 2015 — Issue No 26, Commonwealth of Australia 2015' Page 83-6.74 MB PDF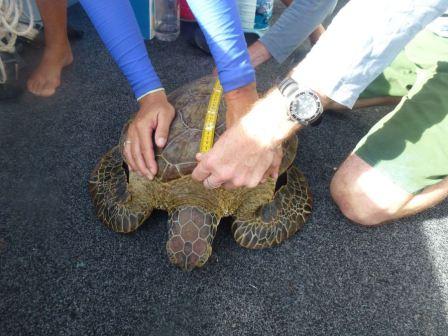 TURTLE AND SHARK TAGGING PART OF NEW NINGALOO REEF RESEARCH PARTNERSHIP
19 FEBRUARY 2015 - The World Heritage Listed Ningaloo Reef in Western Australia will be the focus of a new marine research partnership between CSIRO and BHP Billiton Petroleum announced today. Ningaloo Reef is the largest fringing reef in the world, extending for 300 kilometres along the northwest coast of Australia.
The five-year, jointly-funded $5 million research program will include both deep and shallow reef research, turtle and shark tagging, a PhD scholarship scheme and opportunities to engage the local community, including BHP Billiton Petroleum employees, in Exmouth, WA.
Minister for Industry and Science Ian Macfarlane, joined CSIRO Executive Director Environment, Dr Andrew Johnson, and BHP Billiton Petroleum General Manager, Doug Handyside to launch the partnership in Perth today.
Mr Handyside said the investment in marine science would help the oil and gas industry to better understand the reef and help target conservation efforts.
"We are dedicated to ensuring the knowledge on which we base our operational decisions is entrenched in science," Mr Handyside said.
"The partnership between CSIRO and BHP Billiton supports this valuable scientific research to provide baseline data on the condition of the ecological values of the reef, which will allow assessments over time to determine any changes.
"This enables us to uphold our commitment to operate in the most environmentally responsible manner possible."
Dr Andrew Johnson from CSIRO said the research would deliver the fundamental knowledge required to manage increasing and varied uses in the Ningaloo region.
"Our research presence at Ningaloo is now entering its tenth year, so we are very aware of the reef's many uses - it is the way we manage and balance these different uses which is key to sustainable development," Dr Johnson said.
"We intend to work closely with the Exmouth community throughout the project, to understand their needs and to build their knowledge of the local marine environment."
The program follows the successful BHP Billiton Petroleum investment in the Ningaloo Atlas Research program, and builds on CSIRO's extensive decade-long shallow coral reef and fauna research and turtle tracking using satellite and acoustic technology.
The funding from BHP Billiton forms part of the company's voluntary community contributions, and is not linked to any statutory requirement or licensing conditions.
"Our environmental commitments go beyond our operational footprint to support areas of national and international conservation significance, aligning with our company's strong focus on sustainability," Mr Handyside said.
The five year research program, of which BHP Billiton will commit $2.6 million, will commence in early 2015, and will also include three PhD scholarships to help support the next generation of scientists.
Top photo courtesy CSIRO.
Tasmania Parks and Wildlife Service- Whales and Seals App
Following on the success of our popular "Bird in the Hand" and "Frog Log" comes "Whales and Seals" - a guide to all the whales, dolphins and seals found in Tasmanian waters. The App is the perfect guide to the marine mammals of Tasmania, with outstanding photographs and drawings, distribution maps, details of biology and stranding records. It also provides a guide to whale and seal viewing and advice on what to do if you come across stranded whales or a "beached" seal. The App is available now for download from the iTunes Store.
See app HERE
My Saltwater Sanctuary - The Prologue
from Bluebottle Films
From Byron Bay to Bateman's Bay, on the east coast of Australia, there is a vibrant ocean and beach culture, which is shared by all locals. Their joy, their livelihoods, and their local identity is intertwined with the ocean and ultimately on the future conservation of marine parks and sanctuaries, giving iconic species like the friendly Blue Groper a chance to replenish.
Check out the Event Listings on our homepage to watch the full short documentary, 'My Saltwater Sanctuary': bluebottlefilms.com
Produced & directed by James Sherwood & Danielle Ryan - Bluebottle Films for The Wilderness Society, The Nature Conservation Council & the Save Our Marine Life Alliance.
(This film is a part of an Australia-wide filming project documenting the science and the experiences of locals, who live beside marine reserves.)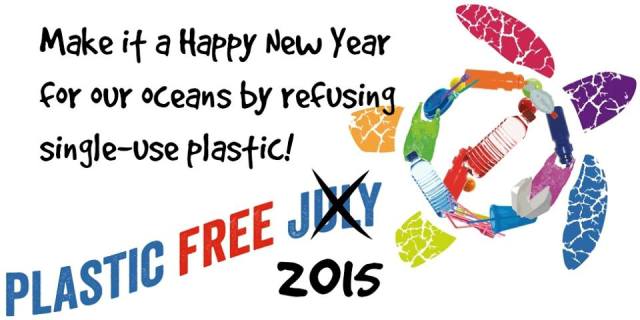 Public consultation on national parks establishment
Comment is sought on the proposed directions, socio-economic considerations and community involvement in creating new national parks and reserves in NSW.
The National Parks and Wildlife Service (NPWS) acquires land for the establishment of new national parks through various means such as the transfer of other public land, the voluntary sale or transfer of private land, bequests and donations, or through biodiversity offsets, in order to achieve the objectives of the National Parks and Wildlife Act 1974.
NPWS is considering whether opportunities exist to improve the national parks establishment process.
Two documents, a directions statement and a socio-economic report on land acquisition, have been prepared to form the basis of a consultation with the community.
This consultation is occurring in response to a Parliamentary Inquiry into Management of Public Land Management in NSW(External link). As a consequence of the inquiry, the NSW Government has committed to publicly consult on:
• updating the NSW National Parks Establishment Plan
• the social and economic implications of new park proposals
• how to improve community involvement in the reserve establishment process.
Directions Statement for National Park Establishment
In response to Recommendation 3 of the Management of Public Land in NSW Inquiry, the NSW Government made a commitment to:
"Review and update the NSW National Parks Establishment Plan to take account of recent information and current and future conservation priorities.
This will reinforce the scientific basis for building the national parks system, consistent with international best practice and nationally agreed frameworks."
A Directions Statement for National Park Establishment(External link) has been prepared to reframe the NSW National Parks Establishment Plan(External link) that has guided land acquisition since 2008. The purpose of the directions statement is to:
• convey the types of conservation priorities that are important to the expansion and enhancement of the National Park Estate
• present the NSW Government's focus for effort and investment in reserve establishment over the next five years (2015-2020)
Consultation period 19 January 2015 to 12 April 2015
See relevant documents and Have Your Say at:engage.environment.nsw.gov.au/establishing-national-parks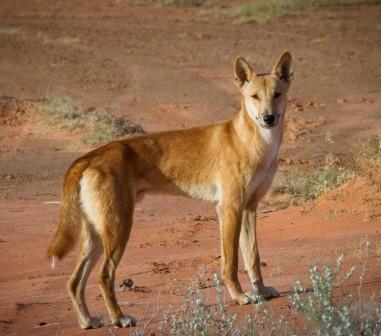 Time for a bold dingo experiment, researchers say
February 17, 2015 - Allowing dingoes to return to Sturt National Park in NSW and researching the results may be the key to managing the future of dingoes and many threatened native mammals, University of Sydney researchers believe. "Our approach is purposefully bold because only an experiment on this scale can resolve the long-running debate over whether the dingo can help halt Australia's biodiversity collapse and restore degraded rangeland environments," said Dr Thomas Newsome from the School of Biological Sciences at the University of Sydney and lead author of an article published in Restoration Ecology.
Written with Dr Newsome's colleagues from the University of Sydney and other universities in Australia and in America, where he completed a Fulbright Scholarship, the article outlines how the experiment could be undertaken.
"Half the world's mammal extinctions over the last two hundred years have occurred in Australia and we are on track for an acceleration of that loss. This experiment would provide robust data to address an issue of national and international significance," said Dr Newsome.
"Our approach is based on dingoes' ability to suppress populations of invasive predators such as red foxes and feral cats that prey on threatened native species. Dingoes can also control numbers of introduced species such as European wild rabbits, feral pigs and goats or native herbivores such as kangaroos, that in high numbers can contribute to rangeland degradation.
"There are major challenges, including convincing livestock producers and local communities to support the experiment, but we currently have almost no understanding of the impact of increased dingo populations over large areas.
"It took 20 years of debate in America before wolves were reintroduced into Yellowstone National Park and central Idaho -- so let's start having the conversation."
The researchers suggest allowing dingoes to recolonise Sturt National Park in north-western NSW. One strategy to achieve this would be to realign a small section of the 5500 km dingo-proof fence on the northern and western sides of Sturt National Park and then rebuild it on the southern and eastern sides of the park. This would effectively place Sturt National Park on the northern side of the dingo-fence and allow dingoes to naturally recolonise from South Australia and Queensland where dingoes are more common.
NSW law currently requires the control of dingoes in Sturt National Park so that would have to change to allow the experiment to proceed. The park would be monitored before the realignment of the fence took place, to establish existing conditions. Afterwards the sites where dingoes naturally recolonise within the park would be compared to multiple sites outside the park without dingo populations.
"Large carnivores such as wolves, bears, lynx and wolverines are returning in many parts of the world, especially North America and Europe. The future survival of large carnivores will depend on our understanding of their potential to increase biodiversity, local tourism and the health and productivity of ecosystems," said Dr Newsome.
"Just one possibility is that if dingo recolonisation to Sturt National Park successfully lowered numbers of feral cats and red foxes we could test whether this assists the reintroduction of locally extinct native mammals such as the greater bilby and burrowing bettong."
The researchers also suggest it would be worthwhile considering reintroduction or recolonisation studies elsewhere, such as sites south of the dingo proof fence in South Australia.
Thomas M. Newsome, Guy-Anthony Ballard, Mathew S. Crowther, Justin A. Dellinger, Peter J. S. Fleming, Alistair S. Glen, Aaron C. Greenville, Chris N. Johnson, Mike Letnic, Katherine E. Moseby, Dale G. Nimmo, Michael Paul Nelson, John L. Read, William J. Ripple, Euan G. Ritchie, Carolyn R. Shores, Arian D. Wallach, Aaron J. Wirsing, Christopher R. Dickman. Resolving the value of the dingo in ecological restoration. Restoration Ecology, 2015; DOI:10.1111/rec.12186
Top picture: Researchers propose using a national park in NSW, in Australia, to test if revitalised dingo populations can restore biodiversity and degraded rangelands. Credit: Bob Tamayo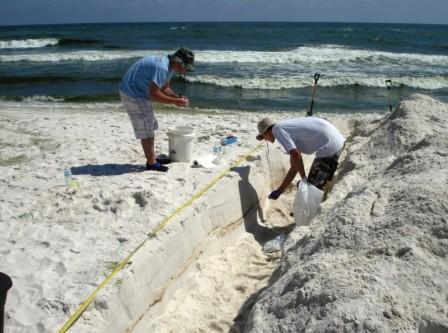 Impact of Deepwater Horizon Oil on beach microbial communities
February 17, 2015 - When oil from the Deepwater Horizon spill first began washing ashore on Pensacola Municipal Beach in June 2010, populations of sensitive microorganisms, including those that capture sunlight or fix nitrogen from the air, began to decline. At the same time, organisms able to digest light components of the oil began to multiply, starting the process of converting the pollutant to carbon dioxide and biomass.
Once the lightest fractions of the oil had been consumed, the organisms that had been digesting those compounds declined, replaced by others able to chew up the remaining heavier materials. Ultimately, a year after the spill, the oil had mostly disappeared and microbial populations buried in the beach sands looked much like they had before the spill, though there were as-yet unexplained differences.
That's the scenario observed by scientists who have studied the oil's impact on the complex microbial communities -- which contain hundreds of single-celled organisms -- on this one Gulf Coast beach. Using advanced genomic identification techniques, they saw a succession of organisms and identified population changes in specific organisms that marked the progress of the bioremediation. They also identified the specific genes contained in the oil-eating microbes and the enzymes they used at different stages of the process.
The research, reported online February 17 in The ISME Journal, could help scientists better understand the microbial succession process that results from such environmental perturbations, and perhaps lay the groundwork for research aimed at accelerating bioremediation. The project represents a collaboration between professors at the Georgia Institute of Technology and Florida State University: Kostas Konstantinidis from the Georgia Tech School of Civil and Environmental Engineering, Joel Kostka from the Georgia Tech School of Biology, and Markus Huettel, professor of Earth, Ocean and Atmospheric Sciences at Florida State.
The research was supported by the National Science Foundation, and by the BP/Gulf of Mexico Research Initiative to the Deep-C Consortium.
"We observed the succession of organisms whose populations rose and fell as the degradation of the oil proceeded," said Konstantinidis. "We also identified the indicator organisms that show the ecosystem's response at different stages in the process. Knowing these indicators could help those who must manage these kinds of spills in the future."
Oil began flowing into the Gulf of Mexico from the Deepwater Horizon rig in mid-April of 2010, but did not reach the Pensacola Municipal Beach until June 22. That allowed time for scientists from Georgia Tech and Florida State University to obtain samples of beach microorganism communities well before the oil began arriving.
Much of the oil reaching the beaches was cleaned up mechanically, though some became buried in the sand. Digging trenches in the beach, Huettel from Florida State took samples at regular intervals for one year after the oil came ashore, and quantified the petroleum hydrocarbon compounds present in the beach sand.
Using advanced meta-genomics technology, which studies the entire community, members of the team from Georgia Tech determined the relative abundances of certain organisms and how they changed over time, providing a clear view of the succession process. As many as ten species of microbes participated at each stage of the bioremediation.
"What is really special about this study is that we provide a robust meta-genomic time series that shows how shifts or changes in microbial populations closely paralleled the chemical evolution of the petroleum hydrocarbons," said Kostka. Added Konstantinidis: "We have identified which organisms and which genes are important at every stage of the biodegradation process on the beaches."
Beach communities contain hundreds of different microbes, and as many as 20 percent of them responded to the oil, Konstantinidis said. Those organisms for which the oil was toxic declined dramatically when the oil began reaching the beaches, but had mostly returned a year later.
"When we looked at the microbial communities a year after the spill and compared them to what we saw before the spill, we saw differences, but the communities were very similar to what we saw before the oil arrived," he said. "You could tell confidently that the system had recovered, but it was not exactly the same community or same state. That's something we'd like to study further and examine on other beaches."
Other researchers have evaluated the fate of oil that remained in the Gulf waters. Konstantinidis said it's likely the oil washing up on the beaches had significantly different degradation kinetics than the oil that remained in the water columns. Oil containing lighter fractions would be easier to digest by the microbes that normally exist as part of beach communities.
Researchers had expected to see the oil favoring the growth of microbes specific to particular parts of the oil degradation process. While the researchers saw dramatic changes in the communities over time, they saw that "generalist" microbes -- those that were the most flexible metabolically -- were most successful in expanding their populations.
"These generalist microbes are always around on the beaches or in the water, so you will always have them to break down oil spills," he said.
In future work, the team would like to study how key ecosystem services like nutrient cycling are directly impacted by microbial community changes from oiling as well as the factors that limit the growth of biodegrading organisms. Important controls for biodegradation include oxygen levels, available nutrients and even competing microbes. If these factors are better understood, the process of digesting oil from spills might be accelerated.
"It took almost a year for the oil to disappear," Konstantinidis said. "We want to know what are limiting factors for the process that might be addressed. These microbes can take a long time, so if we can figure out how to make the process faster, it would be very helpful."
This work was supported in part by the National Science Foundation award numbers 1241046, OCE-1057417 and OCE-1044939, an NSF graduate research fellowship to Will Overholt, and by grant SA-12-12, GoMRI-008 from the BP/Gulf of Mexico Research Initiative to the Deep-C Consortium. Any opinions expressed in this article are those of the authors and do not necessarily reflect the official views of the sponsoring organizations.
Rodrigues-R, Luis M., et al. Microbial community successional patterns in beach sands impacted by the Deepwater Horizons oil spill. The ISME Journal, 2015 DOI: 10.1038/ismej.2015.5
Top photo: Researchers are shown gathering samples of microbial communities in layers of sand containing oil. They found that the perturbation led to growth of a succession of microbes that broke down portions of the oil over time. Credit: Markus Huettel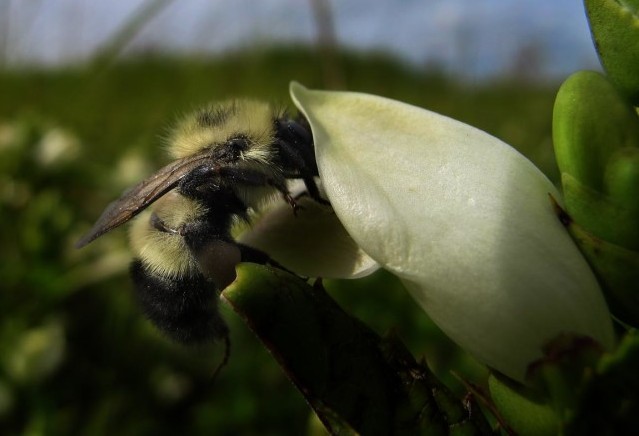 Bee disease reduced by nature's 'medicine cabinet'
February 17, 2015 - Nicotine isn't healthy for people, but such naturally occurring chemicals found in flowers of tobacco and other plants could be just the right prescription for ailing bees, according to a Dartmouth College-led study. The researchers found that chemicals in floral nectar, including the alkaloids anabasine and nicotine, the iridoid glycoside catalpol and the terpenoid thymol, significantly reduce parasite infection in bees. The results suggest that growing plants high in these compounds around farm fields could create a natural "medicine cabinet" that improves survival of diseased bees and pollination of crops. The researchers studied parasite infections in bumble bees, which like honey bees are important pollinators that are in decline around the world, a trend that threatens fruits, vegetables and other crops that make up much of the food supply for people. The findings appear in the journal Proceedings of the Royal Society B.
Plants produce chemicals called secondary metabolites to defend leaves against herbivores. These chemicals are also found in nectar for pollinators, but little is known about the impacts of nectar chemistry on pollinators, including bees. The researchers hypothesized that some nectar compounds could reduce parasite infections in bees, so they inoculated individual bumble bees with an intestinal parasite and tested effects of eight naturally occurring nectar chemicals on parasite population growth. The results showed that consumption of these chemicals lessened the intensity of infection by up to 81 percent, which could significantly reduce the spread of parasites within and between bee colonies.
"Our novel results highlight that secondary metabolites in floral nectar may play a vital role in reducing bee-parasite interactions," says senior author Dartmouth Professor Rebecca Irwin.
Leif L. Richardson , Lynn S. Adler , Anne S. Leonard , Jonathan Andicoechea , Karly H. Regan , Winston E. Anthony , Jessamyn S. Manson , Rebecca E. Irwin.Secondary metabolites in floral nectar reduce parasite infections in bumblebees. Proceedings of the Royal Society B, 2015 DOI:10.1098/rspb.2014.2471
Photo: A bumble bee collecting nectar containing iridoid glycoside secondary metabolites from a turtlehead flower. Credit: Leif Richardson
Global warming to increase ocean upwelling, but fisheries impact uncertain
February 18, 2015 – A report published Thursday in the journalNature suggests that global warming may increase upwelling in several ocean current systems around the world by the end of this century, especially at high latitudes, and will cause major changes in marine biodiversity.
Since upwelling of colder, nutrient-rich water is a driving force behind marine productivity, one possibility may be enhancement of some of the world's most important fisheries.
However, solar heating due to greenhouse warming may also increase the persistence of "stratification," or the horizontal layering of ocean water of different temperatures. The result could be a warm, near-surface layer and a deep, cold layer.
If this happens to a significant extent, it could increase global "hypoxic," or low-oxygen events, decouple upwelling from the supply of nutrient-rich water and pose a significant threat to the global function of fisheries and marine ecosystems.
The projected increase in upwelling, in other words, appears clear and definitive. But researchers say its biological impact is far less obvious, which is a significant concern.
These upwelling systems cover less than 2 percent of the ocean surface, but contribute 7 percent to global marine primary production, and 20 percent of global fish catches.
"Our modeling indicates that normally weaker upwelling toward the polar ends of upwelling-dominated regions will strengthen," said Bruce Menge, the Wayne and Gladys Valley Professor of Marine Biology in the College of Science at Oregon State University, and co-author of the report.
"Ordinarily, you would expect that an increase in upwelling would mean an increase in marine coastal productivity, and that might happen," Menge said.
"However, a thicker and warmer top later, and more stratified ocean waters may put the cold, nutrient-rich waters too deep for upwelling to bring them up, and reduce the ability of upwelling to energize the coastal ocean food web," he said. "This could have a very negative impact on marine production and fisheries."
The findings were made by researchers from OSU and Northeastern University, in work supported by that university and the National Science Foundation.
Another possibility, the study concluded, are changes in the frequency or severity of low-oxygen, or hypoxic events such as those that have plagued the Pacific Northwest in the past decade. Depending on where the layers of warm and cold water end up, as well as local subsea terrain and currents, the hypoxic events could become either less common or more severe. In a hypoxic event, microbial decay of phytoplankton blooms uses up the available oxygen, causes hypoxia, and often leads to a die-off of fish and other marine organisms.
Among the findings of the study:
* The change in upwelling may be more pronounced in the Southern Hemisphere, due to the local influences of land masses, coastline, water depth and other issues.
* Major current systems will be affected off the western coasts of North America, South America, Africa and parts of Europe.
* The general increase in upwelling is going to be driven by a strengthening of alongshore winds, due to a differential in land and ocean heating.
* At high, but not low latitudes, the upwelling season will start earlier, last longer and be more intense.
* At tropical and sub-tropical latitudes, upwelling will become almost a year-round phenomenon.
* The findings are consistent with different research which shows that coastal upwelling has intensified over the past 60 years.
* Impacts on the California Current System are expected to be less pronounced because of other climatic forces at work, such as the Pacific Decadal Oscillation, the El Nino-Southern Oscillation, and the North Pacific Gyre Oscillation.
Researchers said that by understanding these climate-mediated "hotspots" in upwelling, and how they will change in the future, it may be possible to better manage productive fisheries and coastal ecosystems around the world.
Daiwei Wang, Tarik C. Gouhier, Bruce A. Menge, Auroop R. Ganguly.Intensification and spatial homogenization of coastal upwelling under climate change. Nature, 2015; 518 (7539): 390 DOI:10.1038/nature14235
Epigenome: The symphony in your cells
Published on 18 Feb 2015
Almost every cell in your body has the same DNA sequence. So how come a heart cell is different from a brain cell? Cells use their DNA code in different ways, depending on their jobs. Just like orchestras can perform one piece of music in many different ways. A cell's combined set of changes in gene expression is called its epigenome. This week Nature publishes a slew of new data on the epigenomic landscape in lots of different cells. Learn how epigenomics works in this video.
Read the latest research on epigenetics atwww.nature.com/epigenomeroadmap
Scientists uncover marvel molecule that could lead to treatments for inflammatory diseases
February 16, 2015 - Scientists at Trinity College Dublin have uncovered a marvel molecule that blocks a key driver of inflammatory diseases. The finding could meet a major unmet clinical need by inspiring new non-invasive treatments for arthritis, multiple sclerosis and Muckle-Wells syndrome, among a myriad of other inflammatory diseases.
In a study published this week in the world's leading preclinical medical journal Nature Medicine, the international research team led by Trinity and the University of Queensland Australia showed how the molecule MCC950 can suppress the 'NLRP3 inflammasome', which is an activator of the key process in inflammatory diseases.
Inflammasomes have been identified as promising therapeutic targets by researchers over the last decade. And now the discovery of MCC950's abilities represents a hugely significant development in the effort to find treatments for inflammatory diseases, for which current therapies are either highly ineffective or have major limitations.
Crucially, the finding also confirms that inflammatory diseases all share a common process, even though the part of the body becoming inflamed might differ.
Professor of Biochemistry at Trinity, Luke O'Neill, is the joint senior scientist behind the discovery. He said: "Drugs like aspirin or steroids can work in several diseases, but can have side effects or be ineffective. What we have found is a potentially transformative medicine, which targets what appears to be the common disease-causing process in a myriad of inflammatory diseases."
Dr Rebecca Coll, lead author on the paper, said: "MCC950 is blocking what was suspected to be a key process in inflammation. There is huge interest in NLRP3 both among medical researchers and pharmaceutical companies and we feel our work makes a significant contribution to the efforts to find new medicines to limit it."
Professor Matt Cooper, chemist and co-senior author from the University of Queensland's Institute for Molecular Bioscience (IMB), added: "MCC950 is able to be given orally and will be cheaper to produce than current protein-based treatments, which are given daily, weekly, or monthly by injection. Importantly, it will also have a shorter duration in the body, allowing clinicians to stop the anti-inflammatory action of the drug if the patient ever needed to switch their immune response back to 100% in order to clear an infection."
So far, the results have shown great promise for blocking multiple sclerosis in a model of that disease, as well as in sepsis, where in response to bacteria, potentially fatal blood poisoning occurs. However, the target for MCC950 is strongly implicated in diseases such as Alzheimer's disease, atherosclerosis, gout, Parkinson's disease and rheumatoid arthritis, which means it has the potential to treat all of these conditions.
Another disease where the new drug might have significant benefits is Muckle-Wells syndrome, which is a rare and severe auto-inflammatory disorder. Using blood samples from patients, the authors showed that MCC950 can block the rogue gene responsible for repeated inflammatory activation in sufferers.
Dr Dan Kastner of the National Institutes of Health USA, said: "MCC950 might well be a key addition to the options for treating Muckle-Wells syndrome and similar diseases."
Professor O'Neill added: "We are really excited about MCC950. We believe this has real potential to benefit patients suffering from several highly debilitating diseases, where there is currently a dire need for new medicines."
Rebecca C Coll, Avril A B Robertson, Jae Jin Chae, Sarah C Higgins, Raúl Muñoz-Planillo, Marco C Inserra, Irina Vetter, Lara S Dungan, Brian G Monks, Andrea Stutz, Daniel E Croker, Mark S Butler, Moritz Haneklaus, Caroline E Sutton, Gabriel Núñez, Eicke Latz, Daniel L Kastner, Kingston H G Mills, Seth L Masters, Kate Schroder, Matthew A Cooper, Luke A J O'Neill. A small-molecule inhibitor of the NLRP3 inflammasome for the treatment of inflammatory diseases.Nature Medicine, 2015; DOI:10.1038/nm.3806

New weapon in the fight against cancer could be in your body already
February 18, 2015 - Where can you find the next important weapon in the fight against cancer? Just do a little navel-gazing. New research from Concordia confirms that a tool for keeping the most common forms of cancer at bay could be in your gut.
In a report published in the International Journal of Molecular Sciences, Vladimir Titorenko, a professor of biology at Concordia, and his colleagues show that lithocholic acid, a bile acid produced in the liver, is particularly effective in killing cancer cells.
For the study, the research team tested thousands of chemicals found in the body with the help of a robot and discovered more than 20 that could delay the aging process, something inevitably linked to cancer.
Most effective was lithocholic acid. When entering a cancer cell, the acid goes to "energy factories" called mitochondria and then sends molecular signals that lead to the cells' demise.
It not only helped slow the aging process but also had an anti-tumour effect, killing cells of breast, prostate and neuroblastoma cancer -- in a petri dish, that is.
Indeed, these results aren't applicable to humans -- yet. Titorenko performed the first round of studies using yeast because the ways aging progresses, and the ways it can be delayed by some diets, are similar in both yeast and humans.
"Various cancers are associated with aging -- the older you get, the more instances we see of diseases like breast and prostate cancer -- so studying how diet can slow that aging process is important," says Titorenko, who holds a Concordia Research Chair in genomics, cell biology and aging.
In collaboration with Thomas Sanderson from the INRS-Institut Armand-Frappier in Laval, Titorenko is now testing whether the same bile acid can delay the development of prostate cancer in laboratory mice.
If those trials confirm the anti-tumour effect of lithocholic acid, the hope is that it will have a similar effect in human patients, along with the possibility of slowing the human aging process in general.
The study progresses the fundamental knowledge of how to naturally slow down aging of non-cancerous cells as well as how to kill cancer cells.
"We are attempting to understand what kind of molecular processes within our cells are responsible for cell aging and aging-associated death," Titorenko says.
"Satisfying our curiosity as scientists pursuing new fundamental knowledge fits with our other objective: to find ways that natural chemical products can delay aging and the diseases associated with it."
1. Anthony Arlia-Ciommo, Amanda Piano, Veronika Svistkova, Sadaf Mohtashami, Vladimir Titorenko. Mechanisms Underlying the Anti-Aging and Anti-Tumor Effects of Lithocholic Bile Acid. International Journal of Molecular Sciences, 2014; 15 (9): 16522 DOI:10.3390/ijms150916522
Above: Lithocholic acid, a bile acid produced in the liver, is particularly effective in killing cancer cells. Credit: Image courtesy of Concordia University
People with multiple sclerosis may have lower levels of key nutrients
February 19, 2015 - Women with multiple sclerosis (MS) may have lower levels of important antioxidant and anti-inflammatory nutrients, such as folate from food and vitamin E, than healthy people, according to a new study released today that will be presented at the American Academy of Neurology's 67th Annual Meeting in Washington, DC, April 18 to 25, 2015.
For the study, researchers identified 27 Caucasian women with MS and compared them to 30 healthy Caucasian women between the ages of 18-60 and with body mass index of less than or equal to 30 kg/m2. Participants reported on their diet and nutrition over the previous year prior to starting vitamin D supplementation.
On average, the women who had MS had lower levels of five nutrients with antioxidant or anti-inflammatory properties: food folate, vitamin E, magnesium, lutein-zeaxanthin and quercetin. For food folate, the women with MS had average intake of 244 micrograms (mcg), while the healthy women had an average intake of 321 mcg. The recommended daily allowance is 400 mcg. For magnesium, the women with MS had average intake of 254 milligrams (mg), while the healthy women met the recommended daily allowance of 320 mg with an average of 321 mg. The women with MS also had a lower average percentage of their calories from fat than the healthy participants.
"Since MS is a chronic inflammatory disorder, having enough nutrients with anti-inflammatory properties may help prevent the disease or reduce the risk of attacks for those who already have MS," said study author Sandra D. Cassard, ScD, with John Hopkins University in Baltimore, MD. "Antioxidants are also critical to good health and help reduce the effects of other types of damage that can occur on a cellular level and contribute to neurologic diseases like MS. Whether the nutritional differences that we identified in the study are a cause of MS or a result of having it is not yet clear."
The study was supported by the National Institute of Neurological Disorders and Stroke (NINDS).
The above story is based on materials provided by American Academy of Neurology (AAN).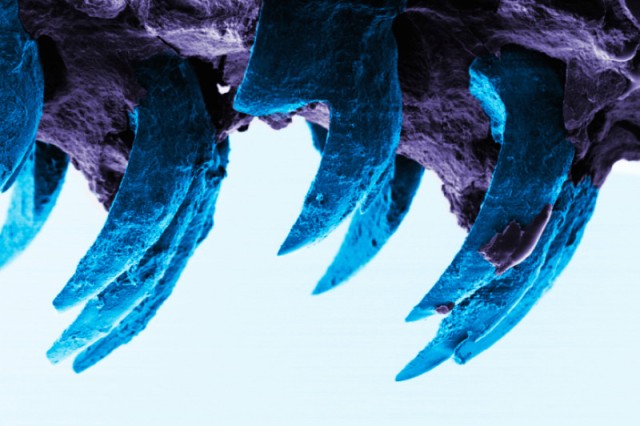 Scientists find strongest natural material known to humans
February 17, 2015 - Limpet teeth might be the strongest natural material known to humans, a new study has found. Researchers from the University of Portsmouth have discovered that limpets -- small aquatic snail-like creatures with conical shells -- have teeth with biological structures so strong they could be copied to make cars, boats and planes of the future.
The study examined the small-scale mechanical behaviour of teeth from limpets using atomic force microscopy, a method used to pull apart materials all the way down to the level of the atom.
Professor Asa Barber from the University's School of Engineering led the study. He said: "Nature is a wonderful source of inspiration for structures that have excellent mechanical properties. All the things we observe around us, such as trees, the shells of sea creatures and the limpet teeth studied in this work, have evolved to be effective at what they do.
"Until now we thought that spider silk was the strongest biological material because of its super-strength and potential applications in everything from bullet-proof vests to computer electronics but now we have discovered that limpet teeth exhibit a strength that is potentially higher."
Professor Barber found that the teeth contain a hard mineral known as goethite, which forms in the limpet as it grows.
He said: "Limpets need high strength teeth to rasp over rock surfaces and remove algae for feeding when the tide is in. We discovered that the fibres of goethite are just the right size to make up a resilient composite structure.
"This discovery means that the fibrous structures found in limpet teeth could be mimicked and used in high-performance engineering applications such as Formula 1 racing cars, the hulls of boats and aircraft structures.
"Engineers are always interested in making these structures stronger to improve their performance or lighter so they use less material."
The research also discovered that limpet teeth are the same strength no matter what the size.
"Generally a big structure has lots of flaws and can break more easily than a smaller structure, which has fewer flaws and is stronger. The problem is that most structures have to be fairly big so they're weaker than we would like. Limpet teeth break this rule as their strength is the same no matter what the size."
The material Professor Barber tested was almost 100 times thinner than the diameter of a human hair so the techniques used to break such a sample have only just been developed.
He said: "The testing methods were important as we needed to break the limpet tooth. The whole tooth is slightly less than a millimetre long but is curved, so the strength is dependent on both the shape of the tooth and the material. We wanted to understand the material strength only so we had to cut out a smaller volume of material out of the curved tooth structure."
Finding out about effective designs in nature and then making structures based on these designs is known as 'bioinspiration'.
Professor Barber said: "Biology is a great source of inspiration when designing new structures but with so many biological structures to consider, it can take time to discover which may be useful."
The research was published today in the Royal Society journal Interface.
1. Asa H. Barber, Dun Lu, Nicola M. Pugno. Extreme strength observed in limpet teeth. Royal Society journal Interface, 2015 DOI:10.1098/rsif.2014.1326
Above: A scanning electron microscope image of limpet teeth. Credit: Image courtesy of University of Portsmouth
Faust at the Sydney Opera House: Michael Fabiano, Nicole Car and Teddy Tahu Rhodes
Published on 15 Feb 2015
We interview Michael Fabiano, Nicole Car and Teddy Tahu Rhodes about Opera Australia's lavish production of Gounod's Faust.
FAUST: 17 FEBRUARY 2015– 13 MARCH 2015
Venue: Joan Sutherland Theatre. Tickets HERE
New study heats up debate about electric fans
18 February 2015 - A new study by the University of Sydney reveals electric fans can help prevent heat related illness during heatwaves, contrary to public health authorities' claims that fans are dangerous when the mercury rises above 35 degrees Celsius.
The landmark study published today in the Journal of the American Medical Association (JAMA) calls for a rethink of public health advice on coping with extreme temperatures.
Lead researcher Dr Ollie Jay from the Faculty of Health Sciences said electric fans are a simple and cost-effective tool for preventing heat related illness and current guidelines are putting the public at risk.
"Older people in particular are at risk of heat stress and heart attacks during hot weather and sometimes a fan is the only cooling device they can afford," Dr Jay said.
"The current guidelines are based on an outdated theory that fans are dangerous when air temperatures exceed skin temperature, like the idea of a turkey cooking faster in a fan assisted oven.
"This doesn't take into account that airflow created by a fan increases the evaporation of sweat from the skin, which is one of the key ways in which our bodies cool down."
Using a controlled heat chamber, Dr Jay from the University of Sydney and colleagues from the University of Ottawa (Canada) and Loughborough University (UK) examined the effect of fans in conditions that cause rapid increases in heart rate and body core temperature.
They found fans were beneficial at 42 degrees Celsius or 108 degrees Fahrenheit, up to seven degrees higher that the 35-37 degrees Celsius recommended by the world's major public health agencies, including the World Health Organization.
"The participants actually had a lower heart rate using a fan at 42 degrees than they had without a fan at 36 degrees," said Dr Jay.
The JAMA study evaluated the effects on young healthy men, however in a previous study the researchers mathematically modelled 10 of the world's most severe heatwaves and predicted similar results for older people. Further human studies are planned to confirm these results and investigate the effect of fans in different types of heatwaves, with conditions ranging from dry heat to high humidity.
With a recent report from the Climate Council suggesting heatwaves in Australia are becoming hotter and more frequent, Dr Jay said it is important that people know about the protective benefits of fans.
"Heatwaves claim lives every year so it's essential that people who can't afford air-conditioning know that a fan is a good alternative and could even save lives," said Dr Jay.
When estimating fish populations, seeing is believing
February 18, 2015 - Somewhere off the Atlantic coast of Florida, a fishing boat bobs in the swell, and Nate Bacheler helps swing a fish trap over the side. It's a big metal cage shaped like a giant arrowhead, and it looks like the standard design. But this is no ordinary fish trap, and Nate Bacheler is no ordinary fisherman.
Bacheler is a biologist with NOAA Fisheries, and each trap has two high-definition video cameras attached. Bacheler and other scientists are using fish traps like these to estimate the population size of reef fish, including some of the most important species in the Southeast, red snapper and gag grouper among them.
Traps without cameras work great for many species. But some species, like gag grouper, have a habit of avoiding fish traps.
"By attaching video cameras to fish traps, we can actually see and count gag grouper species and a variety of other species," that are wary of traps, Bacheler said.
The video and the trap each have their advantages. The video allows scientists to collect more precise abundance data on species that tend to avoid traps. And for all species, the traps allow scientists to get their hands on some fish, to weigh and measure them and to collect tissue samples.
"The two used in combination work better than either gear separately."
The Southeast Reef Fish Survey is conducted by NOAA Fisheries in partnership with the South Carolina Department of Natural Resources.
Fishermen and Scientists Work Together to Improve Data Collection
Reef fish occur mostly on hard bottom habitat, but most of the continental shelf off the Southeast United States is sand and mud. Very little of the shelf is mapped, so fishermen are helping scientists find the areas they need to sample by giving them the coordinates of their fishing spots.
"We're helping in every way we can to get the most accurate data," said Jimmy Hull, a commercial fisherman from Ponce Inlet, FL. In addition to being a fisherman, Hull owns Hull's Seafood Market and Restaurant, which employs 65 people full-time. "I'm in this so we can have sustainable fisheries forever, for my children and for all the people in this country. And the only way we're going to get that is through good, solid science and data collection and decisions based on science."
Scientists expect to use the combined trap and video data in upcoming stock assessments for red snapper and gray triggerfish. The data may or may not show that these fish are more abundant than previously thought. "But what the data will show is that the uncertainty will be decreasing around those estimates," said Bacheler. "And that benefits everyone. It benefits the scientists, and it benefits the fishermen."
"We're helping all we can," said Hull. "Do we agree on everything? No. Will we ever agree on everything? No. But we're going to get things done, because there's so much we do agree on."
The above story is based on materials provided by NOAA National Marine Fisheries Service. Adding video cameras to fish traps allows scientists to get more precise estimates of fish abundance for many important species of reef fish. Credit: NOAA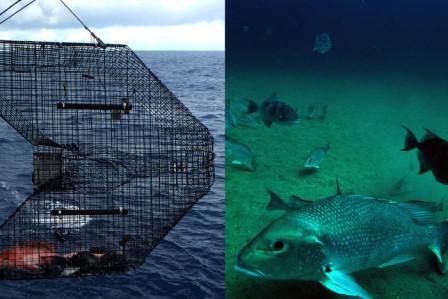 2015 Prime Minister's Literary Awards open
Australian authors, poets and historians are invited to enter the 2015 Prime Minister's Literary Awards.
The Prime Minister's Literary Awards celebrate the contribution of Australian literature to our cultural and intellectual life.
These awards recognise the role Australian writers play in enlightening and entertaining us, reflecting on our history, and taking our stories to the world.
They acknowledge excellence in Australian fiction, poetry, non-fiction, young adult fiction and children's fiction, and in Australian history.
A total prize pool of $600,000 is available to winners and shortlisted authors in these six categories.
The 2015 awards are now open for books first published in English and made available for general sale in Australia between 1 January 2014 and 31 December 2014.
Entries close at 5.00pm (AEDT) on Saturday 28 February 2015.
Entry forms and eligibility guidelines are available on the Ministry for the Arts website.
Disclaimer: These articles are not intended to provide medical advice, diagnosis or treatment. Views expressed here do not necessarily reflect those of Pittwater Online News or its staff.