Inbox and Environment News Issue 201
February 8 - 14, 2015: Issue 201
Your Primary Health Network
Uploaded on 3 Feb 2015
The Federal Government is planning changes to primary health care with the introduction of Primary Health Networks. This follows a review of Medicare Locals, undertaken by Professor John Horvath and released in May 2014, recommending replacing Medicare Locals with a smaller number of Primary Health Organisations.
SNSBML welcomes the introduction of Primary Health Networks (PHN's) which will become operational from 1st July 2015.
So how will PHN's help you?
The new PHN's will work directly with GPs, specialists, hospitals and other primary care providers to provide integrated health services across local communities to make it easier for anyone, especially those in need of coordinated care, to access to a range of health care providers.
PHNs are anticipated to be managed by a skills based board and will be supported by local GP-led clinical councils. The new organisations will be required to establish Community Advisory Committees (CAC's) to ensure that PHN decisions are patient-centred and address the needs of the community first.
The Federal Government announced on October 15th that 9 PHN's will be established in NSW and that the new Northern Sydney PHN boundary would encompass and align with the Northern Sydney Local Health District region.
Commissioning Model:
Primary Health Networks will not deliver direct services. The Sydney North Shore and Beaches Medicare Local has always been careful not to compete against our members and providers, therefore the PHN model sits well within our current culture and operational model.
What is Primary Health Care?
Primary health care (PHC) is the first level of contact individuals and families have with the health care system
In Australia, PHC:
Includes the interconnecting principles of equity, access, empowerment, community self-determination and inter-sectoral collaboration
Incorporates personal care with health promotion and the prevention of illness
Encompasses an understanding of the social, economic, cultural and political determinants of health
SNSBML will continue to:
Effectively support the community navigate the healthcare tools and services available to them
Proactively work alongside GPs, physios, aged care providers, allied health, hospitals and the private sector
Please email info@snsbml.org.au if you would like to gain any further information.
State Party report confirms Outstanding Universal Value of the Great Barrier Reef
The Hon. Greg Hunt MP, Minister for the Environment
Media release - 2 February 2015
The Great Barrier Reef remains the best managed marine ecosystem in the world. This was confirmed today by the release of the 2015 State Party Report on the Great Barrier Reef World Heritage Area which highlights improvements in the management, protection and health of the iconic reef.
The report has been submitted for consideration by the World Heritage Committee and clearly demonstrates that the Great Barrier Reef does not warrant being listed as in danger.
We know the reef is facing challenges but we are making significant progress. There is strong evidence that our efforts are working.
The report demonstrates that we have heard the concerns of the committee and we have
comprehensively addressed every one of them. We have also listened to the concerns of the community.
The Australian Government continues to make strong decisions in managing this majestic estate and, along with Queensland, is investing $2 billion for its protection over the next decade.
We will work with the Queensland government to ensure strong bipartisan support for the reef continues.
Our Reef 2050 Long-Term Sustainability Plan is the most complex and comprehensive analysis of environmental management arrangements ever undertaken in Australia. It has been developed in partnership with stakeholders including environmental representatives, industry tourism and fishing.
Together we will use it to drive effective management of the reef well into the future.
Our vision is to ensure the Outstanding Universal Value of the Great Barrier Reef continues to improve every decade to 2050 and beyond. We know that the reef still retains the values for which it was listed as a World Heritage Property in 1981.
Our substantial investment in better land management in reef catchments is improving water quality leaving the catchments, with the annual sediment load reduced by 11 per cent, pesticides by 28 per cent, and nitrogen by 10 per cent compared to a 2009 baseline.
The rezoning of the Great Barrier Reef Marine Park to place one third of it in highly protected areas has resulted in consistently more and larger coral trout and other target fish in zones protected from fishing - and fish populations outside these areas appear to be benefiting too.
It was under Labor in 2011 that the World Heritage Committee first raised alarm bells about the health of the Great Barrier Reef.
When I became Environment Minister I inherited five major proposals from Labor to dispose of dredge spoil in the Marine Park. We have reduced this to zero and are now taking the next step to enshrine a ban in law.
Since the release of the 2014 State Party Report, both federal and state governments have:
• Banned capital dredge disposal from major projects in the Marine Park and the Queensland government has prohibited dredging for the development of new or the expansion of existing port facilities outside of the four priority port areas for the next 10 years
• Halted and in some areas reversed water quality decline by working closely with the agricultural community
• Ensured the approval of the Abbot Point development complied with Australia's obligations under the World Heritage Convention and was subject to rigorous environmental assessment and applied Australia's world-leading net benefit approach
• Restricted significant port development to existing port limits.
In the past 12 months governments have also:
• Released the Queensland Ports Strategy foreshadowing comprehensive legislation covering the planning, regulation and management of ports with a prohibition on significant port development outside existing long-established port areas
• Established the Gladstone Healthy Harbour Partnership, the Mackay Whitsunday Healthy Rivers to Reef Partnership and the Great Barrier Reef Partnership Group
• Notified an intention to extend restrictions on shipping to the Coral Sea, adjacent to the property, through creation of a new Particularly Sensitive Sea Area
• Amended Queensland's Environmental Protection Act 1994 to formally recognise the property and raise maximum penalties for wilful environmental harm to over $710 000 for individuals and $3.56 million for corporations, plus costs of restoration
• Developed innovative new financing arrangements, such as the $40 million Reef Trust, to increase the effectiveness of investments in water quality and other protections
• Established a new National Dugong and Turtle Protection Plan to better protect dugong and turtle populations off Far North Queensland and the Torres Strait from the threats of poaching, illegal hunting and marine debris, and
• Continued a crown-of-thorns starfish (COTS) control programme to manage COTS predation on high-value tourism reefs, and licensed tourism operators to undertake this activity.
We are absolutely committed to the long-term protection of the Great Barrier Reef as one of Australia's greatest natural icons - and as a vital asset for tourism and jobs in Queensland and Australia.
The 2015 State Party Report on the Great Barrier Reef World Heritage Area demonstrates we have a clear plan and a strong commitment to ensure the reef is healthy and resilient - and we are making strong progress.
________________________________________
Read the Report
• 2015 State Party Report on the Great Barrier Reef World Heritage Area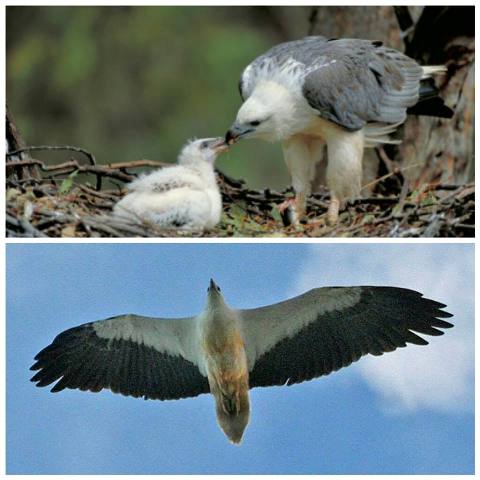 Save Nesting Tree at Kariong
Feb 3, 2015 - URGENT: Supporters of conservation, your support is desperately needed to save the nesting tree of the White Bellied Sea Eagle at Wadalba NW Central Coast. They could start bulldozing any day now!
After Wyong Council approved the destruction, the developers are waiting for the Eagle chicks to leave the nest so they can bulldoze the whole area. These majestic birds are listed as threatened in Victoria and Queensland and are meant to be protected under the China-Australia Migratory Bird Agreement (CAMBA).
Please send an email calling on Liberal Candidate for Wyong, Sandra Kerr, to urgently push her fellow Liberal party members, The Minister for the Central Coast, Rob Stokes and the Federal Minister for the Environment, Greg Hunt, to take urgent action to see that these amazing birds are immediately protected.
Either copy, paste (below) and send email, or feel free to craft your own from info provided.
Dear Sandra,
As the Liberal Candidate for Wyong, I ask that you please assist the community in protecting our local breeding pair of White Bellied Sea Eagle's.
The China–Australia Migratory Bird Agreement is a treaty between Australia and China to minimise harm to the major areas used by migratory birds which migrate between the two countries.
Article IV:
Each Contracting Party shall endeavour, in accordance with its laws and regulations in force, to:
(a) establish sanctuaries and other facilities for the management and protection of migratory birds and also of their environment; and
(b) take appropriate measures to preserve and enhance the environment of migratory birds. In particular, each Contracting Party shall:
(i) seek means to prevent damage to migratory birds and their environment, and
(ii) endeavour to take such measures as may be necessary to restrict or prevent the importation and introduction of animals and plants which are hazardous to the preservation of migratory birds and their environment.
Annex: 17. White-bellied Sea-Eagle Haliaeetus leucogaster.
As a matter of great urgency, given continued tree clearing operations, I am requesting that you lobby your Liberal State and Federal Environment Ministers to exercise their legal authority to:
1) To issue orders to immediately put a stop to further habitat destruction of the habitat of the White Bellied Sea Eagle.
2 ) To formally investigate the defective approval processes undertaken by Wyong Shire Council which have lead to an imminent threat to the nesting tree of a threatened species of migratory bird, protected by an International agreement .
Please send to below three emails.
(Liberal Candidate Sandra Kerr) wyong@nsw.liberal.org.au
office@stokes.minister.nsw.gov.au and greg.hunt.mp@aph.gov.au
Photos by Jake Cassar
Project Eyes on the Seas | Pew
Published on Jan 21, 2015
The Pew Charitable Trusts launched groundbreaking technology that will help authorities monitor, detect, and respond to illicit fishing activity across the world's oceans. Project Eyes on the Seas, as the system is known, furthers a long-term effort by Pew to dramatically reduce illegal or "pirate" fishing.
Addressing feral cats' diet may help protect native species in Australia
February 2, 2015 - Because reducing the impacts of feral cats--domestic cats that have returned to the wild--is a priority for conservation efforts across the globe, a research team recently reviewed the animals' diet across Australia and its territorial islands to help consider how they might best be managed.
The investigators recorded 400 vertebrate species that feral cats feed on or kill in Australia, including 16 globally threatened birds, mammals and reptiles. The cats feed mainly on rabbits when they are available, but they switch to other food groups when they are not. Reptiles were eaten most frequently in desert areas, whereas medium-sized mammals, such as possums and bandicoots, were eaten most frequently in the temperate southeast.
"Our most significant finding was a pattern of prey-switching from rabbits to small native mammals," said Tim Doherty, lead author of the Journal of Biogeography study.
"This is important because control programs for rabbits could inadvertently lead to feral cats killing more native mammals instead. This means that land managers should use a multi-species approach for pest animal control."
1. Tim S. Doherty, Robert A. Davis, Eddie J. B. van Etten, Dave Algar, Neil Collier, Chris R. Dickman, Glenn Edwards, Pip Masters, Russell Palmer, Sue Robinson. A continental-scale analysis of feral cat diet in Australia. Journal of Biogeography, 2015; DOI:10.1111/jbi.12469
New link in the food chain? Marine plastic pollution and seafood safety
February 2nd, 2015 - In recent years plastic pollution in the ocean has become a significant environmental concern for governments, scientists, nongovernmental organizations, and members of the public worldwide. A December 2014 study derived from six years of research by the 5 Gyres Institute estimated that 5.25 trillion plastic particles weighing some 269,000 tons are floating on the surface of the sea.1
At the same time, plastics in consumer products have become subject to increasing scrutiny regarding their potential effects on human health. Bisphenol A (BPA),2 a component of polycarbonate plastics and suspected endocrine disruptor, is one of the most widely known chemicals of interest. But BPA is only one of many monomers, plasticizers, flame retardants, antimicrobials, and other chemicals used in plastics manufacturing3 that are able to migrate into the environment.
At the junction of these two lines of inquiry is an emerging third field that is in many ways even more complex and less well understood: investigating human exposures to and potential health effects of plastics that have entered the marine food chain. Studies have demonstrated plastics' tendency to sorb (take up) persistent, bioaccumulative, and toxic substances, which are present in trace quantities in almost all water bodies.4 The constituents of plastics, as well as the chemicals and metals they sorb, can travel into the bodies of marine organisms upon consumption,5,6,7,8,9 where they may concentrate and climb the food chain, ultimately into humans. This topic has attracted interest and funding from the U.S. Environmental Protection Agency (EPA), the National Oceanic and Atmospheric Administration (NOAA), and the National Academy of Sciences (NAS), as well as researchers, nonprofit groups, and institutions around the world.
At this point "there are more questions than answers," says Richard Thompson, a professor of marine science and engineering at England's Plymouth University. Thompson coined the term "microplastics" in 200410 and later undertook a three-year study of these particles in the marine environment for the UK's Department of Environment, Food, and Rural Affairs.11,12,13 "From a human perspective," he says, "at the moment I think there's cause for concern rather than cause for alarm."
Viewpoints on the human health risks of marine debris are nearly as complex as the underlying science, as was evident at an inaugural EPA and NAS symposium on the topic held in Washington, DC, in April 2014. In addition to myriad small details, the researchers in attendance considered an overarching question: Within the context of limited oceanographic research funding, the variety of other problems affecting ocean health (including overfishing and acidification), and the extent of humans' daily and direct exposures to potentially harmful chemicals from consumer plastics and other sources—how concerned should we be about marine plastics as far as human health goes?
Researchers don't yet have an answer, even if they believe they're asking the right question. As EPA chemist Richard Engler concluded in a 2012 review, "While current research cannot quantify the amount, plastic in the ocean does appear to contribute to [persistent, bioaccumulative, and toxic substances] in the human diet."
Full article in open-access EHP: http://ehp.niehs.nih.gov/123-a34/
Seltenrich N. 2015. New link in the food chain? Marine plastic pollution and seafood safety. Environ Health Perspect 123:A34–A41; http://dx.doi.org/10.1289/ehp.123-A34
SAVING OUR THREATENED SPECIES IN NSW
Rob Stokes MP, Minister for the Environment, Minister for Heritage, Minister for the Central Coast, Assistant Minister for Planning
Environment Minister Rob Stokes today announced a series of new projects to protect NSW's most threatened species.
Mr Stokes said the $4.8 million Saving our Species program has been established to secure the future of NSW's 970 threatened species.
"These plants and animals face the real risk of disappearing from the wild forever. This is not something the NSW Government or the community are prepared to accept," Mr Stokes said.
"We are taking action to safeguard the viability of these animals so future generations will be able to see them in the wild, and not just in the confinement of a zoo.
"A total of 28 new draft conservation projects have been developed for the program. The projects include protection of the green and golden bell frog, which will involve habitat conservation, monitoring and community engagement activities at sites across NSW."
The Saving our Species program aims to protect threatened species by:
• Prioritising projects based on their benefit to the species, feasibility and cost to help make the most effective investments in threatened species conservation;
• Monitoring and managing the effectiveness of projects so they can be refined;
• Encouraging community, corporate and government participation in threatened species conservation by providing a website and a database with information on project sites and research opportunities;
• Allocating all threatened species to one of six management streams that provide the best outcomes for each species; and
• Providing targeted conservation projects that set out the actions required to save 370 specific plants and animals on locally or regionally managed sites
These conservation projects will be added to the 368 projects for other threatened species which are currently guiding conservation action across NSW.
The draft projects can be reviewed and comments provided online at www.threatenedspecies/PASAmendmentSpecies.htm
and comments are being sought until 13 February 2015.
Online survey for the Commonwealth Marine Reserves Review
This Review is focusing on the management of the Commonwealth Marine Reserves networks that were declared in 2012. The Review has been established to build a strong evidence base to guide how these reserves should be managed in the future, and includes two components: an Expert Scientific Panel to review the science supporting zonation and marine reserve management; and five Bioregional Advisory Panels to consult stakeholders.
This survey consists of 20 questions and should take approximately 15-20 minutes to complete. You do not have to answer all the questions in the survey for your response to be considered.
The South-east Commonwealth Marine Reserves Network, the Great Barrier Reef Marine Park and marine reserves managed by the States and the Northern Territory (generally begins 3 nautical miles (5.5 kilometres) offshore) are not affected by this Review.
If you have, and wish to provide, more detailed information we encourage you to make a separate written submission to the Review.
Information about the terms of reference and guidance on how to make the most of your ideas when providing your feedback can be found on the Join the conversation page of our website or through the headings on page At: www.marinereservesreview.com.au/
The submission period will remain open until 28 February 2015.
NB: - took us 5 minutes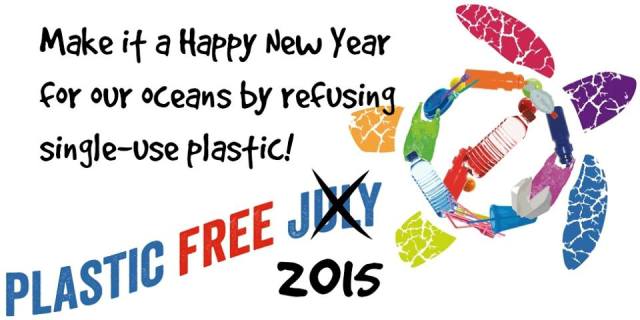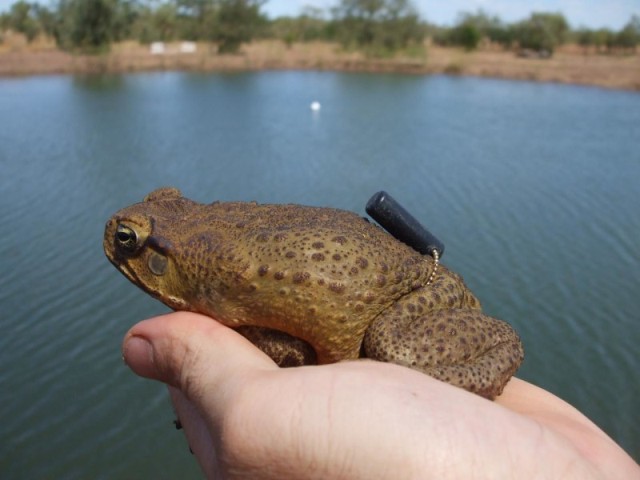 Long-term control of cane toads demonstrated
February 3, 2015 - Preventing cane toads from entering human-made dams to cool down in the hot, arid zones of Australia kills them in large numbers and is an effective way to stop their spread, UNSW-led research shows.
"This is the first study to demonstrate long-term control of cane toads," says study lead author, UNSW Associate Professor Mike Letnic.
"Our approach of erecting toad-proof fences around dams could work on a large scale to halt their march across the continent, because most of the areas that these toxic amphibians will invade in future are semi-arid or arid."
The study is published in the Journal of Applied Ecology.
Pastoralists build dams to provide water for livestock such as cattle, but these human-made sources of water attract toads and have vastly increased the areas that the pests can invade.
"Cane toads need water to survive and we have previously shown they use the dams as refuges in the hot, dry periods. They enter the water during the day to cool down and rehydrate. Then, when the rainy period returns, they move on from these dry season refuges into new territory," says Associate Professor Letnic, of the UNSW School of Biological, Earth and Environmental Sciences.
"This behaviour helps explain why they are so successful as an invasive species."
To determine the impact of restricting access to the water, the researchers constructed small fences from shade cloth around three dams in the Victoria River region of the Northern Territory and maintained them for a year. Toads could not jump over the fences or burrow under them.
"The toads were still attracted to the water but they died en masse while attempting to settle at the fenced dams. Their numbers remained suppressed for a further year. By comparison, there were 10 to 100 times more toads living at the unfenced dams that were used as controls in the study," says Associate Professor Letnic.
"By excluding toads from dams, we converted their invasion refuges into ecological traps and thwarted their spread."
The researchers suggest pastoralists and wildlife agencies in semi-arid and arid regions could work together to fence out toads at dams, or replace dams with tanks.
"If conducted strategically, excluding toads from human-made water sources could effectively control their populations across large areas of Australia and relieve the impacts that cane toads are having on native predators and dung beetles," says Associate Professor Letnic.
1. Mike Letnic, Jonathan K. Webb, Tim S. Jessop, Tim Dempster. Restricting access to invasion hubs enables sustained control of an invasive vertebrate.Journal of Applied Ecology, 2015; DOI:10.1111/1365-2664.12390
Top: This is a cane toad with a tracking device attached at a dam in Australia. Credit: UNSW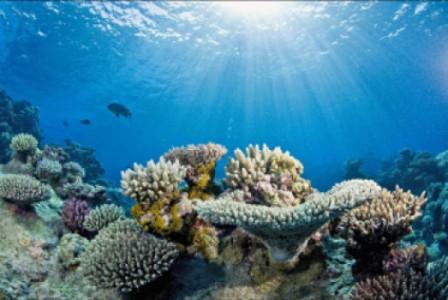 Study projects unprecedented loss of corals in Great Barrier Reef due to warming
January 22, 2015 – The coverage of living corals on Australia's Great Barrier Reef could decline to less than 10 percent if ocean warming continues, according to a new study that explores the short- and long-term consequences of environmental changes to the reef. Environmental change has caused the loss of more than half the world's reef building corals. Coral cover, a measure of the percentage of the seafloor covered by living coral, is now just 10-20 percent worldwide. The Great Barrier Reef, once thought to be one of the more pristine global reef systems, has lost half of its coral cover in only the last 27 years. Overfishing, coastal pollution and increased greenhouse gas emissions leading to increased temperatures and ocean acidification, as well as other human impacts are all affecting the delicate balance maintained in coral reef ecosystems.
Now, in a new study that aims to project the composition of the future Great Barrier Reef under current and future environmental scenarios, researchers found that in the long term, moderate warming of 1-2 degrees Celsius would result in a high probability of coral cover declining to less than 10 percent, a number thought to be important for maintaining reef growth.
In the short term, with increasing temperatures as well as local human-made threats like coastal development, pollution, and over-fishing, the study found that corals--tiny animals related to jellyfish--would be over-run by seaweed which would, in effect, suffocate them. In the longer term, interactions among reef organisms would lead to dominance by other groups, including sponges and soft corals known as gorgonians.
The study, now in pre-print online in the journal Ecology, uses a multivariate statistical model and includes quantitative surveys of 46 reef habitats over 10 years of data from 1996-2006.
"The model indicated that warming of an additional 1-2 degrees Celsius would more than likely lead large declines in coral cover and overall changes to the community structure," said lead author Jennifer K. Cooper, a graduate student in marine biology at James Cook University. "If our model is correct the Great Barrier Reef will begin to look very different as ocean temperatures increase."
Cooper was part of an international team of ecologists who conducted the study at the National Institute for Mathematical and Biological Synthesis (NIMBioS).
"Even the massive, remote, and intensely managed Great Barrier Reef is being degraded by human activities. Losing the GBR and other reefs would be a massive blow to marine biodiversity and to the people that depend on healthy reefs for food, tourism, and protection from storms," said co-author John Bruno, a marine ecologist from the University of North Carolina, Chapel Hill.
The Great Barrier Reef, which stretches along most of the coastline of the state of Queensland and is about the size of Japan, contains the world's largest collection of coral reefs, with 400 types of coral, 1,500 species of fish and 4,000 types of mollusks. The United Nations listed the reef as a World Heritage site in 1981, but is being considered this year to be placed on the List of World Heritage in Danger.
The study matches similar dynamics found in a recent study widely reported in the media, which said that some parts of the Great Barrier Reef can recover in the short term from damage due to global warming. Yet, the longer term future is bleak for the coral reefs in spite of any short-term recovery.
Co-author Matthew Spencer, who conducted the study while a sabbatical visitor at NIMBioS, said that the findings are not only important for predicting reef futures under climate change but could also be applied to other ecosystems. "The beauty of this study is that the same approach should work for other systems, provided enough data are available," he said. "Our next plan is to use it to model the dynamics of European forests."
1. Matthew Spencer. Size change, shape change, and the growth space of a community. Journal of Theoretical Biology, 2015; DOI:10.1016/j.jtbi.2015.01.002
The coverage of living corals on Australia's Great Barrier Reef could decline to less than 10 percent if ocean warming continues, according to a new study. Credit: Catlin Seaview Survey/ Underwater Earth.
We need Australia's land to go beyond zero emissions
02 February 2015 - OPINION: There were two important events in the climate calendar last year that were hidden by the announcements around the G20 by the US, China and India.
One was the recent shift from the UN Environment Program and UN Framework Convention on Climate Change to talking not only of zero emissions, but of negative emissions – of going beyond zero emissions. This is an area Beyond Zero Emissions (BZE), the University of Melbourne and University of New South Wales have been researching and providing pathways towards for some years. What was once seen as 'radical' has now become mainstream by respected international organisations.
So far, the research has highlighted solutions to reducing carbon pollution across various sectors (energy, buildings, transport), and mapped out ways in which these sectors can move to zero emissions, thus ensuring they and associated businesses remain relevant on a viable planet.
Last year, one piece of research demonstrated not only how to move to zero emissions, but how to move Australia's economy beyond zero emissions – into the 'negative emissions' UNEP and UNFCCC have outlined as necessary to avoid the worst ravages of a changing climate.
There's a gap in the Australian identity which has been formed out of a history of relying on the land for economic growth. In the changes to the natural landscape to make way for agriculture over the past 200 years, by rugged people conquering a 'harsh' landscape; by struggle and dust and livestock.
Most Australians have never been to 'the bush' or 'the outback'. Many would probably prefer a jaunt in Asia. And this disconnect, between how we have seen ourselves and how we actually are, has meant we have kept romantic notions of rural Australia intact whilst never actually engaging with it, or perhaps even wanting to.
This disconnect could impact heavily on Australia's role in reducing carbon pollution. Because it's out here, amongst the trees and the paddocks, that the real work in addressing climate change must happen. It's out here that the carbon pollution genie can be put back in the bottle. And out here is the only place that it can happen.
Left unchecked, climate change will result in more droughts, floods and bushfires. Farmers in NSW and Queensland are yet again suffering though extended drought. Increasingly, sons and daughters do not want to take on the family farm. Rates of depression and suicide are high.
Left unchecked, the way we use land in Australia could be responsible for as much as half of all emissions in this country. This is a far call from the substantial attention placed on the energy and transport sectors in achieving emissions reductions.
Dealing with emissions reductions on the land is sensitive stuff. We need farmers, land management groups, Indigenous peoples and others with experience on the land to solve this issue. It requires social and economic transformation.
Whilst the 'locavore' movement has galvanised people to cut their 'carbon miles' by buying from local producers, it will take more than that if we want to keep agriculture viable in this country.
It will take a reduction in the amount of meat people eat regularly. Eating less red meat will have a huge impact. Reducing herd size by 20 per cent will equal a reduction of eleven million tonnes of greenhouse gas pollution every year.
It will mean an end to land clearing, and an end to the reclearing of previously cleared land. Tree clearing has made eastern and south-western Australia hotter, and eastern Australia drier than would otherwise have occurred with global climate change. Rainfall has decreased due to tree clearing in Queensland, New South Wales and southwest Western Australia since the1950s, leading to more drought, and less resilience to climate change. These changes are not just necessary to slow climate change, they're necessary if we are to maintain an agricultural industry in this country.
It will mean embracing new technologies and methods that keep topsoils intact; allowing native vegetation to grow alongside crops and livestock; changing the way we burn savannah landscapes in the northern regions of Australia.
We need to let go of the idea that Australia could become Asia's foodbowl. It can't. Not now, and definitely not in a future where our growing areas are constrained by a changed climate.
Leaving existing forests and woodlands to soak up carbon pollution rather than add to it will also play a key role. If left to recover from clearfell logging, the native forests of south east Australia can sequester as much as 7.5 billion tonnes, or ten years worth of carbon pollution.
Revegetation offers the opportunity to drought proof farms and provide alternative revenue streams for farmers.
This is a challenging issue, but one that must be addressed if we are go beyond zero.
Dr Stephen Bygrave is an Adjunct Professor in Science at UNSW.
This opinion piece was first published in Renew Economy.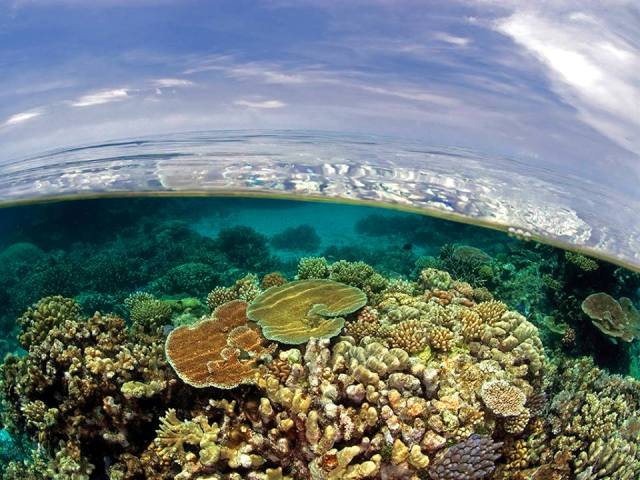 Assisted Evolution: Giving some hope for coral reef survival
3 February: Australian Institute of Marine Science (AIMS)
Scientists from the Australian Institute of Marine Science (AIMS) and the Hawaii Institute of Marine Biology are studying how Assisted Evolution (AE) may help some corals adapt better to climate change. Their research has been published today in the international peer-reviewed journal, Proceedings of the National Academy of Sciences (PNAS).
"Assisted evolution is the acceleration of naturally occurring evolutionary processes to enhance certain traits. Various AE approaches have been widely used for the improvement of commercial species, including crop species, wood trees and livestock. AE approaches include selective breeding and more recently, the manipulation of the microbial communities associated with plants and animals," said AIMS scientist, Dr Madeleine van Oppen.
"We plan to evaluate the effectiveness and feasibility of four different AE approaches to enhance the environmental stress tolerance of reef-building corals. Over the past several years we have already done some pilot work in AE, however, our research is in the early stages," Dr van Oppen explained.
The AE in coral concept was 'spawned' by decades of work by the two teams unravelling the mechanisms of adaptation and acclimatisation in corals, as well as a number of observations across the Indo-Pacific by other researchers showing corals have naturally adapted or acclimatised to areas with elevated temperature and that some corals have become more tolerant to bleaching* over successive bleaching events.
"Such observations indicate that under the right circumstances, acclimatisation or adaptation can occur over relatively short time scales. If we could promote and enhance this natural adaptive ability across several coral species then this could help increase reef resilience in the face of current and future climate change," said Dr Ruth Gates from the University of Hawaii.
"This is important as the economic value of coral reefs through commercial and recreational fisheries, tourism, drug discovery, and coastal protection is immense," Dr Gates added.
Van Oppen explained that the promotion of new resilient forms of coral raises important questions regarding the desirability of introducing these corals into the reef areas. In step with the development of AE techniques in corals over the next 5-10 years, van Oppen hopes there will be an open discussion with relevant scientific bodies, policy makers, coral reef managers and the general public on how these new options for enhancing reef resilience should be used.
"This will require careful ecological risk assessment together with a consideration of the ethical and socioeconomic implications," concluded Dr van Oppen.
*Coral bleaching is a stress response manifested by the loss of the algae that live inside the coral's tissues, leading to a paling of the coral as the coral's skeleton becomes visible through its now translucent tissues.
Photo: AIMS
Black Bittern (Ixobrychus flavicollis) sighted in Warriewood Wetlands
By North Narra - Published on 3 Feb 2015
Black Bittern sighted in Warriewood Wetlands January 31 2015.
This Video is of one I stumbled upon in August 9 2014
Video quality is pretty poor however it is due to me not really seeing what I had the camera aimed at due to sever side lighting from setting winter sun, still better than not having anything I guess.
Join the conversation about Commonwealth Marine Reserves
Written submissions to the independent review of Commonwealth Marine Reserves open today.
The co-Chairs of the Bioregional Advisory Panels, Professor Colin Buxton and Mr Peter Cochrane invite interested parties to provide them with ideas and suggestions on how marine reserves should be managed into the future.
"We are really keen to hear from a broad range of stakeholders and are hoping those with an interest will complete a simple online survey or provide a more detailed submission," Professor Colin Buxton said.
The Review is focused on making sure that its work builds on the feedback and efforts that individuals and organisations have already made.
"We're seeking new and additional information that address our terms of reference. The government has reproclaimed the outer boundaries of the Commonwealth Marine Reserve networks and the Coral Sea, so our focus is on their zonation and internal management."
The Review has established five Bioregional Advisory Panels (representing the South-west, North-west, North, Temperate East and Coral Sea marine regions) to facilitate consultation with interested parties.
Details about making a submission can be found on the Join the Conversation page at www.marinereservesreview.gov.au. The online survey is expected to be available soon.
The submission period will remain open until 28 February 2015.
"We'd encourage everyone to get in early as this will help focus our efforts over the coming months," Mr Peter Cochrane said.
"We're looking for suggestions on how we can engage most effectively with affected parties and interests, to best explore options for zonation and management that will effectively and efficiently address concerns raised."
The terms of reference can be found on the review websitewww.marinereservesreview.gov.au .
For background:
The terms of reference for the Review task the Bioregional Advisory Panels with providing government with:
•Advice on areas of contention with the Commonwealth marine reserves
•Advice on options for zoning boundaries to address those areas of contention
•Recommendations for improving the inclusion of social and economic considerations into decision-making for marine reserves, with particular regard to their management
•Suggestions for ongoing engagement of regional stakeholders
•Advice on information received through consultations that the Panels may feel influence, contribute to or improve the drafting of future management plans
Myths and Realities of Personalised Medicine: The Genetic Revolution
UNSWelearning - Published on 3 Feb 2015
Learn about the concept of "personalised medicine" and the impact that our enhanced understanding of genetics has had on modern medicine and society.
Enroll into our free MOOC: http://bit.ly/medmoocunsw
Red Dot Award 2015 – Star designers Jimmy Choo and David Andersen will assess fashion category
The registration phase of the Red Dot Award: Product Design 2015 ends on 11 February. The annually organised international competition has been awarding products of good design quality for 60 years now. In its anniversary year, "Fashion, Lifestyle and accessories" is one of 31 categories. Red Dot contributes to the growing number of submitted projects from the world of fashion. To be up to the variety of areas like haute couture, shoes, street fashion, and bags, Red Dot invited the most prestigious fashion experts in the history of the award: Jimmy Choo and David Andersen are part of the Red Dot jury 2015.
Datuk' Professor Jimmy Choo founded his own couture label and opened a shoeshop in London's East End in 1983. In 1996, he launched his ready-to-wear line and sold his share in the business in 2001. He is a promoter for design education and an ambassador for footwear education at the London College of Fashion as well as a spokesperson for the British Council in their promotion of British Education to foreign students. In 2015, Jimmy Choo will be in the Red Dot jury for the third time and is not only looking forward to new product designs and the jury colleagues but estimates the award as a source of inspiration: "I feel very happy to be here again and see so many people for design. We all have our strong point and at the end we choose the right things. I see a lot of new designs, which also inspire me for my collections."
A new member of the Red Dot jury is David Andersen. The designer from Denmark creates successful ready-to-wear clothing, shoes, perfume, underwear and home wear. In 2007, he launched his collection "David Andersen" and conquers the world of fashion in giant steps: His brand is expanding in Europe, Asia and the US. The all-rounder regularly presents his designs in couture exhibitions all over the world and is a visiting professor at Scandinavia's largest design and management college. Along with Jimmy Choo, he will award the best design achievements in the field of fashion with a Red Dot.
4.815 products from 53 nations have been entered into the competition in 2014 alone. One of the designs awarded last year: The women's felt boots "Moose" by Diversus LT with moose decor and a high shaft made of milled sheep's wool provide warm feet. The jury has been enthused: "These warming boots are the new interpretation of a well-tried, classic piece of footwear with stylish accents." Already now, the Red Dot experts can look forward to numerous high quality submissions of this year.
_________________
About the Red Dot Award: Product Design:
Designers and companies are currently invited to submit their products in 31 categories. An international jury of independent design experts will assess each product and project. There is no digital preselection phase; each object is assessed directly in situ. The best achievements will be awarded the sought-after seal of quality, the "Red Dot". The award-winning designs are traditionally celebrated at the festive Red Dot Gala in the summertime and exhibited in the Red Dot Design Museum Essen.
Registration phase until 11 February 2015
Red Dot Gala: 29 June 2015
For further information and to register, go to www.red-dot.org/pd.
2014 Online Exhibition (from Arhcitecture - Urban Design and Public Spaces to Watches etc.): HERE
Photo: We've the Zenith - High-Rise Apartment Building
Red Dot
Design- Daewon Plus Construction (Samsup Choi, Sung Jin Chung, Seung Do Lee, Youn Jun Kim), South Korea www.daewonplus.co.kr- Mahn Woo Kwon, South Korea; www.ks.ac.kr
Red Dot
The 300-metre tall "We've the Zenith" is the latest landmark of Busan's Marine City. As the impressively tall residential building, the 80-storey high-rise is the extraordinary outcome of the collaboration between outstanding architects, engineers and landscape designers. The building's contours are reminiscent of the beautiful waves of the sea at Haeundae and of a fully opened lotus flower, the symbol of prosperity. The Zenith is not only an aesthetic feast for the eyes, but also the most secure skyscraper in the world. With a safe haven on every third floor, residents do not have to worry about their safety in the event of danger.
Statement by the jury: " By meeting the highest expectations in terms of form and execution, "We've the Zenith" has become a distinct point of reference in its surroundings."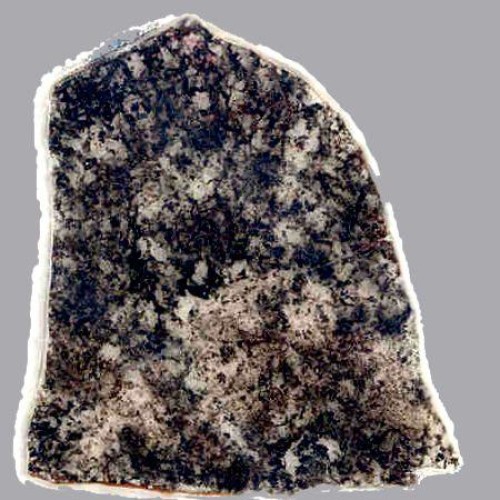 Scientists discover organism that hasn't evolved in more than 2 billion years
February 3, 2015 - An international team of scientists has discovered the greatest absence of evolution ever reported -- a type of deep-sea microorganism that appears not to have evolved over more than 2 billion years. But the researchers say that the organisms' lack of evolution actually supports Charles Darwin's theory of evolution.
The findings are published online by the Proceedings of the National Academy of Sciences.
The scientists examined sulfur bacteria, microorganisms that are too small to see with the unaided eye, that are 1.8 billion years old and were preserved in rocks from Western Australia's coastal waters. Using cutting-edge technology, they found that the bacteria look the same as bacteria of the same region from 2.3 billion years ago -- and that both sets of ancient bacteria are indistinguishable from modern sulfur bacteria found in mud off of the coast of Chile.
"It seems astounding that life has not evolved for more than 2 billion years -- nearly half the history of Earth," said J. William Schopf, a UCLA professor of earth, planetary and space sciences in the UCLA College who was the study's lead author. "Given that evolution is a fact, this lack of evolution needs to be explained."
Charles Darwin's writings on evolution focused much more on species that had changed over time than on those that hadn't. So how do scientists explain a species living for so long without evolving?
"The rule of biology is not to evolve unless the physical or biological environment changes, which is consistent with Darwin," said Schopf, who also is director of UCLA's Center for the Study of Evolution and the Origin of Life. The environment in which these microorganisms live has remained essentially unchanged for 3 billion years, he said.
"These microorganisms are well-adapted to their simple, very stable physical and biological environment," he said. "If they were in an environment that did not change but they nevertheless evolved, that would have shown that our understanding of Darwinian evolution was seriously flawed."
Schopf said the findings therefore provide further scientific proof for Darwin's work. "It fits perfectly with his ideas," he said.
The fossils Schopf analyzed date back to a substantial rise in Earth's oxygen levels known as the Great Oxidation Event, which scientists believe occurred between 2.2 billion and 2.4 billion years ago. The event also produced a dramatic increase in sulfate and nitrate -- the only nutrients the microorganisms would have needed to survive in their seawater mud environment -- which the scientists say enabled the bacteria to thrive and multiply.
Schopf used several techniques to analyze the fossils, including Raman spectroscopy -- which enables scientists to look inside rocks to determine their composition and chemistry -- and confocal laser scanning microscopy -- which renders fossils in 3-D. He pioneered the use of both techniques for analyzing microscopic fossils preserved inside ancient rocks.
J. William Schopf, Anatoliy B. Kudryavtsev, Malcolm R. Walter, Martin J. Van Kranendonk, Kenneth H. Williford, Reinhard Kozdon, John W. Valley, Victor A. Gallardo, Carola Espinoza, David T. Flannery. Sulfur-cycling fossil bacteria from the 1.8-Ga Duck Creek Formation provide promising evidence of evolution's null hypothesis. Proceedings of the National Academy of Sciences, 2015; 201419241 DOI: 10.1073/pnas.1419241112
Above: This is a section of a 1.8 billion-year-old fossil-bearing rock. Credit: UCLA Center for the Study of Evolution and the Origin of Life
Rare Sperm Whale Sighting in 4K
Published on 4 Feb 2015
An incredibly rare event captured in 4K off the coast of Dana Point in Southern California shows a large number of sperm whales playing together near the ocean's surface.
For more check out:
www.danawharf.com or www.airreel.com
Shot 100% on the HERO4® camera from http://GoPro.com.
Holiday parks near unpatrolled beaches put tourists in harm's way
03 February 2015
More than 90% of coastal tourist parks in NSW are located adjacent to surf beaches that are rated moderately to highly hazardous for swimming, a UNSW study shows.
About a third of these beaches are completely unpatrolled, and another 61% are patrolled for less than 25% of the time, putting local and international visitors to the parks at risk of drowning.
"These stark statistics should be of concern to tourist park operators, beach users and local governments," says study author, Associate Professor Rob Brander, of the UNSW School of Biological Earth and Environmental Sciences.
"Our study also shows visitors to the southern region of NSW are possibly at greater risk due to a higher percentage of unpatrolled and hazardous beaches. To the north of Sydney, about 27% of beaches closest to tourist parks are unpatrolled, while this figure is 50% for parks to the south of Sydney.
"Almost all drownings in Australia occur on unpatrolled beaches, outside the flags or after patrol hours. For example, on the Queensland coast, all international tourists who drowned between 1999 and 2004 died in unpatrolled environments," Associate Professor Brander says.
The study, which lists the details of 231 NSW tourist parks and their closest surf beaches, is published in the journal Tourism Management. The researchers, led by Campbell McKay, used hazard ratings from the BeachSafe website, which rank beaches on a scale of 1 to 10, based on their physical features.
There are no specific statistics linking drownings to beaches near tourist parks. But Surf Life Saving Australia's records show that 50% of drownings occur when a person is more than 50 kilometres from their home.
Several tragic events have also occurred in recent years near tourist parks. For example, in January 2010, a mother and a father staying at a caravan park in Ballina drowned after saving their two children from a rip current.
While it is impractical to have full-time patrols at all beaches, new beach safety campaigns, signs and educational material may be needed to address the risks.
"No standardised beach or costal safety education material such as warning signs, brochures or posters, is available to every coastal tourist park," says Associate Professor Brander.
The researchers also recommend the physical hazard rating system for beaches be expanded to take into account other factors such as number of visitors to beaches, how often they are patrolled, and the number and timing of rescues.
Doctors and vets join forces for Australian-first Zoobiquity conference
3 February 2015 - While animals and humans suffer from similar diseases, it is rare that physicians and veterinarians share their wealth of knowledge with one another. To bridge this gap, the University of Sydney will host an Australian-first conference on 27 February featuring world leaders in nutrition and metabolic diseases.
The first Zoobiquity conference ever to be held outside North America will host zoologists, molecular biologists and human and veterinary physicians as they adopt an interdisciplinary approach to nutrition and disease in humans and animals.
Leading researchers and clinicians will draw on the latest research from medical and veterinary science to explore how an integrated approach can help to better diagnose, treat and heal both human and animal patients.
Speakers will tackle difficult questions on diverse topics ranging from which macronutrients make for good nutritional health, how much salt, water and exercise we need, and why our companion animals are sharing a load of the obesity epidemic. Adjunct Professor Richard Malik, from the University's Centre for Veterinary Education, will bring his international expertise on small animal medicine to provide an evolutionary perspective on the health issues facing humans and animals alike.
"We'll explore what makes a good diet for our pets, including the impact of commercial diets on teeth and gum health, and also obesity and the predisposition to develop osteoarthritis," said Adjunct Professor Malik.
"Dogs and cats are carnivores that evolved to eat the flesh and bones of prey animals, so it seems sensible for their diet to reflect this. Zoo vets and their nutritionists work with this logic and feed a lot of raw meat on the bone.
"Many pet owners are being increasingly persuaded to only feed their cats and dogs premium dry food. However, exclusively feeding your cat or dog this cereal-based high carbohydrate diet may not be in their best interests. There are high levels of obesity in areas such as the United States, where animals are almost exclusively fed these diets."
Other key topics up for debate include unexpected dietary dangers for both humans and animals, which organisers believe will be an eye opener to many people. There will be many opportunities for discussion and debate.
Founder of the Zoobiquity Conferences, Dr Barbara Natterson-Horowitz, a human cardiologist from University of California, will open the conference via video with an overview of the Zoobiquity journey to date.
The idea that ignited Zoobiquity came when Dr Natterson-Horowitz saw a sub-human primate at the Los Angeles Zoo. After realising the advantages of studying comparative medicine, she wrote a book on the subject and has since run three Zoobiquity conferences in the US. The conferences have garnered much attention for facilitating discussion between human physicians and veterinarians.
Zoobiquity will be jointly hosted by the Centre for Veterinary Education, Sydney Medical School and the Charles Perkins Centre at the University of Sydney.
Event details:
What: Zoobiquity Conference: Nutrition and Disease in Man and Companion Animals
When: Friday 27 February 2015
Time: 8.30am - 5.30pm
Where: The Charles Perkins Centre research and education hub (Johns Hopkins Drive, The University of Sydney)
Bookings and enquiries: T: +61 2 9351 7979, E:cve.enquiries@sydney.edu.au,http://www.cve.edu.au/evzoobiquityconference15
Gandhi's teachings a salve for modern ills, granddaughter says
02 February 2015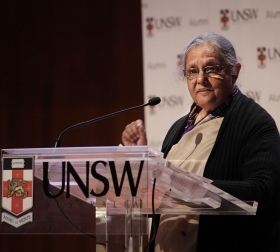 The teachings of Gandhi are more relevant than ever, with Islamophobia, terrorism and climate change standing in the way of peace, his granddaughter Ela Gandhi says.
Ms Gandhi, a peace activist and former South African MP who spent nine years under house arrest during the struggle against apartheid, delivered UNSW's fourth annual Gandhi Oration on Friday to commemorate India's Martyrs' Day. The event included a question and answer session involving Ms Gandhi, Patron of the Australia India Institute (UNSW Node) Mr Neville Roach and outgoing Vice-Chancellor Professor Fred Hilmer.
Held on the anniversary of Mahatma Gandhi's assassination on 30 January 1948, the oration is delivered by a person whose life work exemplifies Gandhian ideals. It follows a community Remembrance Ceremony on the University's Library Lawn, home to the Mahatma Gandhi bust.
Ms Gandhi used the occasion to stress her grandfather's philosophy of non-violence and simple lifestyle – ideals which she said held the key to solving some of modern society's biggest problems, including the cycle of extremist violence and environmental destruction.
"Perhaps some important questions are how much respect do we have for life? How much faith do we have in ourselves and in others? What do we teach the next generation?" she said.
"Gandhi-ji constantly said that it is important for us to differentiate between the deed and the doer… What we see today is the opposite – we not only condemn the deed and the doer but we also extend that condemnation to a whole group of people with whom we associate the doer. This is how we give rise to, for instance, Islamophobia, race hatred and other prejudices."
She lamented that humanity had not heeded the Mahatma's warnings 82 years ago about overconsumption. If we had, "today we would not be suffering the effects of climate change and worrying about how to conserve our planet".
"I have often wondered, when we talk of water shortages, for instance, facing the world, yet do nothing about the number of private swimming pools being built all over the world as the middle class expands. Is this sustainable?"
Ms Gandhi offered a candid insight into growing up on South Africa's Phoenix Settlement, a commune where her grandfather trained political activists in his techniques of satyagraha, or passive resistance.
She said the most important lessons were that people did and could change, that all work and people were to be respected equally and that no one faith had precedence.
"Gandhi-ji's training was that God didn't ask to be imprisoned in any one building, whether it's a temple or a mosque or a church. He didn't ask to be imprisoned, he's everywhere. He or she…," she said.
"Gandhi-ji's famous quotation was that I want the windows of my house to be open and the winds of all cultures to blow through, but I will not be thrown off my feet by anyone."
Ms Gandhi said the world was increasingly looking for quick fixes to complex problems, citing the death penalty, and the case of the Bali Nine, as a topical example in Australia.
Her own experience with South Africa's Truth and Reconciliation Commission was that lasting change required patience and faith.
"Whilst there were many people who forgave and were able to shake hands and live together with the perpetrators, and perpetrators who felt really guilty about what they did and changed their own habits, it takes a long time for that to happen," she said.
"It hasn't happened across the board. There are those perpetrators who still feel that what they did was correct, and there are those victims who are not prepared to forgive. We have to work at it, that's where faith comes in: faith in yourself, faith in other people that one day it will happen."
Asked what her iconic grandfather would have thought about the modern world of weapons, drones and social media, she said he never would have armed himself but "absolutely, if there was a Facebook I think he would be using it very wisely".
Though sports boycotts had helped to end apartheid she said Gandhi may not have approved of the modern world's sports mania.
"Gandhi-ji didn't like competition. Although he had a football team, his games were more about enjoyment and not about competition. Because he felt that, once you begin to compete, then it leads to antagonisms and violence."
Instead of competition, she urged small acts of compassion and harmony.
"Even in our daily lives we can help to resolve differences peacefully rather than using confrontationist ways to resolve conflict. Simple little acts make an enormous difference in the world."
The 2015 Gandhi Oration was proudly sponsored by Tata Consultancy Services (TCS).
Words: Amy Coopes- Picture: Ela Gandhi delivers the 2015 UNSW Gandhi Oration. Photo: Andy Baker
Learn Chinese in 10 Minutes (ShaoLan Hsueh)
The world's most popular language is more accessible than it looks. Learn not just how characters are composed and structured, but also an easy and innovative way to memorize them. And find out how technology and design are helping bridge the linguistic gap between West and East.
Bioengineered miniature structures could prevent heart failure
February 4, 2015 - The delivery of tiny biodegradable microstructures to heart tissue damaged by heart attack may help repair the tissue and prevent future heart failure. A team led by cardiovascular researchers at the Medical College of Wisconsin (MCW) bioengineered the microstructures to be the same size, shape and stiffness as adult heart muscle cells, or cardiomyocytes, with the goal of releasing biologically active peptides that act as cardioprotective agents.
The findings are published in Biomaterials. Paul Goldspink, PhD, associate professor of physiology at MCW, led the study.
Heart disease is the leading cause of death across the globe, and there are 610,000 heart attacks and 325,000 recurrent attacks each year. While heart attack survival rates are high, the resulting destruction of heart muscle often leads to heart failure, and current pharmaceuticals do not repair or restore function of the depleted muscle.
Dr. Goldspink's lab focuses on exploiting aspects of the chemical and physical environment of the heart via bioengineered structures to restore organ function. This has resulted in the design of a technology that mimics the cellular environment by bringing together biodegradable microstructures bioengineered to be the same size, shape and stiffness as adult muscle cells that can protect and release biologically active peptides.
"In this study, we used an animal model and injected the miniaturized structures into the heart following a heart attack, which restored organ function and prevented a series of adverse events that would lead to heart failure," said Dr. Goldspink. "Our hope for this technology is that it might be adapted for delivery of other therapeutic biologicals to support repair of a variety of tissues and pathologies, with the potential for directing tissue regeneration."
Dr. Goldspink's team collaborated with researchers in the Medical Scientist Training Program and the department of bioengineering and therapeutic sciences, both at the University of California San Francisco
1. James R. Peña, James R. Pinney, Perla Ayala, Tejal A. Desai, Paul H. Goldspink. Localized delivery of mechano-growth factor E-domain peptide via polymeric microstructures improves cardiac function following myocardial infarction. Biomaterials, 2015; 46: 26 DOI: 10.1016/j.biomaterials.2014.12.050