Inbox and Environment News - Issue 199
January 25 - 31, 2015: Issue 199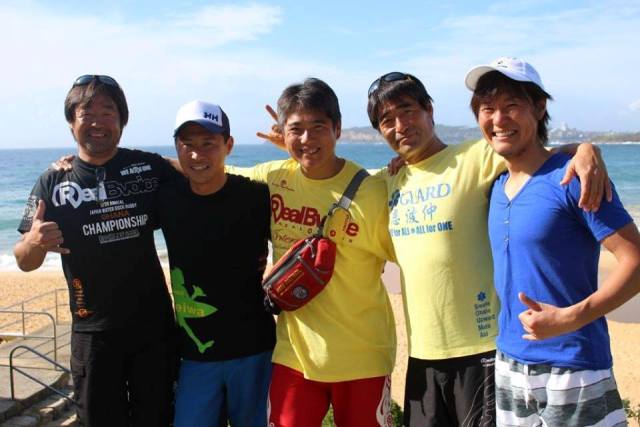 Japanese Visitors Redo Bronze
C/ - Surf Life Saving Sydney Northern Beaches
Wednesday 21st of January, 2015
These five Japanese men value the high standards of surf lifesaving in Australia that they have returned to do a refresher Bronze Medallion course with the Sydney Northern Beaches Surf School.
The youngest member Kavuki Tsuboi [far right] said he hopes to get the water safety message across to young kids who swim in pools and at the beach after a young boy drowned in a pool in his Prefecture.
" I don't want to ever see that happen again,'' he said.
The company that Kavuki works for paid for his trip.
Three of the men, who are members of surf clubs in Japan, paid their own way and had previously done their Bronze at North Burleigh two years ago.
Lisa Sakashita, from South Curl Curl Club, organised for the men to do their Bronze again with the SNB Surf School over a five-day intensive course at North Curly.
"They are so committed and it means so much to them to update their skills , pass on their knowledge and promote water safety in Japan,'' she said.
Kavuki is also a soccer nut and all five will take to opportunity to watch favourites Japan in an Asian Cup quarter final against the United Arab Emirates in Sydney on Friday.
Picture: The Japanese men at North Curly before training started today [Wednesday].
Get Healthy Service - Free from NSW Health
See how our FREE personal health coaching service can help find the healthier, happier you too!
WHAT IS THE GET HEALTHY SERVICE?
We offer free and confidential telephone-based expert advice and plenty of motivation to help you find a healthier, happier you.
The Get Healthy Service has two streams, Information Only and a 6 month coaching program, allowing you to pick what's right for you.
Bethlehem, Palestine: Church of the Nativity
by Rick Stevens Europe - Published on 21 Jan 2015
No longer just the little town of Christmas-carol fame, Bethlehem is a leading Palestinian city. Its skyline is a commotion of both crescents and crosses — a reminder that the town, while now mostly Muslim, still has many Christians.
At www.ricksteves.com, you'll find money-saving travel tips, small-group tours, guidebooks, TV shows, radio programs, podcasts, and more on this destination.
Aboriginal women lead change prevent high rates of fetal alcohol syndrome in remote Australia
19 January 2015
One in eight children born in 2002 or 2003 and living in remote Fitzroy Valley communities in Western Australia have Fetal Alcohol Syndrome, a landmark study reveals in today's Journal of Paediatrics and Child Health.
The Lililwan study, led by Aboriginal leaders from the Fitzroy Valley communities, The George Institute for Global Health and The University of Sydney, provides Australia's first comprehensive data on the prevalence of Fetal Alcohol Syndrome in remote communities. This 'research in action' project included diagnosis and development of individualised management plans to address the health issues of each child.
The Lililwan study was initiated by Aboriginal community leaders who, in 2009, invited researchers and clinicians to partner with them to provide data they could use to advocate for people living with Fetal Alcohol Syndrome.
Fetal Alcohol Syndrome is one of a group of preventable, lifelong conditions that may result from alcohol use in pregnancy, and can cause low IQ, delays in development, and problems with learning, academic achievement, behaviour, motor function, speech and language and memory. It is also characterised by abnormal facial features and poor growth, before or after birth.
Ms June Oscar, a study Chief Investigator and CEO of Marninwarntikura Women's Resource Centre in Fitzroy Crossing said: "This information is very important because we can use it to lobby for changes across Australia. This work helps us understand, for the first time, the scale of the problem of Fetal Alcohol Syndrome."
"Already big changes have been made in our community, including restricting access to alcohol and implementing health promotion strategies, diagnostic clinics and therapy and support for children and families. We know that there are many other communities across Australia worried about the damage that alcohol is causing to their children. The problems we face are not unique to the Fitzroy Valley."
Chief investigator Professor Jane Latimer, of The George Institute for Global Health and The University of Sydney, said: "The Fitzroy Valley communities are courageous and brave - they are taking responsibility for the past and working towards a better future."
"These women did not know they were harming their babies by drinking when they were pregnant. They live in very remote, disadvantaged communities and 10 years ago, when their children were born, they had no information about the dangers of alcohol."
"We must commend, rather than punish, this community for leading the way and shining a spotlight on a problem that exists across all Australia."
Chief investigator and senior author Professor Elizabeth Elliottof The University of Sydney, and an internationally-recognised expert in Fetal Alcohol Syndrome, said
"These tragic results confirm the urgent need for effective, national programs to prevent alcohol use in pregnancy, raise community awareness, and provide treatment and support for children and families living with Fetal Alcohol Syndrome in Australia."
Professor Elliott, who is Chair of the Commonwealth Government's recently formed National FASD Technical Network, said: "The prevalence rate we report for Fetal Alcohol Syndrome, at 120 per 1,000 children aged seven to nine years, is the highest documented in Australia.
"These are the first reliable figures we have from a remote Australian community in which high-risk alcohol use is common, but they are consistent with figures detected in high-risk drinking communities internationally. They will assist us in advocating for services and prevention programs."
"In light of these results, I am pleased that the government has recently committed over $9 million for the prevention and management of FASD in Australia, with an emphasis on Indigenous communities," said Professor Elliott.
Paediatrician Dr James Fitzpatrick, a study Chief Investigator from the University of Sydney and The George Institute, said the diagnosis of Fetal Alcohol Syndrome in the Fitzroy Valley study was made using internationally recognised criteria, following a rigorous process that included a detailed questionnaire about the pregnancy and early childhood and a comprehensive health and development assessment by a multi-disciplinary team of clinicians."
Dr Fitzpatrick, the study's first author, said: "We combined the best of community engagement and participation, with a scientifically rigorous approach that was practically useful to children, families and schools.
"Each child underwent three days of assessment, including by a paediatrician, psychologist, occupational therapist, physiotherapist, and speech and language pathologist. Aboriginal 'community navigators' were involved at every stage, ensuring that families were fully informed and understood the process.
"The study was challenging due to the very remote location of the 45 communities visited, limited accommodation, extreme climate and difficult roads."
Dr Fitzpatrick, who is now based at the Telethon Kids Institute and continues to work in the Fitzroy Valley said: "Families are more aware of FASD now, and health and education services have come together to implement a sustained response."
Ms Maureen Carter, a study Chief Investigator and CEO of Nindilingarri Cultural Health Services, was instrumental in initiating and overseeing this study. She said
"The role of Aboriginal 'community navigators' was crucial in ensuring cultural safety and competence. They acted as interpreters of local languages and brokered all relationships between researchers, families and communities."
"I have seen first-hand the awful impact of Fetal Alcohol Syndrome in my community and am dedicated to preventing alcohol use in pregnancy and its consequences."
The Lililwan study represents a successful collaboration between two Aboriginal organisations (Nindilingarri Cultural Health Services and Marninwarntikura Women's Resource Centre), both in Fitzroy Crossing, and clinicians and researchers from The George Institute for Global Health and The University of Sydney Medical School's Discipline of Paediatrics and Child Health.
"This study highlights the power of collaboration in research between Aboriginal and non-Aboriginal partners to address community priorities, and the importance of respecting local culture and knowledge" said Ms Carter.
It was supported by the Commonwealth Departments of Health and Ageing and Families, Housing Community Services and Indigenous Affairs; and the National Health and Medical Research Council of Australia.
Toxic Ebola protein fragment identified
January 21, 2015 - William Gallaher, PhD, Emeritus Professor of Microbiology, Immunology & Parasitology at LSU Health New Orleans School of Medicine, has discovered a fragment of an Ebola virus protein that is toxic to cells and may contribute to infection and illness. The findings were published online January 20, 2015, in the open access journal, Viruses. The fragment was found within a grouping of amino acids that is made in parallel with the protein involved in attachment of the virus to cells. Called the "Delta peptide," it has been shown recently to block the Ebola virus from attaching to already-infected cells. The new findings suggest that Delta peptide possibly functions by changing membrane permeability.
Following his discovery, Dr. Gallaher contacted Robert Garry, PhD, Professor of Microbiology and Immunology at Tulane University School of Medicine, a longtime collaborator, to produce a structural model and potential mechanism of action. The results of that modeling work were fashioned into a manuscript that was subjected to rigorous peer view by experts in the field and are being made public only after acceptance into a special issue on "Advances in Ebolavirus, Marburgvirus, and Cuevavirus Research 2014-2015" in Viruses.
Although preliminary studies using synthetic peptides have confirmed the potential of the fragment, its specific role and potency in its natural environment within Ebola virus-infected cells are yet to be determined. However, Dr. Gallaher and his colleagues have determined how to deactivate the toxic properties of the Ebola protein fragment in the laboratory environment. He and his colleagues are also developing inhibitors of the toxic mechanism, which may ultimately be useful as drugs, should a role for Delta peptide in Ebola virus disease become established by future studies.
According to the Centers for Disease Control and Prevention (CDC), the 2014 Ebola epidemic is the largest in history, affecting multiple countries in West Africa. Two imported cases, including one death, and two locally acquired cases in healthcare workers have been reported in the United States. As of January 16, 2015, the CDC and World Health Organization report 13,510 laboratory-confirmed cases and 8,483 deaths worldwide.
1. lliam Gallaher, Robert Garry. Modeling of the Ebola Virus Delta Peptide Reveals a Potential Lytic Sequence Motif. Viruses, 2015; 7 (1): 285 DOI:10.3390/v7010285
$10 million gift for Chair in Architecture at UNSW
19 January 2015
UNSW's Faculty of Built Environment has received a $10 million endowment from philanthropist Judith Neilson to help transform the lives of some of the world's most vulnerable people.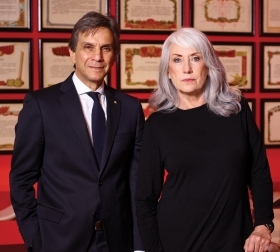 The Judith Neilson Chair in Architecture will take the lead in researching the design of affordable housing for the tens of millions of people displaced by natural disasters, geo-political conflicts, and economic and environmental factors.
Dean of UNSW Built Environment, Professor Alec Tzannes AM, described the endowment as an "extraordinary act of philanthropy".
"I acknowledge Judith Neilson for her long-term vision and commitment to support the betterment of society through architecture.
"Her generous gift to UNSW represents a groundbreaking commitment of global significance for the research, teaching and public debate of architecture with the specific social purpose of improving the lives of displaced and disadvantaged people.
"UNSW Built Environment is honoured to be entrusted as the custodian of Judith's vision to build new knowledge in architecture and to promote the education of future generations of architects," Professor Tzannes said.
Ms Neilson – founder and director of Sydney's White Rabbit Gallery, which is home to one of the world's most significant collections of Chinese contemporary art – said she was motivated to make a major investment in research to investigate how architecture and design could be used as a powerful force for change.
"One of the most pressing issues of our time is the growing number of displaced people around the world whose communities have been ravaged by geo-political events and natural disasters," she said.
"We have massive populations who move to temporary housing that they end up living in for years and that in no way meets their needs. Giving people whose lives have been shattered the opportunity to live in affordable dwellings that have been thoughtfully and sustainably designed with enduring materials can help improve their quality of life."
According to the United Nations High Commissioner for Refugees, there are now more than 51 million displaced people worldwide, with the number predicted to rise. Ms Neilson said "through architecture and design we can, in some way, help restore the safety, diginity and hope of some of the world's most vulnerable people".
"Architecture is often the domain of the very privileged, but it's much more than that. We're talking about socially transformative design and bringing about policy change."
Ms Neilson said UNSW's research record in the Built Environment, along with the Dean's vision of the power of research to transform lives, made the faculty a natural fit for her endowment.
"I feel very strongly about contributing to a greater culture of philanthropy in Australia.
"There's a big element of luck in being wealthy – I believe people have a responsibility to give back," she said.
Professor Tzannes said the Chair will position UNSW as a centre of excellence in Australia and internationally for architecture for a social purpose.
"The level of funding gives UNSW the opportunity to recruit at the highest levels and build a critical mass of scholars and students in a way not currently seen in Australia," he said.
An international search will commence soon for a leading reseacher to take up the inaugural appointment. Ms Neilson's gift will also fund an annual public lecture.
UNSW Chancellor Mr David Gonski AC said: "We thank and congratulate Judith on the leadership she has shown in making this gift. Her endowment will endure and the philanthropic example it represents from someone of her standing will reap in multiples."
Biography: Judith Neilson
Judith Neilson is the founder of the White Rabbit Collection, one of the world's most significant collections of Chinese contemporary art. She also serves as director of the White Rabbit Gallery in Chippendale, Sydney. Judith was born in Rhodesia (now Zimbabwe), and worked as a graphic designer until her marriage to funds manager Kerr Neilson, with whom she moved to Australia. Resuming her art studies in the late 1990s, she chose as her tutor the Chinese artist Wang Zhiyuan, who at the time was studying in Sydney. On a subsequent visit to China, Judith toured Beijing galleries and studios with Wang Zhiyuan and was captivated by the creative exuberance and technical skill of the art she saw. As a result, Judith decided to begin collecting Chinese contemporary art of the 21st century and to establish a gallery where she could share it with all Australians. The White Rabbit Gallery opened in August 2009.
Above: Judith Neilson with Dean of UNSW Built Environment Alec Tzannes (Photo: David Roche)
Online survey for the Commonwealth Marine Reserves Review
This Review is focusing on the management of the Commonwealth Marine Reserves networks that were declared in 2012. The Review has been established to build a strong evidence base to guide how these reserves should be managed in the future, and includes two components: an Expert Scientific Panel to review the science supporting zonation and marine reserve management; and five Bioregional Advisory Panels to consult stakeholders.
This survey consists of 20 questions and should take approximately 15-20 minutes to complete. You do not have to answer all the questions in the survey for your response to be considered.
The South-east Commonwealth Marine Reserves Network, the Great Barrier Reef Marine Park and marine reserves managed by the States and the Northern Territory (generally begins 3 nautical miles (5.5 kilometres) offshore) are not affected by this Review.
If you have, and wish to provide, more detailed information we encourage you to make a separate written submission to the Review.
Information about the terms of reference and guidance on how to make the most of your ideas when providing your feedback can be found on the Join the conversation page of our website or through the headings on page At: www.marinereservesreview.com.au/
The submission period will remain open until 28 February 2015.
NB: - took us 5 minutes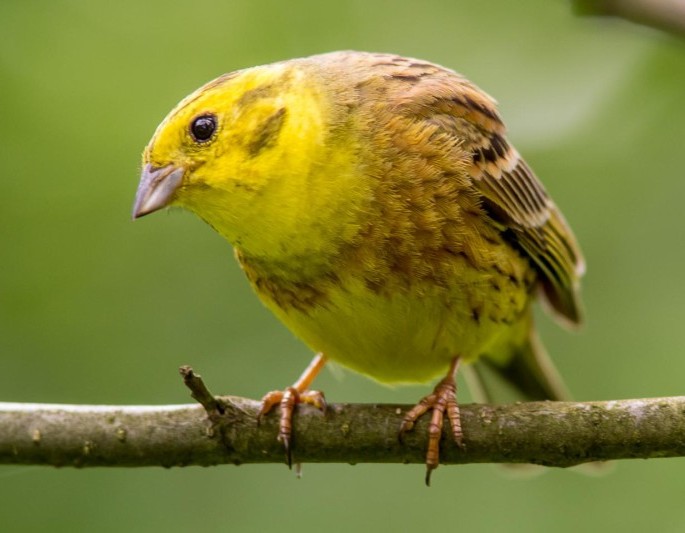 How the yellowhammer bird became a Kiwi: From hero to villain in 15 years
January 16, 2015 - Yellowhammers are small, colorful and apparently innocuous birds, but they were once considered to be enemies by farmers in New Zealand. Yellowhammers were introduced there to help fight insect crop pests, but instead became pests themselves. A new study uses newspapers and documents from the 19th century to reconstruct the history of how the yellowhammer went from hero to villain in New Zealand in just 15 years.
Research into the history of the yellowhammer in New Zealand began as part of a citizen-science project focused on the evolution of birdsong, Yellowhammer Dialects. However, the history turned out to be so interesting that it warranted telling in its own right. In a plot worthy of a historical detective novel, scientists used newspaper articles from 19th century, and original documents (letters, bills and minutes from meetings) kept by Acclimatisation Societies (organisations founded specifically to introduce new animals and plants to New Zealand), to follow the trail of the yellowhammer from Europe to New Zealand with a surprising level of precision. Their detective work revealed how it went from welcome guest to public enemy number one.
The population of New Zealand settlers in the middle 19th century was fast growing. The same was true, though, for insect crop pests, particularly caterpillars and black field crickets. Normally, pests like these would be kept under control by insectivorous birds. However, New Zealand had none available to do the job.
The settlers had cleared away New Zealand's forests, and native birds had disappeared with them. In the circumstances, introducing insectivorous birds from England seemed to make sense. Yet, the bird species chosen by the Acclimatisation Societies for the task included some surprises, and the yellowhammer was one of the biggest. It is obvious to us today that this heavy-billed bunting is primarily a consumer of seeds rather than insects, but it seems it was not so obvious back then.
During the 1860's and 1870's, 25 ships set out from London to various ports around New Zealand with these birds on board. Some were ordered by Acclimatisation Societies, some were sent for privately. A quarter of these shipments were organised by one family, Bills & sons from Brighton, and many of the yellowhammers came from the area around this English coastal town.
The detective work by the scientists not only identified where the yellowhammers came from, but also where they ended up. They were able to pinpoint localities of release, and sometimes even how many birds were liberated there. The yellowhammers were initially warmly welcomed by the Kiwis (as New Zealanders have become known), but soon the local farmers started to complain about their taste for their cereal crops. Yet these complaints fell on deaf ears as the Acclimatisation Societies, with Government support, continued to promote the introduction of yellowhammers.
In 1880, the last shipment of yellowhammers arrived, but these birds were never set free. Public pressure forced the Acclimatisation Society to get rid of them, and they were sent to Australia. From then on, yellowhammers became the target of shooting, egg-collection, and poisoning: all means were allowed to rid the countryside of this now unwelcome guest. By then it was too late: yellowhammers were well and truly Kiwis, and they remain common and widespread in New Zealand to this day.
The detective work of these scientists shows how much there is to be learnt about the natural histories of our countries by delving into their social histories. Today's newspapers might be viewed as tomorrow's waste paper, but who knows who might be interested in your story in a century's time? Introduced species continue to cause major environmental and economic damage, as the yellowhammer once did in New Zealand. Detective work like this can help us to understand how and why particular species establish successfully in new regions, and so catch future public enemies before they have the chance to wreak their havoc.
1. Pavel Pipek, Petr Pyšek, Tim M. Blackburn. How the Yellowhammer became a Kiwi: the history of an alien bird invasion revealed. NeoBiota, 2015; 24: 1 DOI: 10.3897/neobiota.24.8611
Photo: Yellowhammer is a small passerine native to Europe and naturalised in New Zealand. Credit: Petr Jan Juracka; CC-BY 4.0
The geographical distribution of fossil fuels unused when limiting global warming to 2 °C
If global warming is to be limited in this century to the much-publicized 2 °C rise compared to pre-industrial levels, fossil fuel use and the associated release of greenhouse gases will need to be severely limited. This raises questions regarding the specific quantities and locations of oil, gas and coal that can be safely exploited.
Christophe McGlade and Paul Ekins use an integrated assessment model to explore the implications of the 2 °C warming limit for different regions' fossil fuel production. They find that, globally, a third of oil reserves, half of gas reserves and over 80% of current coal reserves should remain unused during the next 40 years in order to meet the 2 °C target and that the development of resources in the Arctic and any increase in unconventional oil production are incompatible with efforts to limit climate change.
Abstract:
Policy makers have generally agreed that the average global temperature rise caused by greenhouse gas emissions should not exceed 2 °C above the average global temperature of pre-industrial times1. It has been estimated that to have at least a 50 per cent chance of keeping warming below 2 °C throughout the twenty-first century, the cumulative carbon emissions between 2011 and 2050 need to be limited to around 1,100 gigatonnes of carbon dioxide (Gt CO2).
However, the greenhouse gas emissions contained in present estimates of global fossil fuel reserves are around three times higher than this, and so the unabated use of all current fossil fuel reserves is incompatible with a warming limit of 2 °C. Here we use a single integrated assessment model that contains estimates of the quantities, locations and nature of the world's oil, gas and coal reserves and resources, and which is shown to be consistent with a wide variety of modelling approaches with different assumptions, to explore the implications of this emissions limit for fossil fuel production in different regions.
Our results suggest that, globally, a third of oil reserves, half of gas reserves and over 80 per cent of current coal reserves should remain unused from 2010 to 2050 in order to meet the target of 2 °C. We show that development of resources in the Arctic and any increase in unconventional oil production are incommensurate with efforts to limit average global warming to 2 °C. Our results show that policy makers' instincts to exploit rapidly and completely their territorial fossil fuels are, in aggregate, inconsistent with their commitments to this temperature limit.Implementation of this policy commitment would also render unnecessary continued substantial expenditure on fossil fuel exploration, because any new discoveries could not lead to increased aggregate production.
Received 18 February 2014 , Accepted 27 October 2014 Published online 07 January 2015
Christophe McGlade & Paul Ekins - Nature 517, 187–190 (08 January 2015) doi:10.1038/nature14016
Bon voyage baby turtle by GBRMPA
Published on 20 Jan 2015
Summer is the time of year when tiny turtles born along the Great Barrier Reef in Australia are making their maiden voyage out to sea. As this video shows, the short trip between their mother's nest and the ocean can be full of obstacles. Bon voyage little fellas!
Trangie pops its cork
20 Jan 2015
Plans to pop a cork or two are underway in the small central western town of Trangie as locals get ready to celebrate the centenary of the Trangie Agricultural Research Centre (TARC) on Saturday 14 February 2015.
Department of Primary Industries (DPI) senior research scientist, Cathy Waters, said the free community event is a chance for everyone who has been involved with the centre and those who are interested in discovering more about TARC to join with DPI staff in celebrating 100 years of agricultural research and support.
"The research centre has played, and continues to play, an important role in the local community and in state, national and global arenas," Dr Waters said.
"We have a long history of involvement with local schools, sports clubs, agricultural shows and emergency responses, including active roles with Fire & Rescue NSW and the Rural Fire Service.
"Current research into managing methane reduction in livestock production, carbon storage in western NSW and the use of legumes in livestock production systems reflect the national and world-wide significance of our research."
Dr Waters first started work at TARC as a graduate in sheep and wool research in 1987 and in 1995 took up a new position in rangeland and pasture research.
"Working with local landholders in far western NSW, we've explored grazing management strategies they could use to enter into carbon farming schemes," she said.
"This research complements past and ongoing research exploring the management of native pastures and use of tropical and native legumes to deliver productive and persistent feed sources to livestock industries."
The experimental farm was originally set up to establish a Merino stud, provide training for Merino breeders and to conduct experiments and demonstrations to boost wheat cropping in the district.
Now the centre conducts research into livestock genetics with a focus on Merino sheep and Angus cattle, crops, soils, rangeland goat management, rangeland ecology and grazing management, which contributes to Local Land Services extension information for farmers and land managers across NSW.
The centenary celebrations will include activities and displays to entertain young and old, with a reunion dinner and special forum to mark TARC's rich history.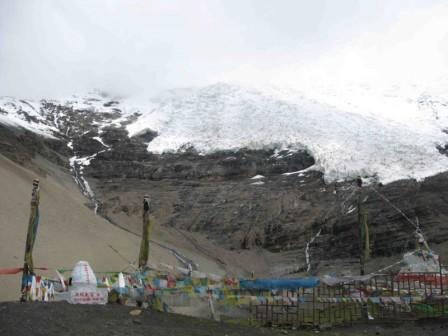 Melting glaciers have big carbon impact
January 19, 2015 – As Earth warms and glaciers all over the world begin to melt, researchers and public policy experts have focused largely on how all of that extra water will contribute to sea level rise. But another impact lurking in that inevitable scenario is carbon.
More specifically, what happens to all of the organic carbon found in those glaciers when they melt?
That's the focus of a new paper by a research team that includes Florida State University assistant professor Robert Spencer. The study, published inNature Geoscience, is the first global estimate by scientists at what happens when major ice sheets break down.
"This is the first attempt to figure out how much organic carbon is in glaciers and how much will be released when they melt," Spencer said. "It could change the whole food web. We do not know how different ecological systems will react to a new influx of carbon."
Glaciers and ice sheets contain about 70 percent of Earth's freshwater and ongoing melting is a major contributor to sea level rise. But, glaciers also store organic carbon derived from both primary production on the glaciers and deposition of materials such as soot or other fossil fuel combustion byproducts.
Spencer, along with colleagues from Alaska and Switzerland, studied measurements from ice sheets in mountain glaciers globally, the Greenland ice sheet and the Antarctic ice sheet to measure the total amount of organic carbon stored in the global ice reservoir.
It's a lot.
Specifically, as glaciers melt, the amount of organic carbon exported in glacier outflow will increase 50 percent over the next 35 years. To put that in context, that's about the amount of organic carbon in half of the Mississippi River being added each year to the ocean from melting glaciers.
"This research makes it clear that glaciers represent a substantial reservoir of organic carbon," said Eran Hood, the lead author on the paper and a scientist with the University of Alaska Southeast. "As a result, the loss of glacier mass worldwide, along with the corresponding release of carbon, will affect high-latitude marine ecosystems, particularly those surrounding the major ice sheets that now receive fairly limited land-to-ocean fluxes of organic carbon."
Spencer said he and his colleagues are continuing on this line of research and will do additional studies to try to determine exactly what the impact will be when that carbon is released into existing bodies of water.
"The thing people have to think about is what this means for Earth," Spencer said. "We know we're losing glaciers, but what does that mean for marine life, fisheries, things downstream that we care about? There's a whole host of issues besides the water issue."
1. Eran Hood, Tom J. Battin, Jason Fellman, Shad O'Neel, Robert G. M. Spencer.Storage and release of organic carbon from glaciers and ice sheets. Nature Geoscience, 2015; DOI: 10.1038/ngeo2331
Above: Scientists have done field work in Tibet and Alaska, among other places as part of this study. Credit: Robert Spencer/Florida State
Join the conversation about Commonwealth Marine Reserves
Written submissions to the independent review of Commonwealth Marine Reserves open today.
The co-Chairs of the Bioregional Advisory Panels, Professor Colin Buxton and Mr Peter Cochrane invite interested parties to provide them with ideas and suggestions on how marine reserves should be managed into the future.
"We are really keen to hear from a broad range of stakeholders and are hoping those with an interest will complete a simple online survey or provide a more detailed submission," Professor Colin Buxton said.
The Review is focused on making sure that its work builds on the feedback and efforts that individuals and organisations have already made.
"We're seeking new and additional information that address our terms of reference. The government has reproclaimed the outer boundaries of the Commonwealth Marine Reserve networks and the Coral Sea, so our focus is on their zonation and internal management."
The Review has established five Bioregional Advisory Panels (representing the South-west, North-west, North, Temperate East and Coral Sea marine regions) to facilitate consultation with interested parties.
Details about making a submission can be found on the Join the Conversation page at www.marinereservesreview.gov.au. The online survey is expected to be available soon.
The submission period will remain open until 28 February 2015.
"We'd encourage everyone to get in early as this will help focus our efforts over the coming months," Mr Peter Cochrane said.
"We're looking for suggestions on how we can engage most effectively with affected parties and interests, to best explore options for zonation and management that will effectively and efficiently address concerns raised."
The terms of reference can be found on the review websitewww.marinereservesreview.gov.au .
For background:
The terms of reference for the Review task the Bioregional Advisory Panels with providing government with:
•Advice on areas of contention with the Commonwealth marine reserves
•Advice on options for zoning boundaries to address those areas of contention
•Recommendations for improving the inclusion of social and economic considerations into decision-making for marine reserves, with particular regard to their management
•Suggestions for ongoing engagement of regional stakeholders
•Advice on information received through consultations that the Panels may feel influence, contribute to or improve the drafting of future management plans
Reflections from the fly boys - OracleRacingTeam
Published on 21 Jan 2015
With the Moth World Championships in the rear view mirror for ORACLE TEAM USA, the sailors reflect on what they have learned and how it will translate to the new foiling AC45s.
On the water footage courtesy of Beau Outteridge / Moth Worlds Media
New Newspapers added to Trove
The National Library of Australia is pleased to announce that the newspapers listed below, have been recently added to Trove and further issues will become available shortly. Through Trove, there is now free online access to over 15 million pages from over 700 Australian newspapers. To find out the latest titles which have been added to Trove, subscribe to one of our Webfeeds at the link below.
For those libraries and organisations wishing to digitise a newspaper title, please see the Contributor Guidelines link below. If you would like any additional information please email: andp@nla.gov.au or visit: NLA - http://www.nla.gov.au/
Australian Newspaper Plan - http://www.nla.gov.au/australian-newspaper-plan
Trove Newspapers - http://trove.nla.gov.au/newspaper
Newly added newspapers on Trove:
NEW SOUTH WALES
- Daily Commercial News and Shipping List (Sydney, NSW 1891-1954) - Sydney Mail (NSW 1912-1938)- Le Courrier Australien (Sydney 1892-1954)- The Ulladulla and Milton Times (NSW 1891-1917)- Sydney Mail and NSW Advertiser (NSW 1871-1912)- Man on the Land (Gosford, NSW 1936-1938)- The Gosford Times and Wyong District Advocate (NSW 1906-1954)- The Shipping Gazette and Sydney General Trade List (NSW 1844 - 1860)- Sydney Mail (NSW 1860-1871)- Sydney General Trade List, Mercantile Chronicle and Advertiser (NSW 1830)- St George Call (Kogarah, NSW 1914-1924)- Temora Star (NSW 1881-1883)- The Hillston News (NSW 1882-1883)- Sydney Sportsman (Surry Hills, NSW 1900-1954) - Guang yi hua bao - The Chinese Australian Herald (Sydney, NSW 1894-1923)
QUEENSLAND
- Dayboro Times and Moreton Mail (Qld 1937-1940; 1945-1954) - Humpybong Weekly and Advertiser (Redcliffe, Qld 1927-1932)- Logan and Albert Advocate (Qld 1893-1900)- Logan Witness (Beenleigh, Qld 1878-1893)- Logan and Albert Bulletin (Southport, Qld 1896-1901; 1909; 1921; 1922; 1928)
SOUTH AUSTRALIA
- Adelaide Observer (SA 1843-1904)- The Victor Harbor Times and Encounter Bay and Lower Murray Pilot (SA 1912-1930) - Times Victor Harbour and Encounter Bay and Lower Murray Pilot (SA 1930-1932)- Victor Harbour Times (SA 1932-1954)- Observer (Adelaide, SA 1905-1931)- Leader (Angaston, SA 1918-1954)- Quiz (Adelaide, SA 1889-1890)- Quiz (Adelaide, SA 1900-1909)- Quiz and the Lantern (Adelaide, SA 1890-1900)- Southern Cross (Adelaide, SA 1889-1954)
TASMANIA
- Guardian, or, True Friend of Tasmania (Hobart, Tas. 1847) Circular Head Chronicle (Stanley, Tas. 1906-1954)- Tasmanian Morning Herald (Hobart, Tas. 1865-1866)- Tasmanian Morning Herald (Hobart, Tas. 1865-1866)- Critic (Hobart, Tas. 1907-1924)- Tasmanian News (Hobart, Tas. 1883-1911)- Daily Post (Hobart, Tas. 1908-1918)- Hobarton Guardian, or, True Friend of Tasmania (Hobart, Tas. 1847-1854)- Van Diemen's Land Chronicle (Hobart, Tas. 1841)
VICTORIA
- Ouyen and North West Express (VIC 1918) - Birregurra Times (VIC 1918)- Seaside News (Melbourne, VIC 1915-1918)- Sporting Judge (Melbourne, VIC 1914-1918)- Norden (Melbourne, VIC 1914-1918)- Port Fairy Times and McArthur News (VIC 1917-1918) - Chronicle, South Yarra Gazette, Toorak Times and Malvern Standard (VIC 1892-1893)- Brighton Southern Cross (VIC 1896-1918)- Gippsland Chronicle and Crooked River and Stringer's Creek - Advertiser (VIC 1866)- The Chinese Advertiser (Ballarat, VIC 1856)- The English and Chinese Advertiser (VIC 1856-1858)
WESTERN AUSTRALIA
- Gnowangerup Star and Tambellup-Ongerup Gazette (WA 1915-1942)- Southern Times (Bunbury, WA 1888-1916)- The Norseman Pioneer (WA 1896-1897)- Camp Chronicle (Midland Junction, WA 1915-1918)- Norseman Esperance Guardian and Dundas Goldfields Advertiser (WA 1896)
Bathing Birds - Summer 2015
Have you heard? We're now looking for more citizen scientists to take part in our Summer Bathing Birds survey, starting Friday the 23rd of January!
If you have not registered to take part in Bathing Birds, now is your chance - go to www.bathingbirds.org.au to sign up and for more information.
SAVING OUR THREATENED SPECIES IN NSW
Rob Stokes MP, Minister for the Environment, Minister for Heritage, Minister for the Central Coast, Assistant Minister for Planning
MEDIA RELEASE - Sunday 11 January 2015
Environment Minister Rob Stokes today announced a series of new projects to protect NSW's most threatened species.
Mr Stokes said the $4.8 million Saving our Species program has been established to secure the future of NSW's 970 threatened species.
"These plants and animals face the real risk of disappearing from the wild forever. This is not something the NSW Government or the community are prepared to accept," Mr Stokes said.
"We are taking action to safeguard the viability of these animals so future generations will be able to see them in the wild, and not just in the confinement of a zoo.
"A total of 28 new draft conservation projects have been developed for the program. The projects include protection of the green and golden bell frog, which will involve habitat conservation, monitoring and community engagement activities at sites across NSW."
The Saving our Species program aims to protect threatened species by:
• Prioritising projects based on their benefit to the species, feasibility and cost to help make the most effective investments in threatened species conservation;
• Monitoring and managing the effectiveness of projects so they can be refined;
• Encouraging community, corporate and government participation in threatened species conservation by providing a website and a database with information on project sites and research opportunities;
• Allocating all threatened species to one of six management streams that provide the best outcomes for each species; and
• Providing targeted conservation projects that set out the actions required to save 370 specific plants and animals on locally or regionally managed sites
These conservation projects will be added to the 368 projects for other threatened species which are currently guiding conservation action across NSW.
The draft projects can be reviewed and comments provided online at www.threatenedspecies/PASAmendmentSpecies.htm
and comments are being sought until 13 February 2015.
Streamlined approach to managing flying-foxes
Problematic flying-fox camps will be easier to manage with the release of draft camp management guidelines for the Grey-headed and Spectacled flying-fox.
These guidelines provide methods the community can use to disperse flying-fox colonies, where there are concerns for public health, in a way that does not impact upon the species.
Flying-foxes play an important ecological role as pollinators and dispersers of native plant seeds, but when they gather in large groups they can cause noise, smell and health concerns for nearby residents.
These guidelines describe options for low-cost and low-risk methods to disperse flying-fox populations, such as tree-trimming or boundary clearing. Communities will be able to undertake these activities without requiring approval from the Australian Government.
Importantly, the guidelines do not allow for lethal actions such as culling.
The Grey-headed flying-fox can be found widely across Queensland, NSW, ACT, Victoria and South Australia in search of food. The Spectacled flying-fox ranges across Far North Queensland. This means that national coordination is very important for managing the camps of these highly mobile species.
The policy has been developed through consultation with flying-fox experts and state and territory government agencies. It also draws on an improved understanding of flying-fox numbers and movements gained through the National Flying-fox Monitoring Programme.
The draft guidelines are open for public comment until 30 January 2015 and are availablewww.environment.gov.au/biodiversity/threatened/species/flying-fox-policy-statement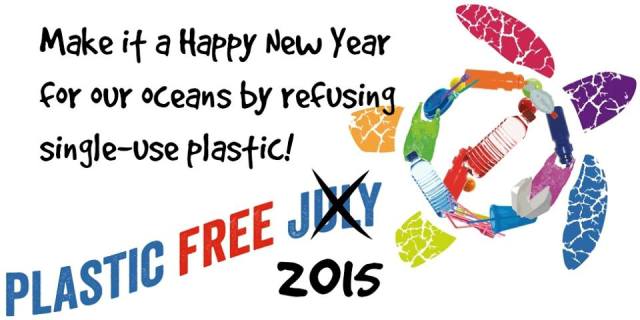 Coastal Environment Centre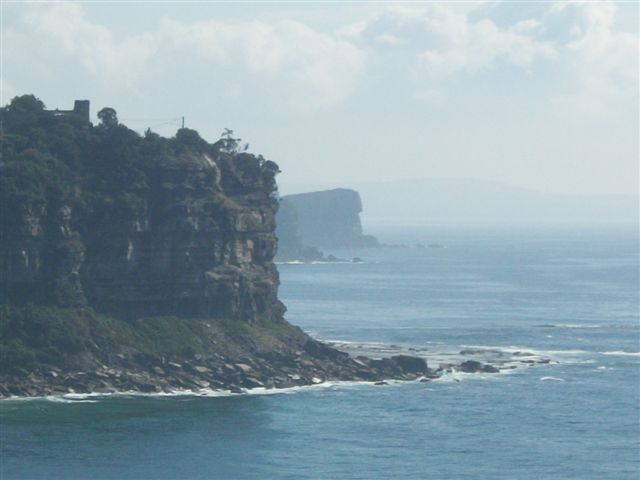 The Coastal Environment Centre (CEC) is a multi-award winning regional community environmental learning centre, and Pittwater Council's environmental flagship. CEC is celebrating its 20th year this December
More at: www.pittwater.nsw.gov.au/cec
Monthly Cooee Newsletter below. If you would like to receive Council's environmental newsletter via email, please contactjodi_harvey@pittwater.nsw.gov.au
January/Februay 2015 Cooee Newsletterincludes information on: BushCare Planting Activities (volunteers needed), Workshops and Events, and great articles HERE
River diversion plan is environmental vandalism
Media Release - ACF - January 20, 2015
A plan to divert two Queensland rivers to supply water to Galilee Basin coal mines would cause significant environmental damage, the Australian Conservation Foundation has warned.
Galilee Water Pty Ltd – a company chaired by Keith de Lacy, a former Queensland Treasurer and one of the men behind the notorious water-hoarding Cubbie Station – wants to extract up to 700 gigalitres from two rivers and channel it to dams to service mining operations.
The Australian Conservation Foundation's James Trezise said ACF's submission set out a range of reasons why the Federal Government should reject the Galilee Water proposal.
"We have serious concerns about the damage this plan would do to the ecology of the Cape and Campaspe rivers, as well as to threatened and migratory species downstream," he said.
"The company wants to extract a massive amount of water – 37.7 per cent of the Cape River's flow and 39.8 per cent of the Campaspe River's flow – meaning much less water would get to the lower Burdekin floodplain, a vital breeding area for fish and birds.
"The proposal is to clear 7,000 hectares of land and inundate 5,000 of those hectares, even though the environmental values of the area – believed to be home to species like the Yakka Skink, the Ornamental Snake, the Mt Cooper Striped Lerista and the threatened Black Throated Finch – are not yet well-documented or understood.
"This is nothing short of environmental vandalism.
"Diverting rivers is a dangerous, high risk activity – in 2012 the Morwell River in Victoria's Latrobe Valley collapsed into the Yallourn coal mine, despite so-called expert modelling predicting the diverted river would be OK in all but a one-in-10,000-year flood.
"And of course the planned river diversions will facilitate massive new coal mines, which will contribute to the world's climate change problems.
"If all projects planned for the Galilee Basin go ahead, the pollution from burning the coal would be more than Australia's entire annual greenhouse gas pollution.
"ACF urges the Federal Government to reject the proposal on the basis of the serious environmental damage it would cause," Mr Trezise said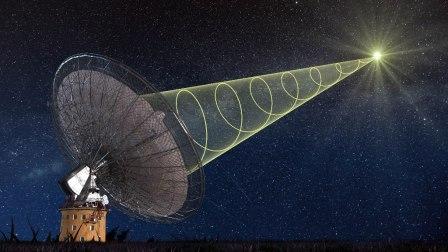 COSMIC RADIO BURST CAUGHT RED-HANDED
19 January 2015
A short, sharp flash of radio waves from a mysterious source up to 5.5 billion light years from Earth has been detected by CSIRO's Parkes radio telescope in eastern Australia.
Swinburne University of Technology PhD student, Emily Petroff, 'saw' the burst live - a first for astronomers.
Lasting only milliseconds, the first such radio burst was discovered in 2007 by astronomers combing old Parkes data archives for unrelated objects.
Six more bursts, apparently from outside our Galaxy, have now been found with the Parkes telescope and a seventh with the Arecibo telescope in Puerto Rico.
Astronomers worldwide have been vying to explain the phenomenon.
"These bursts were generally discovered weeks, months or even more than a decade after they happened," Ms Petroff said.
"We are the first to catch one in real time."
Confident that she would spot a 'live' burst, Ms Petroff had an international team of astronomers poised to make rapid follow-up observations, at wavelengths from radio to X-ray.
After the Parkes telescope saw the burst go off, the team swung into action on twelve telescopes around the world - in Australia, California, the Canary Islands, Chile, Germany, Hawaii, and India - as well as spaced based telescopes.
"We can rule out some ideas because no counterparts were seen in the optical, infrared, ultraviolet or X-ray," CSIRO's Head of Astrophysics, Dr Simon Johnston said.
"However, the neat idea that we are seeing a neutron star imploding into a black hole remains a possibility."
One of the big unknowns of fast radio bursts is their distance. The characteristics of the radio signal - how it is 'smeared out' in frequency from travelling through space - indicate that the source of the new burst was up to 5.5 billion light-years away.
"This means it could have given off as much energy in a few milliseconds as the Sun does in a day," Ms Petroff said.
She said identifying the origin of the fast radio bursts is now only a matter of time.
"We've set the trap. Now we just have to wait for another burst to fall into it."
The finding is published today in Monthly Notices of the Royal Astronomical Society. Ms Petroff is co-supervised by CSIRO and Swinburne University of Technology, which is a member institution of the ARC Centre of Excellence for All-sky Astrophysics (CAASTRO).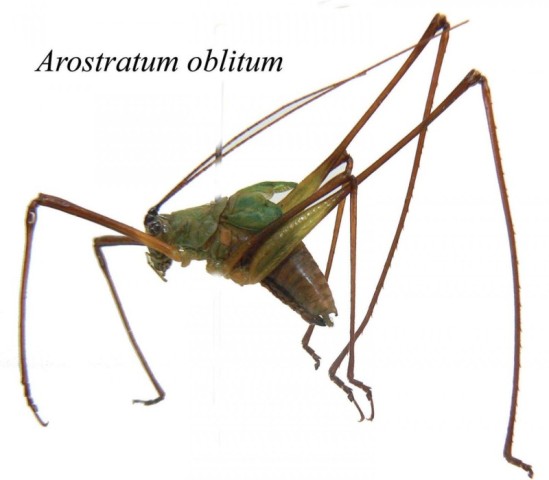 Waiting to be discovered for more than 100 years, new species of bush crickets
January 19, 2015 - Museums of Natural History are an important source of evidences of existing variety and diversity of animal species. Many species lie on shelf, waiting for years and years to be discovered. A new study published in the open access journalZooKeys reveals 4 new genera and 4 new species of bush crickets discovered in museum collections to prove the value of these institutions.
One of the four new bush crickets, Arostratum oblitum, has in fact been waiting for over 100 years to be discovered and described. This curious fact also inspired the name of the new species to be 'oblitum', which means 'forgotten' translated from Latin.
During his research, the author of this study examined many specimens of Orthoptera Phaneropteridae of sub-Saharan Africa kept in different Natural History Museums across Europe (Berlin, Madrid, Terrasini, etc.).
"My study supported by Synthesys project demonstrates that we have missed many interesting taxa once collected and put in museum collections and the forgotten for a long time. Probably many other new species are waiting to be discovered." comments the author of the study, Dr Bruno Massa from the Department of Agricultural and Forest Sciences, University of Palermo.
The new species of bush crickets come from Central Africa, which is one of the Orthoptera richest areas of the world. Even if many studies have been carried out since 1800, this wide geographic region still hides many unknown taxa.
1. Bruno Massa. New genera, species and records of Phaneropterinae (Orthoptera, Phaneropteridae) from sub-Saharan Africa. ZooKeys, 2015; 472: 77 DOI: 10.3897/zookeys.472.8575
Above: This image shows Arostratum oblitum, the new species that has been waiting on museum shelves for over 100 years to be discovered. Credit: Bruno Massa; CC-BY 4.0
Genetics underpinning antimalarial drug resistance revealed
January 19, 2015 - Researchers have identified a series of mutations that could help to improve early detection of resistance to our most effective antimalarial drug. The largest genome-wide association study to date of the malaria parasite Plasmodium falciparum unveils a complex genetic architecture that enables the parasite to develop resistance to our most effective antimalarial drug, artemisinin. The results could help to improve early detection of emerging artemisinin resistance.
The global research collaboration analysed 1612 samples from 15 locations in Southeast Asia and Africa finding 20 mutations in the kelch13 gene, a known artemisinin resistance marker, that appear to work in concert with a set of background mutations in four other genes to support artemisinin resistance.
"Our findings suggest that these background mutations emerged with limited impact on artemisinin resistance -- until mutations occurred in the kelch13 gene," explains Dr Roberto Amato, a first author and Research Associate in Statistical Genomics at the Wellcome Trust Sanger Institute and Oxford University's Wellcome Trust Centre for Human Genetics. "It's similar to what we see with pre-cancerous cells which accumulate genetic changes but only become malignant when they acquire critical driver mutations that kick-off growth."
The variety of kelch13 mutations associated with artemisinin resistance, with new variants continually emerging, makes it difficult to use this gene alone as a marker for genetic surveillance.
Monitoring parasite populations for a specific genetic background -- in this case, a fixed set of four well-defined mutations in the fd, arps10, mdr2, and crt genes -- could allow researchers to assess the likelihood of new resistance-causing mutations emerging in different locations, helping to target high-risk regions even before resistant parasites take hold.
"We are at a pivotal point for malaria control. While malaria deaths have been halved, this progress is at risk if artemisinin ceases to be effective," says Nick Day, Director of the Mahidol-Oxford Tropical Medicine Research Unit (MORU) in Bangkok, Thailand. "We need to use every tool at our disposal to protect this drug. Monitoring parasites for background mutations could provide an early warning system to identify areas at risk for artemisinin resistance."
Researchers also uncovered new clues about how artemisinin resistance has evolved in Southeast Asia. By comparing parasites from Cambodia, Vietnam, Laos, Thailand, Myanmar and Bangladesh, scientists found that the distribution of different kelch13 mutations are localised within relatively well-defined geographical areas.
Whilst artemisinin resistant parasites do appear to have migrated across national borders, this only happened on a limited scale and, in fact, the most widespread kelch13 mutation, C580Y, appeared to have emerged independently on several occasions. Notably parasites along the Thailand-Myanmar border appear to have acquired this mutation separately from those in Cambodia and Vietnam. Crucially, parasite populations in both regions possess the genetic background mutations, even though they are clearly genetically distinct.
There remain many unanswered questions. "We don't yet know the role of these background mutations," says Dr Olivo Miotto, a first author and Senior Informatics Fellow at MORU and the Centre for Genomics and Global Health. "Some may not affect drug resistance directly, but rather provide an environment where drug resistance mutations are tolerated. Since kelch13 has hardly changed in 50 million years of Plasmodium evolution, we can assume that this gene is essential to parasite survival. Therefore, kelch13 mutations may severely handicap mutant parasites, compromising their survival unless some other change can counteract this negative effect."
Mutations in the kelch13 gene were present, yet rare, in Africa but weren't associated with artemisinin resistance and lacked the genetic background present in artemisinin-resistant parasites in Southeast Asia. This provides some reassurance for public health authorities working to prevent the spread of artemisinin resistance to Africa where most malaria deaths occur.
"These data serve as a reminder of how crucial surveillance and elimination programmes are," says Professor Dominic Kwiatkowski, who is head of the Malaria Programme at the Wellcome Trust Sanger Institute and Professor of Genomics and Global Health at Oxford University. "At present artemisinin resistance appears to be largely confined to Southeast Asia but the situation might change as the parasite population continues to evolve. By linking genomic data with clinical data we're developing a better understanding of the multiple genetic factors involved in the emergence of resistance, and that is starting to provide vital clues about how to prevent its spread.
1. Olivo Miotto, Roberto Amato, Elizabeth A Ashley, Bronwyn MacInnis, Jacob Almagro-Garcia, Chanaki Amaratunga, Pharath Lim, Daniel Mead, Samuel O Oyola, Mehul Dhorda, Mallika Imwong, Charles Woodrow, Magnus Manske, Jim Stalker, Eleanor Drury, Susana Campino, Lucas Amenga-Etego, Thuy-Nhien Nguyen Thanh, Hien Tinh Tran, Pascal Ringwald, Delia Bethell, Francois Nosten, Aung Pyae Phyo, Sasithon Pukrittayakamee, Kesinee Chotivanich, Char Meng Chuor, Chea Nguon, Seila Suon, Sokunthea Sreng, Paul N Newton, Mayfong Mayxay, Maniphone Khanthavong, Bouasy Hongvanthong, Ye Htut, Kay Thwe Han, Myat Phone Kyaw, Md Abul Faiz, Caterina I Fanello, Marie Onyamboko, Olugbenga A Mokuolu, Christopher G Jacob, Shannon Takala-Harrison, Christopher V Plowe, Nicholas P Day, Arjen M Dondorp, Chris C A Spencer, Gilean McVean, Rick M Fairhurst, Nicholas J White, Dominic P Kwiatkowski. Genetic architecture of artemisinin-resistant Plasmodium falciparum. Nature Genetics, 2015; DOI:10.1038/ng.3189
2015 Prime Minister's Literary Awards open
Australian authors, poets and historians are invited to enter the 2015 Prime Minister's Literary Awards.
The Prime Minister's Literary Awards celebrate the contribution of Australian literature to our cultural and intellectual life.
These awards recognise the role Australian writers play in enlightening and entertaining us, reflecting on our history, and taking our stories to the world.
They acknowledge excellence in Australian fiction, poetry, non-fiction, young adult fiction and children's fiction, and in Australian history.
A total prize pool of $600,000 is available to winners and shortlisted authors in these six categories.
The 2015 awards are now open for books first published in English and made available for general sale in Australia between 1 January 2014 and 31 December 2014.
Entries close at 5.00pm (AEDT) on Saturday 28 February 2015.
Entry forms and eligibility guidelines are available on the Ministry for the Arts website.
Horizontal Mirrors on Shack in Desert