Inbox and Environment News - Issue 187
November 2 - 8, 2014: Issue 187
Greater inequality within UK, USA than some developing countries, trade 'footprint' shows
October 30, 2014 - Australia, with a comparable level of international trade activity, still maintains greater internal equality than the trading nations that 42 percent of our consumption depends on. Only nine percent of countries that we trade with have more egalitarian economies.
The results are published in the journal PLOS ONE from research led by the University of Sydney's Integrated Sustainability Analysis group in the School of Physics.
"The footprint maps the movement of commodities around the world. It is a new tool which can assist businesses, government and non-government organisations in understanding the complex dynamics of inequality and trade," said Ali Alsamawi, a PhD candidate in the School of Physics and lead author of the PLOS ONE paper.
The study uses the employment and household income accounts and (Gini) indexes of income distribution for 187 countries, from 1990 to 2010.
It introduces the concept of an inequality footprint -- taking into account the inequality of both the internal and external workforce required to satisfy the consumption demands of a given country.
The results show that most developed countries, with their international trade taken into account, have an inequality footprint higher than the inequality within their country.
"The United States and United Kingdom are notable exceptions to this. Among developed countries only these nations have within-country inequality higher than their inequality footprint," Alsamawi said.
Forty million of the 70 million workers from outside the USA who are responsible for many of the products Americans consume, come from countries with high inequality.
Despite this, America's internal inequality is still higher than the inequality footprint representing its international trade. The same applies to the United Kingdom.
The United States showed an increasing inequality footprint during the Bill Clinton era and especially after the NAFTA treaty came into force. It has slightly decreased during Obama's presidency.
In the United Kingdom the inequality footprint increased after Tony Blair left power and also jumped after the global financial crisis and recession.
Australia and Japan are the only countries with comparable levels of trade activity to the UK and USA. Forty percent of Australia's international trade activity is with China, a country with relatively high inequality.
"But compared to America and the UK our internal inequality is still much less, giving us an overall footprint of relatively high equality -- on a par with Germany but less equal than Japan or Canada," Alsamawi said.
By contrast Russia has high inequality within its border but in 2010 it had the lowest inequality footprint in the world because approximately 62 percent of its international trade was with Europe and the Commonwealth of Independent States, where inequality is low.
That situation will have greatly changed since trade sanctions have been imposed by some of its trading partners in the context of the war in the Ukraine (more than 20 percent of Russia's external workforce came from Ukraine in 2010).
Commodities that are inequality-intensive, affecting the internal inequality of the nations producing them and the footprint of the nations they trade with, include electronic components, chemicals, fertilizers, minerals, and agricultural products.
"In the past it was assumed that globalisation would raise the income of almost all nations and help redress inequality but evidence suggests no obvious relationship between a country's participation in globalisation and positive changes in inequality," said the University of Sydney's Dr Joy Murray, an author on the paper.
"We do not argue whether trade between more and less equal countries is a social good or ill but have provided a robust, global account of inequality and trade upon which further economic analysis may be built."
Ali Alsamawi, Joy Murray, Manfred Lenzen, Daniel Moran, Keiichiro Kanemoto. The Inequality Footprints of Nations: A Novel Approach to Quantitative Accounting of Income Inequality.PLoS ONE, 2014; 9 (10): e110881 DOI:10.1371/journal.pone.0110881
IN HONOUR OF PASSION, PERSISTENCE AND PATIENCE
29 October 2014 - Australia's Chief Scientist Professor Ian Chubb has used the 2014 Prime Minister's Prizes for Science to reiterate the importance of science and research to the nation's future.
"Science is awesome and we are too often muted in our recognition of it. These awards celebrate excellence, not just in these individuals, but in the national science enterprise that they represent.
"Inspired teachers, passionate researchers at all stages of their careers, innovators in industry who see the possibility that knowledge creates, and people throughout the community trained for science jobs, sharing science skills and wanting to know something today that we did not know yesterday.
"We honour them all tonight."
Professor Chubb said the knowledge Australians continue to gain through science is critical national infrastructure requiring alignment, focus and scale to fully support individual effort.
"The prizes we are celebrating tonight are for excellence at every stage of the supply line – primary school and secondary school teaching of science, early to mid-career research in the life and physical sciences and significant work contributing to a better world.
"Tonight's award winners are inspiring. They have devoted themselves to a goal and worked hard to achieve it. Their passion, persistence and patience are an inspiration to the millions of Australians who will benefit.
"Our nation stands stronger on the platform of science and we should all find a place on that platform."
2014 Prize Recipients
The 2014 Prime Minister's Prizes for Science are awarded at a presentation ceremony held on Wednesday 29 October 2014. The five prizes are awarded annually and are a tribute to the contributions that our scientists and science teachers are making to Australia's current and future scientific capabilities.
Prime Minister's Prize for Science
jointly Professors Sam Berkovic AC and Ingrid Scheffer AO
Frank Fenner Prize for Life Scientist of the Year
Malcolm McIntosh Prize for Physical Scientist of the Year
Prime Minister's Prize for Excellence in Science Teaching in Primary Schools
Prime Minister's Prize for Excellence in Science Teaching in Secondary Schools
2014 Awards Presentation
The black tie celebratory dinner, held in the Great Hall of the Parliament House was attended by over 500 Members of Parliament, distinguished scientists, science educators, industry captains and prominent leaders of the science and education community.
This year's $300,000 major prize, the Prime Minister's Prize for Science was awarded jointly to Laureate Professor Sam Berkovic AC and Professor Ingrid Scheffer AO, both from the University of Melbourne, for their discoveries of links between epilepsy and genes which opened the way to better targeted research, diagnosis and treatment of epilepsy.
The Frank Fenner Science Minister's Prize for Life Scientist of the Year, comprising $50,000 and a silver medallion, was awarded to Professor Ryan Lister of the Australian Research Council Centre of Excellence in Plant Energy Biology at the University of Western Australia. This award is in recognition of his contributions to the understanding of gene regulation and its potential ability to change agriculture and the treatment of disease and mental health.
The Malcolm McIntosh Prize for Physical Scientist of the Year, comprising $50,000 and a silver medallion was awarded to Dr Matthew Hill for his work on the development of metal-organic frameworks for practical industrial application. Dr Hill is an Australian Research Council Future Fellow and principal research scientist and leader of porous materials research at the CSIRO.
In recognition of their dedication to inspiring and educating Australia's future generations of scientists, the Prime Minister's Prizes for Excellence in Science Teaching in Primary and Secondary Schools were awarded respectively to Mr Brian Schiller from Seacliff Primary School in South Australia, for his contributions to science teaching and for taking it in new creative directions; and Mr Geoff McNamara from Melrose High School in the Australia Capital Territory for his inspiring science teaching taking the innovative approach. Each award comprises $50,000 and a silver medallion. The cash prize of $50,000 is being shared equally with their schools towards improving the schools' capacity and ability to teach science.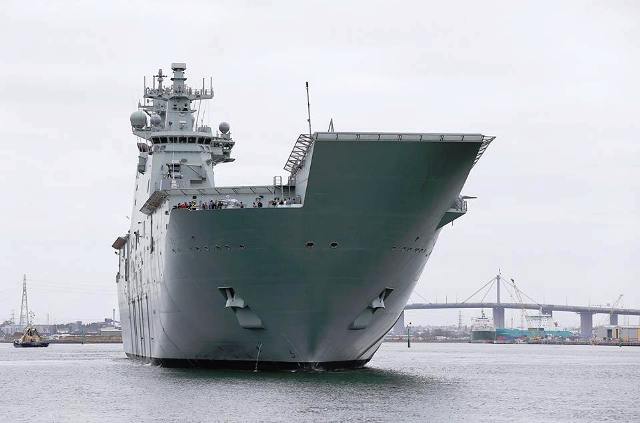 NUSHIP Canberra Leaves for Sydney C/- Royal Australian Navy
October 29, 2014 - NUSHIP Canberra departed BAE Systems Dockyard, Williamstown today with hundreds of Defence industry personnel lining the pier and the decks of sister ship Adelaide as she reversed out of her berth and set sail for her home port in Sydney. She arrived Friday 31st of October.
Canberra's hull arrived in Williamstown in October 2012 where her superstructure was fitted and combat and communications systems installed.
Canberra will be formally commissioned into service on 28 November 2014.
The LHDs are the largest ships ever built for the Navy and is capable of carrying out a variety of roles including complex amphibious operations. The ship is also designed to be able to conduct large scale humanitarian assistance and disaster relief missions.
Although they are the largest ships built for the navy but are not the largest ship in the Navy that title goes to HMAS Sirius o-266 Fleet oiler, coming in at 46,755 tonnes (full load) compared to the LHDs 27,500 tonnes (30,300 short tons; 27,100 long tons) at full load. However Canberra and Adelaide come in as the longest ships 230.82 m (757.3 ft.)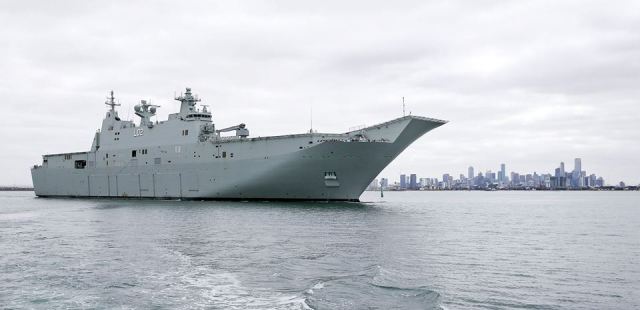 Anti-Turbulence System Inspired By Birds | RMIT University
Published on 27 Oct 2014
Inspired by nature's own anti-turbulence devices – feathers – RMIT University researchers have developed an innovative system that could spell the end of turbulence on flights.
Researchers from RMIT's Unmanned Aircraft Systems Research Team have lodged a provisional patent on the system, which mimics the way feathers help birds detect disturbances in the air.
Feathers in flight inspire anti-turbulence technology
October 27, 2014 - Inspired by nature's own anti-turbulence devices – feathers – researchers have developed an innovative system that could spell the end of turbulence on flights. Researchers from the Unmanned Systems Research Team at RMIT University in Melbourne, Australia, have lodged a provisional patent on the system, which mimics the way feathers help birds detect disturbances in the air.
Research supervisor Professor Simon Watkins, said flight testing on a micro plane showed the system significantly reduced the effects of turbulence.
"By sensing gusts and disturbances in air flow through their feathers, birds are able to fly gracefully rather than bouncing around in turbulent air," he said.
"The system we have developed replicates this natural technology, with the aim of enabling planes to fly smoothly through even severe turbulence -- just like birds."
The system is based on the concept of phase-advanced sensing, in which flow disturbance is sensed before it results in aircraft movement.
This can be achieved by early sensing of the pressures from gust effects on the leading parts of the wing or by measuring the gusts ahead of the wing.
Professor Watkins said the system had great potential for all sizes of aircraft and could not only reduce the effects of turbulence on passengers but also reduce loads on plane wings, leading to lower fatigue and hence longer life.
"While we need to explore new sensor arrangements to apply this technology to larger and faster aircraft, we have proven the idea on the most challenging problem of keeping small, lightweight planes steady -- since these are the ones that get bounced around the most," he said.
The patent submission for a turbulence mitigation system for aircraft represents the successful outcome of PhD research by Abdulghani Mohamed, supervised by Professor Watkins and Dr Reece Clothier in RMIT's School of Aerospace, Mechanical and Manufacturing Engineering.
Mr Mohamed's theoretical contributions in the field of turbulence and its effects on flight vehicles, aided the development of this invention.
1. A. Mohamed, S. Watkins, R. Clothier, M. Abdulrahim, K. Massey, R. Sabatini. Fixed-wing MAV attitude stability in atmospheric turbulence—Part 2: Investigating biologically-inspired sensors. Progress in Aerospace Sciences, 2014; 71: 1 DOI: 10.1016/j.paerosci.2014.06.002
Barts Bash 2014 - Final Results
Final Results have been calculated and announced!!! An amazing 30,717 participants took to the water, sailing more than TWICE around the world, in over 60 countries from over 500 clubs, raising more than a quarter of a million pounds so far. Not bad for a first year....!
Overall winners were; Hans Wallen sailing at Cape Crow Yacht Club in Sweden in a M32 Catamaran, Riccardo Macchiavello sailing at Circolo Nautico Rapallo in Italy in an Altura 1101 and Grant Piggott sailing at Weston Sailing Club in Great Britain in a Nacra 17. For the final results table please visit www.bartsbash.co.uk/results/table
Event Manager for Bart's Bash, Tim Anderton said "At no point could we ever have expected over five hundred (500) clubs in over sixty (60) countries to embrace the idea of getting on the water, racing, having fun and celebrating everything Bart stood for. This has to be one of the largest sailing participation events in the world. We would like to thank all those who took part in the event and a special thank you to the volunteers, over seven thousand of them, who made it possible."
Bart's Bash Rookie Year Highlights
Published on 27 Oct 2014
The short highlights that take you around the globe during the first ever Bart's Bash sailing race. More than 30,000 sailors took part in this first race, sailing more than twice around the world, raising huge amounts of money and bringing new people into the world of sailing, all in memory of the wonderful Andrew 'Bart' Simpson.
Puberty blues - are hormones really to blame?
28 October 2014 - Using a three-year longitudinal study design, the world-first ARCHER* study is investigating the effects of puberty hormones on adolescent health, wellbeing and mood in a study population of 350 adolescents from regional New South Wales.
"Many people assume that 'raging puberty hormones' are to blame for many teenage behaviours, but there is really no good evidence for this claim," says Professor Steinbeck.
"There is a host of factors that affect teenagers' physical and mental health, including peers, family, biological and psychosocial changes, and environmental factors.
"We want to discover what is and isn't attributable to adolescent hormones. To dismiss adolescent behaviours as 'just hormones' might be very unwise."
"Why adolescents have unpredictable behaviour, sometimes this is due to rapidly changing brain development, peer influences and whatever else might be on their minds at the time," says Professor Steinbeck.
"Parents need to maintain solid communication lines with their children and remain clear about boundary settings."
The study findings will have implications for families, schools and teachers, health professionals who have a responsibility to guide young people on their path to adulthood. It will pinpoint for the first time how puberty hormones affect a range of psychological, emotional, social and behavioural issues that arise during adolescence.
"Puberty is a tremendously dramatic physical event," says Professor Steinbeck.
"Everyone goes through it, and it is a different experience for every person.
"We suspect that it is the speed of hormone change that has a significant impact on a range of mental, emotional and behavioural outcomes, and this will be different in every adolescent. For some, hormone levels rise slowly and steadily, others get walloped with a huge surge that occurs seemingly overnight.
"We've known for some time that the timing of puberty onset can have also long-term effects. For example, girls who start their periods earlier compared to their peers are more at risk of depression, obesity and breast cancer. And we know that those who describe a later puberty are more at risk for anxiety and possibly lower bone density.
"Adolescent health and wellbeing is everyone's business. Health trajectories for both mental health and physical health are set in adolescence.
"The worry with teenage health problems is that, rather than being transient, these often persist past adolescence, establishing a pattern for the rest of that young person's life.
"The major causes of morbidity and mortality in adults are tobacco, obesity and inactivity, and most of these damaging health behaviours start in adolescence. Physical activity levels fall off in the teenage years. Puberty is a risk time for overweight and obesity. And if you are a lifelong smoker, you most likely started as a teenager.
"Mental health problems are the most common morbidity in adolescence, followed by health risk behaviours and the impact of chronic illness. Injury is the most common cause of teenage death around the world, and is largely preventable," says Professor Steinbeck.
* (ARCHER stands for Adolescent Rural Cohort on Hormones, Health Environments Education, Relationships) that looks at the true longitudinal effects of puberty hormones on adolescent health, wellbeing and mood.
Fast facts:
- The start of puberty can vary between the ages of eight and 13 in girls, and nine and 14 in boys
- There is a wide variation in when puberty starts and in the time it takes to go through it
- Puberty hormones increase 20-30 times above childhood levels during that time
- For girls: a 20 centimetre height growth and a 20 kilogram weight gain
- For boys: a 30 centimetre height growth and a 30 kilogram weight gain
Partnership to increase cultural competency
27 October 2014 - A new partnership between two leading Australian research institutions will allow Australians to better understand, strengthen and share Aboriginal and Torres Strait Islander cultures, contexts and knowledge.
The collaboration will see the home of Australia's premier collection of Aboriginal and Torres Strait Island cultures, traditions, languages and stories collaborate with Australia's oldest university.
The Memorandum of Understanding - between the Australian Institute of Aboriginal and Torres Strait Islander Studies (AIATSIS) and the University of Sydney - was officially signed by the University's Vice-Chancellor Dr Michael Spence and Professor Mick Dodson in Canberra today.
The partnership will initiate activities that support AIATSIS' and the University of Sydney's National Centre for Cultural Competence's respective roles in increasing cultural competence in research and to promote the use of appropriate research methodologies when engaging with Indigenous communities.
University of Sydney Vice Chancellor Dr Michael Spence said the partnership will enable an exchange of materials, facilitate higher degree research and the exchange of faculty and research scholars.
"This agreement brings together the talent and creativity of two of the nation's leading institutions in a partnership that will hugely enrich our learning and teaching, our research and the maintenance of cultural resources essential to our nation's self-awareness and pride," Dr Spence said.
AIATSIS Chairperson Professor Mick Dodson said today's signing of will formalise a partnership that will further the impact and reach of the two organisations' existing work.
"AIATSIS and University of Sydney are committed to the ideal that building personal, professional and organisational cultural proficiency can lead to true reconciliation. The ability to identify our own cultural values and assumptions can lead us to genuine appreciation for others," Professor Dodson said.
"Cultural competence is the ability to participate ethically and effectively in personal and professional intercultural spaces," said the University's Deputy Vice-Chancellor (Indigenous Strategy and Services) Professor Shane Houston.
"A closer relationship with the nation's premier preserver and maintainer of vital Aboriginal materials will inform the work of our students and staff and enhance the University's aim to become more culturally competent as an institution."
Find out more: http://sydney.edu.au/nccc/
THE DICTIONARY OF SYDNEY LAUNCHES GEORGES RIVER PROJECT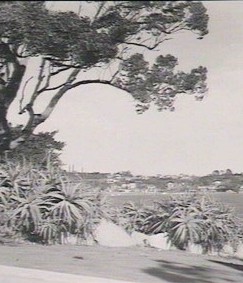 View on Georges River, 1947, image courtesy of SLNSW
The Dictionary of Sydney is proud to launch eighteen new online entries on the history of the Georges River on the Dictionary of Sydney website!
Funded by the Federal Government's Your Community Heritage grant scheme, the new entries are laced with colourful characters and curious facts with stories of publicans and mill owners, encounters with sharks and cockatoos, and tragedies caused by flood.
Local historian Beverley Donaldson explores life in the internment camps at Holsworthy and Liverpool during World Wars I and II. Eminent historians Heather Goodall and Allison Cadzow look at Aboriginal communities along the Georges River from the 1820s, with fascinating profiles of Biddy Giles, Lucy Leane, Gogi and Ellen Anderson. Roger Robertson and Andrew Allen follow early attempts at farming and industry; from the ill‐fated attempts of wine grower Georges Frere to the thriving oyster farms of Oatley's Neverfail Bay. Gary Darby and Rodger Robertson examine the history of swimming baths at Sans Souci and Jew Fish Bay and Oatley Park. Catie Gilchrist traces the transformation of the Casula Powerhouse from picnic pleasure ground to industrial landscape to thriving centre for arts and culture in western Sydney. Greg Jackson, Pam Forbes and Brad Duncan took to the water in nineteenth century rivercraft to explore how the maritime landscape of the river and its tributaries sustained the transport of wheat, flour and manpower between the Woronora and Brisbane Water mills. Karen Pentland traces the lives and legacy of the many publicans who ran the now demolished Prince of Wales Hotel on Sandringham Point. Then there is the extraordinary story of 'Cocky Bennett', a legendary cockatoo whose long life at sea was followed by many years on the bar of the Sea Breeze Hotel at Tom Ugly's Point entertaining locals and raising money for charity. River advocate Sharyn Cullis looks at the history of encounters between swimmers and sharks in the river from the early days of the colony, as well as examining the consequences of urbanisation alongside one of the most flood‐prone rivers in NSW.
The Georges River Project places these histories within the wider picture of Sydney's past. Both familiar and unexpected, they enrich our understanding of Sydney as both a place and a community.
UWS welcomes NSW Government's announcement on Western Sydney Light Rail Network
27 October 2014 - The University of Western Sydney warmly welcomes the State Government's further commitments to the Western Sydney Light Rail Network.
UWS Vice-Chancellor, Professor Barney Glover, says this highly progressive transport infrastructure commitment complements the University's recent announcement of the development of a new multi-storey campus in the heart of Parramatta's CBD, which will be home to 10,000 UWS students in 2017.
"The proposed Light Rail routes will significantly enhance accessibility to, and exchange between the region's knowledge jobs, vital for ensuring Western Sydney's continued economic growth and competitiveness," says Professor Glover.
"The project will heighten the interface between our campuses and regional business and industry.
"These transport initiatives are critical to unlocking Western Sydney's potential. The University commends the State Government and, indeed Parramatta City Council, for their progressive thinking in this regard."
The UWS Parramatta campus at Rydalmere is currently home to approximately 14,500 students.
Record-Breaking Near-Space Dive Leaps from 135,000 Feet
Published on 24 Oct 2014
Alan Eustace dove from a high-altitude balloon soaring at approximately 135,000 feet. Felix Baumgartner held the record at 128,000 feet. FULL STORY: http://goo.gl/tF50aY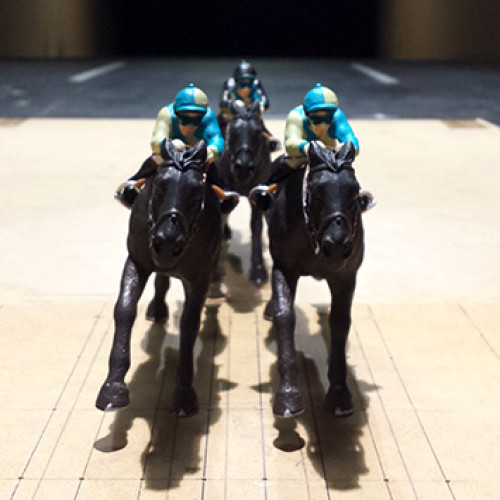 Horse racing position cuts drag up to 66 per cent
October 31, 2014 - Researchers from RMIT University in Melbourne, Australia, have revealed precisely how much different slipstreaming tactics reduce drag on a horse during a race.
Wind tunnel simulations showed jockeys who take advantage of slipstreaming, or drafting, by running their horse behind or alongside others can reduce aerodynamic drag force by up to 66 per cent -- saving their horse critical energy.
The simulations conducted in RMIT's wind tunnel -- using toy models that are exact miniature replicas of a racing horse and jockey -- are the first in the world to measure the effect of slipstreaming on horses through wind tunnel tests.
The study comes as jockeys consider their strategies ahead of Australia's biggest horse race -- the Melbourne Cup -- on November 4, part of the Melbourne Spring Racing Carnival.
Co-Chief Investigator, Professor Franz "Tino" Fuss, said slipstreaming was a standard strategy in sports such as cycling and speed skating to save athletes' power and energy.
"In a horse race, jockeys can use this same principle to give their horses an edge and help them reserve energy for that crucial final burst," Professor Fuss said.
"Our research for the first time quantifies how much drag is reduced through different slipstreaming tactics in a horse race.
"Jockeys, trainers, punters and betting companies should keep these findings in mind during the big days ahead of the Spring Racing Carnival."
The research showed the impact of different horse packs on drag (on average):
· Two horses in front of one horse: drag of trailing horse reduced by 66 per cent
· Four horses in a row: drag of last horse reduced by 54 per cent
· Two horses running closely behind each other: drag of leading horse reduced by 6.5 per cent, drag of trailing horse reduced by 38.5 per cent
· Five horses side by side: drag of centre horse increases by 25 per cent
From these principles and further results, the energy expenditure can be calculated throughout the race of each individual horse, as well as the overall energy savings when slipstreaming.
The research was conducted in the SportzEdge program of RMIT's Platform Technologies Research Institute, with co-Chief Investigator Professor Simon Watkins and aerospace engineering student Kevin Stark.
The above story is based on materials provided by RMIT University. Researchers conducted wind tunnel simulations to measure aerodynamic drag force. Credit: Image courtesy of RMIT University
'THESE KHAKI-CROWDED SHIPS'
from Australian National Maritime Museum
'THESE KHAKI-CROWDED SHIPS' - ESCORTING AND TRANSPORTING TROOPS.
A compilation of footage from the National Film and Sound Archive of troops and transport ships of the first overseas convoy of Australian infantry, October and November 1914. (NFSA Title No 45988)
One-third to receive scholarships under deregulation
27 October 2014 - Almost a third of the University of Sydney's domestic undergraduate students could receive scholarships if the Federal Government's higher education reforms are passed in the Senate this week, according to modelling released today.
Vice-Chancellor, Dr Michael Spence has previously emphasised his intention to use additional revenue from deregulated fees to fund a scholarship program as well as improve teaching and learning at the University of Sydney.
For students with the greatest financial need, the level of support is likely to mean they will be better off under the deregulated system, regardless of their course of study. For example, a teaching student receiving the top level of financial support would be able to cover the increased HECS with that scholarship while also having funds to assist with living expenses.
The University of Western Australia has proposed pricing in the context of the government's planned deregulation of student fees, advising a flat fee of $16,000 per year of undergraduate study in 2016. The University of Sydney's modelling reveals that if it were to apply a similar approach, it would be able to inject an additional $80 million into student financial support. The University currently provides $80 million in scholarships to coursework and research students, funded mainly by government schemes, private donors and University reserves.
The University believes the additional scholarship fund would be best provided to students in part as support for living costs while students are studying, and in part as a debt payoff upon graduation and said it would investigate this proposal further.
"We are deeply committed to ensuring that the brightest students, regardless of their social or cultural background, should have access to a world-class education," said Dr Spence.
"We are dedicated to playing a leadership role in Australia by not only sustaining, but also improving access to tertiary education for underrepresented groups.
"The University of Sydney was the first in the world to admit students on academic merit alone, and for more than 160 years we have held that principle as fundamental to our purpose.
"Our new, sector-leading scholarships guarantee that Australia's brightest students will continue to have a place at the University of Sydney."
History Week 5- 13 September 2015 – War, Nationalism and Identity
We are delighted to announce the new theme for History Week 2015 - War, Nationalism and Identity. Registrations for events and speaker connect will open in early November, 2014.
How does war shape ideas of nation and identity? Is baptism on the battlefield a prerequisite of nationhood and a sense of national identity? What are the roles of ideas and political movements in creating and shaping nation states? In 2015 the theme of History Week will focus on the history of nation building, nationalism and national identity as the products of both peaceful and violent processes, focussing on generals and politicians, constitution makers and revolutionaries.
History Week will take place between 5- 13 September 2015.
It is often argued that the Australian was born of War, on the slopes of Gallipoli to be precise. But historians have also suggested that the cost of the war was so great- the country was left internally divided, a generation of men was lost on the battlefields of the Western Front and the economy was left shattered- that in 1919 Australia was a broken nation.
The Second World War was also seen as a nation building exercise, especially in the dark days of late 1941, early 1942, when invasion seemed imminent and political leaders argued that Australia's capacity for resistance would be a measure of the strength of nationhood. But World War II proved less costly both in economic and human terms, and this time the country was not left divided by sectarian or political issues. In 1945 Australia was better prepared for growth and prosperity than at any time in its history.
How then does war shape ideas of nation and identity? Is baptism on the battlefield a prerequisite of nationhood and a sense of national identity? What are the roles of ideas and political movements in creating and shaping nation states? In 2015 the theme of History Week will focus on the history of nation building, nationalism and national identity as the products of both peaceful and violent processes, focussing on generals and politicians, constitution makers and revolutionaries.
Find out more at: www.historycouncilnsw.org.au/history-week/
Disclaimer: These articles are not intended to provide medical advice, diagnosis or treatment. Views expressed here do not necessarily reflect those of Pittwater Online News or its staff.
University's men's crew shine at Australian Boat Race
26 October 2014 - The University of Sydney male eights crew took line honours over the University of Melbourne at the Australian Boat Race.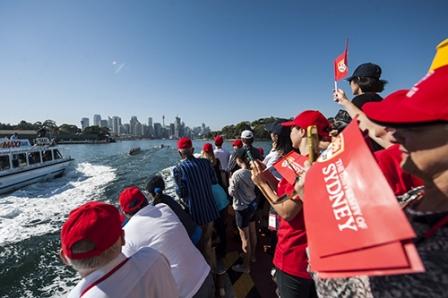 Sydney Harbour glistened and the home crowd cheered from water and land as the University of Sydney male eights crew took line honours at the Australian Boat Race. The women's eight crew also improved on last year's performance, but were beaten by Melbourne rivals by less than 30 seconds.
The Sydney men's crew took the lead early and cox Will Raven successfully navigated the tough harbour conditions to beat the University of Melbourne titleholders by less than ten seconds. Sydney University men's captain and 2014 World Championships bronze medallist Sasha Belonogoff said all four crews got an honest taste of the Harbour.
"The sun was out and it was a beautiful morning, but the conditions were definitely rolley. We knew we had to keep our rhythm and I think efficiency won it for us in the end," he said.
"This win was a year in the making. The loss last year down in Melbourne really fired us up."
University of Sydney women's captain Rebecca Humphries said that despite the loss, she was incredibly proud of her crew.
"We are really proud of what we pulled off today. Last year the Melbourne crew won by a minute, this year it was 28 seconds. We feel we are really building and setting the trajectory for next year," she said.
University of Sydney Vice-Chancellor Dr Michael Spence said: " It was a fantastic day in a fabulous city."
The Oxford vs. Cambridge style race builds on a rivalry established in the early 1900s when the annual intervarsity boat race for eight-oared crews between Australian universities was a major event on the national rowing calendar. In 2009, to mark the 150th anniversary of the first race between the two old rowing clubs, a time trial was held on the Yarra. In 2010 the Australian Boat Race became an annual head-to-head feature, with each city hosting biannually.
The crews consist of both graduate and undergraduate rowers, with at least seven members of each crew (nine including coxswain) required to be current students.
For a more comprehensive history of the race visit the Australian Boat Race.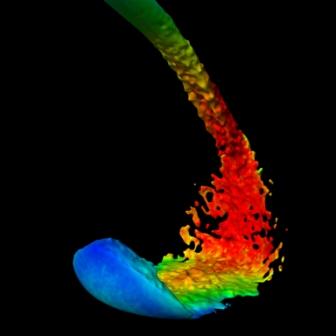 NEW CSIRO SOFTWARE OPENS WINDOWS TO SCIENCE
29 OCTOBER 2014 - New software which offers scientists and researchers an easy way to analyse, model and visualise scientific datasets has been released by CSIRO.
The free software, known as Workspace, is purpose-built for scientific applications and allows researchers to present their findings through stunning visualisations.
Developed over the past eight years at CSIRO, Workspace has already been used for a wide range of projects, including natural disaster modelling, human movement and industrial and agricultural research.
One CSIRO team has already used the software to model and visualise simulations for storm surges and flash flooding, helping with disaster management planning.
Working with the Australian Institute of Sport, another team has produced a 3D biomechanical computer model of different swimming strokes, allowing athletes to adjust their technique for maximum performance.
Dr John Taylor from CSIRO's Digital Productivity Flagship said the software offered huge efficiency savings for researchers from all fields who work with datasets and complex analysis, freeing them up to spend more time focused on their scientific expertise.
"In institutions all around the world, researchers operate within similar workflows; sourcing data, analysing it, processing it - often using high-performance computing environments," Dr Taylor said.
"Very often, this involves a number of manual repetitive steps.
"Workspace makes these steps easy to automate. In one application, analysis that had previously taken two weeks to conduct manually was carried out in less than an hour.
"Scientists also need to publish the outcomes of their research. Workspace allows them to easily release the software and analysis that backs up their findings."
According to Dr Taylor, another advantage of Workspace is that users don't need advanced programming skills and it runs on many different platforms and environments.
"At the moment, scientists often have to write their own purpose-built code from scratch - even when this is not their primary skill set," he said.
"This approach is inefficient, prone to error, difficult to reproduce by other scientists and unsuitable to take into the commercial world.
"Workspace can be used by non-software experts, allowing scientists from all over the globe to use the same platform and collaborate seamlessly on projects."
As well as these benefits, Workspace's data visualisations can help scientists make their research more understandable and accessible.
"If others can easily grasp what your science means, this opens it up to brand new audiences," Dr Taylor said.
"This not only helps researchers engage with the public, but it also allows them to reach out to other collaborators in the science community and industry."
Workspace has already been used successfully by scientists at University College London, and locally by research institutions including the Australian National University, Macquarie University and the University of New South Wales.
Workspace is being launched today at the 2014 eResearch Australasia Conference. It is free to download for research purposes and can be licensed for commercial applications.
Software available for download at: www.csiro.au/workspace
Top: Simulated liquid flow with velocity magnitude information mapped onto meshed surface.
Solution for Big Data
28 October 2014 - Australian cloud-computing experts based at the University of Sydney will work with researchers in the United Arab Emirates to find better methods for exploring and exploiting large quantities of stored data.
Professor Albert Zomaya, Chair of High Performance Computing and Networking, and his colleague Dr Young Choon Lee from the School of Information Technologies have been awarded a $920,000 ICT Fund grant to support their work into the design and development of scalable solutions for the storage and accessing of large volumes of data. The pair will work in collaboration with researchers from Khalifa University, UAE, headed by Dr. Paul Yoo.
According to Professor Zomaya 90 percent of the globe 's current data was created over the past few years and with emerging internet technologies and associated devices the upward trend will continue for the foreseeable future.
"Over the past decade, intelligent data models have been widely used in a number of massive and complex data-intensive fields such as astronomy, biology, climatology, medicine, and finance," he says.
However, 60 percent of industry executives report they are not effectively using their company 's stored data.
"Our models will maintain if not improve the predictive and scalable performances of data storage.
The underlying principle of our work is to increase locality and minimise data movement to reduce network traffic," says Professor Zomaya.
To minimise energy consumption the group plans to design models and algorithms with the least processing and memory requirements.
The research team also plans to optimise the processing of big data by integrating intelligent machine-learning research with clouds, giving it more flexibility to rely on sites in the cloud to provide a computation-hosting framework to support virtual machine-hosting services.
Both of these says Professor Zomaya represent basic Cloud infrastructure.
This will allow users to apply their own applications to the data and their resources can be accessed as and when users need them," states Professor Zomaya.
"It is important to provide scalability that will allow businesses to gauge cloud resources up/out or down depending on their enterprise 's need."
This would free the business from procuring resources for peak or future needs as cloud resources would be available in minimal time.
Professor Zomaya is a lecturer in IT Research Methods at the School of Information Technologies.
Breathe easier: Get your vitamin D
October 28, 2014 - Asthma, which inflames and narrows the airways, has become more common in recent years. While there is no known cure, asthma can be managed with medication and by avoiding allergens and other triggers. A new study by a Tel Aviv University researcher points to a convenient, free way to manage acute asthmatic episodes - catching some rays outside.
According to a paper recently published in the journalAllergy, measuring and, if need be, boosting Vitamin D levels could help manage asthma attacks. The research, conducted by Dr. Ronit Confino-Cohen of TAU's Sackler Faculty of Medicine, Meir Medical Center, and the Clalit Research Institute, and Dr. Becca Feldman of the Clalit Research Institute drew on the records of millions of patients and used physician diagnoses, rather than self-reports, for evidence of asthma episodes.
"Vitamin D has significant immunomodulatory effects and, as such, was believed to have an effect on asthma - an immunologically mediated disease," said Dr. Confino-Cohen. "But most of the existing data regarding Vitamin D and asthma came from the pediatric population and was inconsistent. Our present study is unique because the study population of young adults is very large and 'uncontaminated' by other diseases."
A broad study
Dr. Confino-Cohen and her team of researchers analyzed the medical records of nearly four million members of Clalit Health Services, Israel's largest health care provider. The Vitamin D levels of 307,900 people were measured between 2008 and 2012. Researchers also took into account key predictors of asthma, such as obesity, smoking, and other chronic diseases. Of some 21,000 asthma patients in Israel studied, those with a Vitamin D deficiency were 25 percent more likely than other asthmatics to have had at least one flare-up in the recent past.
The researchers found that Vitamin D-deficient asthmatics were at a higher risk of an asthma attack. "Uncontrolled asthma" was defined as being prescribed at least five rescue inhalers, one prescription of oral corticosteroids, or visiting the doctor for asthma at least four times in a single year.
"Our results add more evidence to the link between Vitamin D and asthma, suggesting beneficial effects of Vitamin D on asthma exacerbations," said Dr. Confino-Cohen. "We expect that further prospective studies will support our results. In the meantime, our results support a recommendation for screening of Vitamin D levels in the subgroup of asthma patients who experience recurrent exacerbations. In those with Vitamin D deficiency, supplementation may be necessary."
Sunny side up?
While most of the Vitamin D in people's bodies comes from exposure to the sun, dermatologists recommend obtaining the ingredient from other sources - fish, eggs, cod liver oil, fortified milk, or a dietary supplement - due to the dangers of overexposure to the sun.
"We know a lot about this disease and many therapeutic options are available. So it's quite frustrating that the prevalence of asthma is not decreasing and many patients suffer exacerbations and significant impairment in their quality of life," Dr. Confino-Cohen, an allergy and clinical immunology specialist, said. "Increasing Vitamin D levels is something we can easily do to improve patients' quality of life."
Based on the findings, the researchers recommend that people whose asthma cannot be controlled with existing treatments have their Vitamin D levels tested. For those with a vitamin D deficiency, supplements may make sense.
"This study provided an exceptional opportunity to research asthma. I received a research grant from Clalit Health Services, which provided us with the opportunity to use their very large database and to conduct the study with the professional staff of Clalit Research Institute," said Dr. Confino-Cohen. "We anticipate further prospective research that will support our findings and open a new treatment modality to the population of uncontrolled asthmatics."
R. Confino-Cohen, I. Brufman, A. Goldberg, B. S. Feldman. Vitamin D, asthma prevalence and asthma exacerbations: a large adult population-based study. Allergy, 2014; DOI:10.1111/all.12508
First time-lapse images of exploding fireball from a 'nova' star
27 October 2014 - Astronomers at the University of Sydney are part of a team that has taken images of the thermonuclear fireball from a 'nova star' for the first time tracking the explosion as it expands.
The research is published online in the journal Nature today.
The eruption occurred last year in the constellation ofDelphinus (the Dolphin).
Professor Peter Tuthill, from the University's Sydney Institute for Astronomy and co-author on the paper says astronomers are excited about the achievement:
"Although novae often play second fiddle in the popular imagination to their more famous big cousins - the supernovae - they are a truly remarkable celestial phenomenon."
The term nova (Latin for new) was coined when the famous 16th century Danish astronomer Tycho Brahe first realised that on rare occasions the unchangeable patterns of the fixed stars could be suddenly joined by bright interlopers which took days or weeks to gradually fade from sight.
Astronomers eventually traced the culprit responsible for these stellar conflagrations - an exotic, compact star called a white dwarf whose intense gravitational field is able to strip matter from a larger nearby companion star.
"Like a little stellar mosquito, the white dwarf continually sucks hydrogen from its partner, forming an ocean on its surface. After drawing about as much mass as the entire planet Saturn, the pressure reaches a critical point, then boom! The stellar surface turns into one titanic hydrogen bomb hurling a fireball out into space and propelling a formerly dim, obscure star system into prominence as a nova in our night skies," Professor Tuthill said.
"The ferocity of the expansion is breathtaking, engulfing a region the size of the Earth's orbit within a day, and passing Jupiter's orbit in less than two weeks. Despite the enormous size of the fireball, at the remote distance to this star of fifteen thousand light years, it took very special technology to be able to image it at all."
Dr Vicente Maestro of the University of Sydney, who also participated in the research, said "We are really lucky to be collaborating with the team running the CHARA array in Southern California. They are able, using its state of the art technology, to make the exquisitely fine measurements necessary to witness this event."
"The technical challenge posed requires magnification equivalent to watching a flower in my Spanish hometown of Algeciras unfold from here in Sydney, a distance of 12,000 kilometres away," Dr Maestro said.
The leader of the scientific team taking the measurements, Dr Gail Schaefer from Georgia State University, was on-hand as the data came in.
"It was hugely exciting to see the nova grow a little bigger than before with each night's observation. This is the first time astronomers have been able to witness an expanding fireball as if it were in the local neighborhood, rather than way out in the galaxy," Dr Schaefer said.
The significance, as Dr Theo ten Brummelaar of Georgia State University explains, is that "These new data allow us to study in detail exactly how the fireball evolves as the gas expands and cools. It seems like the ride is a lot more complicated and bumpy for the gas than the simple models used previously would have predicted."
Perhaps most surprising of all, despite the fury of the detonation on the white dwarf's surface, the star itself escapes relatively unscathed and continues to buzz around its host like a persistent mosquito accumulating more matter for a repeat performance at a future date.
For this particular nova, an encore is unlikely to occur in our lifetimes; but the galaxy is rich with other systems like this one, awaiting their moment to shine anew in the night sky. And when they do, the researchers say they will be ready.