November 25 - December 1, 2012: Issue 86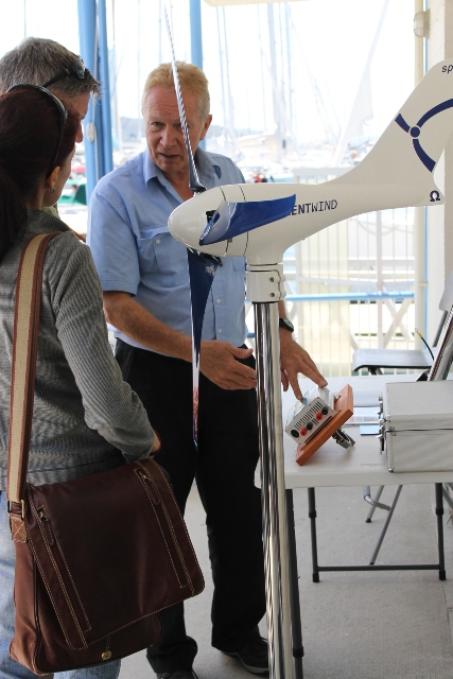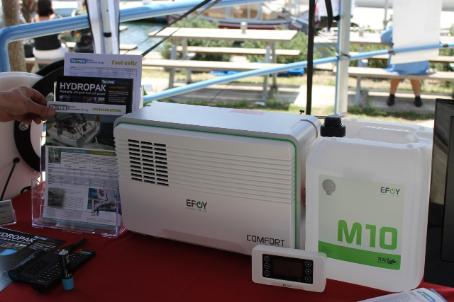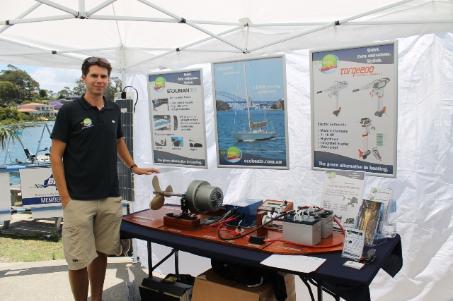 Steven Mullie of Eco Boats Australia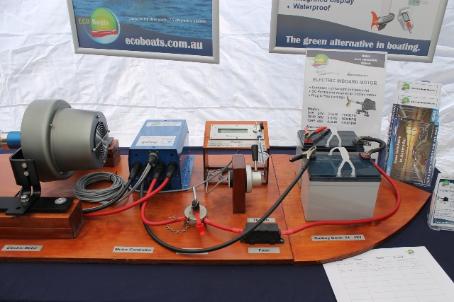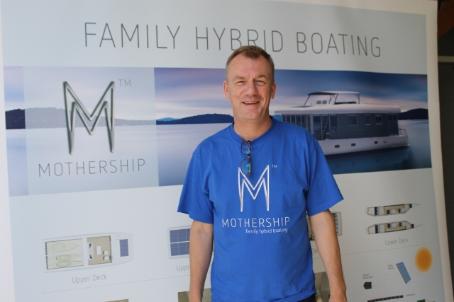 Tim Knox at Bayview Eco Boat Show. Contact Time for more information on 0407 788 912 or email tim@mothership.com.au

Photos by A J Guesdon, 2012.
Inaugural Bayview ECO Boat Show – 18th of November, 2012
Last Sunday we went to the first ECO Boat show hosted by Bayview Anchorage, 1741 Pittwater Road, Bayview as part of the management's commitment to promoting sustainable technologies and behaviour in the marine environment.
A range of brand new technologies were on display, including: the world's first solar-hybrid motor cruiser (Greenline 33 - from eYachts, Bayview), a brand new solar powered luxury houseboat design (Mothership - designed by Andy Dovell, Avalon), a range of electric saildrives, outboards and inboard motors (Torqueedo - Newport & Middle Harbour), hydro generators and hydrogen fuel cell generators for cruising and racing yachts (Ynovex - Palm Beach), new flexible lightweight solar panels (Ecoboats - Middle Harbour), and 'Moondog'; a solar powered catamaran demonstrating solar-electric power in-water (Envirotecture - Elanora Heights).
Although only a small Boat Show compared to others we have attended the impetus and cutting edge technology represented, seen altogether first in Pittwater, is an indication of a shift in this industry and how much our community contributes to the advancement of everything marine by investing in Australia's boating capital. We list here all information supplied by these innovative industry leaders for your reference in case you didn't get an opportunity to look for yourselves.
FUEL CELL AND HYDRO GENERATORS
Innovative technologies that make on-board electricity without noise, fumes or fossil fuel were on display. Patrick Boutonnet is a Sydney sailor who knows Australian yachties want to see the latest advancements in generator design, as used by Globe Vendee Round the World ocean racers, Trans-Atlantic race yachts and other 'hot shot' sailing boats. He started Ynovex to meet that need.
The Watt&Sea hydrogenerator is like a transom mounted electric outboard in reverse, with extremely efficient blade design to harvest the maximum power with the minimum drag, from speeds as low as 3 knots. These have become the de facto standard on the Class 40 and Open 60 racing yachts.
The Efoy fuel cell generator is an eco-friendly constant source of 12 volt power, at nearly 9 amps. They are extremely quiet, lightweight, maintenance free, and can fit into very tight spaces. Using methanol as the source, its outputs are electricity and water. These are commonly used on Mini 6.5, and also often found on Class 40 and Open 60 racing yachts. These devices solve problems that other generators cannot, and will be on working display at the Eco Boat Show.
GREENLINE 33 LUXURY SOLAR HYBRID CRUISER
Sydney company eYachts displayed the ground-breaking Greenline 33 solar-hybrid motor cruiser at the Bayview Eco Boat Show. This vessel was "the most talked about" at this year's Sydney Boat Show, and has been awarded 18 International Boat of the Year and Environmental Awards.
The world's first production hybrid cruiser, the Greenline 33 has a truly hybrid drivetrain, powered by either a 1.4kW photovoltaic array, or a 150kW diesel engine, all designed and manufactured as an integrated unit specifically for this application, by Volkswagen.
The electric motor provides silent running at up to 5 knots on pure solar power. With the diesel engine, the innovative "Superdisplacement" hull design allows the vessel to plane, as well as providing back-up power. This makes the boat perfect for quiet waterways with low speed limits.
The modern classic styling also features 360° vision in the saloon, with complete open plan to the cockpit, and an electrically lowered transom for easy boarding and access to the water. The Greenline range is well supported in Australia by eYachts, which is part of the Windcraft group, distributors of the ever-popular Hanse yachts.
ELECTRIC DRIVES & SOLAR POWER
Quiet solar and electric boats that have no emissions or exhaust fumes were also on display at the Bayview Eco Boat Show. Sydney Harbour based Ecoboats Australia have since 2008 distributed a wide range of electric motive power, inboard and outboard, and solar and wind power, as well as the latest lithium-ion battery technologies.
Boats on display included the Duffy Electric Launch, one of which was on the water, the other on dry display. Also 'Moondog', a solar powered catamaran, was motoring around the marina, demonstrating the power and practicality of the Solbianflex lightweight flexible solar panels driving the Torqeedo electric outboard motor.
Also on display was a range of latest technology chargers, batteries, and solar panels. Eco Boats Australia offers luxury electric boats which are emission-free, low-maintenance, will cruise for a whole day and cost less than a dollar to recharge.
In an era where the impact of human activity on the environment is of increasing concern, electric boats offer a greener alternative means of enjoying the beautiful waterways of Australia without adverse environmental impacts.
They have the added advantage of being whisper-quiet, making them the perfect boat for relaxed day or sunset cruising with family, friends or business associates.
Electric inboard and outboard motors are also available for those that wish to convert their existing boat to quiet and clean electric propulsion. Eco Boats operates out of Northbridge Marina (on Sydney Harbour) with two demonstrator vessels that are also available for self-drive trips. Pack a picnic and glide down the bay in style and complete silence.
More information on the wide range of technologies available can be found at www.ecoboats.com.au. or phone 9929 8834.
NEW 'MOTHERSHIP' SOLAR-ELECTRIC LUXURY HOUSEBOAT
'Mothership' is a radical new design of houseboat, solar powered for both motive power and auxiliary power. It is a hybrid catamaran designed by naval architect Andy Dovell and built by renowned Australian boat builder Jarkan, headed by Kanga Birtles.
Her spacious accomodation comfortably sleeps 12 adults, 5 in each hull and 2 in the main lounge. Mothership is designed to feel safe and glide through the water with minimum effort.
Whilst being at home on the Hawkesbury River, she takes on the waves and swell of West Head with ease. This is a notorious point to round, but with over 1 metre of bridge deck clearance, the MotherShip takes the passage in her stride. For the same reason, the open sea on calm days is a very real proposition making it possible to hop up the coast to Lake Macquarie, Port Stephens and beyond.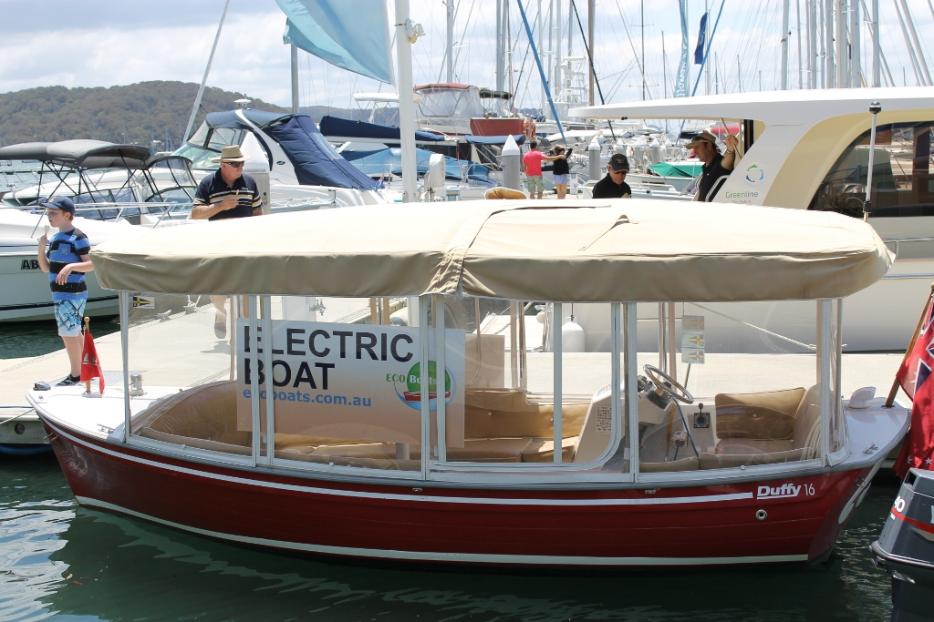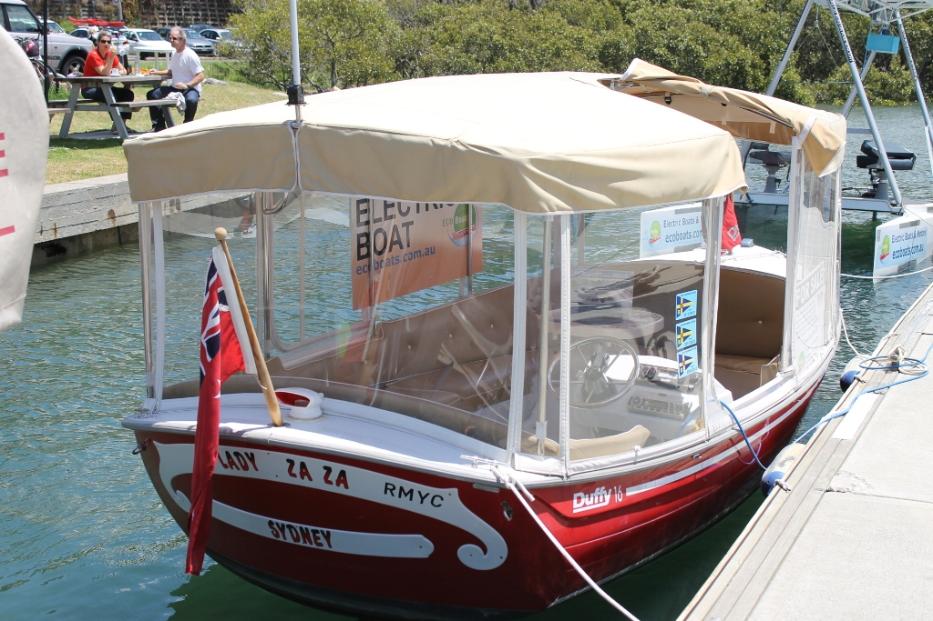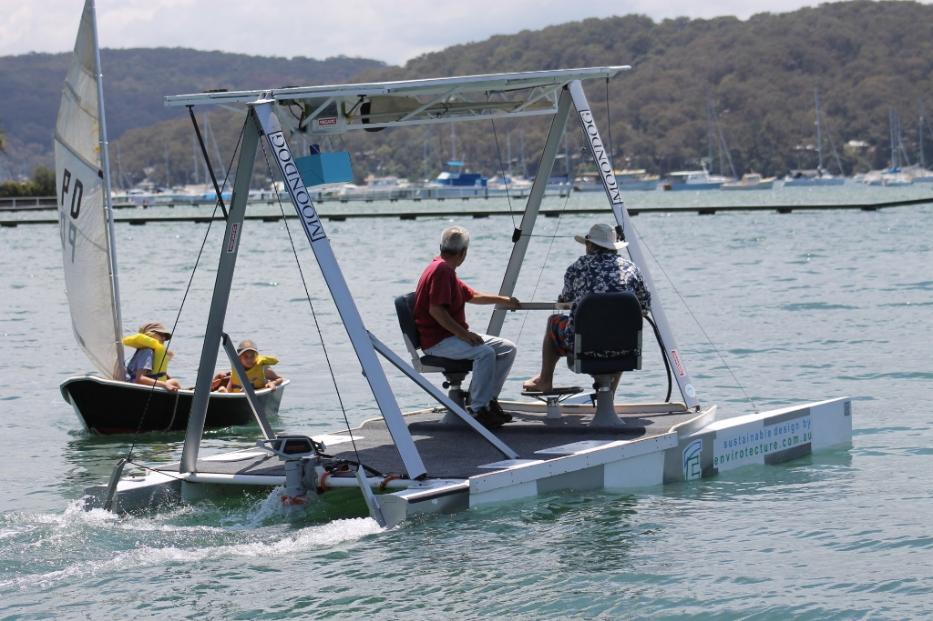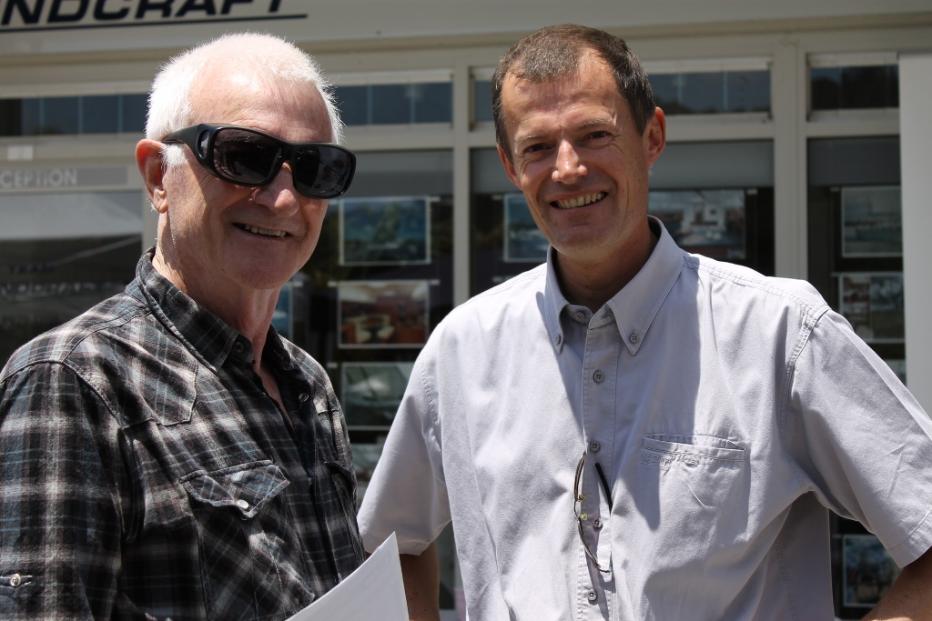 One of our gentleman readers with Patrick Boutonnet (r).