April 15 - 21, 2012: Issue 54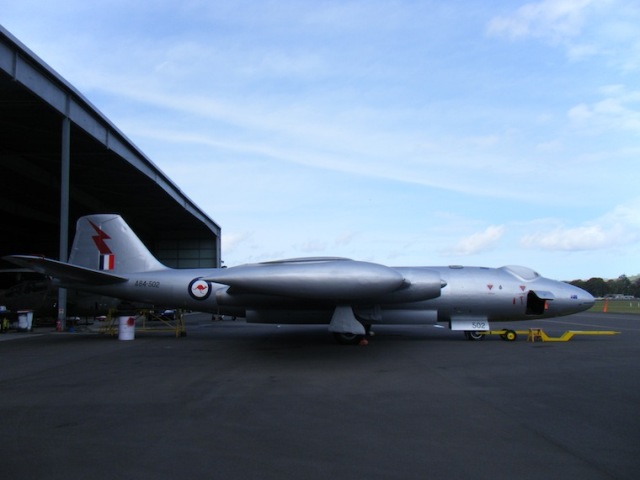 Further:
MUSEUM TIMES & BOOKINGS
HISTORICAL AIRCRAFT RESTORATION SOCIETY
Location: Cnr Airport Road and Boomerang Avenue
Albion Park Rail NSW 2527, Australia
t. (02) 4257 4333, f. (02) 4257 4388
Opening hours
Monday – Sunday: 09:30 am – 3:30 pm
Entrance fees: Children: $5.00, Adult: $15.00, Family: $25.00
Concession: $12.00
To arrange group bookings please call the HARS reception desk in advance on 02 4257 4333 between 9.30am and 3.30 pm any day.
Photo Permissions courtesy HARS
English Electric Canberra. (2012, April 8). In Wikipedia, The Free Encyclopedia. Retrieved from http://en.wikipedia.org/w/index.php?title=English_Electric_Canberra&oldid=486305025
Historical Aircraft Restoration Society's new plane
At; http://hars.org.au/
Following a lengthy recovery, reassembly and restoration, our English Electric Canberra trainer is now on public display in our museum. Come visit us and sit in the restored cockpit. HARS, 8th of April, 2012
In New South Wales, at Albion Park, a group of gents and ladies, one of whom resides in Pittwater and dedicates a lot of his time, energy and thought to this voluntary service, find and restore aircraft that have been significant to Australia's history. The Historical Aircraft Restoration Society (HARS) announced on Easter Sunday the restoration of a Canberra T4 A84-502, as a static display, has been completed.

The Canberra is an important type, the first (and only, and probably the last) jet bomber built in Australia, and one of the last Australian built aircraft to see combat service. They were the first jet bomber into RAAF service. The one at Albion Park was built by English Electric, an industrial manufacturer who commenced building planes during WWII. Delivered in 1956 and used mostly for training, this was a first-generation jet-powered light bomber manufactured in large numbers through the 1950s. The Canberra could fly at a higher altitude than any other bomber through the 1950s and set a world altitude record of 70,310 ft (21,430 m) in 1957.
The Canberra had its origins in a 1944 Air Ministry requirement for a successor to the de Havilland Mosquito – a high-altitude, high-speed bomber with no defensive armament. Although several British manufacturers submitted proposals, it was English Electric, who had built bombers since the early years of the Second World War, who won the contract. Originally known as the English Electric A.1, the aircraft was named Canberra after the capital of Australia by Sir George Nelson, chairman of English Electric, because Australia was the first export customer for the aircraft. They were ordered by the Australian government shortly after WWII as part of the Royal Australian Air Force (RAAF) Plan "D" for a post-war structure to develop a small, agile air arm employing leading edge technology and replace the Avro Lincoln. The first Australian-built Canberra had her maiden flight on 29 May 1953 at Avalon (Victoria) and was delivered to the RAAF a few weeks later. A total of 48 were built in Australia. These planes entered Australian service in December 1953, flew in the Malayan Emergency and the Vietnam War and were in use until 1982. There were 27 versions.
The Historical Aircraft Restoration Society Inc (HARS) is a not-for-profit organisation and was formed in 1979 by a group of aviation enthusiasts interested in the preservation of Australian aviation history. It was in this capacity that our members virtually traversed the Australian continent from Tasmania to Kalumburu in North Western Australia and from Cape Llewellin to Cape York in search of aviation artefacts. These expeditions resulted in providing considerable assistance to many restorations including many outside of the HARS itself. their mission;
'To recover, and where possible restore to flying condition, aircraft or types of aircraft that have played a significant part in Australian Aviation History both in the Civil and Military arenas'.
Copyright HARS and Pittwater Online News, 2012.