March 11 - 17, 2012: Issue 49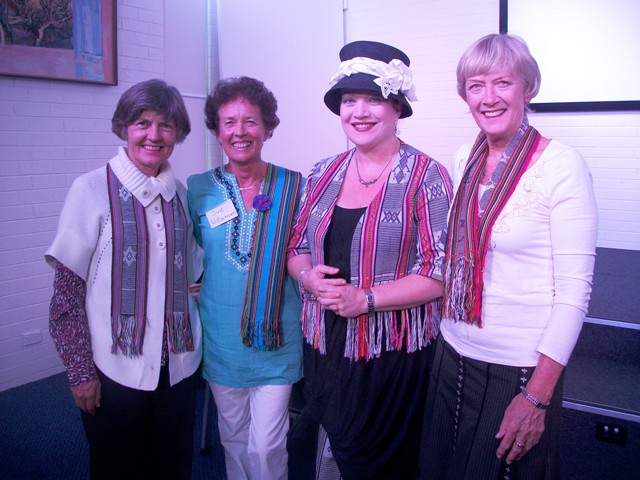 Maree, Sue, Tamara and Anne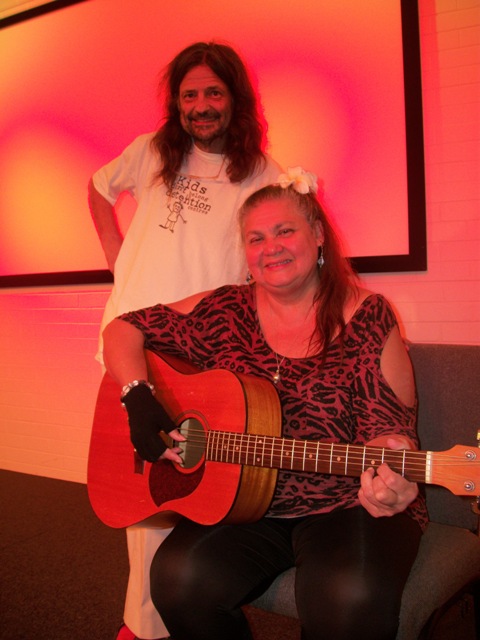 Wayne and Sonia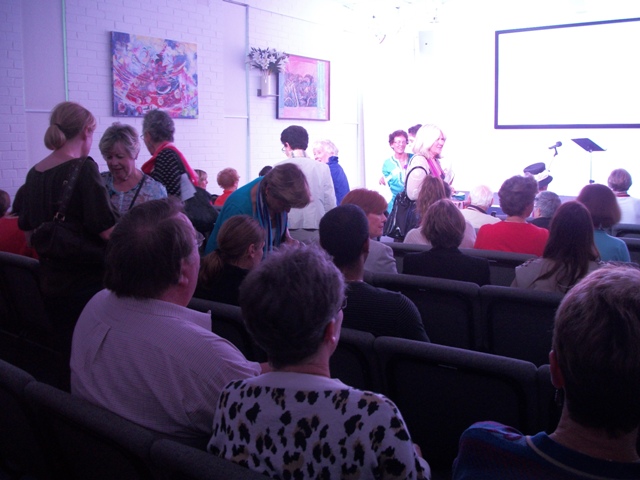 Below: Blue Goose (featuring Sonia Bennett) at Humph Hall, 2010
HIAM Health Fundraising Evening
8th of March, 2012 @ Humph Hall, Allambie
Hamutuk Ita Ajuda Malu or Together we help each other
There was laughter, insights, great music and even tears at Humph Hall on Thursday night as the three ladies we brought you news of last year, two nurses and a Nutritionist, Sue Williamson RM IBCLC, Anne Scollon RM IBCLC and Maree Twomey BS Nutrition had a Fundraising evening for HIAM Health, Timor-Leste. The evening was organised by vibrant Sue Williamson, lactation nurse, who was helped out to the nth degree by Anne as MC and Maree as Raffle lady. HIAM Health is a Non Government Organisation (NGO) based in Dili East Timor (Timor Leste) working to create a future for this struggling nation in the way of education, rehabilitation and prevention of malnutrition. HIAM was founded by Rosaria Matins da Cruz, a Timorese lady with a determination to see her country and its people rise from all wrought on them. Focusing initially on addressing malnutrition in infants, Rosaria's aim to empower her people has developed a holistic approach that addresses the root causes of high mortality in Timor-Leste through education, financial and social support as well as hands on approach. In 2004 Jill Hillary, a West Australian lady with four adult children who wanted to do something for the people of Timor-Leste, flew to this beautiful island and offered to help Rosaria and has been doing so ever since. Jill called for Australian women, particularly Nurses with lactation skills and nutritionists, to come help and Sue, Anne and Maree heard her.
The way their faces lit up and small laughs escaped them while watching the first film presented shown on Thursday evening, about the Tour De Timor and the Chain Reaction Project, show these ladies have fallen in love with these children.
Anne first introduced Pittwater's own Tamara Sloper-Harding, chairlady of the Pittwater Friends of Soibada, who seems to get more articulate and eloquent each time she speaks of the experiences that led her to devoting so much time and energy to helping the people in the village of Soibada, Timor Leste. Her anecdote of being on a helicopter that crash landed in a remote New Guinea jungle and being able, thanks to army fatigue pockets, make coffee, do some crocheting and even purchase items from the people who appeared out of the greenery at dusk, or still 'shop, have coffee and crochet!' in the middle of nowhere' had the audience roaring in laughter. Tamara then spoke of how highly regarded HIAM is and the PFOS plans to utilise them as part of their ongoing projects.
Our initial focus will be on sanitation and education. We will start with the school toilets and education programs for the community with the assistance of Timorese run NGOs. This is where we will be making use of HIAM Health. It is far more appropriate for us to fund Rosaria and her team to go up to our village than to start a similar process from scratch. We will also commence sending volunteer medical and teaching personnel from Pittwater over to the village to mentor the locals. Eventually we will build a community centre and market place.
The film we watched was about the Tour De Timor, a cycle endurance event that was part of the 10 year independence celebrations in 2009. Jill Hillary heard there was not enough accommodation for all the cyclists arriving from overseas and she and Rosaria offered rooms and began what is now known as The Chain Reaction Project. Using the race as a platform, and harnessing the power of social networking and media, TCRP successfully raised awareness for Timor and more than $50k for HIAM-Health.

Before a tea break we were treated to the fantastic a Capella voices of Sydney Harmony, perhaps induced to perform as Sue's husband Rob is a member. They were fantastic, making their combined voices an orchestra that gave brilliant renditions of Under the Boardwalk, In My Room, Crazy Little Thing Called Love and other songs. They closed with the melody they sing after every rehearsal, an Irish Blessing, 'May The Road Rise to meet you', dedicating it to all who do their utmost for the people of Timor-Leste and especially Sue, Anne and Maree.
After a cup of tea and yummy delights made by a 91 year old supporter of the girls, parts from a more sobering film Timor Leste We Forget was seen. Commissioned by the Mary MacKillop East Timor Mission and the Sisters of St Joseph as a teaching tool to promote a wider appreciation of the intricate historical links between Australia and Timor-Leste, it was launched on December 17th, 2011 as that was the 70th anniversary of the landing of the Australian diggers of Sparrow Force in Timor-Leste in 1943.
Timor was regarded as a potential launch-pad island for the Japanese during WWII and so Australian Troops were sent to occupy the island. Unfortunately their presence then attracted Japanese invasion and led to the slaughter of at least 40 000 Timorese peoples when they left as a reprisal for helping the Aussies. The Diggers in the film expressed shame and were clearly distressed that the people who had looked after them while they were in Timor had been let down by their Leaders in Government. Their disgust at subsequent Governments not coming to the aid of these people when they were invaded by Indonesia was clear, their anger justified and some were obviously close to tears. The scenes shown of murdered little ones and Creados of then and the later scenes that showed some of the atrocities the people of Timor went through under Indonesia brought tears and outrage from the audience too.
The evening was fittingly closed by the beautiful and strong voice of Sonia Bennett singing of Katoomba and Australia's 'Poet Lorikeet' Denis Kevans 'Never Forget You'. This poem refers to the Australian Army leaflet dropped over Timor during World War Two and the betrayal of the the Timorese people by successive Australian Governments. Sonia was accompanied by Wayne Richmond of Loosely Woven and owner of Humph Hall who had generously loaned his premises for the Fundraiser.
"May the road rise to meet you
May the wind be always at your back
May the sun shine warm upon your face
May the rain fall soft upon your fields
And until we meet again
And until we meet again
May God hold you in the palm of his hand."
Further:
HIAM Health: http://hiamhealth.org/
Tour De Timor 2012 Registration at: http://www.tourdetimor.com/race-info/2012-registration/
Pittwater Friends of Soibada: http://www.pittwaterfriendsofsoibada.org/index.html/
Humph Hall (fantastic musicians playing soon): http://humphhall.org/
Sydney Harmony: www.sydneyharmony.com.au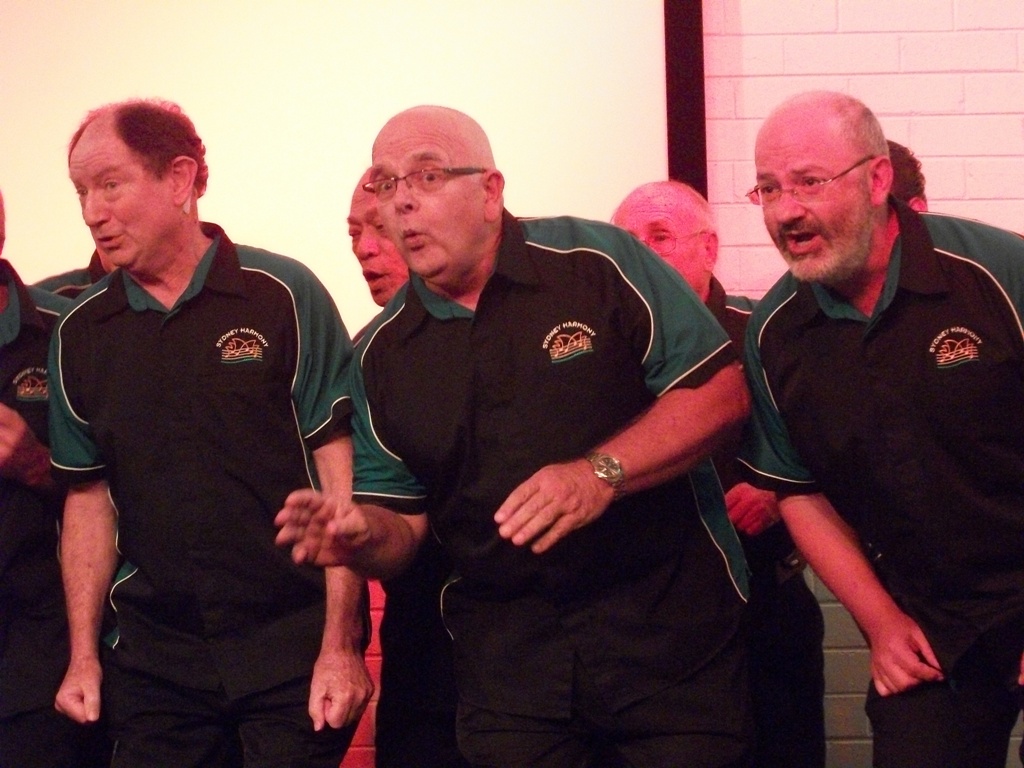 Sydney Harmony