May 27 - June 2, 2012: Issue 60
George Urquhart (Scotty) Allan
2 February 1900 - 12 August 1996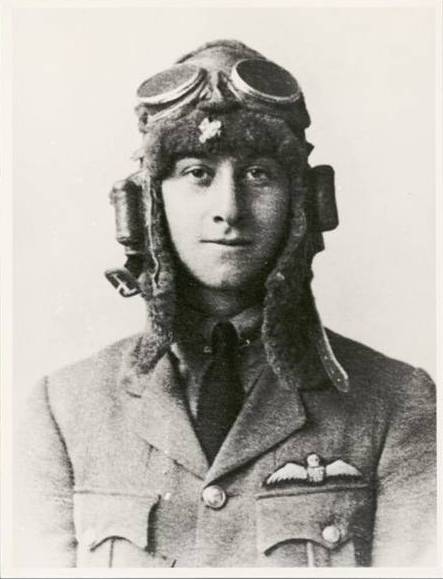 George Urquhart Allan was born in Bellshill (Forgandenny), Scotland. At 17 years of age, in 1917, he joined the Royal Flying Corps and served on the Western Front. He served in the 71 Sqn RFC and 11, 47, 58 Sqns RAF. Allan continued his service with the RAF after the war and served in the Middle East. In 1929 he was recruited by Charles Ulm as a pilot, emigrated to Australia to take up a position with Charles Kingsford Smith and Ulm's Australian National Airways. In this company he was highly regarded for his skills flying their Avro X aircraft.
Right: Portrait of Captain George 'Scotty' Allan in Royal Air Force uniform, 1918, nla.pic-vn4925609, Courtesy of the National Library of Australia, 18 years if age!
He flew on the first airmail flights from Sydney to Brisbane with Charles Kingsford-Smith and from Sydney to Melbourne with Pat Hall. Following the collapse of ANA in 1931, Allan acted as co-pilot to both Kingsford Smith and Ulm on various long distance flights. In 1933 he flew with Ulm and P.G. Taylor on the record-breaking flight from England to Australia in Faith in Australia. In October 1934 he joined QANTAS on the DH86 service between Brisbane and Singapore, this time flying DH86 aircraft. During this period he also worked as a flight instructor and trained a keen aviator, Dr Lee Brown, a surgeon in partnership with famous surgeon and urologist Robert Gordon Craig, and daughter of this gent and Dr Lee's wife, Ailsa Craig, also a keen aviator, and artist. Dr Brown died in 1934 when he crashed his self-piloted biplane on a Botany Bay beach. He was 39.
In 1935 Ailsa and George married at COONABARABRAN, living in Brisbane for two years due to his work commitments then moving home to Palm Beach, where the Craigs had a house on 'Pill Hill' as it was then dubbed.
Mrs. G. U. Allan, who is the wife of Captain Allan, the well known aviator on the Singapore route, has since her marriage been residing in Ascot, Brisbane, but has now decided to make her home in Sydney. She intends to refurnish and redecorate the house at Palm Beach, which was the seaside home of her parents, the late Dr. Gordon Craig and Mrs. Craig. A Few Lines to Say. (1937, April 17). The Courier-Mail(Brisbane, Qld. : 1933 - 1954), p. 27. Retrieved from http://nla.gov.au/nla.news-article36887917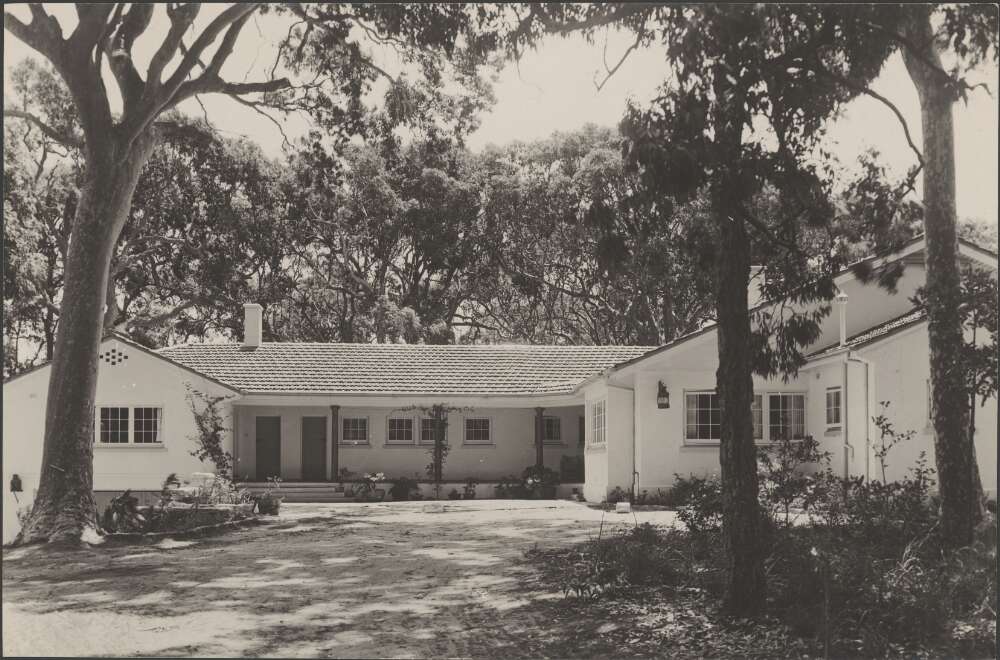 Ailsa's house at Palm Beach, New South Wales, approximately 1935 photo by Harold Cazneaux- courtesy National Library of Australia Image No.: http://nla.gov.au/nla.obj-140228205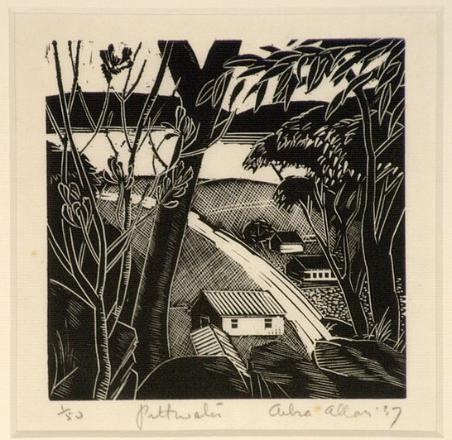 Right: Ailsa Allan's lithograph 'Pittwater' from 1937, Courtesy State Library of NSW and Below this: George 'Scotty' Allan, in centre, watching Charles Kingsford-Smith, on left, shaking hands with James 'Jimmy' Mollison, ca. 1930, nla.pic-vn4925810
In 1938 Captain Allan went to England to study flying-boat techniques and returned to Sydney in the flying boat Coolangatta. His home base during these years was Palm Beach:
Mrs J P Chambers, of Melbourne who is spending a holiday at Palm Beach with her sister, Mrs G U Allan, gave a luncheon at Prince's yesterday. Her guests were Captain and Mrs Allan, Mrs James Dickson and Mr John McDonnell of Brisbane Mr McDonnell is also a guest of Mrs Allan at Palm Beach. SOCIAL AND PERSONAL. —. (1940, January 25). The Sydney Morning Herald (NSW : 1842 - 1954), p. 20. Retrieved from http://nla.gov.au/nla.news-article17669557
In 1941 Allan was a member of the Qantas crew which brought flying boats from San Diego to Sydney for the RAAF.
During 1941 Allan was seconded to the RAAF in the 23 Sqn as Wing-Commander and was C.O. of various stations including Rathmines on Lake Macquarie, where he trained Catalina crews, and No. 1 Flying Boat Repair Depot at Lake Boga.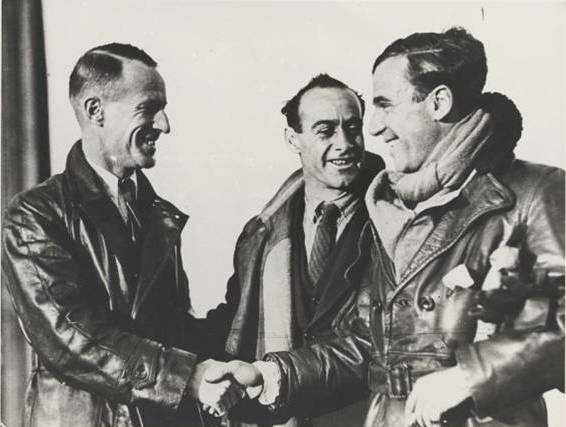 In 1943 Ailsa died in a traffic accident as she returned home from volunteer coast-watching for Japanese warships at Palm Beach. Some sources state she was struck by a bicycle. She died at Palm Beach and was interred at Manly.
ALLAN.-On February 9, at Palm Beach(as the result of an accident), Ailsa, beloved wife of Wing-Commander G. U. Allan, A.F.C., and sister of Mrs. J. F. Chambers, Toorak. Privately cremated. Family Notices. (1943, February 12). The Sydney Morning Herald (NSW : 1842 - 1954), p. 10. Retrieved from http://nla.gov.au/nla.news-article17836678
In 1944, whilst serving in England 'Scotty' met and married Barbara Millbourne;
AIRMAN'S WIFE FROM ENGLAND: Mrs. G. U. Allan, wife of the famous aviator, Captain "Scotty" Allan, arrived yesterday from England by Qantas flying-boat. As the guest of Mrs. Gordon Craig, of Palm Beach, Mrs. Allan expects to stay indefinitely in Australia.
Captain Allan, who is with Qantas in Los Angeles, California, is expected to return to Sydney in two on three months' time. Before their marriage in England last year, Mrs. Allan was Miss Barbara Millbourn, daughter of Mr. and Mrs. Robert Millbourn, of Purley, England. AIRMAN'S WIFE FROM ENGLAND. (1947, July 1). The Sydney Morning Herald (NSW : 1842 - 1954), p. 13. Retrieved from http://nla.gov.au/nla.news-article18032894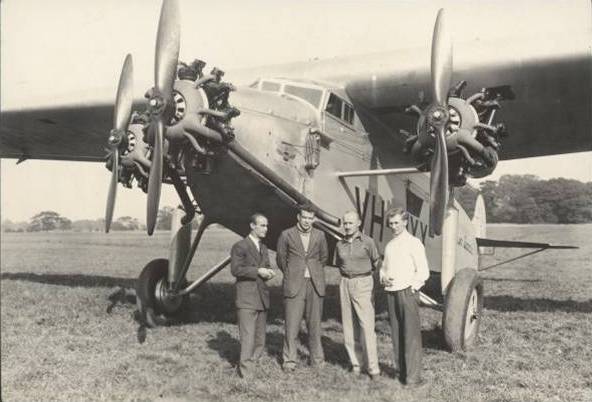 Above: Scotty Allan, Charles Ulm, P.G. Taylor and J.A.W. Edwards in front of Faith in Australia, Avro X monoplane VH-UXX at Heston Aerodrome, England, 25 July 1933, nla.pic-vn3930851, Courtesy National Library of Australia.
After the war Captain Allan rejoined Qantas as London Manager, then as Controller of Technical Developments, where he was chief adviser on aircraft types. In 1957 he was made a Commander of the British Empire for his services to aviation. He retired from Qantas in 1961 as Deputy Chief Executive and Deputy General Manager, but, clearly an active man, he went on after his retirement and held positions on many boards including Fiji Airways, Air Pacific, Polynesian Airlines and Malayan Airways.
Pete Smith of Newport Beach contributes: In 1983 I was a young Army Lieutenant working out of Victoria Barracks (Paddington) and was attached to the Schofields Air Show. At that same time, I was flying around Sydney helping to demonstrate a McDonnell Douglas 500E helicopter as well as promote the Show. The pilot in command of the MD500 was astronaut and commander of Apollo 12, Charles (Pete) Conrad.
Conrad and I landed on what I understand now to be Barrenjoey Beach and walked across the park to pick up Scotty and Mrs Allan and fly them as two of the guests of honour at the show. Scotty was the subject of an Archibald entry by Sir William Dobell and the portrait is described by art critics as one of Dobell's greatest works.
He was an Ace, a pioneer in Australia's aviation and huge contributor to the development of our RAAF and domestic air services.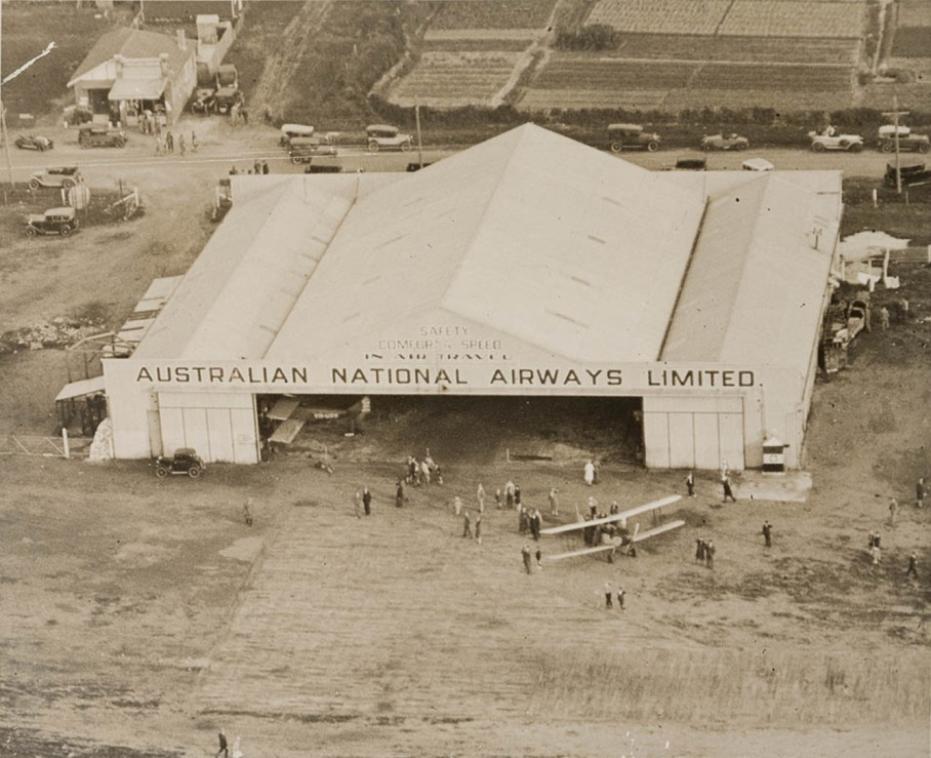 Aerodrome Mascot - A.N.A. hanger completed 1929, Image No. a1269006, Courtesy the State Library of NSW
George Urquhart (Scotty) Allan threads collected by A J Guesdon with help from Pete Smith, 2012-2013.