February 7 - 13, 2016: Issue 250
EAST COAST MASTERS CARNIVAL COLLAROY BEACH

SUNDAY 31st JANUARY 2016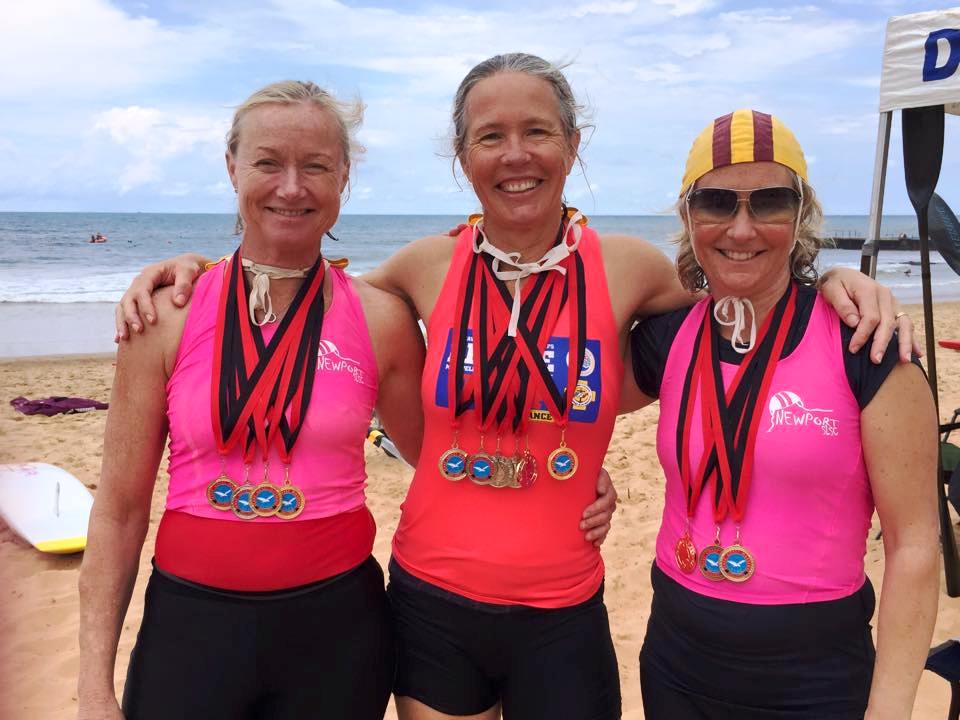 Board Relay and Taplin Gold 150 years: Newport SLSC Masters Christine Hopton, Jan Proudfoot and Lise Layard
EAST COAST MASTERS CARNIVAL - COLLAROY BEACH
SUNDAY 31st JANUARY 2016
This is the 24th consecutive Year Collaroy SLSC have hosted the premier Carnival for Masters. Surf life saving club members travel from north and south New South Wales and clubs across Sydney to compete against their peers. Many of the names listed in these results will appear again and again at upcoming Branch, State and National carnivals.
The East Coast Masters is also a great chance for mates to catch up and for Masters Teams from the many clubs who participate to hone their skills prior to forthcoming carnival events.
A beautiful day at Collaroy Beach with some great competition made this year's East Coast Masters a success again this year. Results, courtesy of Collaroy SLSC, run below.
Results
AGE 30-34:
MALE:
Swim: Michael Papadopoulos (Coogee) Andy Kent (Freshwater) Ryan Jenkin (Bondi) Andrew Curby (Coogee) Darren Tannock (Sth Maroubra)
30-39yrs Ironperson: Paul Buttel (Wanda) David Williams (Bondi) Josep Font (Bondi)
Board: Ryan Jenkin (Bondi) Andrew Curby (Coogee) Darren Tannock (Sth Maroubra)
30-40 Board Rescue: Ryan Jenkin (Bondi) ? (Coogee) Nth Entrance (Black/Solman) ? (Bondi)
Ski: Dave Solman (Nth Entrance)
30-39 Double Ski: Nth Bondi (O'Regan/Domokos) Nth Entrance (Solman/Williams) Queenscliff (Carey/Ryan)
30-39 Tube: Ryan Jenkin (Bondi) Michael Papadopoulos (Coogee) Andrew Curby (Coogee)
Beach Sprint: Dave Callan (Queenscliff) Danny Brandwood (Dee Why) John Harwood (Queenscliff) Kyle William (Ocean Bch)
Flags: Dave Callan (Queenscliff) Jon Harwood (Queenscliff)

FEMALE:
Swim: Jay Harwood (Queenscliff)
30-39yrs Ironperson: Petra Sohier (Nth Entrance) Amy Teale (Coogee) Fiona Tschaut (Bondi)
Board: Amy Teale (Coogee) Sofia Molander (Bondi)
30-39 Tube: Petra Sohier (Nth Entrance) Fiona Tschaut (Bondi) Melanie Thomas (Nth Bondi)
Ski: Amy Teale (Coogee)
30-39 Double Ski: Narrabeen (McFadden/Murphy)
Beach Sprint: Amy Teal (Coogee) Jenny Strathairn (Queenscliff) Jay Harwood (Queenscliff)
Flags: Jenny Strathairn (Queenscliff) Jay Harwood (Queenscliff)

AGE 35-39:
MALE:
Swim: Paul Buttel (Wanda) Luiz Leal (Dee Why) Steve Richards (Dee Why) Laurence McCoy (Newport)
Board: David Williams (Bondi) Laurence McCoy (Newport) Paul Buttel (Wanda) Josep Font (Bondi) Steve Richards (Dee Why) Luiz Leal (Dee Why)
Ski: Paul Buttel (Wanda) Stewart O'Regan (Nth Bondi) Josep Font (Bondi) Matt Carey (Queenscliff)
Beach Sprint: Stephen Hatch (Newport) Reuben Ruziicka (Newport) Shaun Sursok (Queenscliff) Luiz Leal (Dee Why)
Flags: Shaun Sursok (Queenscliff)

FEMALE:
Swim: Petra Sohier (Nth Entrance) Fiona Tschaut (Bondi) Dana Richards (Shellharbour) Pippa Batchelor (Nth Bondi) Melanie Thomas (Nth Bondi)
Board: Jen Spencer (Warriewood) Dana Richards (Shellharbour) Pippa Batchelor (Nth Bondi) Melanie Thomas (Nth Bondi)
Ski: Petra Sohier (Nth Entrance) Jodie Murphy (Narrabeen) Dan Richards (Shellharbour)
Beach Sprint: Fiona Tschaut (Bondi) Pippa Batchelor (Nth Bondi) Melanie Thomas (Nth Bondi)
Flags: Melanie Thomas (Nth Bondi)

AGE 40-44:
MALE:
Swim: Matthew Gibbs (Manly) David Lowlett (Sth Maroubra) Jake Clifton (Sth Maroubra) Ben Nguyen (Elouera)
40-49yrs Ironperson: Steve Coulter (Manly) David Lowlett (Sth Maroubra) John Clothier (Nth Bondi) Grant Baldock (Bondi) Peter Ingle (Manly) Steve Allen (Nth Entrance)
Board: Dave Lowlett (Sth Maroubra) John Thomson (Manly) Peter Wells (Narrabeen) Jason Taylor (Bondi) Ben Nguyen (Elouera) Jake Clifton (Sth Maroubra)
40-49yrs Board Rescue: Bondi (Baldock/Taylor) Nth Entrance (Allen/Laing) Manly (Ingle/Coulter) Collaroy Mona Vale Nth Entrance
Ski: Damien Daley (Queenscliff) Peter Wells (Narrabeen) Chris Maker (Queenscliff) Greg Byrnes (Bondi Will Hardman (Bondi)
40-49yrs Double Ski: Bondi (Byrnes/Hardman) Nth Entrance (Allen/Laing) Narrabeen (Whittaker/Wells) Nth Entrance Queenscliff A Queenscliff B
Beach Sprint: Jordi Skelton (Sth Curl Curl) James White (Ocean Bch) Andrew Newrick (Sth Maroubra) Ben Hargy (Warriewood) Tim Tardent (Cronulla) William Wallin (Collaroy)
Flags: Tim Tardent (Cronulla) Jordi Skelton (Sth Curl Curl) Dave Haggart (Cronulla) Ben Hargy (Warriewood) Andrew Newrick (Sth Maroubra) William Wallace (Collaroy)

FEMALE:
Swim: Vanessa Trinder (Shellharbour) Vanessa Wallace (Collaroy)
40-49yrs Ironperson: Kris Monnock (Mona Vale) Mel Brock (Warriewood) Lise Layard (Newport) Bec Crawford (Manly) Jan Proudfoot (Newport)
Board: Kris Monnock (Mona Vale) Sophie Stokes (Mona Vale) Melanie Brock (Warriewood) Rachel Garcia (Coogee)
40-49yrs Tube: Collaroy (Vanessa/Wallace) Manly (Andrean/Duffy) Manly (Hilary/Ingle)
40-49yrs Board Rescue: Mona Vale (Monnock/Critoph) Newport (Proudfoot/Layard) Manly (McLeod/Duffy) Manly (Ingles/Watts)
Ski: Mel Brock (Warriewood) Kris Monnock (Mona Vale) Bec Crawford (Manly) Sophie Stokes (Mona Vale)
Beach Sprint: Kelly McFadden (Queenscliff) Kris Monnock (Mona Vale) Allison Tucker (Ocean Bch) Kylie Stewart (Queenscliff) Helena Grover (Queenscliff) Geraldine Clarke (Manly)
Flags: Helena Grono (Queenscliff) Kylie Stewart (Queenscliff) Alison Tucker (Ocean Bch) Kelly McFadden (Queenscliff) Vanessa Wallace (Collaroy) Geraldine Clarke (Manly)

AGE 45-49:
MALE:
Swim: Alex Pavie (Nth Bondi) Steve Shimeld (Warriewood) Peter Ingle (Manly)
Board: Steve Coulter (Manly) Peter Ingle (Manly) Claude Busse (Manly) Hugh Monnock (Mona Vale) Nick Edmonds (Manly) Simon Phin (Freshwater)
Ski: Steve Allen (Nth Entrance) Brad Cook (Nth Entrance) Chris Morgan (Dee Why) Gary Whittaker (Narrabeen) Istavan Domokos (Nth Bondi) Steve Coulter (Manly)
Beach Sprint: Michael Gedz (Queenscliff) Brian Dolly (Queenscliff) Scott Bathie (Collaroy) Shane Oaks (Ocean Bch) Glen Bauder (Warriewood) Greg Gardner (Queenscliff)
Flags: Michael Gedz (Queenscliff) Brian Dolly (Queenscliff) Andrew Wem (Sth Maroubra) Greg Gardner (Queenscliff) Glen Bauder (Warriewood)
FEMALE:
Swim: Kathy Parramore (Shellharbour) Jan Proudfoot (Newport) Andrean Duffy (Manly)
Board: Lise Layard (Newport) Jan Proudfoot (Newport) Kathy Parramore (Shellharbour) Jane McLeod (Manly) Christine Armour (Manly) Andrean Duffy (Manly)
Ski: Jill Brooks (Narrabeen) Lise Layard (Newport) Christine Armour (Manly) Kirsten McFadden (Narrabeen)
Beach Sprint: Sharon Dean (Coogee) Helen Deas (Coogee) Richelle Ingram (Ocean Bch) Annabel Nelson (Queenscliff) Renny Finch (Clovelly) Melissa Way (Queenscliff)
Flags: Richelle Ingram (Ocean Bch) Sharon Deans (Coogee) Helen Deas (Coogee)

AGE 50-54:
MALE:
Swim: Tony Vieceli (Manly) Dennis Ricketts (Soldiers Bch) Daniel Elkins (Nth Bondi) Thierry Forest (Nth Bondi)
50-59yrs Ironperson: Tony Vieceli (Manly) Nick Carroll (Newport) Greg Clifford (Nth Bondi) Dennis Ricketts (Soldiers Bch) Andy Bargenda (Coogee) Gary Emerton (Bondi)
Board: Craig Hood (Manly) Andy Bargenda (Coogee) David Spencer (Mona Vale) Dennis Ricketts (Soldiers Bch) Jeremy Lai (Queenscliff) Mark Ansiewicz (Newport)
Ski: Tony Vieceli (Manly) Peter Laing (Nth Entrance) Dave Slennett (Queenscliff) Grant Henderson (Queenscliff) Jeremy Lai (Queenscliff) Dennis Rickett (Soldiers Bch)
50-59 Double Ski: Queenscliff (Slennett/Henderson) Queenscliff (Clare-Nazer/Lai) Dee Why (Hadfield/Crittle) Bondi Narrabeen Nth Entrance
50-59yrs Board Rescue: Manly (Bell Vieceli) Queenscliff (Bird/Harris) Warriewood Nth Steyne (Foote/Platt) Nth Steyne (Birch/Neighbour)
50-59yrs Tube: Phil Bird (Queenscliff) Ross Birch (Nth Steyne)
Beach Sprint: Brett Reid (The Lakes) Darren Peters (Ocean Bch) Steve Nelson (Queenscliff) Steve Hoy (Queenscliff) David Spink (Dee Why) Andy Gordon (Kurrawa)
Flags: Andy Gordon (Kurrawa) Brett Reid (The Lakes) Steve Nelson (Queenscliff) Lasz Sabo (Sth Maroubra)
FEMALE:
Swim: April O'Keefe (Nth Bondi) Carolyn Martin (Coogee) Kerry Perretta (Shellharbour) Jane Cichero (Nth Bondi) Libby Van Der Laan (Warriewood) Louise Lambeth (Ocean Bch)
50-59 Ironperson: Fiona Rae (Palm Bch) Kerry Perretta (Shellharbour) Jo Helson (Shellharbour)
Board: Fiona Rae (Palm Bch) Kerry Perretta (Shellharbour) Wendy Pepper (Clovelly) Jo Emery (Clovelly) Caroline Smith (Clovelly)
50-59yrs Board Rescue: Clovelly (Pepper/Emery) Nth Bondi (O'Keefe/Cichero)
50-59 Tube: Caroline Martin (Coogee) Lisa Critoph (Mona Vale) April O'Keefe (Nth Bondi) Caroline Smith (Clovelly) Louise Lambert (Ocean Bch)
Ski: Fiona Rae (Palm Bch) Kerry Perretta (Shellharbour)
Beach Sprint: Phillipa Wight (Collaroy) Suzanne Brown (Queenscliff) Wendy Pepper (Clovelly) Tina Martin (Queenscliff) Louise Lambeth (Ocean Bch)
Flags: Wendy Pepper (Clovelly) Suzanne Brown (Queenscliff) Phillipa Wight (Collaroy) Jo Emery (Clovelly) Caroline Smith (Clovelly)

AGE 55-59:
MALE:
Swim: Nick Carroll (Newport) Bruce Stevenson (Mona Vale) Phil Bird (Queenscliff) Barry Muncke (Collaroy)
Board: Greg Clifford (Nth Bondi) Nick Carroll (Newport) Phil Bird (Queenscliff) Peter Sharkie (Dee Why) Gary Emerton (Bondi) Martin Quinn (Dee Why)
Ski: Greg Clifford (Nth Bondi) Grant Veckranges (Bondi) Geoff Crittle (Dee Why) Mark Clare-Nazer (Queenscliff) Nick Carroll (Newport) Peter Grimes (Narrabeen)
Beach Sprint: David Shearsby (Queenscliff) Phil Tubby (Ocean Bch) Ross Collins (Queenscliff) Greg McHugh (Newport)
Flags: Phil Tubby (Ocean Bch) Garry Emerton (Bondi) Greg McHugh (Newport)

FEMALE:
Swim: Jo Helson (Shellharbour) Lisa Critoph (Mona Vale) Deb Foote (Nth Steyne)
Board: Chris Hopton (Newport) Jo Helson (Shellharbour) Kathy Watts (Manly) Deb Foote (Nth Steyne) Jane Cichero (Nth Bondi)
Ski: Chris Hopton (Newport) Jo Helson (Shellharbour)
Beach Sprint: Linda Burrell (Queenscliff) Linda McDowell (Collaroy) Sue McGinley (Queenscliff) Catherine Mottee (Clovelly) Sukie Hammond (Queenscliff)
Flags: Catherine Mottee (Clovelly)

AGE 60+yrs:
MALE:
Swim: Jeff Banks (Fairy Meadow) Michael Barnes (Coogee) Noel Gracie (Fairy Meadow) Neil Chaffer (Queenscliff) Greg Broome (Collaroy)
Ironperson: Jeff Banks (Fairy Meadow) Chris McGuicken (Avalon) Jim Platt (Nth Steyne) Noel Gracie (Fairy Meadow)
Board: Chris McGuicken (Avalon) Jeff Banks (Fairy Meadow) Gordon Lang (Palm Bch) Bob Richardson (Avalon) Tim Platt (Nth Steyne)
Board Rescue: Fairy Meadow (Banks/Gracie) Avalon (McGuicken/Richardson)
60-64yrs Ski: Bob Hodge (Fairy Meadow) Steve Bennett (Freshwater) Steve Davis (Freshwater) Tim Platt (Nth Steyne) Chris McGuicken (Avalon) Steve Atkins (Nth Curl Curl)
65-69yrs Ski: Bob Middleton (Nth Entrance) Gary Smith (Nth Entrance) Cliff Banks (Fairy Meadow) Alan Channells (Avalon) Bob Richardson (Avalon) Ken Lupton (Nth Entrance)
70+yrs Ski: Col Laing (Nth Entrance)
Double Ski: Fairy Meadow (Hedge/Banks) Nth Entrance (Middleton/Smith) Freshwater (Bennett/Davis) Avalon (Richardson/Channells)
60+yrs Tube: Michael Barnes (Coogee) Neil Chaffer (Queenscliff)
Beach Sprint: David Smith (Sth Maroubra) Phil Dutton (Sth Maroubra) Tim Platt (Nth Steyne)
65-70yrs Beach Sprint: Ted Smithies (Newport) Bob Wilson (Queenscliff) Mike Tomlin (Kurrawa) John Rooney (Sth Maroubra)
70+yrs Beach Sprint: John McNamee (Ocean Bch) Max Murphy (Sth Maroubra (Sth Maroubra)
60-64yrs Flags: Martin Lynch (Newport) David Smith (Sth Maroubra) Phil Dutton (Sth Maroubra)
65-69yrs Flags: Bob Wilson (Queenscliff) Mike Tomblin (Kurrawa) Ted Smithies (Newport) John Rooney (Sth Maroubra)
70+yrs Flags: John McNamee (Clovelly) Max Murphy (Sth Maroubra)

FEMALE:
60-64yrs Beach Sprint: Helen Porter (Queenscliff) Kerry Armstrong (Collaroy)
65-69yrs Beach Sprint: Louise Smalding (Collaroy)
60+yrs Tube: Deb Foote (Nth Steyne)
Flags: Helen Porter (Queenscliff) Kerry Armstrong (Collaroy)
Beach Sprint: David

110yrs
MALE:
Surf Teams: Coogee (11) Bondi (15) Dee Why (21) Nth Bondi (31)
Ski Relay: Bondi (Baldock/Jenkin/Fontaine) Coogee
Board Relay: Bondi A Sth Maroubra Coogee A Coogee B Bondi B Nth Bondi
Taplin: Coogee (Bargenda/Curby/Papadopoulos) Bondi A (Taylor/Hardman/Tschult) Bondi B (Font/Jenkin/Byrnes) Freshwater Sth Maroubra Queenscliff
FEMALE:
Ski Relay: Manly (McWhirter/Armour/Crawford)
Board Relay: Nth Bondi
Taplin: Shellharbour (Trinder/Parramore/Richards)

130yrs
MALE:
Surf Teams: Manly A (6) Bondi (17) Mona Vale (31) Nth Entrance (34) Queenscliff (40) Nth Bondi (43)
Ski Relay: Queenscliff (Maker/Slennett/Daley) Nth Bondi (Regan/Clifford/Domokos) Bondi (Byrnes/Veckranges/Hardman) Manly Newport Manly B
Board Relay: Manly A (Edmonds/Ingle/Gibbs) Newport (Ansiewicz/Carroll/McCoy) Dee Why (Morgan/Hadfield/Richards) Bondi Narrabeen Collaroy
Taplin: Manly (Busse/Gibbs/Coulter) Manly B (Thomson/Joyce/Ellison) Freshwater (Davis/Phin/Brock) Newport Queenscliff Manly A

FEMALE:
Surf Teams: Shellharbour (14) Warriewood (24) Mona Vale (25) Manly A (30) Nth Bondi (32) Manly B (46)
Ski Relay: Narrabeen (Brooks/McFadden/Murphy) Shellharbour (Richards/Perretta/Helson)
Board Relay: Shellharbour (Richards/Perretta/Helson) Manly (McLeod/Crawford/Vangrout)
Taplin: Mona Vale (Monnock/Stokes/Critoph) Manly A (Duffy/Watts/Crawford) Warriewood Manly B

150yrs
MALE:
Surf Teams: Nth Bondi (6) Nth Curl Curl (15)
Ski Relay: Narrabeen (Grimes/Whittaker/Townsend) Nth Entrance (Cook/Middleton/Byatt) Dee Why (Hadfield/Crittle/Morgan) Queenscliff (Henderson/Clare-Nazer/Lai) Nth Entrance Avalon
Board Relay: Manly A (Bell/Busse/Hood) Nth Entrance (Byatt/Waldron/Allen) Nth Bondi (Clothier/Clifford/Christopher) Manly B Freshwater Palm Bch
Taplin: Manly A (Vieceli/Bell/Edwards) Bondi (Veckranges/Emmerton/Baldock) Nth Bondi (Christopher/Clothier/Clifford) Nth Entrance A Dee Why Nth Entrance B
140yrs Beach Relay: Queenscliff
FEMALE:
Board Relay: Newport (Proudfoot/Hopton/Layard) Clovelly (Smith/Emery/Pepper)
Taplin: Newport (Proudfoot/Hopton/Layard)

170yrs
MALE:
Surf Teams: Fairy Meadow (8) Warriewood (13)
Ski Relay: Nth Entrance (Allen/Laing/Laing) Freshwater (Bennett/Davis/Crow) Nth Curl Curl (Jones/Merton/Atkins) Fairy Meadow Dee Why
Board Relay: Dee Why (Sharkie/Wiesse/Quinn) Warriewood (Dyer/Randall/Hal) Avalon (Channells/McGuicken/Richardson) Nth Curl Curl Nth Steyne
Taplin: Nth Entrance (Allen/Laing/Laing) Queenscliff (Rice/Bird/Chaffer) Dee Why (Sharkie/Quinn/Weisse) Fairy Meadow Avalon Nth Steyne
Beach Relay: Ocean Bch Newport Warriewood Collaroy Dee Why
Over 200+ Beach Relay: Queenscliff A Queenscliff B Sth Maroubra Manly Sth Maroubra B
FEMALE:
Beach Relay: Queenscliff Coogee Queenscliff Manly Nth Bondi
Over 200+ Beach Relay: Clovelly Queenscliff Collaroy

MARCH PAST: Queenscliff (1) Collaroy Bears (3) Freshwater (6) Manly (7) Warriewood (14)
JUNIOR MARCH PAST: Collaroy (15)

LONGBOARD RIDING:
Open Male: Rob Milliken (Warriewood) Peter McFarland (Warriewood) Craig Bathie (Collaroy) Michael Bullivant (Collaroy)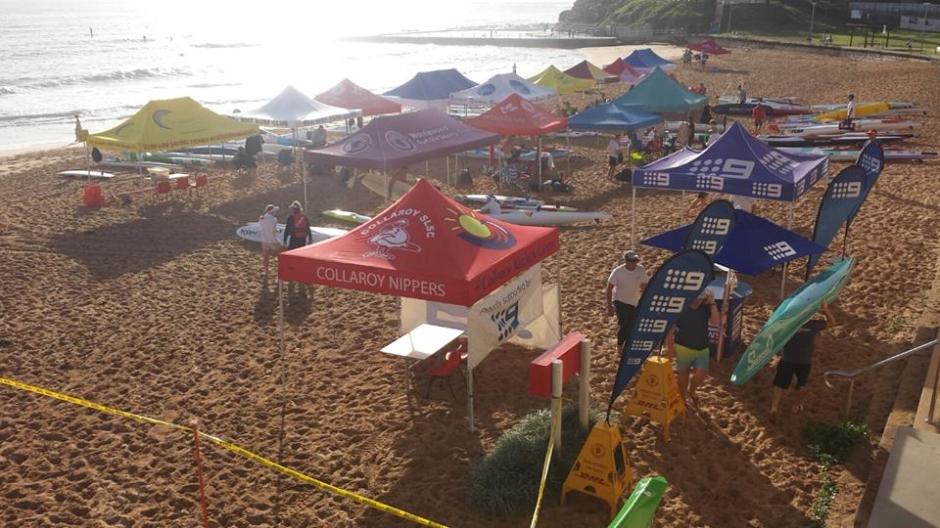 Just after dawn at Collaroy Beach - January 31st, 2016