October 6 - 12, 2013: Issue 131
Cranzgot's Pizza café
When it comes to gourmet pizzas it's hard to do better then Cranzgot's pizza café at North Avalon. Eight years ago John Faithfull bought the establishment and has continued to serve up traditional and scrumptious versions of this ancient dish ever since. Now joined in the work by son Tali, these two locals know what we all like and something for children's palates as well as their mums and dads is always hot and fresh from here.
Our favourite is the Monty although we're also partial to the Bernard – pan friend prawns in garlic, a hint of heat, snowpeas and brie topped with fresh and sundried tomatoes in the case of the first recipe and garlic prawns, Spanish pinion, peppadew, avocado and shaved parmesan on the Bernard. Never much left if any.
There are also the old recipes, Margherita among them, but even these traditionals, acquire a bit of extra pizzazz when they come out of the Cranzgot's kitchen. An extensive list of chicken pizzas are also on offer for those who Salads are on offer – Greek and Garden, and even an Antipasto plate to nibble on while your order is cooking.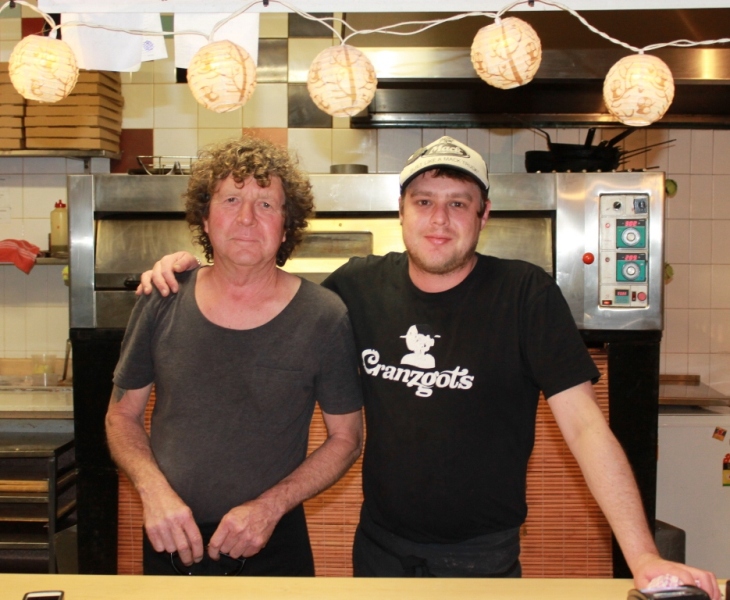 John and Tali Faithfull
B.Y.O & Take Away Open Wed-Sun
1/1 Careel Head Rd North Avalon NSW 2107
Ph: 9918 5550
Although pizza was made and served in many Italian homes in Australia when these ancient and noble people moved to the land down under, and we found records of it being spoken of in newspapers in Australia as far back as 1861, its popularity here, the commercialisation and opening of pizza shops did not occur until the 1970's and even during this decade still formed part of social studies' courses on Italian heritage. At the end of the 1970's an explosion in its popularity saw pizza parlours opening everywhere and Australian farmers pleased because they would be producing a new kind of cheese – mozzarella, to meet the demand. Like so much of our now well known culture, this too came with its originators to our shores and the various recipes and now 'gourmet' versions, introduced with the ever expanding range of ingredients, has become something that connoisseurs indulge in and children are happy about. Pizza ovens in backyards recently becoming popular is just one more proof of our love of this dish.
THE NEAPOLITAN PIZZA. - "The pizza!" I hear your readers exclaim ; "what do you mean by the pizza?" Well, the pizza is a favourite Neapolitan delicacy, which is only made and eaten between sunset and two and three in the morning, and it must be baked in five minutes in the oven; at the very moment when it is ordered it is pulled out of the oven and served up piping hot, otherwise it is not worth a grano. The pizza baker takes a ball of dough, knead sit, and spreads it out with the palm of his hand, giving it about half the thickness of a muffin, then pours over it mozzerella, which is nothing more than rich cream, beaten almost like a cream-cheese, then he adds grated cheese, herbs, and tomato, puts the cake - which, made after this fashion, is termed the pizza- just for five minutes into the oven, and serves it up as hot as possible. The cheese and the cream are, of course, all melted, and unite with the herbs and the tomato. The outside crust must, in the case of a perfect pizza, possess a certain orthodox crispness, Now, at this season of the year, there is no person, high or low, from the first Neapolitan duke to the lowest lazzaroni, with whom it is not a primary article of faith to eat pizza. The pizza cake is your only social leveller, for in the pizza shops rich and poor harmoniously congregate; they are the only places where the members of the Neapolitan aristocracy - far haughtier than those of any other part of Italy - may be seen masticating their favourite delicacy side by side with their own coachmen, and valo's, and barbers. - Morning Post Correspondent at Naples. THE COTTON SUPPLY. (1861, March 19). The Argus(Melbourne, Vic. : 1848 - 1957), p. 5. Retrieved from http://nla.gov.au/nla.news-article5698575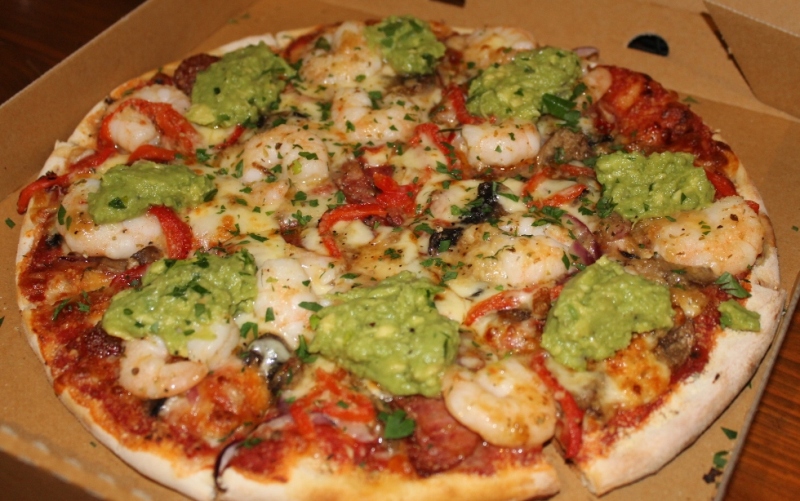 Although the word "pizza" was first documented in 997 AD in Gaeta, which claims that a tenant of certain property is to give the bishop of Gaeta 'duodecim pizze' ['twelve pizzas'] every Christmas Day, and another twelve every Easter Sunday", and successively in different parts of Central and South Italy, the history of the dish itself is not very clear or well documented. The precursor of pizza was probably the focaccia, a flat bread known to the Romans as "panis focacius", to which toppings were then added.
In 16th century Naples a Galette flatbread was referred to as a pizza. Known as the dish for poor people, it was sold in the street and was not considered a kitchen recipe for a long time. This was later replaced by oil, tomatoes (after Europeans came into contact with the Americas) or fish. In 1843, Alexandre Dumas, père described the diversity of pizza toppings. An often recounted story holds that in June 1889, to honour the Queen consort of Italy, Margherita of Savoy, the Neapolitan pizzamaker Raffaele Esposito created the "Pizza Margherita," a pizza garnished with tomatoes, mozzarella cheese, and basil, to represent the colors of the Italian flag.
Pizza is now a type of bread and tomato dish, often served with cheese. However, until the late nineteenth or early twentieth century, the dish was sweet, not savory, and earlier versions which were savory more resembled the flat breads now known as schiacciata. Pellegrino Artusi's classic early twentieth century cookbook, La Scienza in cucina e l'Arte di mangiar bene gives three recipes for pizza, all of which are sweet. However, by 1927, Ada Boni's collection of regional cooking includes a recipe using tomatoes and mozzarella.
The Margherita, topped with modest amounts of tomato sauce, mozzarella cheese and fresh basil, is widely attributed to baker Raffaele Esposito. Esposito worked at the pizzeria "Pizzeria di Pietro" which was established in 1880. In 1889, he baked three different pizzas for the visit of King Umberto I and Queen Margherita of Savoy. The Queen's favorite was a pizza evoking the colors of the Italian flag — green (basil leaves), white (mozzarella), and red (tomatoes). This combination was named Pizza Margherita in her honor. Although those were the most preferred, today there are many variations of pizzas.
There are many famous pizzerias in Naples where these traditional pizzas can be found like Da Michele, Port'Alba, Brandi, Di Matteo, Sorbillo, Trianon and Umberto (founded: 1916). Most of them are in the ancient historical centre of Naples. These pizzerias will go even further than the specified rules by, for example, only using "San Marzano" tomatoes grown on the slopes of Mount Vesuvius and only drizzling the olive oil and adding tomato topping in a clockwise direction.
The pizza bases in Naples are soft and pliable. In Rome they prefer a thin and crispy base. Another popular form of pizza in Italy is "pizza al taglio" which is pizza baked in rectangular trays with a wide variety of toppings and sold by weight.
History of pizza. (2013, September 19). In Wikipedia, The Free Encyclopedia. Retrieved from http://en.wikipedia.org/w/index.php?title=History_of_pizza&oldid=573579970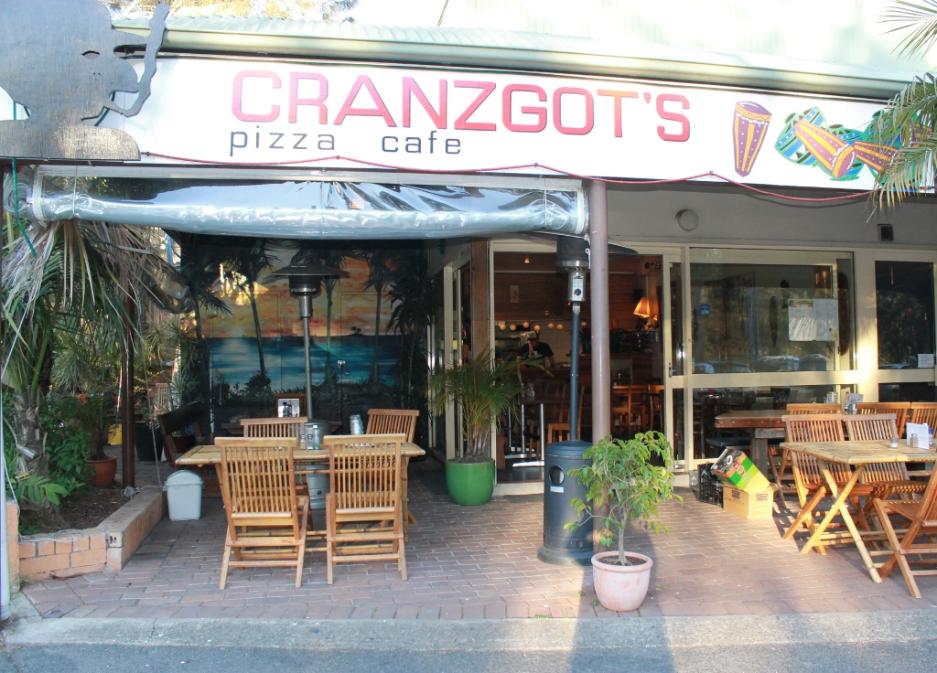 Copyright Pittwater Online News, 2013. All Rights Reserved.