November 27 - December 3, 2011: Issue 34
Rebecca Ladd CEO of CCNB, Julie Ward, and Janie Pocklington of CCNB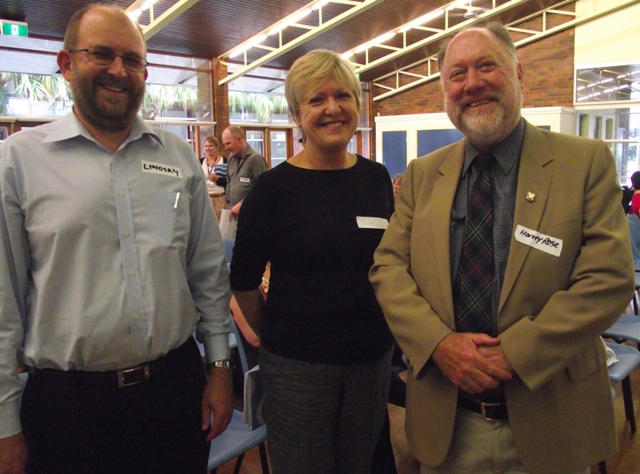 Lindsay (Community Services), Fiona Winter(CCNB Manager) and Mayor Rose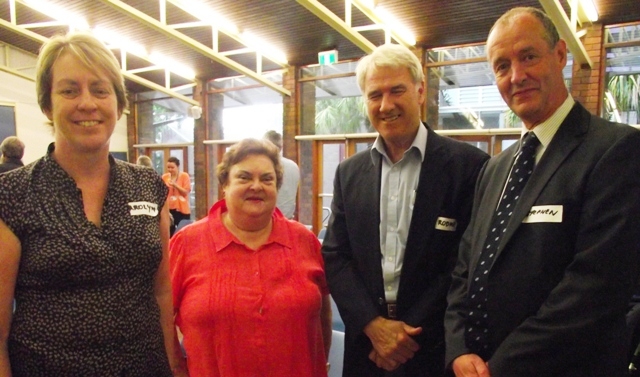 CarolynMckay (NBI and Director), Christine Tanks (ADHC), Rodney Lewis (Director) and Stephen Lowndes (Director)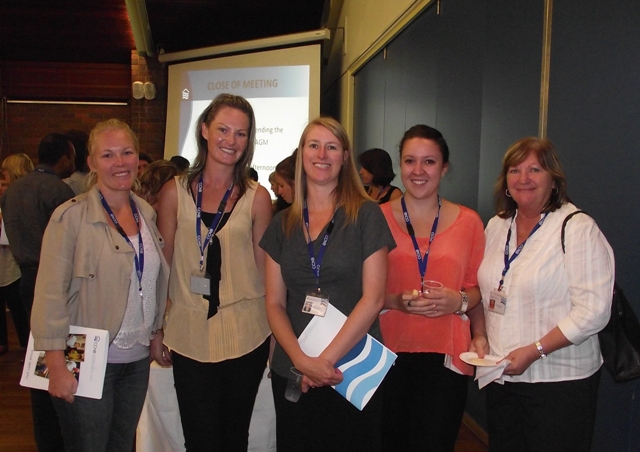 The great girls on the CCNB Staff
Community Care (Northern Beaches) AGM
November 22nd, 2011
Community Care (Northern Beaches) Limited has a vital role in our community. Their purpose is to connect older people, people with a disability and carers with opportunities that enrich their lives. Since first learning a little about CCNB we placed their 'Enable Me' information, with its aim of enhancing the autonomy, independence and quality of life of people requiring support to live at home in our community, on our Seniors page and left it there, including a link to their website.
This Program's initiatives encompass what matters to CCNB; being inclusive and respectful, ethical and professional, equitable and empowering and responsive and innovative. Some of the staff met briefly at Tuesday afternoon's Annual General Meeting clearly demonstrated this capacity for a commitment towards high standards in their approach and a kindness in their selves that must carry into their work.
CCNB will also be involved in a second phase of the project to commence in July 2011 with the target group extended to higher level Home and Community Care users with more complex needs who are eligible for Community Options case management and people under 65 years of age currently involved in the Older Parent Carer Project. As part of this Better Practice Project, the Manager, Planning and Development has also been seconded to ADHC (Aging, Disability and Home Care) on a part time basis to provide project management support.
CCNB runs more then the Enable Me program though. The scope of projects and areas identified encompasses both carers and those cared for. Dementia Advisory and Monitoring, Respite for Employed Carers, Podiatry, Culturally and Linguistically Diverse Communities, Individual Funding Packages for People With Disabilities are just a few.
Their positive contribution results directly from funding received from grants by both the Australian ($4,144,627) and State Governments (4.069,479); namely the NSW Department of Family and Community Services - Ageing, Disability and Home Care, the Australian Department of Health and Ageing, NSW Health and Northern Sydney Central Coast Area Health Service.
This is the first year CCNB has operated as a Company Limited by Guarantee under the Corporations Act 2001. In 2010/11 their operating surplus for the year was $178,636, an increase over the previous year's result of $102,165 (an increase of 74.9%).
Chairperson Bronwyn Wilkinson and Rebecca Ladd, Chief Executive Officer, spoke of the achievements of CCNB, and the positive role this organisation has in our community. Her presentation also commended those who have worked so hard to achieve this; "CCNB is also extremely fortunate to have a dedicated team of staff who have worked tirelessly to connect older people, people with a disability and carers with opportunities that enrich their lives."
Julie Ward, the Guest Speaker, for this year's AGM was then introduced and spoke eloquently about her experiences in coming to terms with her vibrant and intelligent husband's development of alzhiemers. Her description of a man who was once six feet tall and now stooped and frail, or her sense of seeing the constant care ward he now lives in as 'watching a world peopled by ghosts' as this disease progresses brought listeners a glimpse of the devastating impact this disease has on spouses and children. One of her points of note was an initial delay in correct diagnosis of what was occurring and even an experience of feeling, despite being married to this gentle man for over 40 years, that others did not take enough notice of her identifying changes in him. Julie's mantra, when her husband was correctly diagnosed, became "We will fight this together." Unfortunately, as this stoic lady explained, "Alzheimers steals our loved ones from us."
Julie Ward received a loud and long applause for her eloquent sharing of her experiences. Bronwyn Williamson thanked her and reiterated the importance of early diagnosis and how CCNB build their Services around understanding the role of Carers. The Meeting was then brought to a close and afternoon tea served so Directors, Staff and guests could discuss a clearly more positive future for carers and our communities Seniors.