September 23 - 29, 2012: Issue 77
Car & Bike Fest 2012
By Michael Mannington
For the second year the Car & Bike Fest at Pittwater Rugby Park was organised by the Australian Chrysler & Valiant Owners Association. The event on Sunday 16 September featured nearly 200 vehicles and motorbikes to help raise funds for the Heart Kids charity. Event organiser Barney Bedelis from Newport was pleased to see sunny spring weather after last year's event was washed out with rain and had to be rescheduled.
Australian Chrysler & Valiant Owners Club has been going for 30 years now has members of all ages 18 to 80. The club is also organising a display show at Darling Harbour later in the year. Based at Concord members travel all over Australia participating in car shows and raising money for charities. Today's show featured Australian and American 'muscle cars', so-called because of their V8 engines and hotted-up bodies. Other highlights included Japanese performance cars, hot rods, motor bikes, commercial, classic and vintage cars.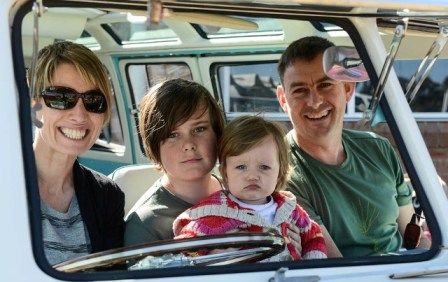 Sharon and David along with children Finn and Mia entered their 21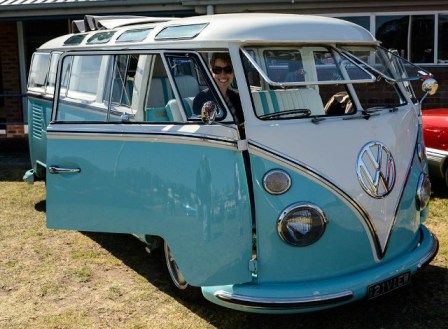 Windows Volkswagen Campervan. One of possibly only seven in NSW the 21 windows version is quite are particularly as a right hand drive. The immaculate campervan was originally restored in Thailand and then shipped to the UK. Sharon recently purchased the vehicle online and imported to the Northern Beaches. Already Sharon's purchased has won classic car competitions. The Campervan is driven mainly around the Northern Beaches.
The Replica 1923 Ford T Model below is owned by Kevin Banks is now fitted with a 302 V8 Windsor C-4 Automatic and 9 inch Fairlane rear. Registered for limited use, Kevin has owned the T Model for 20 years. Naturally painted black mudguards have been replaced with fibreglass. Kevin has driven his pride and joy to Geelong and Queensland. Modern improvements include front disk brakes. Kevin lost his wife to cancer 20 years ago and the car is named after his wife and as he says she still travels with me. Kevin takes the car to a number of charity events particularly those supporting cancer.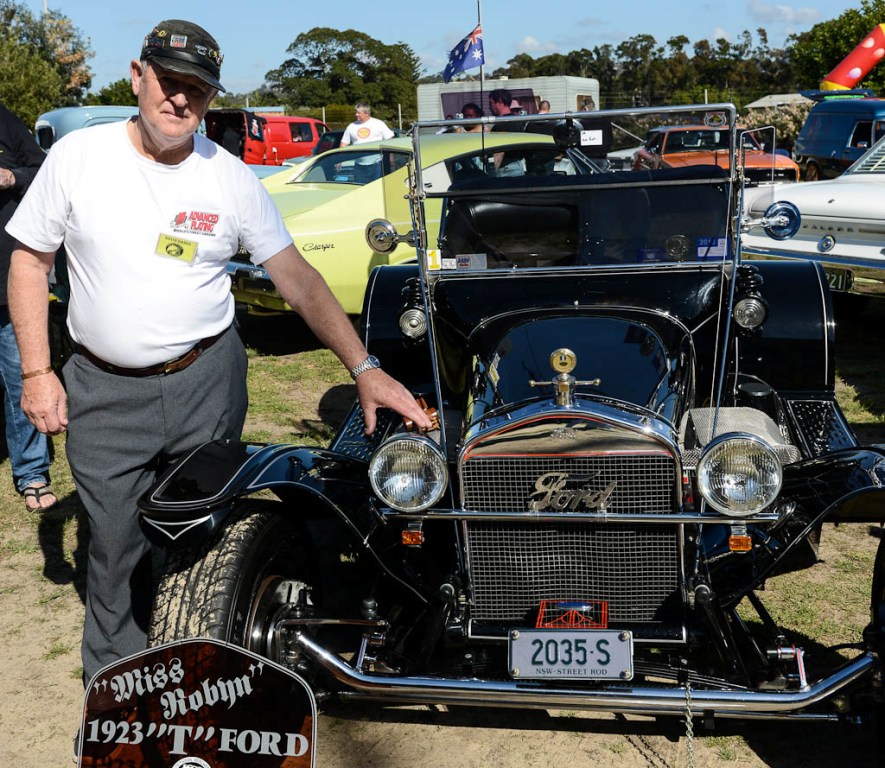 Brent Carr purchased a 92 Chevrolet Corvette as a wreck, just a bare shell body and chassis. All glass and chrome has had to be replaced, in all a 13 year restoration. Brent grew up with the Corvette owned by his father and it has been a long time wish to own a Corvette. The vehicle is original except for the engine, still a Corvette but with a bit more power. The stunning colour is original so when you look at the car it looks like a 92 Corvette. Not so much fun to park it say Brent, but once on the highway its magic.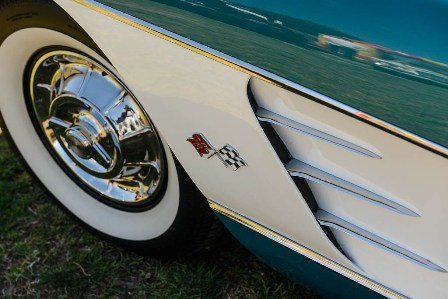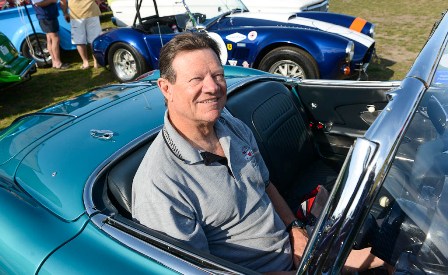 Bill McKinnon is working on a project to recreate a Slingshot dragster. It's taking shape and looks like a late 50's square box dragster. Supercharger is coming later and the front wheels are to be replaced. Still a work in progress.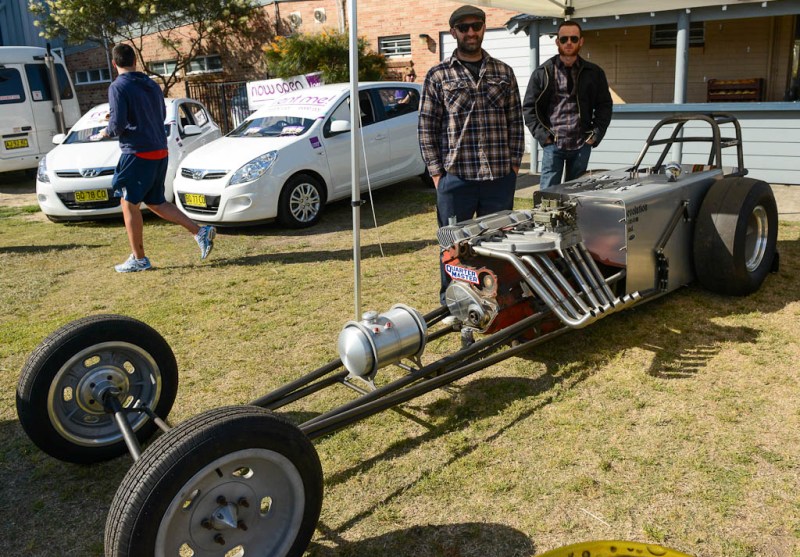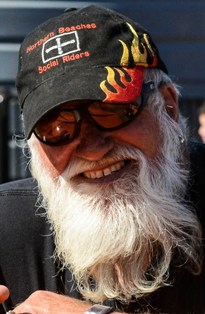 Ray Blackett is the owner of a 1942 Harley Davidson WLA war bike and a member of the Northern Beaches Social Riders. Ray tows the Harley behind his bright orange Ford pickup also dated 1942. The pickup was originally a tow truck used to tow jeeps from Alice Springs to Darwin during the war. The vehicle was purchased by Ray about 30 years ago. At home on the Northern Beaches the pickup and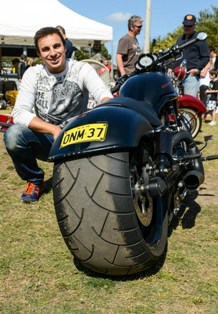 bike have been as far as Rockhampton. The bright orange colour has its advantages as when it was recently driven by another person, Ray started receiving calls saying your pickup has been stolen! Ray has three other Harleys and a 52 Mainline Ute, a Mark II 56 Ford Zephyr and Mark 1 Cortina.
Antonio with his 2008 Night Rod Harley fully customised including the 300mm rear tire, part of the Harley-Davidson "Dark Custom" series.
Volunteer Photography Public Gallery HERE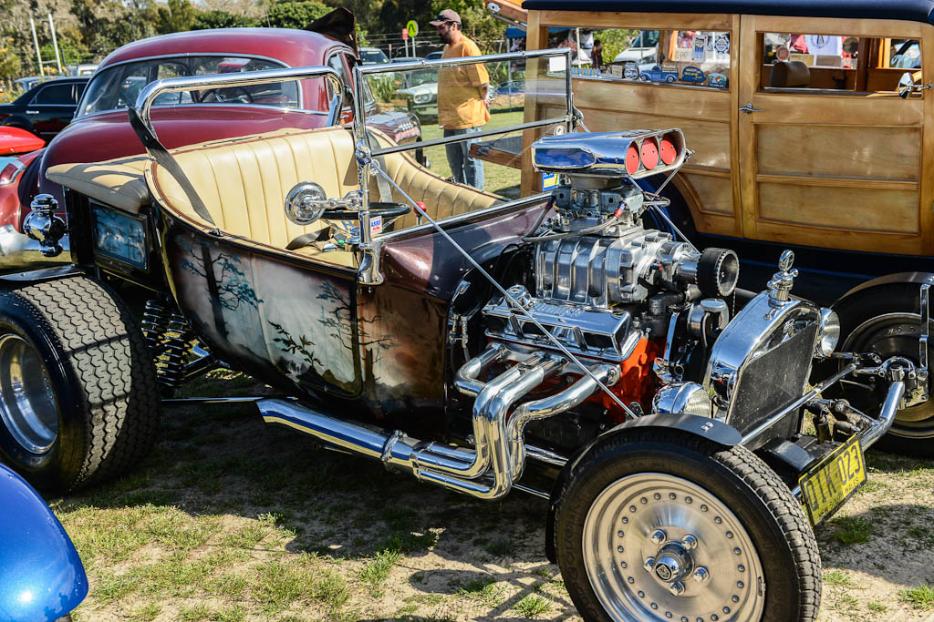 Words and Images by Michael Mannington of Volunteer Photography, 2012.