September 8 - 14, 2013: Issue 127
Byron Bay Writers Festival 2013
by Robyn McWilliam
Nearing the first weekend in August, my husband and I along with our labradoodle, Tinto, head north for me to attend the Byron Bay Writers' Festival. This year Jeni Caffin, Director of the event describes it as 'an expansive and cumulative series of encounters with interesting minds.'
On arrival we walk the beach (off-leash area) with Tinto, a treat Sydneysiders aren't allowed at home. The sky is tinged orange at sunset and waves curl into a break as the lighthouse begins its flashing. Rhythmic drums beat and the flare of a saxophone filters across the evening air.
Prior to the three-day festival workshops are held for writers to improve their craft. There are also literary lunches and dinners as well as other feature events including literary trivia and power comedy.
I attend Michael Robotham's Show me some Character. He is also editor of If I Tell You … I'll Have To Kill You being launched at the festival. In the book Australia's leading crime writers reveal their secrets. We discuss favourite fictional characters. Robotham says 'write characters that cause things to happen.'
North Byron Events, the festival site, is an eight minute drive from the town centre and a shuttle is in operation. Sculptures adorn the grassy expanses, their creativity providing visual delight. My favourite is Sea Pod, suspended shells that tinkle when a child touches.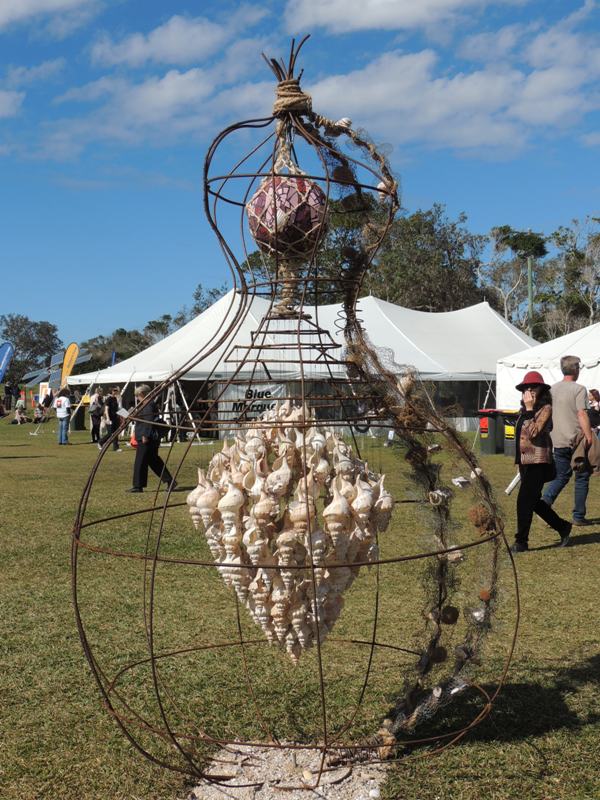 Sea Pod Sculpture by Jess Poulsen with Adam Jung.
Careful reading of the program is essential: events are spread over five monstrous marquees. The writer biographies included are helpful. The great benefit of this venue is the ease of moving between events in minutes compared to the half hour I spent queuing for each session at Sydney Writers' Festival. There's also easy access to the signing tent and the onsite bookshop set up by Collins Booksellers Byron Bay.
Peter Carey, Australian novelist but New York resident, is a huge drawcard. He has won the Booker prize twice and says he's cursed with ridiculous energy to keep writing books. His latest acclaimed novel is Chemistry of Tears.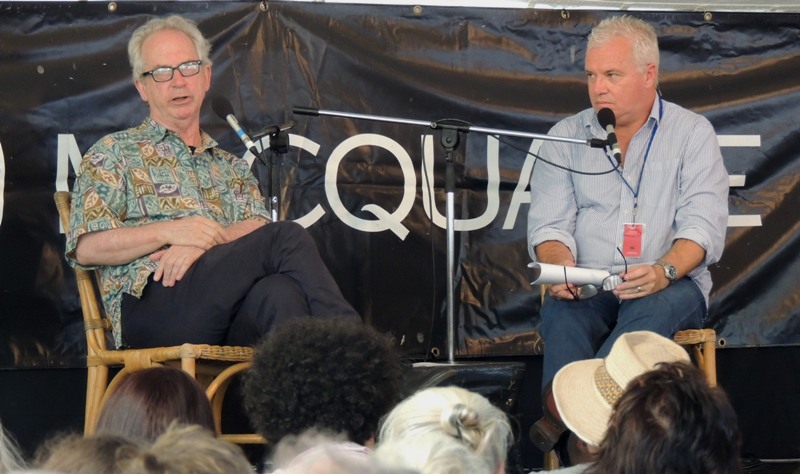 Peter Carey with Matthew Condon
One of the most popular debut novelists is Hannah Kent with Burial Rites. Having never seen snow, she went to Iceland for a gap year aged 17. While there Hannah came across the story of the last person executed for murder; a woman described as a monster committed the crime in 1828. A fascination for weather started her difficult research at Flinders University into the climate and culture of nineteenth century Iceland. Hannah began writing poems to find the voice for her character.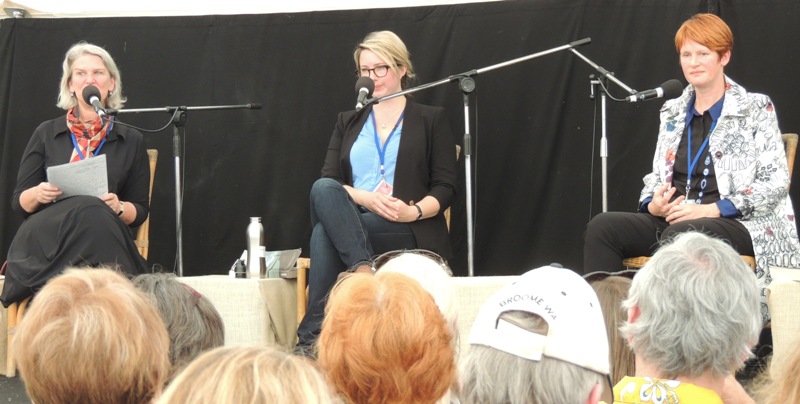 Susan Wyndham with Hannah Kent and Jesse Blackadder.
Graeme Simsion describes his experience with The Rosie Project, his first novel, as a dream run. After being shortlisted in an unpublished manuscript competition publishers contacted him and he negotiated his own contract. Simsion attributes his easy success to the humour in his book.
The most amusing panel on chick lit and mass market fiction includes the bubbly Anita Heiss and historical novelist, Colin Falconer. I took his novel Silk Road to China last year and it remains a favourite read.
Of great interest to me as a writer is the panel of Georgia Blain, Robert Drewe, Cate Kennedy and Jennifer Mills discussing the short story. It's suggested the form's resurgence may be due to a shorter attention span, travelling or the use of e-readers. All agreed finding the right voice for the story is the key.
Robert says, 'it must have the wow factor and resonate with our own life.'
Cate advises, 'step in boldly and earn the reader's attention.'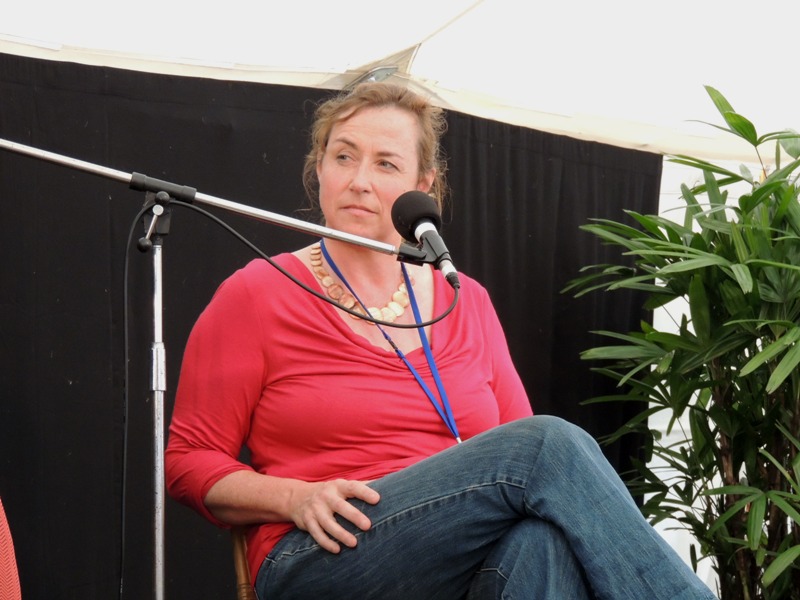 Cate Kennedy.
Robert Drewe.
Once again I leave the festival site, multi-coloured flags fluttering near the gate, with my mind abuzz with ideas. I've attended more than twenty sessions over three days. It's wonderful mingling with book lovers and hearing the spectacular array of authors. This year Byron Bay's sunshine added to this sparkling literary event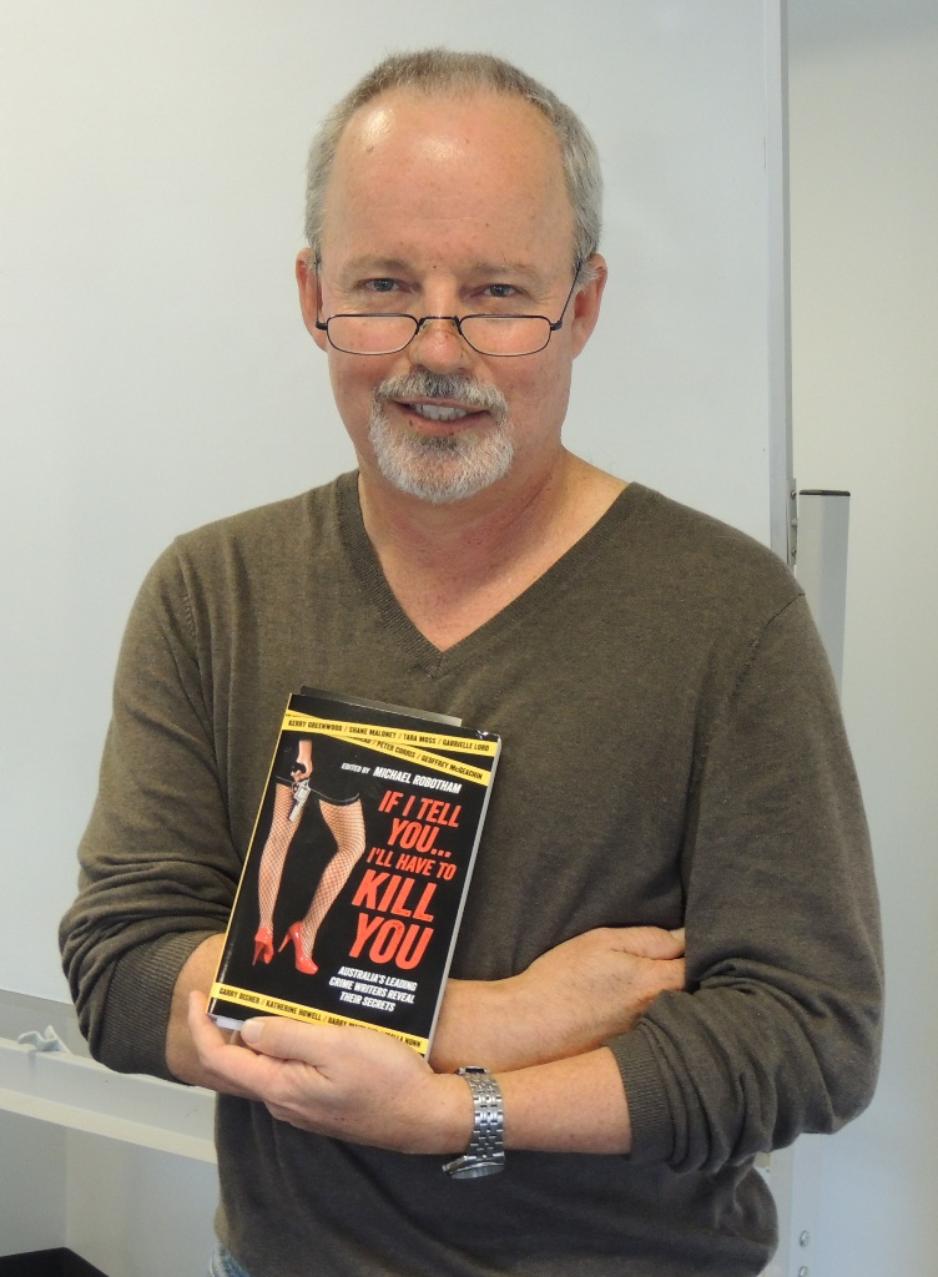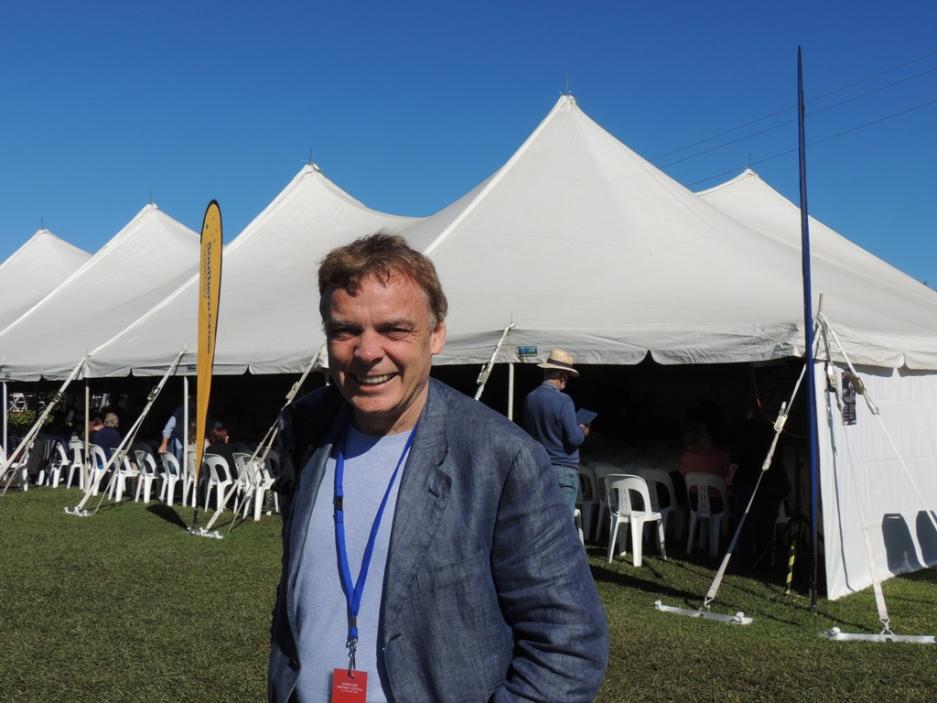 Copyright Robyn McWilliam, 2013.