September 23 - 29, 2012: Issue 77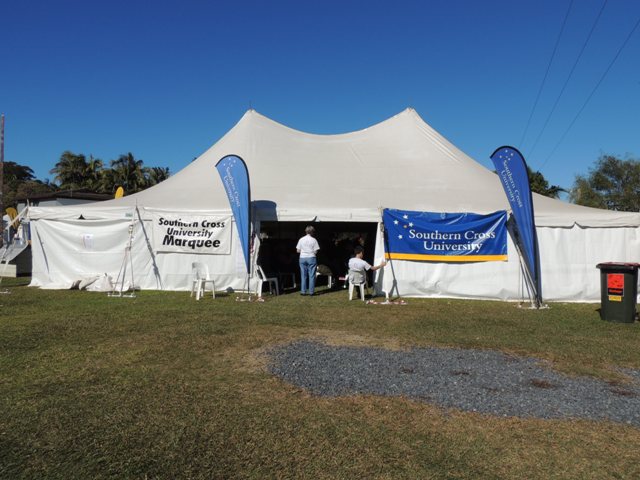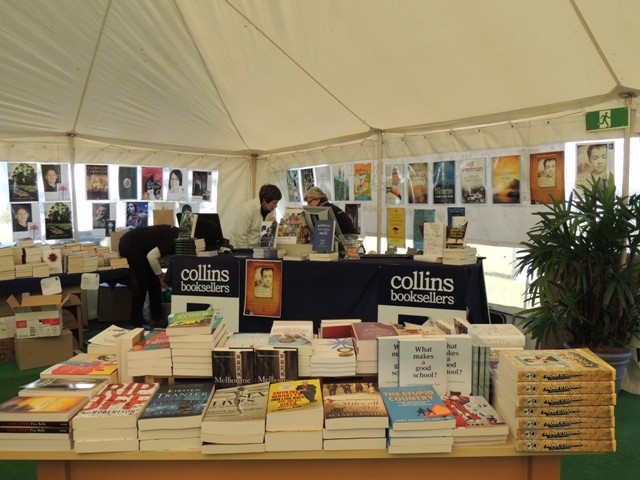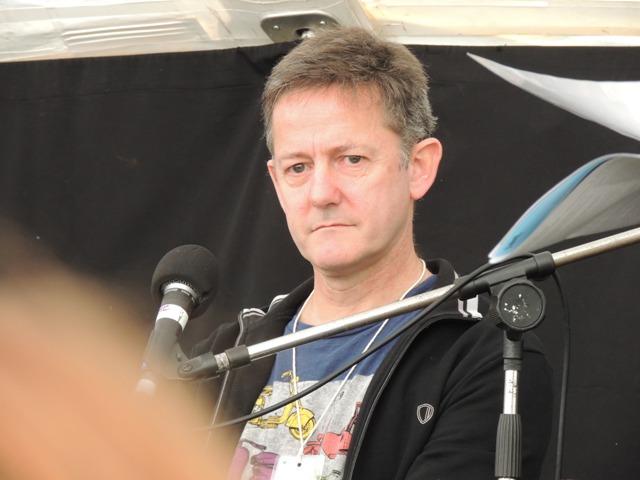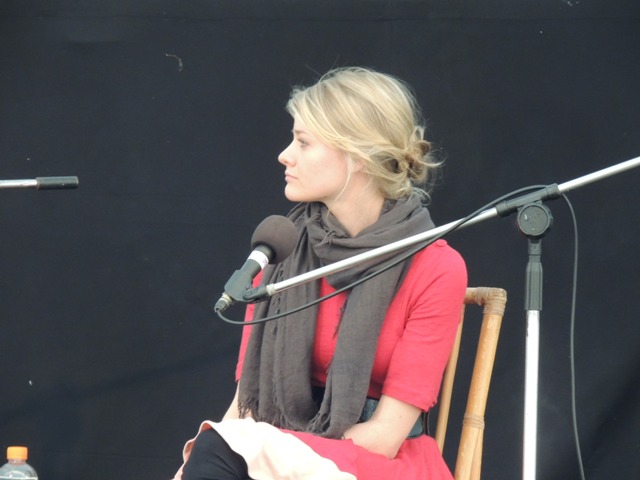 Katherine Boo with Fran Kelly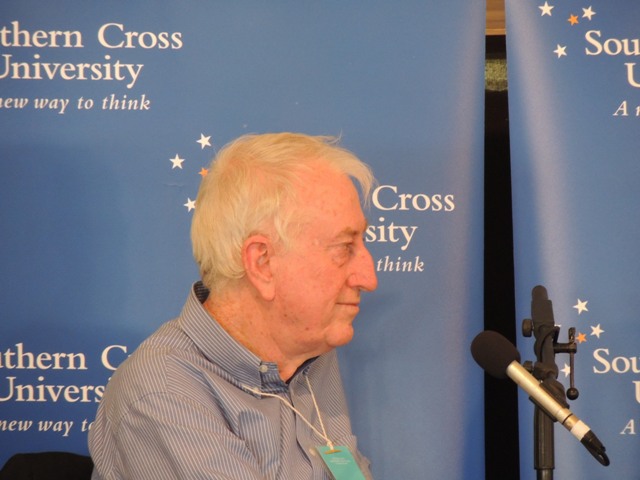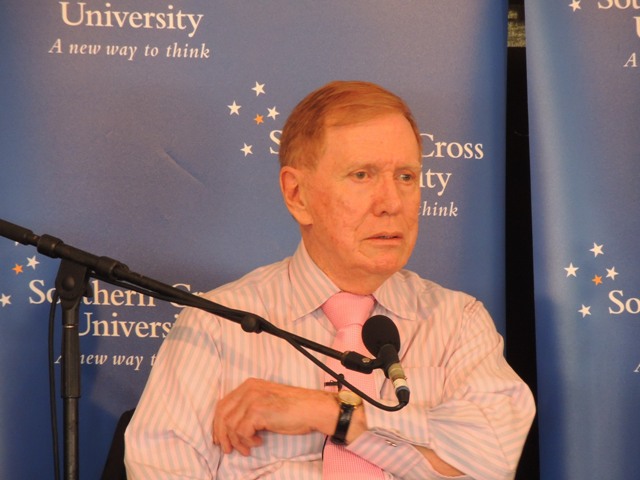 Words and Images by Robyn McWilliam. Copyright Robyn McWilliam, 2012. All Rights Reserved.
Byron Bay Writers' Festival 2012
By Robyn McWilliam
This year the Byron Bay Writers' Festival is sweet sixteen. The first weekend in August is a time to forget the chill of winter and head north. Run by the Northern Rivers Writers' Centre, this event is a delight for booklovers and writers.
I recall the inaugural festival, promising my husband beach time while I slipped out to the many and varied sessions. For me my home festival in Sydney is such a hassle to get to; hours of peak-hour traffic and queues into crowded venues. I think I've only missed two at Byron. This year we rent a cottage and take our labradoodle, Tinto who runs wildly on the off-leash beach. Byron is one of the most beach-orientated towns on our coast. The alternate lifestyle is an eye-opening break from suburbia.
The week before the Festival, workshops are held for writers to work on their craft. They range from surf writing to humour, journalism and speculative fiction to crime. There's a literary lunch and two dinners, a night of Stand Up Comedy and the premiere of the movie, The Sapphires. North Byron Events, the Festival site, is eight minutes' drive from the town centre and a shuttle bus operates as well.
Five monstrous marquees are spread across a paddock. There's a bookshop, a restaurant along with food stalls and lines of portaloos. This year a variety of sculptures add to the atmosphere as crowds surge through the gate. As I have purchased a three-day pass I receive a yellow wrist band. My program is circled with the sessions that interest me.
Potted palms flank the dais. Cane chairs await the performing writers; microphones on stands at crazy angles. The PEN organisation also has an empty chair to acknowledge writers around the world who are not free to say what they wish. We, the audience, sit on white plastic chairs, excitement building as if under the Big Top.
The first session I attend is called Curdled Milk: Schoolyard Memories chaired by Mary Delahunty. John Marsden, a teacher and children's author, who has sold two and a half million books in Australia, is one on the panel with two other writers. John has set up his own school and writes realist fiction.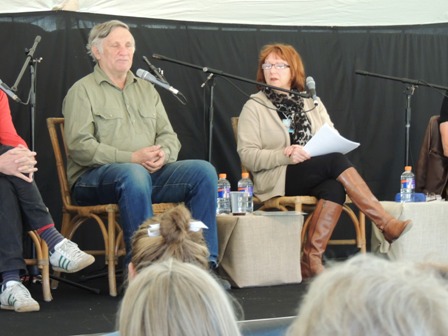 John Marsden and Mary Delahunty
I move on to learn how Nick Earls constructs a short story. At another session Andy Griffiths says kids told him to write something funny. In an endeavour to transmit his own joy of childhood books to the next generation he wrote The Day My Bum Went Psycho.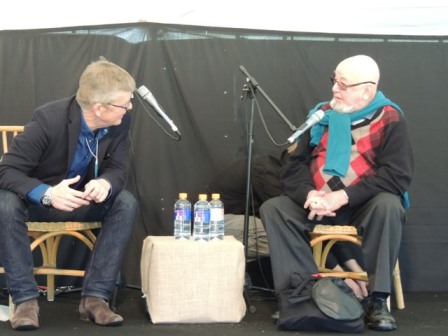 Tom Keneally with Chris Hanley
Tom Keneally is thoroughly engaging talking about his new novel, The Daughters of Mars. This evolved while writing a history of WWI. Tom read the journals of nurses and the struggle of feminism at the time surprised him. On to Elliot Perlman who discusses his novel, The Street Sweeper. He says apart from creating characters the reader cares about it's not a bad thing to be politically involved as well.
Jessica Watson is one of three young women on a panel entitled Extreme Journeys. Her solo sail around the world and the writing of True Spirit was a mission to show that young people can follow their dreams.
Another journey highlight is listening to Katherine Boo. A staff writer for the New Yorker, she travels to India, engages with slum dwellers and writes their story of resilience and hope in Behind the Beautiful Forevers.
A great ideas session on What is Australia For? features Peter Doherty, a Nobel Prize winning scientist, Michael Kirby, a retired High Court judge and Julianne Schultz, the editor of the Griffith REVIEW. Responding to the negativity in this country in 2012, Peter says Australia has a role in global and national science. Michael would like us to have a charter of human rights. Julianne adds defining what we're about as a nation would make it clearer for newcomers.
There are many wonderful novelists talking about their work and new books this year. Alex Miller's Autumn Laing is based on Sidney Nolan's wife and delves into lust and art. Susan Johnson's reading about the croissant season from My Hundred Lovers becomes the talk of the festival. Those who haven't lived in Paris may not be aware that for six weeks when the flour is fresh the croissants taste better. Susan is back from living overseas and recently resettled in Brisbane. I so enjoyed her contributions on a number of panels. For me she is the star of the festival. Charlotte Wood's Animal People and Gail Jones's Five Bells are both set over one day. Their discussions with Susan Wyndham revealing how they work are a gem for writers and readers alike.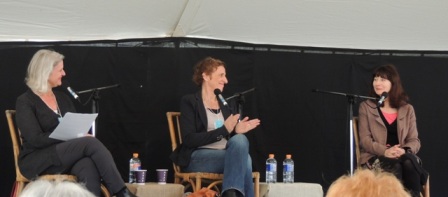 Susan Wyndham with Charlotte Wood and Gail Jones
Whether it's discovering new authors, hearing favourites or engaging in ideas Byron Bay Writers' Festival is a feast for booklovers. Travel north next year to this great literary event and be rewarded.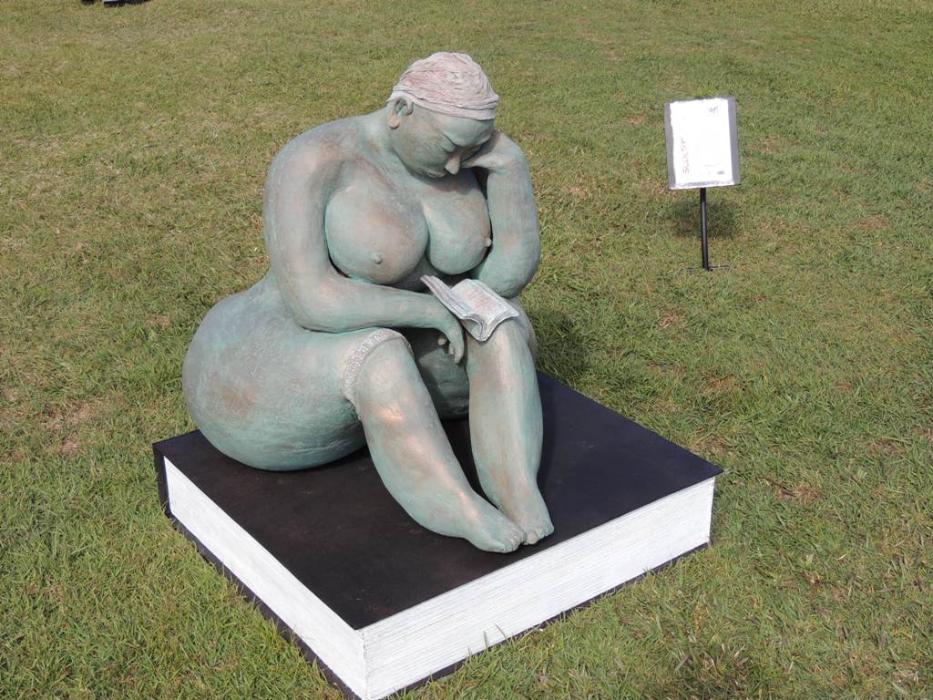 The Reader by Marie France Boissonneault