November 30 - December 6, 2014: Issue 191
BUILDING A BETTER FUTURE FOR PITTWATER CLUBS AND COMMUNITY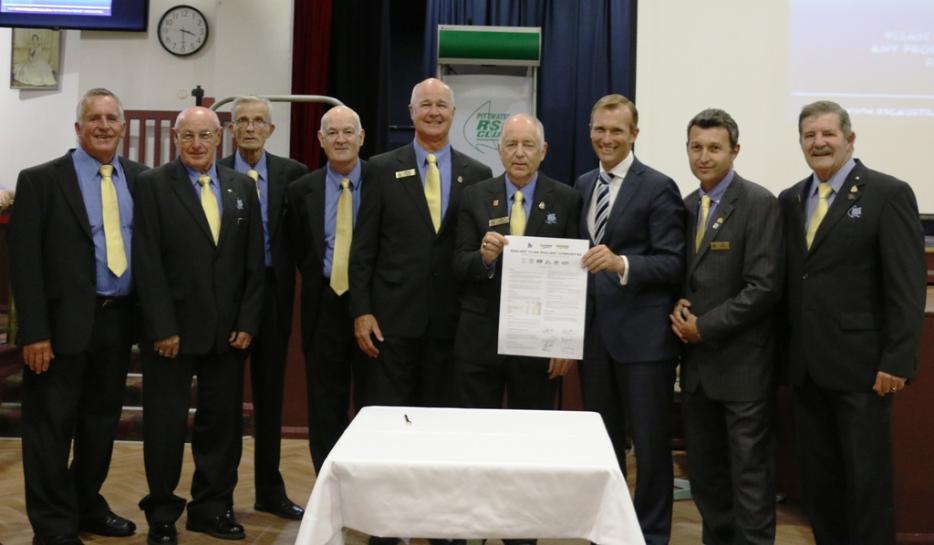 Photo from left to right: Bill Brockhurst, Cec Robinson, Don Gale, Brin Franklin, Michael Carrodus, Aldo Sirotic, Rob Stokes, Paul Crowley, George Parsons.
BUILDING A BETTER FUTURE FOR PITTWATER CLUBS AND COMMUNITY
Tuesday 25 November 2014
Pittwater RSL today thanked local MP Rob Stokes for his support of not-for-profit clubs at Friday's signing of a historic Memorandum of Understanding between local clubs and the NSW Government.
Minister for the Environment and Member for Pittwater Rob Stokes signed the MoU, which provides stability for local clubs and the wider community over the next four years, as part of an official ceremony at the club today.
The MoU provides certainty not only for clubs in the electorate of Pittwater, but also for their more than 520 employees, 45,000 members and more than 415 club volunteers.
The agreement locks in tax rates for the next term of the NSW Government and commits to further enhancing the ClubGRANTS program – a move that is expected to see the average annual economic contribution of clubs to the state grow to a record $3.7 billion per year, while the amount of direct community funding is expected to soar to $128 million per annum.
With a focus on strengthening industry viability and red tape reduction, the 2014 MoU also makes sure local clubs can continue to operate as community hubs, building and maintaining essential local infrastructure.
Pittwater RSL Club CEO Paul Crowley thanked Rob Stokes for his ongoing and unwavering support of clubs in the local area.
"In both good times and bad, clubs are there for the community. This MoU will bring certainty to our industry which will allow us to continue investing in crucial infrastructure that our community needs," Mr. Crowley said.
"The support Mr Stokes has given us over many years has been greatly appreciated, and this MoU takes that support a step further," he said.
Mona Vale Hospital Auxiliary Public Relations Officer Eileen Gordon also welcomed the MoU saying certainty for local clubs meant continued support for the community.
"In the last three years, the club has organised golf days that has enabled the establishment of a new playroom in the children's room, refurbishment of the wards including curtains, blinds, and the purchase of specially designed beds for growing teenagers," she said.
"All of these projects were expensive and could not have been possible without the generous support of Pittwater RSL."
ClubsNSW Chairman Peter Newell welcomed the MoU and said it would provide the industry with stability and certainty for the future.
"When not-for-profit clubs know what the future looks like, they're better able to support their local area, create jobs and invest in new facilities," he said.
__________________________________
NSW Government Continues Supporting Pittwater's Clubs
25 November 2014
Member for Pittwater Rob Stokes has signed a new Memorandum of Understanding with Pittwater's registered clubs which recognises their valuable role within the community.
Pittwater has 13 registered clubs which employ over 500 people, serve over 40,000 members and make an enormous social contribution.
The MOU builds upon previous social commitments agreed to by the club industry in 2010, including their role during emergencies and natural disasters, and freezes the tax rates affecting clubs for another four years.
"Pittwater's clubs are a key part of our community and provide a variety of employment, social and recreational opportunities," Rob Stokes said today.
"Many of the community services our local clubs provide happen behind the scenes and receive little or no publicity.
"To continue thriving our local clubs need certainty and security and not be faced by ever increasing taxes.
"Clubs are one of community's largest employers and are regularly looked towards during times of need.
"Pittwater RSL Club provides fantastic examples of the social contributions clubs provide in communities right across our State.
"Our local clubs need to be supported and encouraged and that's exactly what this MOU ensures.
"We need clubs in our community and we need them to be as strong, open and accommodating as possible," Rob Stokes said.
_____________________________________
Premier Baird's media release from October 2014:
RESILIENT CLUBS, RESILIENT COMMUNITIES: NSW GOVERNMENT AND CLUBSNSW SIGN MOU
Mike Baird MP Premier of NSW Minister for Infrastructure Minister for Western Sydney
MEDIA RELEASE - Monday 13 October 2014
Premier Mike Baird and Minister for Hospitality, Gaming and Racing Troy Grant today signed a new Memorandum of Understanding (MOU) with ClubsNSW providing certainty for the thousands of clubs and employees across metropolitan and regional NSW.
Mr Baird and Mr Grant signed the MOU while attending the ClubsNSW Annual Conference on the Gold Coast.
"Clubs are the lifeblood of communities across NSW, featuring 719 bowling greens, 353 golf courses, 100 tennis facilities and 96 sporting fields," Mr Baird said.
"Clubs are also one of the State's biggest employers, providing jobs to 42,000 people and contributing more than $3.2 billion a year to State's economy.
"This MOU builds on key commitments already achieved in the last agreement signed in 2010, and ensures further investment for the future of clubs and the NSW economy.
"We've come to an agreement that sees tax rates affecting clubs frozen for another four years.
Revenue Band Labor's 2003 Tax Rate/ Labor's Pre-2011 Tax Rate/ NSW Liberals & Nationals Current Tax Rate
0-$200k 0% 0% 0%
$200k-$1m (for clubs with revenue <$1m) 20% 9.09% 9.09%
$200k-$1m (for clubs with revenue >$1m) 20% 19.09% 19.09%
$1m -$5m 26.25% 30.09% 28.99%
$5m - $10m 26.25% 35.09% 33.49%
$10m - $20m 26.25% 38.09% 35.49%
$20m plus 26.25% 39.99% 37.49%
"The NSW Government is committed to untangling the red tape burden on clubs by increasing cheque issuing limits from $2,000 to $5,000, which will see more than 250,000 cheques removed from the system.
"We also recognise the important role many clubs play in sheltering communities, and supporting emergency services during natural disasters and other emergencies.
"Under this agreement, local clubs and emergency services will partner to enhance the capabilities of clubs to act as evacuation centres and determine if funding could assist capital upgrades, such as dam expansions, and other support measures.
"Last October's devastating bush fires are a prime example of the pivotal role clubs play in providing a temporary home for displaced residents and hardworking emergency services personnel during a natural disaster.
"This agreement will also simplify the process for new clubs to establish on Greenfield sites, and streamline the rules regarding club amalgamations and de-amalgamations to ensure clubs can continue to meet the needs of community across NSW," Mr Baird said.
Mr Grant said the NSW Government recognises that the vast majority of clubs are safe, well regulated venues which play a role in supporting local communities and residents.
"Clubs have a significant reach into all our communities and are dedicated to providing the best services to benefit patrons," Mr Grant said.
"We share the industry's vision for a strong, viable and sustainable club sector and this MOU goes a long way to providing certainty for the future."
ClubsNSW Chairman Peter Newell OAM said a strong and vibrant clubs sector can help attract additional investment and jobs, particularly in regional NSW.
"NSW clubs already employ tens of thousands of people and make an annual social and economic contribution to the State of $4.4 billion each year. Thanks to the stability and certainty provided by this MOU, those numbers are set to grow even further."