April 28 - May 4, 2013: Issue 108
Broken Bay Marine Rescue Heroes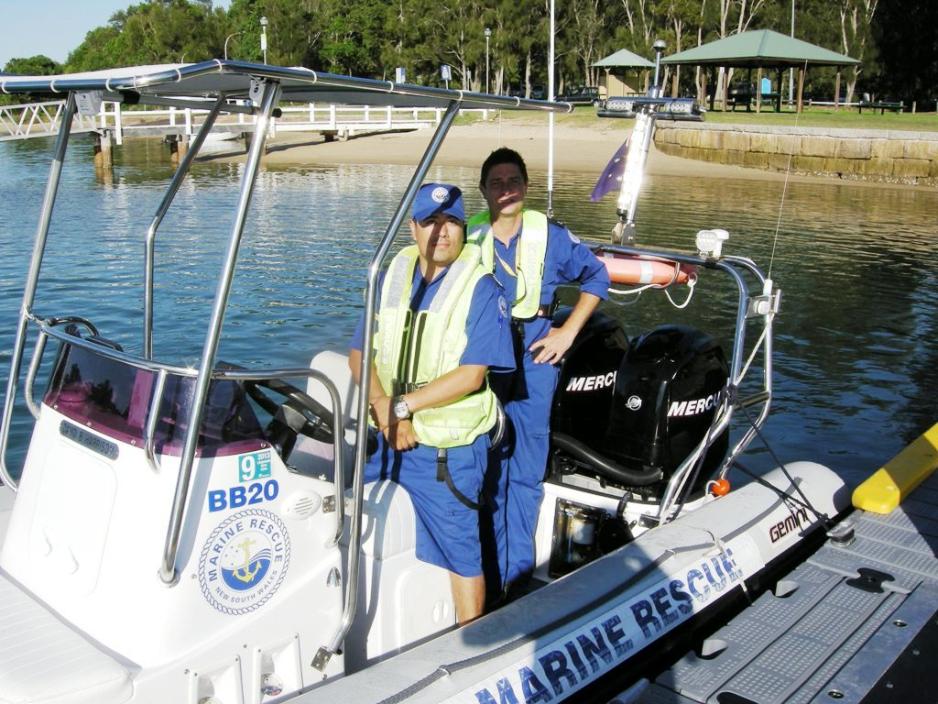 Jimmy Arteaga, the Skipper of the assist event and crew member Simon Forrester. Photo by Alan Turner-Morris.
This is what the faces of everyday heroes look like. These two gentlemen, trained volunteers and members of the Broken Bay Marine Rescue unit, were making one of their routine patrols on Saturday 16th of March through Coasters Retreat when they were hailed by the owner of one vessel and informed of a near drowning that had occurred on an adjacent yacht. A young child had fallen overboard and a mother, a poor swimmer, had gone into the water to rescue this child. Both were quickly swept away from near the yacht by a strong current, the mother holding the child up above the water and swallowing a lot herself by being underwater.
Her husband had been able to retrieve the child and his wife from the water but due to her being submerged she had gone to lie down in the forward cabin 40 minutes since and her husband was finding it difficult to wake her. Skipper Arteaga was asked to assess the gentleman's wife while he looked after their two children. He too found her difficult to wake and when she did, it was only to mention she was cold before becoming unconscious again. Her breathing was shallow. It was clear she needed medical assistance as soon as possible.
The skipper of BB20 on duty radioed BBMR base and requested paramedics to be sent, which they promptly were by BB30 and the lady was transferred to shore at the Bayview base and to hospital. Her husband, accompanying her with their two children, expressed his sincere thanks to Jimmy Arteaga and Simon Forrester.
We don't often get to share small insights into the events and incidents Broken Bay Marine Rescue have to attend due to the nature of these events and our own policy of protecting the privacy of those involved. When we can we like to remind all that heroes walk quietly beside us, determined to keep the safety of life at sea (SOLAS).