November 25 - December 1, 2012: Issue 86
Bloodshot premiere
By Steve Meacham
It's an unusual combination in a serious political documentary.
But Bloodshot - which gets its Sydney premiere at Avalon's cinema on Tuesday December 4 - is both a dramatic tear-inducing love story and an emotional re-examination of a massacre which shaped the fate of an entire country.
Certainly the charity screening is a huge coup for the Northern Beaches - and due entirely to the special relationship forged over the past three years between the people of Pittwater and the residents of Soibada, a historic community in the Timorese highlands that is a cradle of national independence.
Hosted by Pittwater Friends of Soibada, the evening will begin with a performance by one of Timor Leste's leading dance troupes and will conclude with a question and answer session with Peter A Gordon, the award-winning British documentary film maker.
Such a premiere is bound to attract considerable interest outside the Northern Beaches. Tickets are available for $20 at the door, thanks tto the support of United Cinema's owner, Roy Mustaca.
The genesis of this new documentary began more than 20 years ago on the other side of the world. Gordon, then working for Yorkshire Television, was listening to the radio while driving to work when he heard a plea from an Australian woman, Shirley Shackleton.
She was seeking justice for the murder of her husband, Greg - one of the so-called "Balibo Five" Australian television journalists who were killed in 1975 as Indonesian troops began the invasion into what was then the Portuguese colony of East Timor.
Like most Britons, Gordon had never heard of the Balibo Five, or even East Timor particularly. But he was so taken by the tragedy Shirley Shackleton revealed that he managed to convince his hard-nosed bosses to finance an undercover film crew into East Timor, for first time since 1975.
"I couldn't believe the story (Shirley Shackleton) was telling," Gordon explains from England. "I went to see her the day after the radio broadcast and decided that I wanted to make a film.
"I set about finding out more about the situation and making contacts, mainly through the (Catholic) church and NGOs. It took a year until I was ready to go."
It was 1991 by the time Gordon and his hand-picked crew gathered together in secret in East Timor after various journeys into Indonesia's forbidden "27th province". Apart from Gordon, there were two lead characters in the film crew.
Photographer, Max Stalh, was a former BBC children's TV host who had become a gung-ho war cameraman with a reputation for covering the world's most dangerous conflict zones.
The translator/fixit person was a bit more of a gamble on Gordon's part. She was young, attractive and elegantly dressed. What convinced the veteran TV producer that 22 year old Kirsty Sword would be the right person to take on such a dangerous mission?
''I first met Kirsty in early 1991 in Oxford where she was working," Gordon recalls, adding that she spoke both Portuguese and Indonesian, the two required languages, and had visited Timor before. But there was a third factor.
"She was a woman and could give our crew a different dynamic. It would have looked suspicious to have three or four men travelling round the island together. With a woman we would be less conspicuous," says Gordon.
"She was obviously intelligent, calm and committed. If we were off filming something contentious, she'd be able to distract the Indonesians."
In the film, Stahl confirms how he'd pretend to be filming "the model" Kirsty but would in reality be focussing on something happening in the background which would have aroused the wrath of the military if they had realised.
The protest on November 12, 1991 at Santa Cruz cemetery happened on the last day of filming. Until then, everything had been filmed secretly. But the crew knew their cover would be blown when Stahl began shooting in the middle of the protesters.
A few days earlier, the Indonesians had killed a young Timorese man who had been buried in the cemetery. Now his countrymen were gathering to show their disgust at his death. No-one was expecting an indiscriminate massacre. Yet the Indonesians not only began firing bullets at random, they used their bayonets to kill children and forced captives to drink poison.
At least 200 Timorese were slaughtered that day - including a young man who was a New Zealand citizen. The Indonesian officers who planned the massacre expected to get away with it, as they had got away with many similar massacres since the invasion. But they reckoned without Stahl's heroism: he carried on filming from the middle of the cemetery as the dead piled up around him.
In Bloodshot, Stahl relives the chilling moment when an Indonesian soldier spotted his camera rolling and ordered him to "surrender". Instead, he buried his film beneath one of the graves - returning in the middle of the night to retrieve it.
When Stahl's footage of the massacre was released to the world's media once the crew were all safely out of Indonesia, it became headline news around the glove. For the first time since the invasion, there was proof of the atrocities which the Timorese resistance had been claiming for years.
Both Xanana Gusmao (then the guerilla leader, now Timor Leste's prime minister) and Jose Ramos-Horta (then the Timorese representative at the United Nations, and until recently Timor Leste's president) figure heavily in Bloodshot, crediting Stahl's footage with changing the course of their country's emergence as an independent nation.
Max Stahl eventually settled in Timor Leste where he continues to document the childhood years of one of the world's youngest democracies. But it is Kirsty Sword's story which gives Bloodshot its human heart.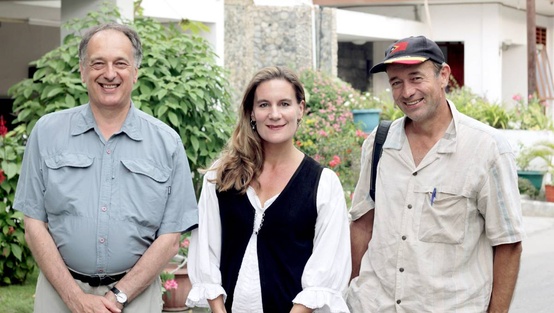 Peter Gordon, Kirsty Sword Gusmao and Max Stahl in the garden of her home in Dili.
After Gordon's original film was finished in 1991, the 22 year old Australian became increasingly involved in the secret activities of the Timorese guerilla resistance, taking tremendous personal risks for a cause she believed in. Simultaneously she fell in love with the handsome, charismatic Xanana who was imprisoned in Jakarta after being captured in 1992.
They eventually married and have three young sons. But in Bloodshot, both Xanana and Kirsty Sword-Gusmao speak candidly about their clandestine love affair and the sacrifices each has made along the way.
As Kirsty explains movingly to the camera, both she and her husband have surrendered personal happiness for what she calls "something a bit bigger". It is a fascinating and rare glimpse into a political marriage.
And, for this reviewer at least, it elevates Gordon's documentary into a different dimension. Not content with "simply" being a magnificent examination of how one cameraman's bravery changed the fate of a nation, Bloodshot brilliantly dissects the human qualities and frailties of unassuming individuals caught up in a real-life story of Homeric proportions.

DETAILS
Bloodshot: The Dreams and Nightmares of East Timor will show at the United Cinema, 39 Old Barrenjoey Road, Avalon on Tuesday December 4 at 8pm. Tickets $20, pay at the door. The screening will be preceded by drinks and a performance by the Timor Furak Dance Group. Following the screening, Bloodshot's director/producer Peter A Gordon will take part in a Question and Answer forum.