May 27 - June 2, 2012: Issue 60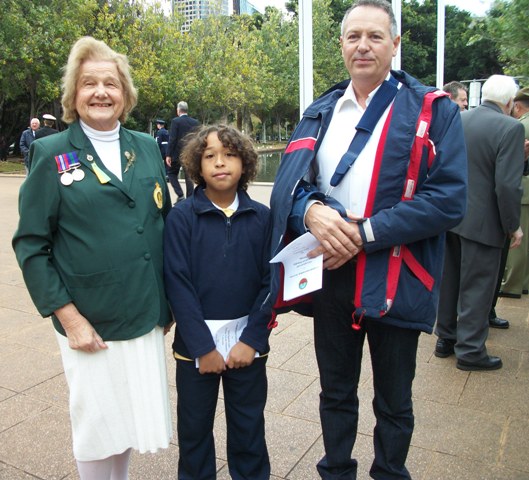 Above: Doreen Cherry, Oliver and Adrian Wyatt. Below: Mr David Williams with Digeridoo and Smoking Ceremony custodians.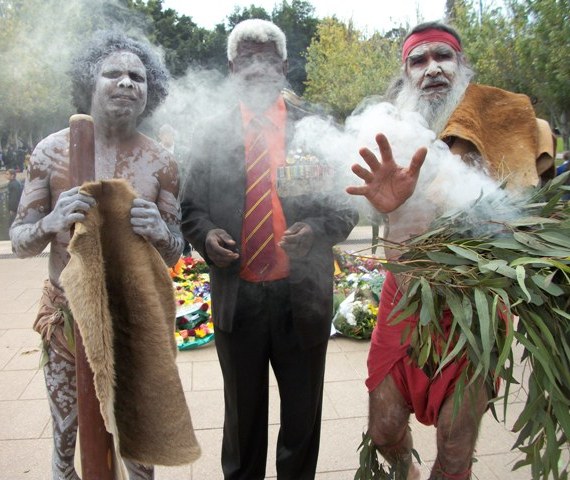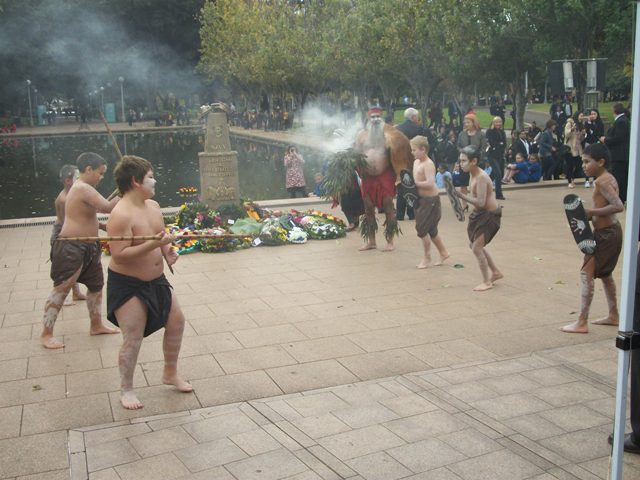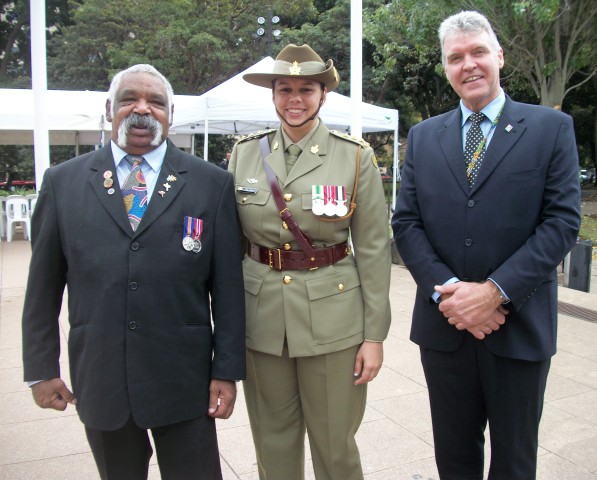 Above: Allen Madden, Captain Chloe Dray, and lovely gent (?)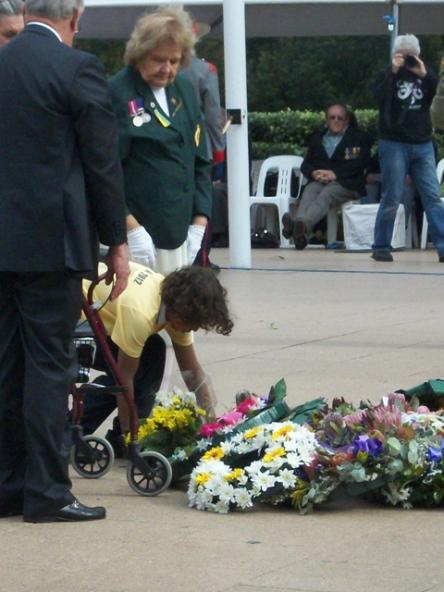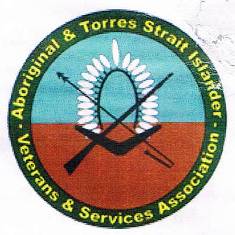 Avalon Land Army Lady and Bilgola School Student attend Commemoration Service for Aboriginal and Torres Strait Islander Veterans - THE ANZAC MEMORIAL, HYDE PARK SOUTH - Friday, 25 May 2012
Bilgola Plateau Primary School student Oliver Wyatt and dad Adrian accompanied Avalon lady, Doreen Cherry, who was representing the Land Army girls, in laying a wreath as part of the Commemoration Service for Aboriginal and Torres Strait Islander Veterans on Friday. Thirty other schools also attended to lay wreaths or to take part in the Service.
Mr David Williams, Master of Ceremonies, an indigenous Vietnam Veteran opened the proceedings by asking Uncle Allen Madden to give the Welcome to Country. Since we were all standing on Gadigal Land, a people of the Eora nation of the Sydney Basin, this gentleman welcomed us to this place by naming these people and spoke of their heritage and their related peoples adjoining these lands. A Traditional Smoking Ceremony (a cleansing ceremony) accompanied by didgeridoo began, joining all those gathered in a spirit that palpably felt as much like a celebration of our Indigenous peoples as it did a marking of acknowledgment towards all these who have served in Navy, Army and Air Forces. While the Smoking Ceremony weaved its way through and to every single person in the crowd Mr David Williams called to Mount Catafalque Party. Service personnel from all Defence Forces joined in this. A catafalque party is a guard of four service personnel who are posted by their commander as sentries at the four corners of the catafalque. They are posted facing outwards with their rifles reversed ( reversed arms ) to show that the dead are now at peace. A catafalque is a structure on which a coffin is drawn in a procession. It is usually symbolised when located near a memorial (a cenotaph), by a raised platform often made of stone. A cenotaph, or "empty tomb", is a monument erected in honour of a person or group of people whose remains are elsewhere and for service people, commemorates and is dedicated to the memories of groups of lost soldiers.
In his Introduction Mr David Williams reiterated that 'Education is the Key' needed for all Australians to understand that our Indigenous and Torres Strait Islander peoples have been serving in the Defence forces since 1899, commencing with the Boer War. Due to no records being kept, exactly how many have served is unknown. Fighting for Australia, beside their compatriots, in every conflict our nation has committed herself to, and not being recognised or acknowledged for each individual's contribution is beginning to be redressed. As Mr Williams so rightly stated 'bullets don't discriminate, only people do.'
The Prayer was Offered by Chaplain (SQNLDR) Mark Jenkins. A dance, performed by students from the Matraville Soldiers Settlement Public School, was made facing the Memorial Structure.
The address by a Veteran at the 6th Annual Commemoration Service for Aboriginal and Torres Strait Islander Veterans was given by Captain Chloe Dray of the Australian Army. A tall Queensland girl, who quietly ribbed all about the results of Wednesday's match (State of Origin) and commiserated by stating that 'things may improve' Captain Dray then turned her focus to the hundreds of children gathered. Although she was speaking to them, explaining her preference for the Army due to a kinship with the land when coming from a family that had chosen the Air Force in the generations prior to hers, Chloe's words resonated with all there. As Captain Dray so eloquently stated "It doesn't matter what race you are and what colour you are. When you're putting on the uniform we're all putting on the same green skin and we're all the same."
Captain Dray also had a special message for the children, telling them "You can be and do anything you want" she also wanted them all to remember to do five things: 1. Get a good education,; stay in school, finish. 2. Be healthy; join in sports, get in the fresh air. 3. Get involved in Community; give something back and invest yourself and your time in those around you. 4. Have someone to look to as a positive role model; learn how to become like them and dare to dream and strive to be better, to be positive. And finally 5. Dream Big; you can be anything you want to be.
A resounding applause was her response from all those gathered. Mr David Williams reiterated her words, stating that "all of the services are a 'Family for Life'," and enrich those who dedicated themselves to this, whether it's serving in the Army, Navy or Air Force.
"The Defence Forces give you the education, manner and bearing to walk anywhere in the world, and in life, in a straight course, equipped with the integrity and intelligence you need to be what is known as the cream of the crop."
As our indigenous and torres Strait islanders include all four elements in their beliefs the first Wreath, floated by Community Elders Uncle Allen Madden and Aunty Sandra Lee, was placed in the Pool of remembrance. They were assisted by Students from Ultimo Public School and Our Lady of Mt Cannel Primary School, Waterloo.
The laying of wreaths at the Cenotpath followed, with Wreath Laying by: Sir Nicholas Shehadie, AC OBE, Mr Harry Allie (ATSIVSA) & Captain Chloe Dray, RSL State Vice-President Mr John Haines AM, The Hon Victor Dominello MP, The Hon Warren Snowdon MP and representatives from Malay, Papua New Guinea and all our Australian Services, including our Police Force, and Associations representatives.
Oliver accompanied Doreen, who has attended this Commemorative Service for all of its six years, in offering the tribute from the Land Army girls. Each school represented also offered a Wreath. After the Catafalque Party dismount, the children from the Matraville Soldiers Settlement Public School performed one last Traditional Dance.
When we spoke to Oliver after showing him around the Anzac Memorial at Hyde Park he stated that the best part of the day was laying the Wreath at the Cenotaph. He also enjoyed meeting and talking with the other children whether his size as the young ones we spoke to from Botany were, or the older lads from King's School who attended each Flag post. Oliver wants to be a policeman when he grows up so he will be "big and strong", and at 11, or as he states it "11 and three quarters, almost 12" is a fine young man with a gentle heart and clear insight.
The Service itself really did feel like a celebration as much as it did a commemoration and meeting such wonderful, warm and friendly people afterwards an honour and a privilege.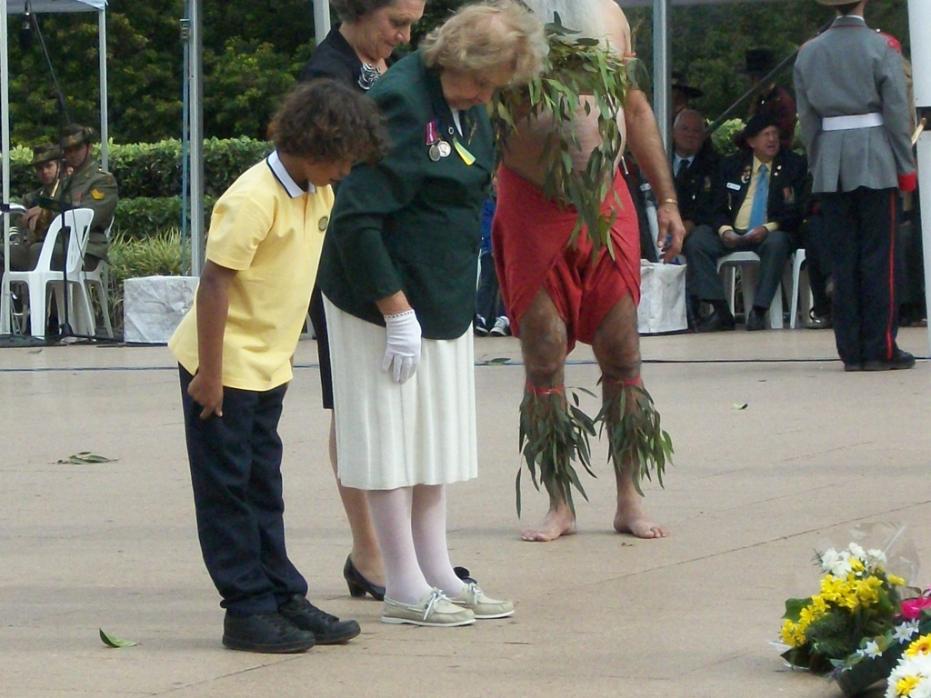 Above: Oliver and Doreen after offering their wreath. Below: Catching up with others afterwards; every Service represented here.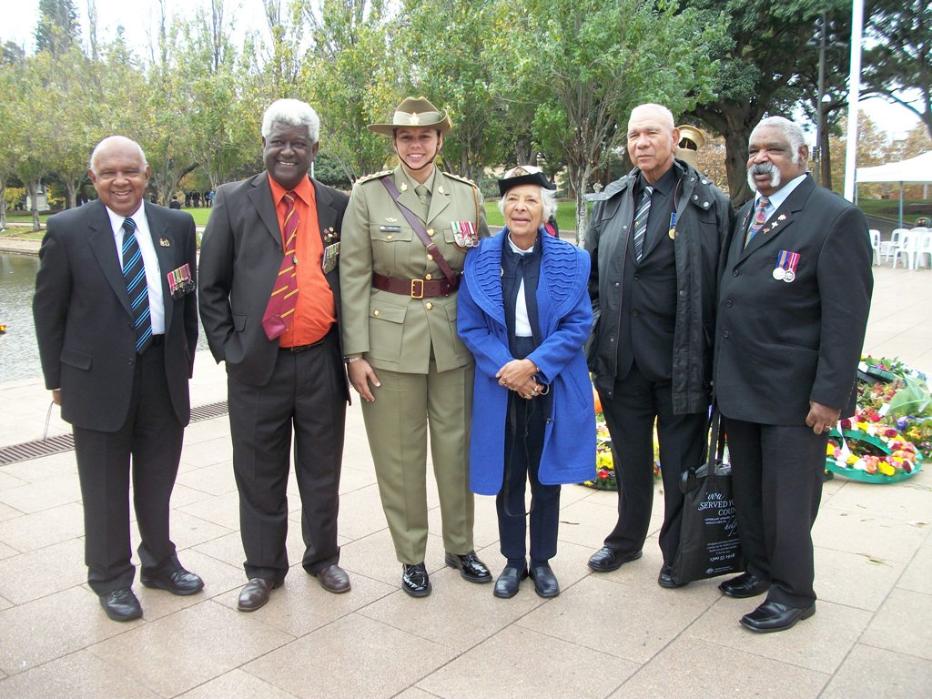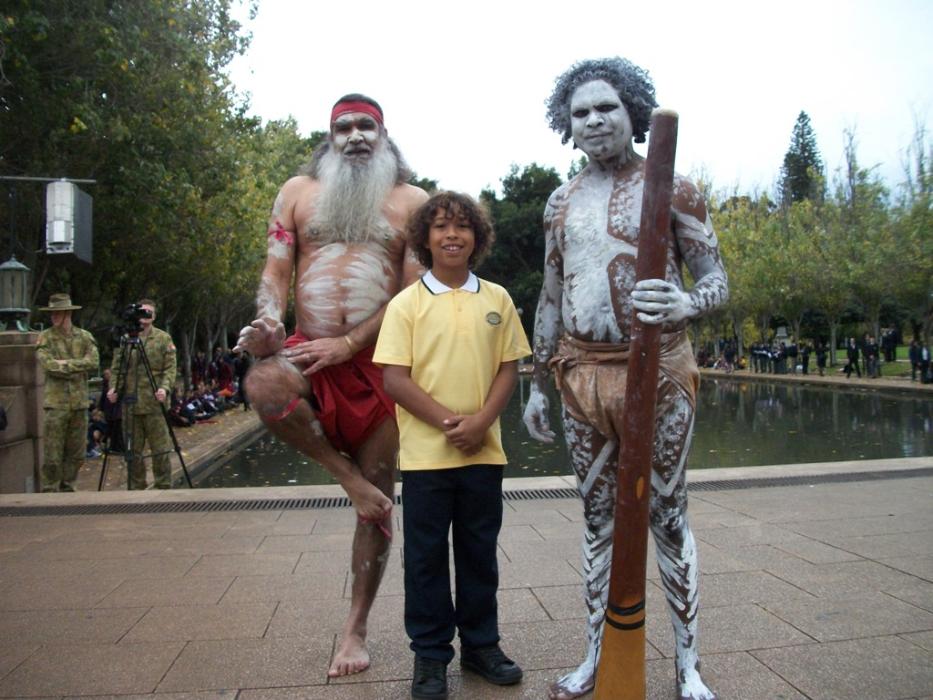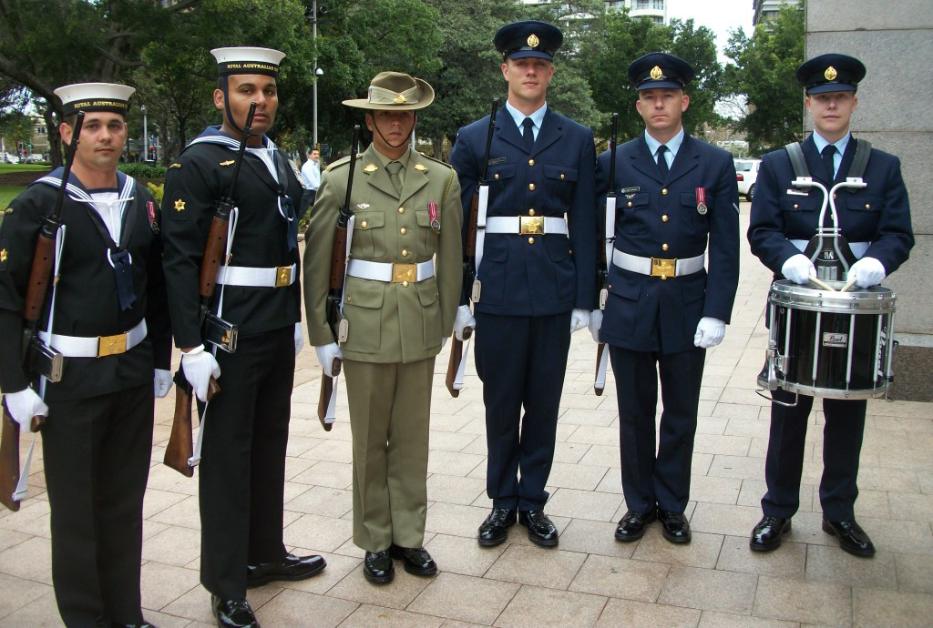 Above: The Catafalque Party: AB Burnett (RAN), AB Cozen (RAN), Private Fitzpatrick (Army), AC Davison (RAF), LAC Standing (RAF), AC Ball (RAF).
Below: Oliver with students from St Ignatius school - Kingswood @ Penrith and Warrant Officer Class One Colin Watego who takes these boys on camps.