October 28 - November 3, 2012: Issue 82
Beatrice's War: Timor Leste's First Feature Film in the Native Tongue‏
By Steve Meacham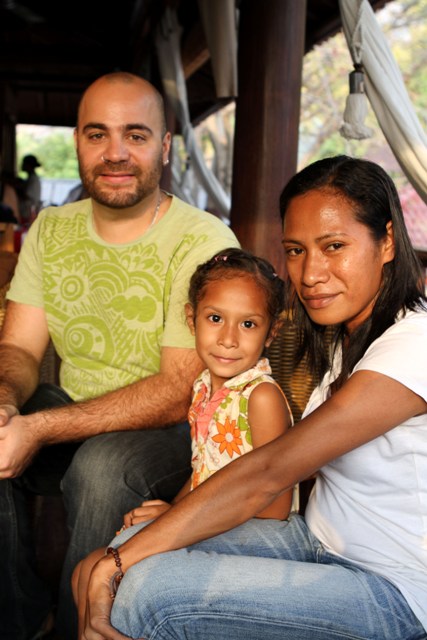 Betty Reis speaks very soft English. And when we meet in a Dili nightspot, she's understandably more concerned with looking after her five year old daughter, Manche, than talking movies. Manche has a small part - just two scenes - in a new history-making movie about the country of their birth, Timor Leste (East Timor) to be released in Australia next year.
The movie, A Guerra da Beatriz (or Beatrice's War, in English), is the first non-fiction, feature-length drama ever made in Timor Leste in Tetum, the country's natural tongue.
Betty, 29 - a co-founder of Dili Film Works, Timor Leste's premier film and TV training organisation - is also in the film: in both the first and last scenes. But that's her prerogative since she is also the film's co-director, along with the more experienced Australian, Luigi Acquisto.
This evening she, Manche and Melbourne-based editor Nick Calpakdjiangi have arranged to meet our Pittwater Friends of Soibada delegation in the noisy restaurant/bar of the Novo Horizonte hotel on Dili's foreshore. Given the background hubbub and Betty's distraction, Nick does most of the talking.
A Guerra da Beatriz, he explains, is a reinterpretation of the classic 16th Century French story best-known to English-speaking movie fans through The Return of Martin Guerre, the 1982 version starring Gerard Depardieu.
According to the original tale (supposedly based on historical fact), Martin Guerre went off to war, leaving a young wife and children. When he returned years later, he seemed changed. Was he crippled by the events he'd witnessed? Or was he an imposter, trying to implant himself in the bed of a dead man?
A Guerra da Beatriz transplants this iconic tragedy to Timor Leste, 1975.
It's the eve of the brutal invasion by Indonesia of the impoverished colony neglected by Portugal for a century or more on the eastern half of the isle of Timor - an hour's flight north-west of Darwin.
Beatriz is marrying Tomas in a small, mountain village in the central mountain range of Timor Leste. A few months later, they flee the invading army and head for the hills, only to be captured in 1979 when the world has ceased caring about their plight.
In 1983, Beatriz gives birth to a son. But Tomas is arrested and disappears, presumed dead. Sixteen years later, in 1999 as Timor Leste is finally about to win its hard fought-for independence, Tomas reappears, explaining that he has fought for the resistance all this time. Their reunion is raptuous. But doubts soon afflict Beatriz. Is Tomas really who he says he is?
"We've made this film on a shoestring budget," Nick explains. "So far, its cash budget is less than $100,000."
By comparison, the biggest-budget movie made in Timor Leste since independence was Balibo, starring Anthony La Paglia as journalist Roger East, who was executed by the Indonesians while investigating the deaths of the so-called Balibo Five - Australian TV journalists controversially killed as Indonesian forces invaded.
"Balibo cost around $5 million," Nick guesses.
A sizeable proportion of the crew making A Guerra da Beatriz also worked on Balibo. The Australians - such as John Maynard, the award-winning producer of Balibo, the first foreign language feature to be made in Timor Leste – have given their time and creative energy for a fraction of their normal rates.
"We've had Australians in key roles," Nick says. "Director of photography, sound recordist, camera operator.
"But each Australian crew member has had at least one Timorese (crew member) to mentor. So there were about 40 Timorese crew working on the film, and anything up to 150 actors, including extras. A lot of the people involved have gone through the workshops organised by Dili Film Works."
Lead actress Irim Tolentino (who plays Beatriz) was one of them. She penned the first draft of the screenplay after appearing in Balibo and has since directed a short documentary about Dili's tourist-centred Tais Market for Dili Film Works. She wrote the initial script in Tetum in 2009. Then it was translated into English so it could be finessed by Luigi Acquisto in Melbourne. Thereafter it went back and forth, between Dili and Australia until both were happy.
"The film is set over three time periods and three locations," Nick continues. "Filming was done at the end of 2011 and March 2012. Now it is in post-production.
Nick is too polite to mention it - and Betty too pre-occupied with her daughter. But according to a report by Wendy Frew in the Sydney Morning Herald in September, Dili Film Works needs another $100,000 funding to ensure the movie is completed.
The plan is to have it ready for commercial release next April, with a showing in Dili followed by an outdoor screening tour of Timor Leste.
But where will the Australian premiere be? Melbourne is favourite, considering the number of Victorian film makers who have contributed. But wouldn't it be good if we could organise an international film premiere in Pittwater for once?
More information: www.dilifilmworks.com
Copyright Steve Meacham 2012. All Rights Reserved. Photo by Peta Wise. All Rights Reserved.